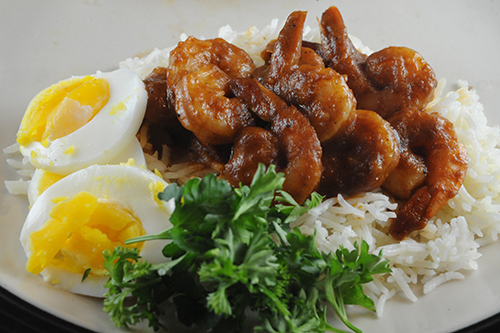 For the shrimp:
1 lb large shrimps
2 tbsp tomato paste
2/3 cup butter
one tbsp flour
1 to 2 tbsp curry powder
3 to 4 large hardboiled eggs
2 cups parsley
cooking oil
salt and black pepper to taste
For the rice (Kateh) :
2  1/2 cups basmati or long-grain rice
1/2 tsp salt
4 tbsp cooking oil
First rinse your rice until the water runs clear, then drain and transfer to a nonstick pan. Add 5 cups of water, 4 tsp oil and 2 tsp salt. Let boil until the water gets to just below the surface of the rice, then reduce heat to low and cook, covered for about 30 minutes. Fluff with a fork before serving.
A few minutes before the rice is finished, cover the shrimp with salted water and boil over medium heat until pink. Reserve about one cup of the cooking water.
In a separate pan, melt the butter and add flour to make a roux. Cook, stirring continuously, for five minutes.
Now mix the tomato paste with the shrimp broth until dissolved. Add to the roux and whisk until you get a smooth sauce. Add the salt and pepper and curry powder and continue to cook for two or three minutes. Now mix the sauce in with the shrimp. Garnish with the  chopped parsley and serve over the rice with sliced eggs on the side.