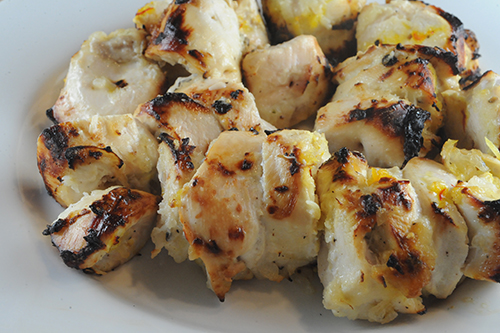 2 lbs chicken, white and dark meat, cut into bite sized pieces
1/2 cup extra-virgin olive oil
2 large onions, grated
2 tbsp fresh lime juice
1/2 tsp salt
1/4 tsp black pepper
1/4 tsp saffron
4 medium tomatoes
Mix the olive oil with the onions, lime juice, salt, pepper and saffron.

Add the chicken (keeping the white and dark meat separate) and cover. Marinate overnight in the fridge.

Place the chicken on metal skewers--you'll want to have separate skewers for the white and dark meat, since the white meat cooks more quickly. Place the tomatoes on a separate skewer and grill for five to 10 minutes on each side, or until cooked through. Alternately, you can use your broiler.