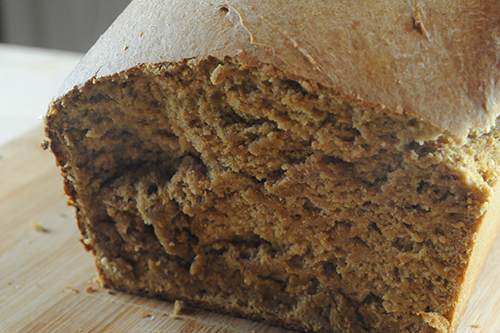 1/2 cup brown sugar
1/2 cup molasses
2 1/2 tbsp shortening
1 tsp salt
1 cup boiling water
1 cup cold water
1/2 cup powdered milk
1/2 cup wheat germ
4 1/2 cups whole wheat flour
Pour the two cups of boiling water over the brown sugar and molasses, shortening and salt. Let the shortening melt, then give it a good stir. Now add the cold water, then the powdered milk, wheat germ and 2 1/2 cups of the flour. Add the yeast, mixing well. Gradually add the rest of the flour.

Let rise in a warm place until doubled in bulk (an hour or so). Divide into two loaves and transfer to pans. Let rise for another 30 minutes.

Meanwhile, preheat your oven to 400 degrees. When ready to bake, turn the oven down to 350 degrees and put the pans inside. Let bake for one hour.