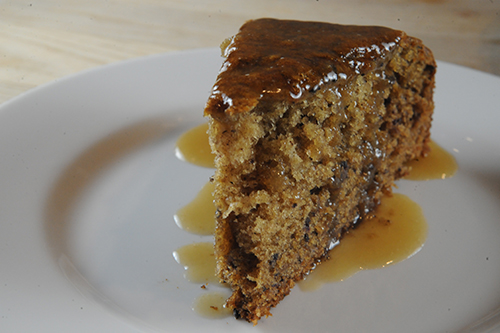 For the cake:
8 oz pitted dates
1 tsp baking soda
4 oz butter, softened
5 tbsp sugar
2 eggs
1 1/4 cup flour
1/2 tsp salt
1/2 tsp vanilla
1 1/3 tsp baking powder
For the sauce:
7 tbsp butter
1 /2 cup brown sugar
1/2 tsp vanilla
1/2 cup cream
Start by putting the dates in a pan with just enough water to cover. Bring to a boil, then remove from heat and let stand for three or four minutes. Add the baking soda and mash up the dates with a potato masher or a fork. Now I don't know if these dates would have become such a nice paste without the baking soda, but they sure did become a nice paste. That's what you want.

Next, cream the butter and sugar until fluffy, then add the eggs, one at a time. Beat slowly so they don't curdle. Mix in the dry ingredients and the vanilla extract, then stir in the dates.

Butter a springform pan and pour in the batter.

Bake at 350 degrees for 30 to 40. Injures, or until golden and a toothpick inserted in the center comes out clean.

Let cool slightly, then release from pan.

While the cake is cooling, make the sauce: just mix together all the ingredients and cook over low heat, stirring constantly. When the sauce browns a little it's ready. Slice the cake, pour over and serve.