Tracfone Tips Site Map
Prepaid Tracfone Tips Home Page
Unlimited Prepaid Text Messages
Tracfone Double Minutes for Life DMFL
Tracfone Prepaid How does it work? 
Tracfone Compared to Other Prepaid Cell Phones

Compare Tracfone vs Net 10
Tracfone and Net10 are the same company but they have significantly different rates.

Compare Tracfone to the 7-Eleven Speak out Cell phone plan.

Compare Tracfone Prepaid Cell Service and Cricket Unlimited Cell phone service.
Tracfone vs Alltel U Prepaid Cell phone
******************************************************
Wireless For Less than $9 a Month
Buy a Tracfone with two 60 minute 90 day cards for $20. You get eight months of Tracfone service and a free Cell Phone for $20.
Save Money with a Prepaid Phone
Tips on how to use less minutes and still stay in touch with your prepaid phone.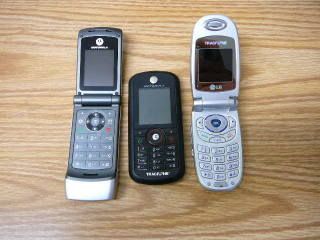 This picture shows the Tracfone Motorola W370 left,
Tracfone Moto C261 camera phone center and the
Tracfone LG 3280 right.
Tracfone Promotional Bonus Codes
What are Tracfone Bonus Codes, Tracfone Tips shows you How to use Promotional Codes and Where to find them.
Tracfone refer-a-friend plan what is it? Can I still get 100 free minutes?
Credit Score for Your Cell Phone
Get your current credit score for free. You won't need it for your Prepaid Tracfone or Net10 cellular phone but check your credit score out for free.
Lock your Tracfone Keys
How to lock your tracfone keys, Speed dial, and Texting on your Tracfone. Simple instructions on how to easily keep from accidentally calling and how to save minutes by texting instead of calling.
Reviews of Tracfone Prepaid Phones
The new Moto W376 has limited Bluetooth capability, check it out. 
Tracfone LG 600g with Bluetooth
Tracfone LG 600g Bluetooth vs Tracfone Motorola W376 Bluetooth.
Tracfone LG 600g vs Net10 Lg 600g Bluetooth

.
The latest Motorola W370 is now available from Tracfone. Is this the best GSM phone from Tracfone?
Compare the Tracfone W370 to Net10
Check out our comparison of the Tracfone W370 and the Net10 w370. Which is the better phone for you? Do you want more service time for your money or do you want more minutes for your money.
Tracfone LG 3280 Flip Phone
The Tracfone LG 328 is probably the best Tracfone Flip phone. How to buy one if Tracfone doesn't sell them in your area.
Tracfone Nokia 2126
The Nokia 2126 is the most popular CDMA Tracfone Cell phones. How to get them if Tracfone doesn't sell them in your area.
New Tracfone Nokia 2126i Single Rate
This new Nokia is now a single rate CDMA phone. Be sure if you buy a 2126 it is the latest 2126i model.
Tracfone LG 200c
Just Released from Tracfone the new LG 200c is a good small folding Cell Phone. No antenna Stalk and smooth cases allow this prepaid cell phone to fit comfortably in your pocket.
Both Tracfone and Net10 offer the LG 200c which is a better deal.  We compare them head to head.  
We discuss all the Tracfone Net10 Lg 200c Functions
Tracfone Kyocera K126C
New Basic Tracfone and Net10 phone. This is going to be the new basic workhorse prepaid phone. Simple candybar style with just basic features. It makes calls, it will text, if you want a phone to work that doesn't cost much this is it. Currently available from NET10 for $30 with 300 minutes included.
Kyocera K126C Manual and Faqs
Tracfone LG CG225 Camera Phone
The best new phone GSM Camera phone from Tracfone and NET10.
Pages to work on Tracfone vs Verizon Prepaid, Tracfone vs Cricket, Tracfone vs T-Mobile, Tracfone Vs AT&T Go Phone.
Check out the New W375 from Net10 and soon to be Tracfone.
Motorola W375 Users Guide and Faqs
The GSM C139 is one of Tracfone's most popular models.
Tracfone Camera Phone
The latest Tracfone, Motorola C261, includes a camera and web browser.
Tracfone Minutes, How to buy them
Where to buy and get the best deal on Tracfone minutes.
Tracfone Prepaid Cell phone service for ten dollars a month. Is this the best monthly prepaid cell phone plan?
The New Value plans from Tracfone. How do they work and which is the best for you.
How to deal with Tracfone and Net10 Customer Service.
The Best Place to buy Tracfone Phones.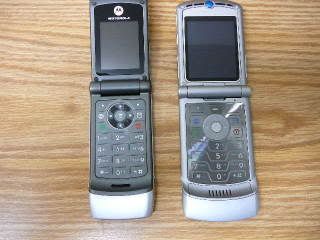 Tracfone or Net 10 Motorola W370 on the Left Moto Razr on the Right.
Tracfone for Fathers Day
Get a simple to use Phone for Dad for Fathers Day. As cheap as $10 per month.
Tracfone Christmas Special
Check out the Tracfone Christmas Special. Get your friends and relatives connected for Christmas.
Tracfone always has a great special for Mothers day. This is the simple gift that will get used a lot.
The Tracfone July 4th Special will help you save on your summer Prepaid Cell Phone bills.
Tracfone Back to School Specials
This year Tracfone has free shipping on all back to school orders. Send your students off to college or high school with a great emergency phone as cheap as $10 a month.
Voip, Skype, Vonage, ViaTalk Voip Services
What is VOIP and how does it work. Will it work with a Prepaid Cell phone?
What is Skype Prepaid Phone Voip?
Skypeln | SkypeOut | Skype Pro | Skype Voip | Skype Free | Skype Unlimited

Check out the different Vonage options including unlimited International Long Distance.
The best deal in Prepaid Cell Phones. Is Net 10 the way to go? How to buy, where to get the best deal on Net10 Phones
. Net10 is owned by Tracfone.
Net10 is now offering CDMA phones that work on the Verizon and Alltel networks.
You can now get NET10 Minutes for 7.5 cents a minute all the time.
The Best deal on Net10 Phone Cards
and where to get them.
The New Net10 Easy Minute Plan is a great way to get a lot of minutes cheap or a simple way to keep your Net 10 service active.
The Best Prepaid Cell phone value (NET10) is now offering CDMA phones.
This new Net10 phone now makes 10 cents a minute available to phone users who do not live in areas covered by GSM cell phones.
The cell phone on the left is the LG 200C and the LG 225 is on the right.
Net 10 Deals

Check out the latest NET10 deal. For $30 you get a free Refurbished Nokia 1600 and a 300 minute card with 60 days of service. Click on the ad below to check out all the Net10 options

Prepaid Tracfone Tips Home Page
Odd Pages I have built or found interesting. I just cannot stay on focus for long---Rick
Free Google Website
Subdomains What are they?

Get your FREE credit score and more!
Get Equifax Score Watch Now!