Tracfone had a Refer-a-Friend plan. With the plan if you were referred by another Tracfone user you would both get 100 free minutes. This plan has been replaced with the double minutes card and some other deals. The Refer a friend ended up being a great momentum builder for Tracfone as they got a bunch of attention from eBayers and several other industrious cell phone users. It ended up that most of the minutes were being referred by users to themselves. (I have to confess I got a couple of thousand minutes on my Tracfone this way.

As of October 2007 the Tracfone Refer a Friend plan has been dead for over a year. It doesn't appear that Tracfone will reinstate it.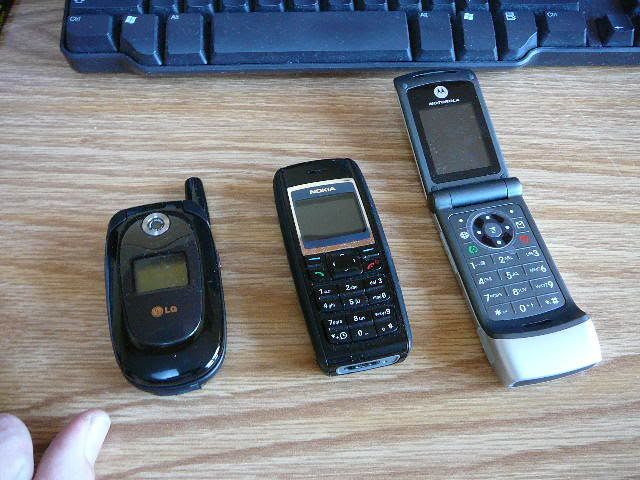 This picture shows Tracfone LG 225, Nokia 1600, Motorola W370, often one of these phones will be on sale at the Tracfone.com website.
Tracfone has now started offering their more expensive phones on sale more often at the web site. Often you can get Tracfone Minute cards and a free phone for less than you will pay for just the phone card. Always check out the Phones for sale section of the website when you are buying minutes because often you can buy a phone with minutes cheaper than you can buy a minute card. Check out the Tracfone.com web site here.
DMFL
Tracfone Refer-a-Friend seems to have been replaced by the Tracfone DMFL (double minutes for life) program. This DMFL Card costs $50 but many of the new phones from Tracfone come with the DMFL. I do not recommend buying a DMFL card, I recommend buying a new phone with DMFL for the same price as the card.
The new Tracfone Doubler Card has increased the value of Tracfone service a lot. This was the main replacement for the Refer-a-Friend plan that Tracfone had. Now when you buy the 120 minute card for $30 you get 240 minutes if you have activated a Tracfone Lifetime Doubler card on your phone. The Doubler card will cost you between $40 and $50. With the Doubler installed you get much more competitive rate. Get a FREE Motorola camera phone when you purchase a double minute prepaid card
.
The Tracfone Doubler Card doesn't match the 10 cents a minute offered all the time by NET10. Sometimes with Bonus codes you can get minutes for less than 10 cents each at Tracfone. Check out these Tracfone Bonus codes.

Net10 is the sister company of Tracfone that is the much prettier of the two. Net10.com always has better deals on minutes than Tracfone. The Tracfone phones are usually quite a bit cheaper than Net10.
Tracfone Refer a Friend link to Tracfone Tips Site map