The Tracfone Nokia 2126 prepaid cell phone is one of the best Tracfones. It is a very simple Candy Bar style phone. This is my second choice in a CDMA Tracfone after the Tracfone LG 3280.

Advantages to the Tracfone Nokia 2126
The Battery on the 2126 cell phone has lasted up to 8 days without recharging. I used a 2126 for about 6 months and my phone almost never needed to be charged. The phone it replaced needed to be charged every day so I really enjoyed not having to charge my phone all the time.
The Nokia 2126 is a very compact Candy Bar style cellular phone. It would easily fit into my pocket. As long as I remembered to Lock the Keys so it wouldn't autodial in my pocket I was fine.
The Tracfone Nokia 2126 pay as you go phone comes with a built in flash light that is really handy. It is amazing how many times I use a flash light when I have one in my pocket all the time.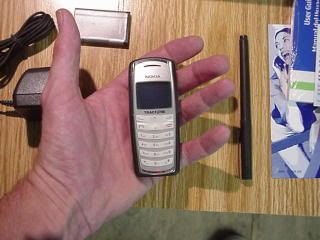 This picture shows the Nokia 2126 Tracfone
The prepaid Tracfone 2126 cell phone works on the Verizon Cellular and or Alltel CDMA networks. If you have good cell coverage with either Verizon or Alltel this phone will work in your area.
How to buy a Nokia 2126
If you live in an area that has coverage from either T-Mobile or At&T (formerly Cingular), Tracfone would rather sell you one of their GSM cell phones that will work on those networks.
Many of us like the Verizon cellular network better. If you have a CDMA phone Tracfone will normally hook you up in your local area with Verizon.
You can buy a Nokia 2126 (which only works on the CDMA networks from Verizon, Alltel and US Cellular) from Tracfone if you use the 59801 zip code when Tracfone asks for your zip code. Free phones available only at TracFone.com!
Then as long as Tracfone works with one of the CDMA Cell phone networks in your area you will be able to activate this phone with a local phone number.

Nokia 2126 Review
This is the best Candy Bar Style Tracfone. Very long lasting battery, small enough to fit in a pocket and it works on the Verizon network which has the best coverage in many areas. This phone isn't fancy but if you want fancy you probably aren't going to be happy with a Tracfone. This is a great basic communicator.
Check out the New Tracfone Nokia 2126i Single Rate
Tracfone Nokia 2126 link to Prepaid Tracfone Tips