The Tracfone Motorola C139 is now the most popular Tracfone. It is very inexpensive, often it is the Free Tracfone that comes with the purchase of minutes on the website. This is a GSM phone. Tracfone is a MVNO which means they do not own a cell phone network, they buy minutes by the millions from AT&T, T-Mobile, Verizon, Alltel and many others and resell them to you. This phone will work on the AT&T or the T-Mobile network.

The Motorola C139 is a basic Bar style also known as a Candy Bar style phone.

Refurbished Motorola C139
Refurbished Motorola C139s are only available through the TracFone.com web site
, and are usually very inexpensive or Free. I have used a few refurbished phones and only had a problem with one of them. I have found Tracfone is really good about sending you out a new phone if your phone isn't working. The Tracfone Customer service if your phone is not working can be a bit frustrating though.
Lock the Keypad of your Tracfone Motorola C139
Unlike a folding phone if you put the C139 into your pocket you are likely to accidentally punch the buttons. Sometimes this can end up in a phone call going through. By pushing two buttons you can Lock the Keypad of your phone. First the Menu key (the center button inside the round 4 way button) then without waiting push the Star key. You can still answer your phone when your keypad is locked you will not be able to dial out until you unlock. To Unlock you just do the same thing, push the menu key then the star key.
This is the Menu Key on the Motorola C139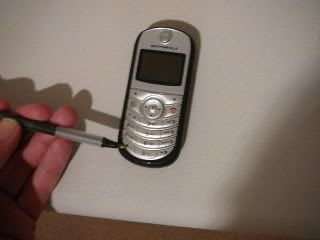 This is the Star key on the Motorola C139
If your C139 is locked and you push a button the screen will tell you how to unlock your phone. Do not worry about not being able to remember.
Children Playing with your Phone
If your very young child or grandchild wants to handle or play with your phone you can lock the keyboard and let them play with it. Kids love to play with real phones and this will keep them from dialing out -Probably-.

Track Phone from Walmart
I believe Wal-mart is the biggest seller of Tracfones. You can usually get better deals from the TracFone website.
Mispellings of Tracfone include Trackfone, Traqfone, TracPhone, Track Phone, Motrola, Motorla, Moto C139. You may have used one of these spellings to find this page.
Compare Tracfone VS T-Mobile, Alltel, Verizon, Cricket, 7-Eleven, Net10

I have several pages where I compare Tracfone to other prepaid cell phone companies. Check out Tracfone vs T-Mobile or Tracfone vs Alltel Go Prepaid or Tracfone vs Verizon Prepaid or Tracfone vs Cricket or Tracfone vs 7-E;leven Speakout or Tracfone vs Net10.

Tracfone Motorola C139 link to Tracfone Tips Home Page
Check out thes Moto C139 pages to Actvate, Assemble, Text, or anything you want to learn about by your Tracfone or Net10 Motorola C139.

Motorola C139 Activation | Motorola C139 Assembly | Motorola C139 FAQs | Motorola C139 Menu