We review the new Motorola W370 from Tracfone
This cell phone could pass for the little brother to the extremely popular Motorola Razr. The new Tracfone W370 is really comfortable in your pocket. While not quite as thin when folded up as the Razor it isn't as wide as the Razor either.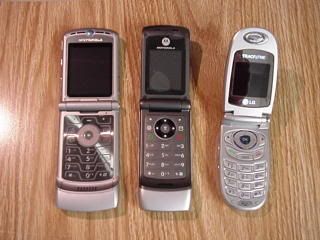 This picture shows the Motorola Razr is on the left. The New Tracfone GSM Motorola W370 is Pictured in the Center and the Tracfone CDMA LG 3280 on the right. The Razr is not available from Trac fone Prepaid.

Summary of our review of the Motorola W370 for Tracfone
This is a great phone. Go to the Tracfone website and Buy the Motorola W370. The sister company of Tracfone also offers the Motorola W370. If you use more than 100 minutes per month Net 10 is a better deal than Tracfone. Get the Motorola W370 for $49.99...ONLY at net10.com!