On any of the candybar style phones you can lock the Tracfone keys. This allows you to put the phone into your pocket, glovebox, or purse and not worry about the phone accidentally dialing out and using all of your minutes.
How to Lock the Keys on your Tracfone
To lock the Nokia 2126 you push "Top left Key" then "Bottom left key "*" key" one right after the other. This is normally how all the Nokia's Lock. Most of the Flip phones lock by closing them. Any candy bar style phone will have two keys to hit tolock the keybord. This is really handy.
Free phones available only at TracFone.com!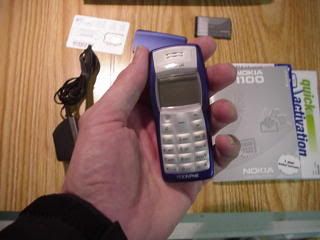 Tracfone Nokia 1100 Cell Phone
Speed Dialing with your Tracfone
Speed dialing is very easy to do with most Tracfones. With most of the Nokias the phone will assign a speed dial number as you put the name and number into your register.
To Speed dial you just hold the number down. For example if the speed number for your mother is #1 just push and hold the 1 down. It will automatically dial it.
Texting with your Tracfone
There is strange thing with Texting on a Tracfone. The different phones have different charges to text. Here is a non complete list of the Tracfone Texting Rates
.5 units Text In and .5 units out
Nokia 5100, 1221, 2285, 2126, and Motorola C343, V60, 180, V120.
.3 units out and Free to Recieve
Nokia 1100, 2600, 3390, Motorola V170, Motorola C155. If you do much texting this would be really handy. If you need a free text receiving phone this will work. A friend texts her husband all the time and if he needs to call her he uses the landline. Very cheap communications. She has a contract plan with unlimited texting.
.3 units out and .3 units out
Nokia 1112, 2600, 3390, Motorola V170, Motorola V176 and the new Motorola W370 Flip phone. The LG 3280 and the new Nokia 2126i are the only CDMA phones with .3 units per text. Currently all the rest of the CDMA phones are .5 units per text.
This is the latest information I have. I do not guarantee that the rates will not change at any time.
Single Rate Tracfones
All of the GSM phones are single rate (no extra charges for roaming). The Motrola C155, C139, C261 camera phone, V170, W370, V176, are all single rate prepaid Tracfone cell phones. The Nokia 1100, 2600, are also Single Rate.
So far only two CDMA phones are single rate. The LG 3280 Flip Phone and the new Nokia 2126i. The older nokia 2126 is not single rate. Check out Tracfone Nokia 2126i Single Rate page so you can tell the difference.
Check out the New Motorola W370 from Tracfone
Lock Your Tracfone to Prepaid Tracfone Tips