Welcome to Our Review Site!
Disclosure: We are a professional review site that receives compensation from the companies whose products we review. We have tested and reviewed the equipment or services ranked here. We are independently owned and the opinions expressed here are our own.
The Best Tracfone Phone.
If you live where Verizon, Alltel, US Cellular CDMA phones get the best reception then the

LG 3280 with DMFL (Double Minutes for Life) is going to be the best Tracfone. Do not buy the phones without DMFL unless you are sure you will not be using over 70 minutes a month. Most of my calls end up between 5 and 10 minutes so if you are going to make less than 7 phone calls a month do not buy a Tracfone without DMFL I am fonder of the CDMA phones that work on these networks especially Verizon's network.
Some areas of the US get better reception from AT&T (Cingular) or T-Mobile GSM networks. The Motorola W370 with DMFL is the Top Rated GSM in the Tracfone stable. The LG 225 with DMFL and the W375 also work well. The Motorola W375 camera phone will be a lot more expensive by the time you put DMFL on it.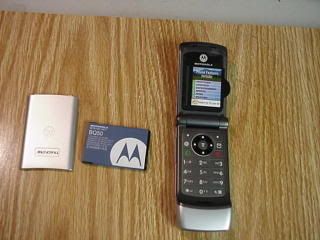 Picture of the Tracfone Motorola W370
Click on the "LG 3280" or "Motorola W370" links for a review and more pictures of each phone.

What is the best Cell Network in your area?
The best Tracfone Pay as you Go phone for you will depend a lot on who has the best cell phone coverage in your area. Tracfone does not own a cell phone network so they buy their access and minutes from one of the vendors in your area. Most of the time they will set your phone up on the AT&T (formerly Cingular) network if it works in your area.
How to buy the phone you want if the Tracfone Prepaid website does not offer it in your zip code.
Go to the TracFone Website.
Put in a zip code that offers your phone. If you want a CDMA phone and the website is only offering you GSM phones you can put in 59601. The only phones offered in this zip code at this time are for CDMA networks. When you get the cell phone you will be able to activate it in your local zip code if Verizon, Alltel, or US Cell have service there.
Best Tracfone Phone Summary Review
The Lg 3280 with DMFL, Motorola W370 with DMFL and the LG 225 are the best Tracfones at this time.
The New LG 225 from Tracfone which was first offered for sale in July of 2007 is now probably the best camera phone offered in GSM coverage area.

Best Tracfone Phone to Tracfone Tips Home Page

Tracfone for Fathers Day to Prepaid Tracfone Tips Home


Get your FREE credit score and more!