Tracfone Review of Unlimited Double Minutes
Tracfone DMFL How does it work?  Should I buy the DMFL Card? 

The Tracfone DMFL Card is for sale from Tracfone for $50. The Unlimited Double Minutes Card gets you twice the minutes on your phone as the Tracfone Minute Card states.
The $20 60 minute card will actually install 120 minutes on your phone. This brings the Tracfone Minutes down close to ten cents a unit which makes them much more competitive. Without DMFL at 20 to 40 cents a minute Tracfones are too pricey to use except in an emergency.
Tracfone as an Emergency Phone
If you are looking to have a phone to use only a couple of minutes per month and for emergencies Tracfones can be great.  You can get three months of activation and 60 minutes for $20.  That is less than $7 a month to have an emergency cell phone.  Tracfone also roams onto different networks better than any other prepaid phone.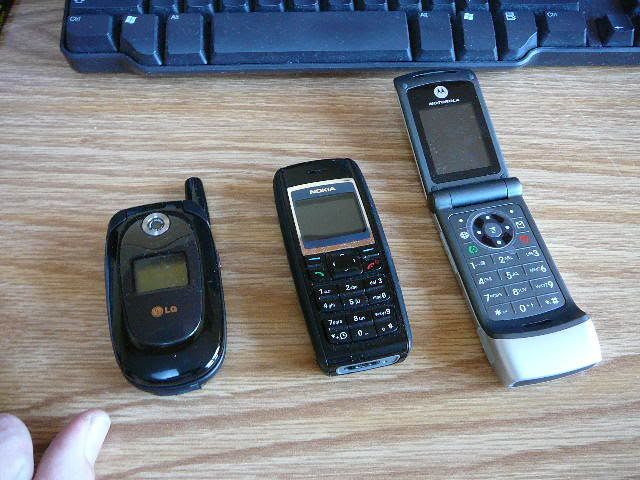 Tracfone Lg cg225, Nokia 1600, and the Tracfone Motorola W370 and my big left thumb.
Tracfone is the biggest Prepay cell provider in the United States. With Prepaid cell phones you buy the phone, activate it and then add minute cards to it. Each phone card will give you a a stated number of minutes with the Tracfone Minute Cards.


Don't Purchase a Tracfone DMFL Card

If your phone does not have DMFL on it I would recommend you buy\it is a better deal to buy a new Tracfone with DMFL. You may purchase a new Moto W370 with Double Minutes for Life (DMFL) for the same price or less than a DMFL card.


The Best Place to Purchase a Tracfone
You can purchase a Tracfone on eBay, at Walmart, Best Buy, SuperAmerica and many other places. Often the best deal and best selection is normally at the Tracfone.com Web site.

Do Not Buy a Tracfone

Don't purchase a Tracfone that does not have DMFL already installed. The double minutes for life program is too good deal you will get the nicest phone and save a lot of money by buying a Tracfone with it already on it.
Half Price Text Messages
Your text messaging will also be half as much with Tracfone DMFL also. Most Tracfone Phones charge .3 units per text message either to receive and send. When you purchase your minutes with DMFL your texts will be half price also. Some of the older Tracfones charge .5 in and out. There are some older Tracfones do not charge to receive messages (I believe the Nokia 1100 is one).


Tracfone Advantages:
No long term contract
No Credit Report Check
No extra charge for Long distance or Roaming 
International calling for the same rate
The more minutes you buy the  cheaper they get
Yearly plans and monthly plans available with no penalty for quiting 
The cheapest roaming of any Prepaid cellular phone
Available in every zip code in the USA.
Minutes Roll Over as long as you keep your Tracfone active.
Reasonable prepaid texting rates.
Activation Time rolls over as long as you keep your phone active.
Tracfone Disadvantages
Expensive rates
No PDAs or fancy phones
No Unlimited In Network calling

Free Tracfone Phones
You can get a free refurbished Tracfone with the purchase of phone card in the "Buy Phones" section of the Tracfone.com website.  Do not buy it unless the Unlimited Double minutes card is included. The minutes are a lot cheaper with DMFL. Always buy a Tracfone with the Double Minutes for Life included.  Get a Tracfone LG 225 phone for $49.99 and receive big savings!
Tracfone Review of Double Minutes link to Tracfone Reveiw Home Page