Tracfone Motorola W376g Review
 
Tracfone Motorola W376g
The latest phone from Tracfone is the new Motorola W376g.

The New Tracfone Motorola W376 with BlueTooth 2.0 enabled. The GSM W376 is currently only offered if you are in areas where At&t (formerly Cingular) is the main provider that Tracfone is using.

This new phone appears to be the little brother to the best selling Motorola Razr. The new W376g is thicker but narrower. The keyboard is the same flat design as the Razr.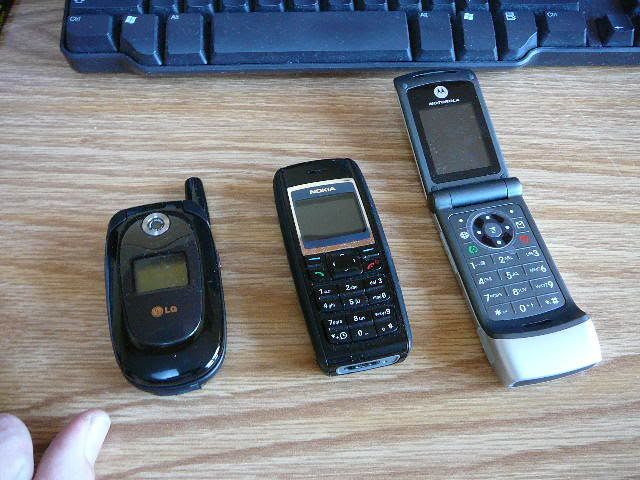 Tracfone LG 225 next to the Nokia 1600 and Motorola W370.
The Moto W376g is a Single Rate Tracfone
All the calls you make in your local area or out are one unit per minute. You will only pay one unit per minute for local, long distance and roaming calls. Tracfone and Sister company NET10 are the only prepaid cell phone companies in the United States that have reasonable roaming rates. Most Prepaid phones do not offer roaming. If they do they will charge you up to fifty cents a minute for roaming.

How to buy a Tracfone
You can purchase a Tracfone in many of the major chain stores in the United States. Walmart, Staples, Best Buy, Safeway and others. The Tracfone.com web site site always has some phones on sale. The web site usually has the largest selection and often they have web only specials that are not available in stores. The only problem is you will have to wait 3 or 4 days to get your phone. Get a new Motorola phone at TracFone for as little as $14.99 from the Tracfone.com Web Site.
International Tracfone Calls
[Calls to over sixty International Areas will only cost you one unit per minute. You can make calls to sixty different international areas for one unit per minute with the Tracfone W376g. Check out Tracfone International Calling at the Tracfone.com web site.
Texting with the Motorola W376g
The new W376g texting charges are .3 units per text in and out. This is a lot better than the .5 units per text on some of the older Tracfones
.


DMFL is standard on W376g

Tracfone has come out with a new bonus program. You can purchase a Double Minutes for Life card (DMFL) for $50 and install it on your phone. Then any time as long as you own that phone you will get twice the minutes stated on the card. This Unlimited Double minutes for life currently comes with your Moto W376g. If you are going to use a Tracfone you will save a lot of money on minutes if you have DMFL.


Battery life on the Tracfone W376g

The W376g uses the BQ50 Lithium Ion battery. This is a fairly large capacity Battery so the battery life is should be very good. It is rated to last up to 10 days between charges. This is dependent on how much you talk and how much time it is searching for a signal if you are out of cell range.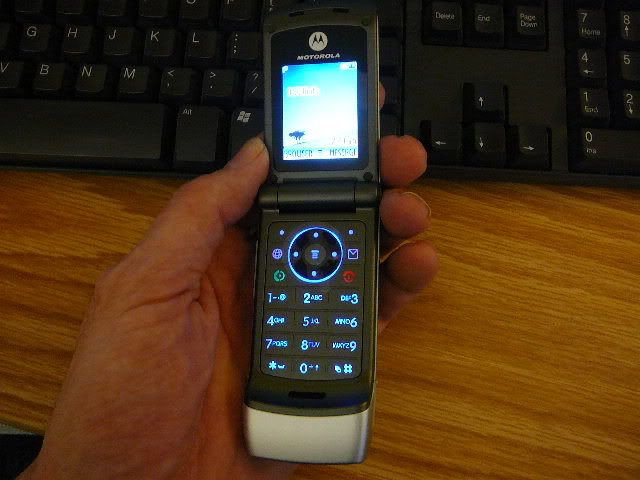 Motorola W370 from Tracfone.
Tracfone Bluetooth Phone

The Motorola W376 as built for Tracfone now supports Bluetooth 2.0 Standard. This is the first Tracfone that has Bluetooth enabled. You will now be able to use a Bluetooth 2.0 headset with your Tracfone Motorola W376g. This is really handy for talking while driving.


Web Access and Downloading Ring Tones
The web access allowed by Tracfone with their phones is pretty limited but that may be changing. Many options for searching the web just cannot be done yet.


Moto W376 Feel

I really like the heft and feel of the new Moto W376g. The W376 is the same size and feel as the W370 and the W375. It is big enough when you unfold it that it comfortably fits your face to talk (even if you have a big head). It folds small enough that it easily fits in your pocket.

Reveiw of Motorola Tracfone W376
This is the best new phone for Cingular GSM territory from Tracfone. The extremely long battery life coupled with the sleek style, comfortable profile make this a Tracfone Best buy.

W376 Features and Specs
VGA Camera, Bluetooth® enabled, Compact Flip Phone, External Alert Icons. Ringtones, Graphics, News, Weather, Sports and more using Airtime Minutes. Picture Messaging, Text Messaging, Hearing Aid Compatible (HAC) rating M-3, Hands-free speaker, Voicemail, Call Waiting, Caller ID, FM Radio (requires headset, not included), Alarm Clock, Stop Watch, Calendar, Calculator, Phonebook with up to 100 entries. Single Rate for Local, Nationwide Long Distance, International Long Distance and Roaming.

Basic info:
Size: 3.90 x 1.77 x 0.73 inches
Weight: 3.4 ounces
Included battery: Lithium-ion
Talk time: Up to 7.5 hours
Standby time: Up to 10 days

Included accessories:
Battery
Wall AC Adapter
SIM Card
Check out the new Tracfone W376g at the Tracfone.com web site. Great price for a BlueTooth phone.