LG 225 Camera Phone Features
 
LG 225 Camera Phone Features
The LG cg 225 TracFone Camera phone is the latest offering from Tracfone. The Moto C261 is no longer the only Tracfone Camera Phone. The new small folding GSM LG CG225 camera phone works on the At&t network. The 225 is a welcome addition to the Tracfone phone offerings. This will be the most expensive Tracfone for a while but I think the phone is still the best Tracfone phone deal.
The LG 225 always comes a Tracfone Double Minute card installed.

The LG 225 camera phone is usually cheaper through the TracFone.com website. The included DMFL card makes this a bargain. Normally this card is $50 to add to your phone. If you buy $30 or larger cards for this phone you will be paying 12.5 cents a minute or less (not counting using bonus codes).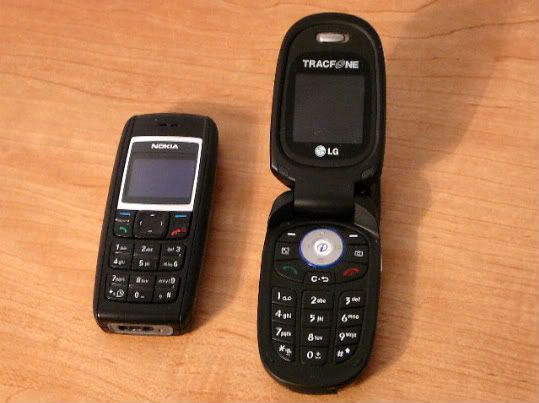 Nokia 1600 from Net10 and LG cg 225 Camera Phone
Tracfone Camera
The camera feature can be really fun. Even if you don't need a camera phone(Who really needs a camera phone?) it is really handy to have. Any picture you take is stored on your camera. If you rarely send pictures to your friends I recommend the LG 225. The Free DMFL that comes with this phone makes this phone inexpensive and it is the one of the best phones that Tracfone offers. Buy a LG 225 at TracFone and get double minutes for the life of the phone!

Lots of New Tracfones

Tracfone is rolling out several new higher quality phones, hopefully this is because they figured out what the other Cell companies know. The nicer the phone they sell, the more use the phone gets.

The new TracFone LG 225 is also joined by the Motorola W370, W376g, Kyocera K126C, the LG 200C, and the LG 1500 GSM.


Text Messaging with the Tracfone LG CG 225 Camera Phone

Text rates for the Tracfone LG 225 will cost .3 unit for receiving and sending messages. There are advantages to texting over talking. While texting you might not make those stupid mistakes many men are known for making when talking with their wives and girlfriends. Time to respond. Texting can be less expensive sometimes. My son has unlimited texting and he has had months with text messages in the thousands. They can be very fast and easy. If you use it to chat it can get expensive. If you just use texts to get messages to someone it is can be inexpensive.

Motorola W376g next to the LG cg 225. Notice the external screen on the 225.
Folding Camera Phone

The LG cg225 is a nice little folding camera phone allowing you to carry your phone comfortably in a pocket or purse without accidentally dialing.

Dual Displays
The new TracFone Lg 225 has two displays. The external display shows even when the phone is folded. [You can check|This allows checking] the clock or to see who is calling before opening your phone.

The Camera option allows you to take pictures and store them in your phone. Sending pictures to other phones or to the internet can easily be done. You cannot download pictures straight to a computer because the phone does not have an active access port.


More LG cg 225 Features:
Either Spanish or English language.

Includes a Hands free speaker.

And don't forget this phone comes with Double minutes for life, so any TracFone Prepaid Cell Phone card added will be doubled.

Tracfone Lg 225 features Long Distance and Roaming for the same rate.

Tracfone (and sister company NET10) do not charge extra for roaming. Other prepaid cell providers are charging more for roaming if they offer it.

This is a GSM phone which means it will work in any area that AT&T or T-Mobile work.
Text Messaging with the Tracfone Lg 225
Text messages cost .3 minutes to receive and .3 units to send with the LG cg 225. This phone fits nicely in your hand for texting.

Double Minutes for Life Included with your LG CG225
The DMFL program from Tracfone normally costs $50 to add to your phone. Double Minutes for Life (DMFL) doubles the minute cards you purchase for your phone. Instead of 60 minutes you will get 120 minutes with the 60 minute card.

Bonus Codes for Tracfone
Some Tracfone bonus codes will work when you add a TracFone Minute Card to your prepaid Tracfone LG 225. When adding a Tracfone unit card you use the 15 digit number PIN on the receipt or phone card. The Bonus code is a 5 digit number added when you put in your PIN number. An easy way to find Bonus codes is Google Tracfone Bonus Codes.
Buy an LG 225 phone at TracFone and get $30 off plus double minutes and free shipping!