How does Tracfone Work?
Tracfone is a Prepaid cell phone service. Prepaid cellular companies are also known as Pay as you go Cell.

First you purchase a phone and activate it. Then you add a Tracfone Minute card to your phone.

How to Activate your Tracfone
To activate your phone you can go online to Tracfone.com or you can call Tracfone at 1-800-867-7183. You will have to punch in a series of numbers and then the phone will say ok. It is quite simple.

Next you wait a few minutes for your phone to become active. I have activated a lot of phones and usually it takes from a couple minutes to an hour to become active.

You will have 20 minutes on your Tracfone.com phone if you activated online or 10 minutes on your phone if you activated by phone.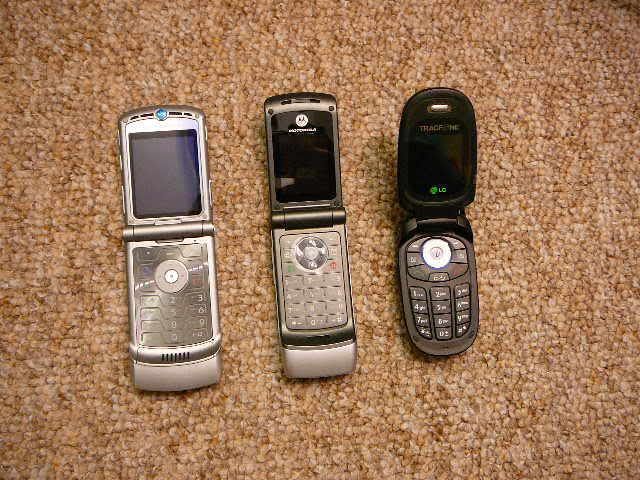 This picture shows the Motorola Razr, Tracfone Moto W370, and Lg 225.

Before Installing Tracfone Minutes
I would make sure the phone works by calling a friend. Do not use up all of your minutes. Now you want to check to see if your phone gets service where you want to use it. A friend of mine could only get her phone to work if she was out on her front porch, not handy if trying to call while you are at home. How does Tracfone Work?
Installing Tracfone Minutes
If the phone is going to work for you now you can install a Tracfone minute card. With the newer phones you can install minutes three different ways.
Directly from your Prepaid phone menu you will see "Add Airtime." Click on this and you will be asked for an "Airtime PIN." After you have put in your PIN (it will be a 15 digit number on your Tracfone Card or receipt) you can put in a 5 digit Bonus Code. Check out my other articles for information on Bonus Codes.

You can go online to the Tracfone.com web site and add your minutes.

When using a land line to add minutes to your Tracfone you can call 1-800-867-7183. You cannot add minutes to a Tracfone while you are talking on it. When you call you will navigate a phone menu and then the computer will answer the phone and help you put in the minutes.
My preference is to add minutes online from the Tracfone.com website. You can purchase minutes there and add them right away. The Best deal on Tracfone minutes is the 450 minute card which is only available online. This card gives you 900 minutes if you have DMFL on your phone for less than ten cents a minute.

Link from How Does Tracfone Work to Tracfone Review Home Page