Welcome to Season TWO of  Toy Boat Theatre!
After a two-and-a-half year hiatus following a six-month Spaceworks residency on MLK Way, Toy Boat Theatre is waking up from "sleep mode" with a production of Jean Genet's infamous and sexy "The Maids" at King's Books, on 218 St. Helens Avenue, in Tacoma.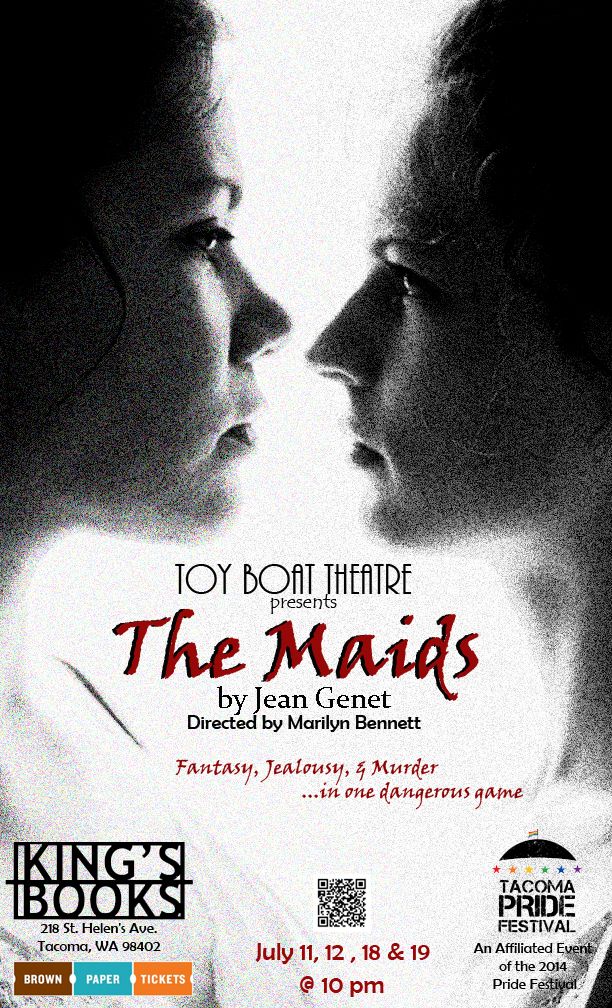 (Deya Ozburn, left, as Solange, and Emily Rychlick, right, as Claire; 
twisted sisters in Jean Genet's "The Maids". Photo by Kali Raisl.)
"The Maids" 
A translation from the original  one-act, by Jean Genet
Directed by Marilyn Bennett
Assistant Directed/Stage Managed by Sarah McKinley
~~ Fantasy, Jealousy, and Murder...in one dangerous game ~~
Written in 1947, "The Maids" takes its subject matter from a famous crime in Paris in 1933, in which the two twisted
Papin sisters
brutally murdered their mistress and her daughter after an apparent argument and were later found naked together in their garret bed. 
Jean Genet--novelist, playwright, homosexual and petty thief--was inspired to write his one-act play in which two miserable sister maids rehearse the murder of their beautiful young mistress in hopes of freeing themselves from their intense jealousy, envy, and hatred of her. Jean-Paul Sartre wrote of Madame in "The Maids" that "what appears behind the footlights is not so much a woman as Genet himself living out the impossibility of being a woman." 
Genet's brief play is poetic, tragic, darkly funny and fascinating, full of what Sartre calls "the whirligigs of being and appearance."
FEATURING
Ricky German 
Deya Ozburn 
Emily Rychlick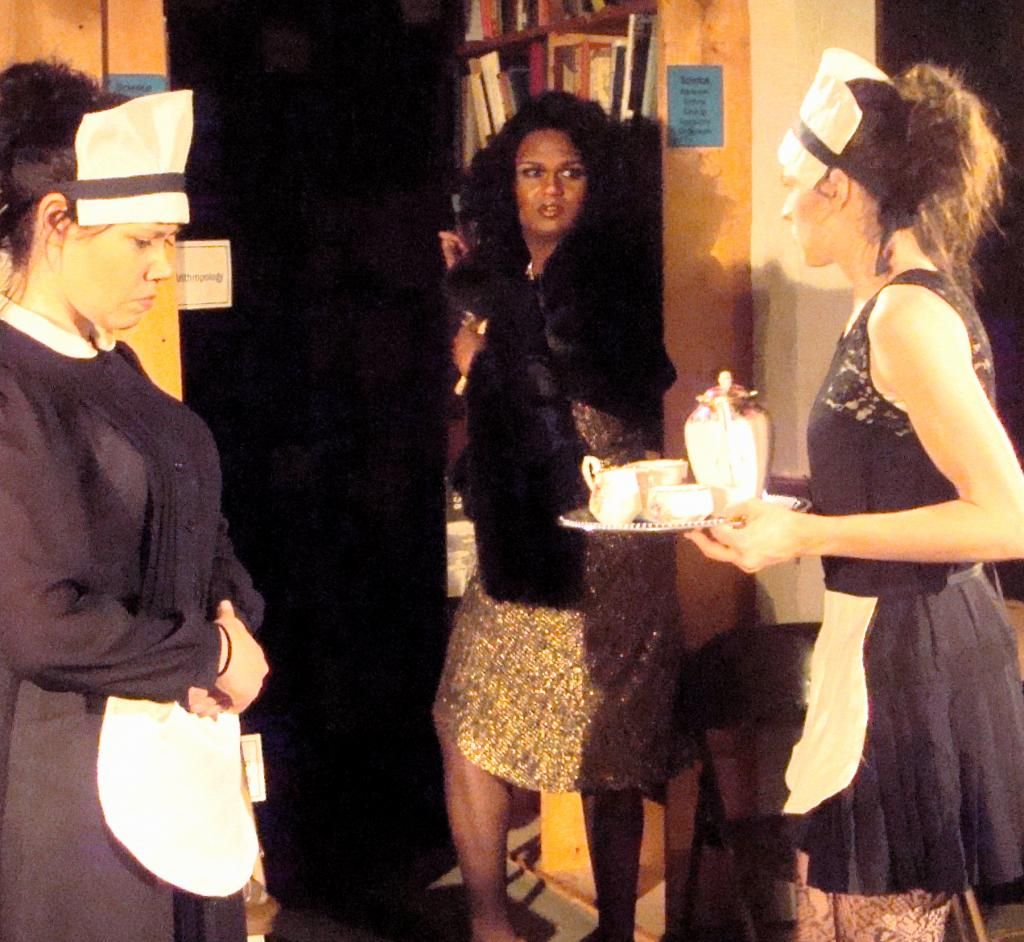 (Deya Ozburn, Ricky German, & Emily Rychlick)
PERFORMING
Saturday, July 12th
Friday, July 18th,
and
Saturday, July 19th
$10 general seating, limited to 40. We urge advance purchase. 
**"The Maids" has a one-hour play-time, with a "Salon chat" of refreshments and gossip to follow after.  Best suited for mature audiences due to subject matter and a bit of skin. 
Location
Kings Books
Tacoma, WA
(a cat friendly environment)
All Performances will begin at 10PM
Media and Press please contact
Marilyn Bennett
for additional information and comp tickets.
---
***Reviews***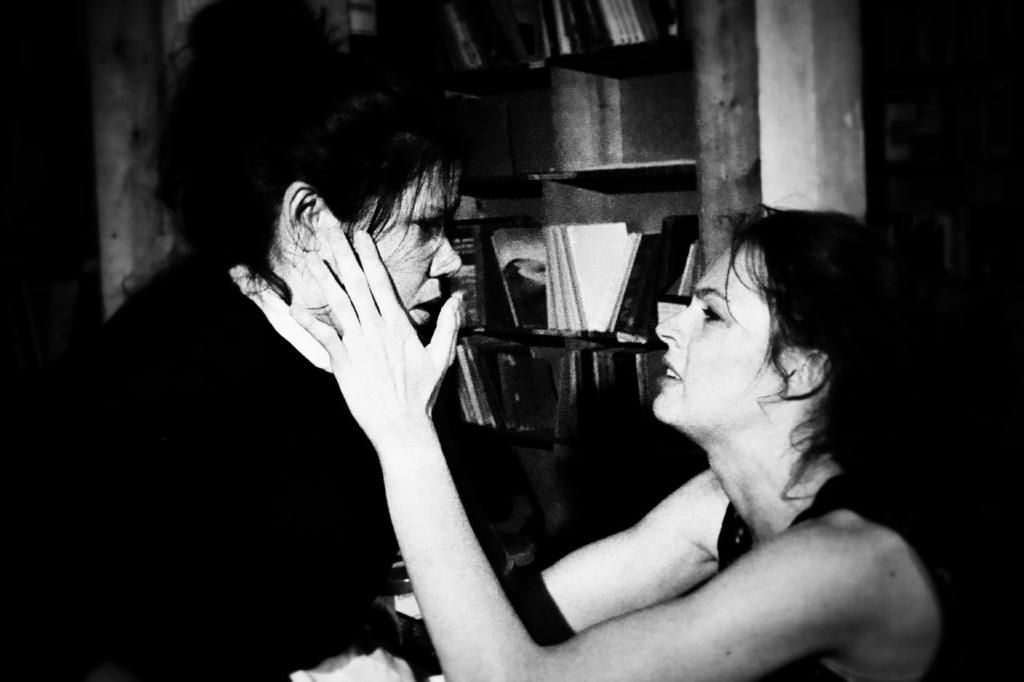 The poverty of grief and the splendor of crime: Toy Boat Theatre will break your heart with their incendiary "Maids"
By Katy Evans
It's 10 pm; I sit with a small crowd at the back of King's Books, waiting expectantly around a space set as a luxurious boudoir, complete with chaise, vanity, wardrobe, and armchair. My fellow audience members and I sit in three quarter round, filling in for the walls, windows, and mirrors of this very private space.
***
Toy Boat Theatre's "The Maids" gets dark, dirty and a little dense at King's Books
Tacoma's theatre scene seems to spawn a creative undercurrent of alt-theatre, and Toy Boat (after a couple of years' hiatus) is its latest wave.  Last weekend the company opened Jean Genet's "The Maids" at King's Books - a very intimate setting, and perfect for this endlessly twisting psychological suspense that ends in unexpected tragedy.  But although the play's only an hour long, and includes plenty of low-grade titillation (it's all about sexual frustration) and the fine acting from one of the leads, there's something kind of heavy about it that extends beyond the verbosity of the 1947 translated script. 
"The Maids" cleans up King's Books
Toy Boat Theatre is back in force
By Joann Varnell
"Good acting in a humble house" is the motto of Marilyn Bennett's Toy Boat Theatre.  Back from a three-year hiatus, Bennett brings Jean Genet's play, The Maids, to life among the stacks at King's Books.  An affiliated event of the 2014 Tacoma Pride Festival, The Maids, is a dark, assuredly adult theatrical offering during the increasingly quirky "summer season" when smaller companies mount shows with very little competition from larger houses.  (Well, except for the occasional production that extends their run a week or two due to high demand.) If you missed the play during Pride Festival, you have one more week to catch it.
---
Tacoma, WA 98402
253-272-8801
***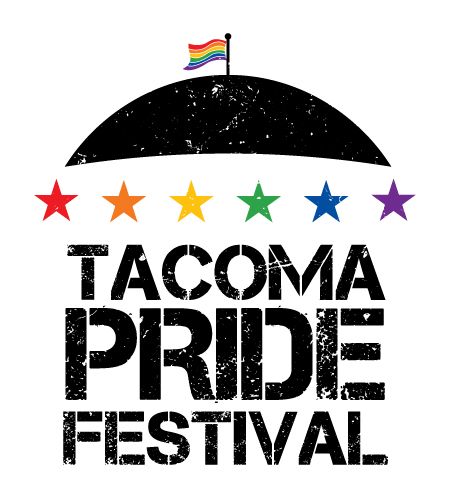 Affiliated Event of the 2014 Pride Festival