Player Profiles
Home - Players Profile - Schedule - Alumni News-  Rising Stars- Contact Me -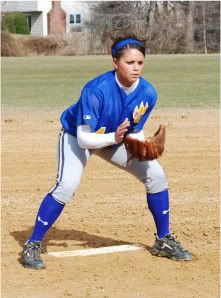 Ashley Ainbinder, Junior, Pitcher
Ashley is on of our teams captains. Ashley was brought up as an eight grader and has started for the past four seasons at four different positions. Ashley will serve as the teams pitcher and number 3 batter this year. Ashley plays year round for fire and ice and is a member of the national honor society.
 Amanda Rittmeier, Senior, Centerfield
-Amanda is one of our team captains. Amanda is entering her fourth season as a starting outfielder for the bruins. Amanda has shifted over this season from rightfield to centerfield. Amanda has earned a steady spot on top of the lineup and uses her speed to throw off the defense. Amanda will be attending Binghamton College in the fall where she will play division I soccer. Amanda is also a member of the National Honor Society.
  Brianna Selesky, Senior, 1st Base
-Brianna is one of our team captains. Brianna is entering her second season as the starting first baseman for the bruins. Brianna is an excellant
defensive firstbaseman and bats 6th in our lineup. Brianna is still undecided about school next year, but she has decided to continue her athletic career playing volleyball. Brianna is also a member of the national honor society. 

Katie Greene, Sophomore, SS
-Katie worked hard last year to become the only freshman in the starting line-up, starting in LF. Katie's defense was a big reason for the bruins success. Katie has earned this season's starting  shortstop posion and is a valuable team leader at such a young age. Katie is a high honor roll student who is also a member of the basketball team. Katie is also an excellant piano player. 
                          Arielle Cummings
, Junior, Left Field
-The speedy Junior will start left field and bat leadoff for the bruins. Arielle has the ability to keep the defense on their heels as a switch hitter. Arielle has the ability to change a game with her baserunning skills. Cummings is also a member of the varsity field hockey team where she is the starting goalie.
 
-Jasmine Abreu, Junior, Second Base
Jasmine joined the varsity midway through the season last year and started second the rest of the year. Jasmine is little in size, but big in explosiveness. Jasmine has the ability to bunt or hit it over the outfields head. Jasmine is also a varisty cheerleader. 
          Sam Brown, Senior, Rightfield
      -Sam is a second year varisty softball player looking to secure the third outfield spot for the bruins. Sam has improved   each year with the bruins and is not afraid to get dirty. Sam is also a member of the school's volleyball team. Sam will be attending Syracuse University in the fall.          
                           Sam Vani, Junior, Catcher
   -Sam is entering her first year on varsity. Sam 
       will look to start for the bruins behind the plate. 
       Sam played summer ball for the mustangs and is
      looking to make an impact with her bat. Sam is also  a member of the varisty field hockey team.
     Patricia Vasquez, Junior, Outfield
  -Patricia is entering her first year on varisty. Patricia is a hard working outfielder with the ability to hit the ball hard. Patricia is a member of the national art honor society.

Olivia Phillips, Freshman, 3rd Base
-Olivia will be making the jump from middle school to varisty as a freshman. Olivia is a very talented softball player with tons of potential. Olivia will start the season as the starting 3rd baseman and will look to make an immediate impact for the lady bruins.
  NOT SHOWN                Alexis Redman, Junior, Outfield  
                       Alexis is a speedy junior who will compete this year in the outfield. Ashley is a speedy junior who will be used on the base paths to cause havoc for opponents.