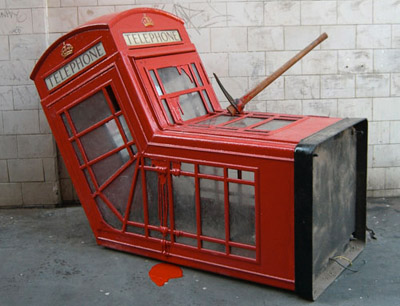 Banksy is a  British graffiti artist. He is believed to be a native of Yate, South Gloucestershire, near Bristol[2] and to have been born in 1974,[5] but his identity is unknown.[He trained as a butcher but became involved in graffiti during the great Bristol aerosol boom of the late 1980s."[7] His artworks are often pieces of art on topics such as politics, culture, and ethics. His art has appeared in cities around the world.
Banksy does not sell photos of street graffiti.[9] Art auctioneers have been known to attempt to sell his street art on location and leave the problem of its removal in the hands of the winning bidder.[10]
Banksy's first film, Exit Through the Gift Shop, "the world's first street art disaster movie", made its debut at the 2010
 He  was responsible for the cover art of Blur's 2003 album Think Tank.
In 2003 in an exhibition called Turf War, held in a warehouse, Banksy painted on animals. Although the RSPCA declared the conditions suitable, an animal rights activist chained herself to the railings in protest.[20] He later moved on to producing subverted paintings; one example is Monet's Water Lily Pond, adapted to include urban detritus such as litter and a shopping trolley.
In August 2004, Banksy produced a quantity of spoof British £10 notes substituting the picture of
the Queen's
head with
Princess Diana
's head and changing the text "Bank of England" to "Banksy of England." Someone threw a large wad of these into a crowd at Notting Hill Carnival that year, which some recipients then tried to spend in local shops.  A limited run of 50 signed posters containing ten uncut notes were also produced and sold by Pictures on Walls for £100 each to commemorate the death of Princess Diana. One of these sold in October 2007 at
Bonhams
auction house in London for £24,000.
In August 2005, Banksy, on a trip to the Palestinian territories, created nine images on Israel's highly controversial West Bank barrier.
]
In December, journalist Max Foster coined the phrase, "the Banksy Effect", to illustrate how interest in other street artists was growing on the back of Banksy's success.
On 21 February 2007, Sotheby's auction house in London auctioned three works, reaching the highest ever price for a Banksy work at auction: over £102,000 for his Bombing Middle England.
Transport for London
painted over Banksy's iconic image of a scene from
Quentin Tarantino
's
Pulp Fiction
, with
Samuel L. Jackson
and
John Travolta
clutching bananas instead of guns. Although the image was very popular,
Transport for London
claimed that the "graffiti" created "a general atmosphere of neglect and social decay which in turn encourages crime" and their staff are "professional cleaners not professional art critics".
[

30

]
Banksy tagged the same site again (pictured at right). This time the actors were portrayed as holding real guns instead of bananas, but they were adorned with banana costumes. Banksy made a tribute art piece over this second
Pulp Fiction
piece. The tribute was for 19-year-old British graffiti artist Ozone, who was hit by an underground train in
Barking
, East London, along with fellow artist Wants, on 12 January 2007.
[

31

]
The piece was of an angel wearing a bullet-proof vest, holding a skull. He also wrote a note on his website, saying:
The last time I hit this spot I painted a crap picture of two men in banana costumes waving hand guns. A few weeks later a writer called Ozone completely dogged it and then wrote 'If it's better next time I'll leave it' in the bottom corner. When we lost Ozone we lost a fearless graffiti writer and as it turns out a pretty perceptive art critic. Ozone - rest in peace.[citation needed]
On 27 April 2007, a new record high for the sale of Banksy's work was set with the auction of the work Space Girl & Bird fetching £288,000 (US$576,000).