December 11, 2017
94 minutes
Internet Moment: 
Students were asked to compare three popular news aggregator websites: 
Google News
, 
Bing News
 and 
Yahoo
. We looked at their home pages, their features and their overall appearance. Though the results were split, a plurality of our students said they preferred Google News when looking for current events online. Students were also asked to explore their own digital footprint by searching for themselves on various news sites. 
(PA BCIT Standards: 15.3.8.E, 15.6.5.L)
Class Blog
: Students were shown 
TodayInComputerClass.com
 and told that they can check here anytime to review what work was done in class. We also discussed what a 
web log or blog
 was, how blogs developed into 
microblogs
 like 
Twitter
 and now mobile phone based apps like 
Instagram
. This website is the blog or web log for our class. Students were also told that their parents will be sent an email with a link to this website so they can also review what we are doing in computer class each day.


Office 365 Accounts:
  All students were reminded that they have Office 365 accounts. As part of this process students had to set their 
time zone
.  We discussed 
GMT, UTC and Zulu time
 as part of this activity.  They were also shown how they can access them online from anywhere.  They were also shown how to access their One Drive. Students were also reminded that if they logged onto their Office 365 accounts at home they could download several Microsoft Office programs onto their personal computers for free.  Students also had some time to explore Office 365.
Basic Email Etiquette:
 All students logged into their 
Office 365
 accounts and accessed their Outlook email. We discussed the importance of being able to use email for formal communication.  Students were also reminded that the emails they send using their school account are not private in any way. We also discussed what CC: means (
carbon copy
), what should go in the Subject line of an email and how to start writing a formal email. Each student then practiced good email etiquette by sending a formal thank you email to a Council Rock faculty member of their choice. 
The directions for this project can be viewed here
. 
(PA-BCIT Standards 15.3.8.E, 15.3.8.M, 15.3.8.O, 15.3.8.Q, 15.3.8.R, 15.3.8.S, 15.3.8.U, 15.3.8.X, 15.4.8.D, 15.3.8.M, 15.4.8.F)
Email Etiquette For Students Video:  
We finished class today with a short video about 
how to email a teacher
.
(PA-BCIT Standards 15.3.8.E, 15.3.8.M, 15.3.8.O, 15.3.8.Q, 15.3.8.R, 15.3.8.S, 15.3.8.U, 15.3.8.X, 15.4.8.D, 15.3.8.M, 15.4.8.F)
Assigned Seats:
 All students have an assigned seat/computer in the lab. Students have a responsibility to report any problems with the machine they have been assigned. In this way we all participate in maintaining our school computers. Everyone should use the same computer every time they come to the lab. Students were also reminded to adjust the keyboard, mouse, chair and monitor
 to meet their ergonomic needs
 when they come to class. We then visited the 
Occupational Safety & Health Administration
 (
OSHA
) website and searched for their recommendations 
concerning computer use
. We also discussed employment laws in the workplace.  
(PA-BCIT Standard: 15.2.8.I, 15.4.5.D, 15.4.2.B, 15.4.8.F)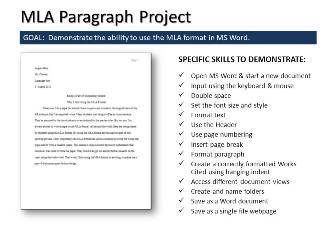 MLA Format:

 All 8th grade students must demonstrate the ability to use the 

MLA format

 in 

MS Word

 and 

Google Docs

 (which is the format 

used at Council Rock

 and most colleges). 

Click here

 to enlarge the project description. Students were shown how to 

set-up their Word Documents in the MLA Format

. This project involves several skills including: 

double spacing

, 

changing fonts

 and sizes, 

changing indentation settings

 and accessing the header. As part of this project we will be practicing 

uploading a Word doc from our network drive to One Drive on Office 365

. 
Click here to enlarge the project description.
(PA-B.C.I.T. Standards: 15.3.5.A, 15.3.8.A)

Technology Current Event Video:  We finished class today with a video from MinuteVideos about filter bubbles and echo chambers. 
---
December 7, 2017
91 minutes
Introduction to Basic Computer Skills Class: Basic rules and classroom procedures were explained. Students were specifically reminded that because technology is constantly changing they should get into the habit of helping each other out and demonstrating the ability to learn new computer skills through experimentation. All students reported that they had helped an adult with computer skills but they were reminded that it's important to also get used to helping each other.
Break:
 Students are always reminded to not spend too much time working on computers and to take breaks every 30-40 minutes. For our break today we conducted a probability experiment about matching birthdays that you can read about 
here
. Everyone was asked to get up and find the other person in the room who shares their birthday to see if there was a match.
Setting up Student Passwords:
 All students were given some suggestions to help them develop good passwords. Some suggested good password practices were: 
Come up with a collection of passwords to rotate through instead of just one
Make a pass phrase

 instead of a password

Use numbers,

 letters and symbols 
Student passwords must fit the following parameters: Upper case letters, lower case letters, numbers and symbols. 
(PA-BCIT Standard: 15.4.8.F)
Gmail Accounts: Students were shown how to access their CRSD Google Gmail today. Students were reminded that they will have access to their google accounts and school gmail until they graduate from high school. Students were also reminded that they can access their Google email from anywhere in the world where they have internet access. Everyone had time to experiment with sending and receiving emails. 
Students were also reminded to not use their school email for anything inappropriate. 
Profile Pictures:
 Students opened up their school Google Accounts and we talked about how their profile picture works and that it is public. They were then shown 
Cartoonify.de
 and students had time to make a custom profile picture.  We discussed the difference between your professional and personal image and what online "personal branding" was all about. Students were reminded of the importance of learning to manage what they looked like online. Students then shared their images using network drives. Sharing files by using 
drag & drop
 and the district Swap Drive was demonstrated
. The best use of the H: & X: drives was also explained.  Everyone then had an opportunity to set their school profile picture.
Technology Current Event Video: 
 We finished class today with a video about ten future projects that 
Alphabet
 is working on.