March 23, 2018
91 minutes
Class Blog
: Students were shown 
TodayInComputerClass.com
 and told that they can check here anytime to review what work was done in class. We also discussed what a 
web log or blog
 was, how blogs developed into 
microblogs
 like 
Twitter
 and now mobile phone based apps like 
Instagram
. This website is the blog or web log for our class. Students were also told that their parents will be sent an email with a link to this website so they can also review what we are doing in computer class each day.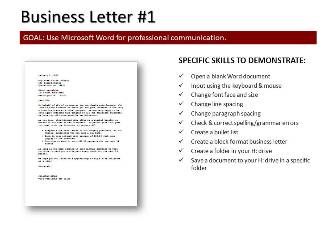 Business Letter #1
:  Students practiced their typing and formatting skills in Word by typing a 
block format
 business letter.  This project required students to  demonstrate a list of basic word processing skills that included:  changing fonts, changing the size of letters, 
line spacing
 and making a bullet list.  This project also introduced students to formal business communications as it is a block formatted business letter and it provided everyone with some typing practice.  
The text of the letter was based on a 
sample letter from the FTC
 that would be used to inform a credit card company of an identity theft concern, which was something we previously discussed in class.  All students had time to finish this project in class today. 
 We saved it using our network drives and students were shown how to organize their drives by making folders.  
Click here
 to enlarge the project description.  
(CRETS:  2a, 2d, 2e, 6a)
(PA-BCIT Standards: 15.3.8.A, 15.3.8.B)
(ISTE Standards:  1a, 1c, 5a, 5c, 6b)
Assigned Seats:
 All students have an assigned seat/computer in the lab. Students have a responsibility to report any problems with the machine they have been assigned. In this way we all participate in maintaining our school computers. Everyone should use the same computer every time they come to the lab. Students were also reminded to adjust the keyboard, mouse, chair and monitor
 to meet their ergonomic needs
 when they come to class. 
(CRETS: 2b)
(PA-BCIT Standard: 15.4.5.D, 15.4.2.B, 15.4.8.F)
(ISTE Standards: 5a, 5b, 5c, 5d, 6c)
Keyboard History:
  Students were shown a short 
presentation about the 
development of typewriters and computer keyboards
.  The 
reasons for the QWERTY layout
 were also explained and students were reminded that the only way to really improve their typing speeds are to 
use the home row and learn to touch type
.
Typing Test:
 All students took a typing test using 
TypingTest.com
. Each student had 10 minutes to take the 1 minute test multiple times. Their best adjusted speed was recorded and graphed in an Excel spreadsheet. The average typing speed for this class was:  35.1
 WPM
Click here
 for more information about 
typing speeds at Newtown Middle School
.  
(CRETS:  2e)
Online Typing Activities
: As a follow up to the typing test students were given some time to find some 
online typing activities
 (tutorials or games) that they enjoyed. They were to then add these typing activities to their 
favorites
 or 
bookmarks
 list so they could go back and practice their typing skills in class when they finish projects.
Technology Current Event Video:
  We finished class today with a video about a new typing technology called the tap strap.
---
March 21, 2018
0 minutes*

* Class was cancelled today due to a snow day
---
March 19, 2018
44 minutes
Internet Moment
: Google News
 - Students were shown how to use this popular 
news aggregator
 to find current event stories and how to search the news for topics that interest them or might be required for another subject area.  Students were also asked to search Google News for themselves and people they know.  (CRETS:  1a, 2a, 3a, 3b, 3d, 7d) 
(PA-BCIT Standards: 15.3.8.G, 15.6.5.L
) 
(ISTE Standards: 3b, 3c, 4c, 5c, 5b, 6a)

Finished the Introduction to Computer Class Presentation:
  This presentation was a follow up to the survey and covered basic computer concepts everyone should be familiar with such as:
Technology Current Event Video: 
 We finished class today with a short video from Endgadget about some of the coolest things they saw at the 2018 Consumer Electronics Show in Las Vegas.
---
March 15, 2018
91 minutes
Introduction to the Basic Computer Skills Class:
 Basic rules and classroom procedures were explained. Students were specifically reminded that because technology is constantly changing they should get into the habit of helping each other out and demonstrating the ability to learn new computer skills through experimentation. All students reported that they had helped an adult with computer skills. They were reminded that they also need to get used to helping each other with technology. 
(PA-BCIT Standard 15.2.5.L, 15.3.8.C, 15.3.8.D, 15.3.5.M, 15.8.5.C)
Log On & Explore:
 All students were given time to explore the start menu, 
Cortana
 and the various programs available to them at school.  We also discussed 
the importance of not being distracted
 by online games, social media and other online distractions while at school and when they need to get something done at home.
Setting up Student Passwords:
 All students were given some suggestions to help them develop good passwords. Some suggested good password practices were: Come up with a collection of passwords to rotate through instead of just one, make a 
pass phrase
 instead of a password, mix number, letters and symbols together. Student passwords must fit the following parameters: Upper case letters, lower case letters, numbers and symbols. 
(PA-BCIT Standard: 15.4.8.F)
Gmail Accounts:
 Students were shown how to access their CRSD Google Gmail today. Students were reminded that they will have access to their google accounts and school gmail until they graduate from high school. Students were also reminded that they can access their Google email from anywhere in the world where they have internet access. Everyone had time to experiment with sending and receiving emails. Students were also reminded to not use their school email for anything inappropriate. 
Profile Pictures:
 Students opened up their school Google Accounts and we talked about how their profile picture works and that it is public. They were then shown 
Cartoonify.de
 and students had time to make a custom profile picture.  We discussed the difference between your professional and personal image and what online "personal branding" was all about. Students were reminded of the importance of learning to manage what they looked like online. Students then shared their images using network drives. Sharing files by using 
drag & drop
 and the district Swap Drive was demonstrated
. The best use of the H: & X: drives was also explained.  Everyone then had an opportunity to set their school profile picture.
Break:
Students are always reminded to not spend too much time working on computers and to take breaks every 30-40 minutes. For our break today we conducted a probability experiment about matching birthdays that you can read about 
here
. Everyone was asked to get up and find the other person in the room who shares their birthday to see if there was a match.

Computer Class Survey:
 All students take a 
computer class survey
. The results of this survey are used to guide the instruction for the class. You can view the survey to the right. 
Click to enlarge
. Next class we will use the survey as the outline for a presentation about some basic things everyone should know about computers. 
Technology Current Event Video:
 Today's video was inspired by an original presentation created by a high school teacher in Colorado, Mr. Karl Fisch.  
Here is a link to his blog: 
THE FISCHBOWL
 for more information.  
The original presentation was created for a faculty meeting and has been recreated several times by people all over the world.  
This version of the video was created in 2016 by 
Jose Esteves
.  He is
 a professor at the I.E. Business School in Madrid, Spain. 
(PA-BCIT Standard: 15.4.8.A)