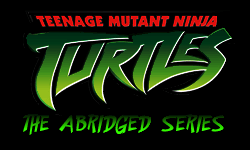 ---
Hello and welcome to the officially unofficial
TMNT abridged series
website. This site contains all the information about the upcoming TMNT abridged episodes, which will be posted here and probably on YouTube.com.
TRAILERS

- Another trailer made with a better quality and a rock music from "Chemical Brothers"   
TMNTAS opening ver2
- The first opening theme:   
TMNT abridged opening ver1
- This is the first trailer which is made based on the first season. Available for download only on this site.
   WMV Format:   
TMNT abridged series - Trailer01
   AVI Format:   
TMNT abridged series - Trailer01
INFO ABOUT THE SERIES

This "project" is about creating TMNT Abridged series. If you don't know anything about it, or you don't even know what the "abridged" word means, then this is not for you. Or you can search it in Wikipedia and find more info about it.
As I was saying I was watching some interesting abridged series such as Yu-Gi-Oh! abridged series, Naruto the abridged series, Dragonball Z the abridged series and I thought I should search for TMNT abridged series on the net. Google gave me no results. It seems TMNT is not popular enough to make an abridged series about it, or the kids just don't want to bother with it.
But in recent days I've discovered that some of them are also planning to make episodes. Whether they've seen this site, or got inspired by some other abridged series, they've decided to start their own series. I believe this will be like some kind of contest then. I am eager to see what other fans will make.