2/21/2018
🎉Tianmu Education Foundation has new board members
Board of Director of Tianmu Education Foundation completed the general election on February 21, 2018 , new board is now consist of 7 members. Vivian Shao is not the CEO of new board. Board members include Patric, Qingxia, Chen Xin, Geraldine, Sky and Vivian Lee.
Tianmu basketball club is now open to all kids in San Francisco Bay Area. If you are 8-15 years old and interested in basketball, please use the link below to register:
If you want to support the youth basketball training, please consider to donate to the club. 
Mentored by Prof. Eleny Lonel, chair of Department of Mathematics at Stanford University and Dr. Wieczorek, also from Department of Mathematics, Stanford University, technically supported by Palo Alto High School Robotic Club, Tianmu youth robotic club has launched and has been enrolled in this year's FTC competition. They will gain experience in order to prepare for the participation of other interested students. Participating students raise their own funds to fund the operation of the club.
Tianmu Education won the first place of youth swim competition in 2017 Chinese America Olympics of Northern California.
Tianmu Education youth swim team worn the first place in group score. Congratulations to the team and all the volunteers!
The 2016 Chinese-American Youth Community Service Award 
Are you passionate about community service? Is giving back to your community meaningful to you? Tianmu Education Foundation is granting monetary awards to Chinese-American young students to recognize and commemorate their dedication to community service. We received over 40 applications within a month. After careful evaluation by 12 judges, we are now announcing the award results:

1st place award ($500 cash):
Haoming (Jerry) Huang from Palo Alto High School, CA
2nd place ($300 cash):
Isaac Pang from Palos Verdes Peninsular High School, CA

Cindy Qiang from West Field High School, NJ

3rd place ($100 cash):
(1)James Zhuang (Sunnyvale, CA)
(2)Anson Hu (San Ramon, CA)
(3)Leon Liu (San Jose, CA)
(4)Matthew Cheng (Trivalley, CA)
(5)Tifany Wong (El Dorado Hills, CA)
(6)Justin Dong (Cerritos, CA)

(7)Victor Yin(Cupertino, CA)
(8)Christina Yin (Cupertino, CA)
Community Service Volunteer Award:

Michael Han;Stephen Yang;Joey Hua;Chelsea Lo;Nicole Li ;Maggie Huang;Angela Ding;Jenny Miao;Carolyn Lu;Sabelle Huang;房笑寒;Gina Fang; John Chen; Daniel Jin; Rishel Qi; Wenhuei Ashley Hsiung; Anita Liu; Jasmine Zhang; Jeffrey Jia; Brian Xu; Xinyu Qiu; Kevin Chen; Johnny Miao; Yan Zhang; Grant Zhou; Mason Cai
Haoming (Jerry) Huang (1st place):
Jerry Huang:  He not only created a volunteer data base for his high school but created ITrakr, an app for it.  400 students use it, and have logged in 27,000 hours.  Equally important, Congressional Award for the Application (very prestigious) and a list of references, among other things!

Isaac Pang (2nd place)

Cindy Qiang (2nd place)
Tianmu youth business boost camp finished 4 sessions during the summer 2016. Over 100 young students attended the training sessions.
Tianmu Education Foundation team made excellent achievement in 2016 Chinese America Olympics of Northern California.
Tianmu Badminton team won the gold medal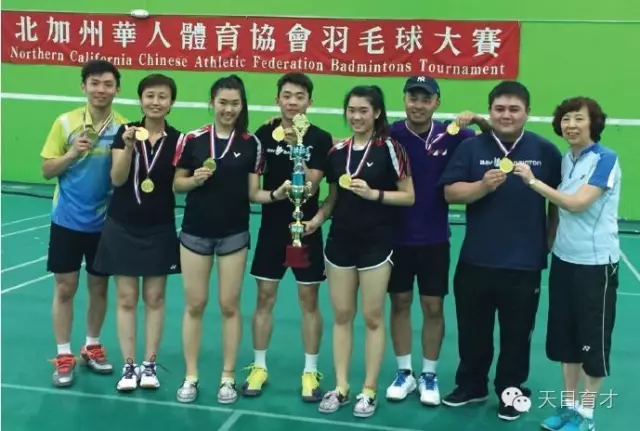 Swim team won tons of medals: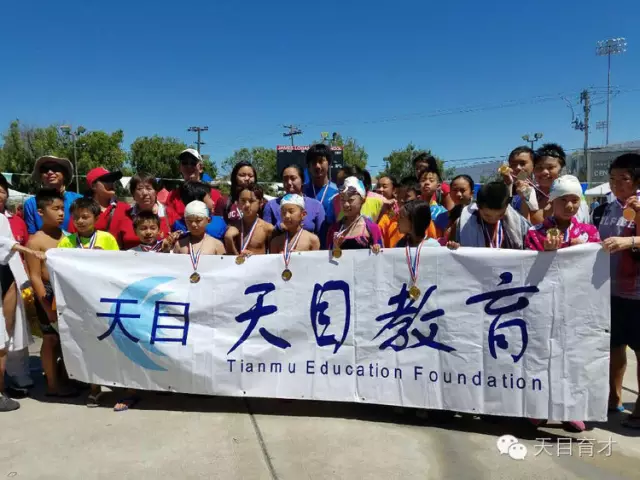 Medals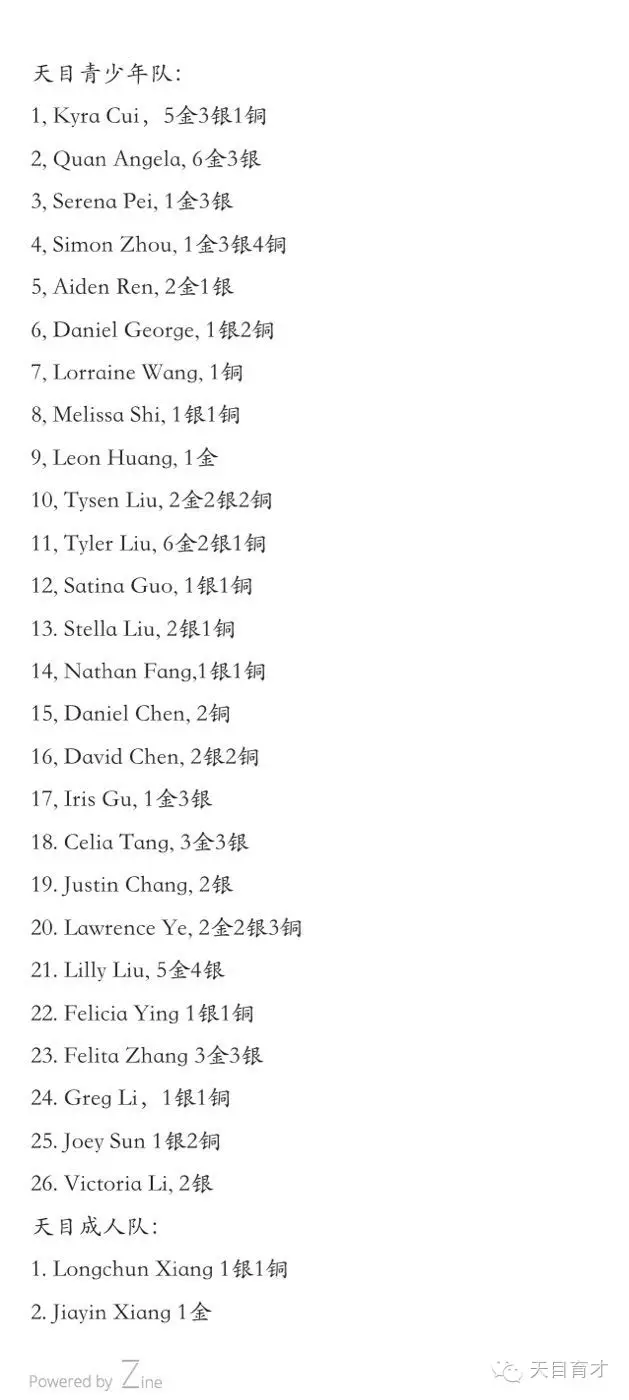 We have weekly free online education seminars. All these seminars are given by experience parents or area professionals and students themselves. All seminars has been made as education videos. These videos are free to watch on Youtube. 
Please click the link below to find all the free education videos.

20151121 


https://www.youtube.com/watch?v=-5l13q17vmQ


20151120


https://www.youtube.com/watch?v=MfQaJjVEYjU




20151107




https://www.youtube.com/watch?v=yEf93_a6qlY




20151101




https://www.youtube.com/watch?v=TH0yjoxYx2U


20151024
https://www.youtube.com/watch?v=OQNG8aCbt0s


20151017
https://www.youtube.com/watch?v=FOU7U7Q9hgg
20151010 




https://www.youtube.com/watch?v=AU22l8CwdyM




20150905 


https://www.youtube.com/watch?v=XPyp3HJnEQQ
20150531 
https://www.youtube.com/watch?v=UdCcVhvF8AU
20150926 


https://www.youtube.com/watch?v=omCzHTH0Bbk




20150919




https://www.youtube.com/watch?v=nqXZI2On4lc




20150727




https://www.youtube.com/watch?v=Tz5IfxCi2PQ




20150721




https://www.youtube.com/watch?v=3W2YQa2AXYs


20150705 
https://www.youtube.com/watch?v=z2jEBaqU17Q
20150705 
https://www.youtube.com/watch?v=kaSUTRHIteg


20150613 


https://www.youtube.com/watch?v=G5wHP4tD7Ww
20150606 


https://www.youtube.com/watch?v=Iqj_PYIiayA


20150523


https://www.youtube.com/watch?v=tJGljBYuUQI


20150503 
https://www.youtube.com/watch?v=g_1pR32lk3s


20150425


https://www.youtube.com/watch?v=5-pphUt2S8U

20150418
https://www.youtube.com/watch?v=bzu2ZdY37bI














Tianmu Education Foundation joins 
Shandong Association and the Shinshin Educational Foundation to organize
The annual San Francisco Asian Youth Talent Competition. Tianmu is in charge of Student Committee.
Are you organized? Innovative? Outgoing? Bold? We want you on our team! The annual San Francisco Asian Youth Talent Competition, is opening applications again for the March 2016 Talent Show Student Committee. All Asian American Bay Area students interested in taking on an exclusive leadership role are encouraged to apply. The student committee will work alongside sponsors to plan, organize and publicize the talent show-- all while developing communicative and executive skills. Members of the committee will be given the chance to work alongside high-profiling managers and businesspeople in the Bay Area network; furthermore, all students will be offered scholarships to a highly selective and prestigious summer camp, courtesy of Chinese federal sponsors. Join us in our mission to launch and host one of the biggest Bay Area talent shows of the year!
Proceeds from the talent show go towards opening schools in China — in the past 34 years alone, 340 schools have been built. That's 120,000 more underprivileged children who can receive an education. Over $10 million has been raised through the annual Youth Talent Competition, all of which has gone towards giving the gift of education to China, and none of which would have been possible without the support and participation of Bay Area Asian American families and students. Support today to change tomorrow
—
apply as a student committee member now at sfyouthtalent.org or contact
support@sfyouthtalent.org
for more information.
November 7, 2015
Tianmu Education Foundation is promoting 
creative youth development programs. These programs are online program so can be available for kids everywhere. Creative programs are setting high expectations for young people, encouraging positive risk taking, promoting leadership development, and offering real-world opportunities to contribute to social change. These programs link individual growth with the emergence of social responsibility. As young people create, they build the personal, social, and intellectual capacities they need to succeed in school, career, and life.
November 3, 2015
Tianmu Education Foundation helped Overseas China Education Foundation(OCEF) to raise fund by E-book group sale. Just within 8 hours after the announcement, over 150 parents ordered the book to show their support to this charity sale. 
OCEF operations in China are comprised of three main functions: (1) review of financial aid applications from students; (2) upon approval from the Executive Committee in the U.S. for funding, distribution of the approved funding; (3) follow-up inspections post distribution of funding. Inspectors conduct field trip regularly to visit beneficiaries and schools to monitor the fund distribution process.
Tianmu Education badminton team won the first place title in National Day Cup badminton team competition. 
The event was held in Milpitas, CA and sponsored by several local community organizations, individuals and some business groups, especially the many badminton circle of friends.
August 23, 2015
The first Silicon Valley Spotlight Show organized by Tianmu Education Foundation was successfully held in Mission City Center for Performing Arts, Santa Clara, CA. High school students from Tianmu youth clubs directly involved in the organization of this event. The show program schedule can be described as originality , diversity and artistic. Just dance program will cover the Chinese dance , ballet , modern dance and hip-hop group dance and other styles . As a nonprofit public benefit organization, Tianmu Education Foundation is committed to enhancing the quality of education in Chinese communities in north America. We are committed to create free educational platform to facilitate the exchange of information for parents and children. We also organize a variety of activities to promote and create a good educational environment. In order to provide children with a high quality to show their talent on the stage, the volunteers have made ​​great efforts and hard work , they are the real unsung heroes . Special guests came to the scene of the Cupertino City Deputy Mayor Barry Chang, famous overseas Chinese leaders Ms. He Konghua.
天目田径代表队第一次参加华体会就取得了优异战绩


August 2015
Tianmu Education Foundation won over 100 medals in the thirteen annual Chinese American Olympics of Northern California. Yong athletes from Tianmu attend the volleyball, track and field and swimming competition. 
Medals in Track and Field: 
Alvin (16-year-old boy's group): gold in 60 meters,silver in 100 meters,silver in 200meters. 
Forrest (11-12 year boy's group): gold in shot put.
Linyun (adult women): gold in shot put, bronze in long jump. 
Erika-Nancy-katelyn-Chloe (girls 13-15 year old group): gold 4x100 relay, new record. 
Andrew (boys 12 year old group): silver in 400 meters.
Himanshu (boy 9 year old group): gold in 400 meters. 
Denali (girls 7 year old group): silver in 400 meters, silver in long jump. 
Charles (boy's 10 year old group): bronze in 60 meters. 
Medals in swimming:
1. Erika: 6 gold; 2 silver 
2. Lilly Liu: 6 gold; 1 silver 
3. Nolan Zhou: 3 gold; 4 silver 
4. Felita Zhang: 3 gold; 2 silver 
5. Alicia Zhang: 1 silver; 3 bronze 
6. Alyssa Chen: 3 gold; 1 silver. 
7. Jonathan Ye: 2 gold; 4 silver 
8. Daniel Chen: 2 silver 
9. David Chen: 1 gold; 5 silver; 2 bronze 
10. Juntao Ren: 1 gold; 4 silver 
11. Joyce Ren: 1  gold; 1 silver 
12. Jonathan Pei:1 gold; 2 silver; 2 bronze 
13. Cynthia Liu:1 gold; 1 bronze 
14. Stella Liu:1 bronze
15. Jerry Chu:1 silver. 
16. Rey (Furui) Guo: 1 silver 
17. Victoria Li: 2 bronze 
18. Greg Li: 2 silver 
19. Eric Chang: 1  gold;  1 silver 
20. Kylie Chang: 1 gold;  1 silver 
21. Derik Liu 2 silver 
22. Lucy Chang: 1 silver;  5 bronze 
23. Andrew Zhang:1 gold; 3 bronze
July 2015
Tianmu Youth Business Boost Camps
by student Anson:
My first ever class for business started on June 20, organized by the Tianmu Education Foundation, which was also their first time organizing such a class. At times, it was a little boring, but I felt that it was a great experience overall and I really enjoyed the opportunity to hang out with my friends while also learning about business. The way the course was structured helped keep it interesting and fun.
On the first day of camp, we introduced ourselves and were told about the leadership positions in a business, and who you should look for to help run your business more efficiently. There was a small break in the middle of the class, so I got to talk with people and get more familiar with them. At the end of the class, we chose our business teams and were assigned the first project - designing a product.
The next day, we got to present our research. Standing up in front of the class as a team and presenting our idea as a whole felt great. It seemed to me that everyone asked us the hardest questions, even though we had done the most research and presented the most reasonable idea. We tackled all those questions as a team, and that made me feel much better about our team and our product.
The next few sessions were very similar - we would go home to do some research and present it in class, while learning a bit about the next topic in the latter half of class.
At the end of the course, we presented our entire overall summary of our product, including the marketing research, our product's specifics, and the business plan, to a huge audience of both parents, judges, and opposing teams. It was extremely fun to present our ideas, and we answered a few questions at the end of our presentation.
I would definitely recommend this camp to anyone interested in business.    
June 2015
Tianmu parents formed co-op group to run summer activity for their kids.