News Updates
Subscribe to posts
Happy New Year Springsteen fans! Man oh man have we been spoiled over the last month. In a little over 30 days we will have gotten THREE new archive releases. This one doesn't disappoint as it's the second night in St. Paul of the 2012 Wrecking Ball tour. At this point, Bruce and E Street have been riding high all through the summer in Europe and all through a run of US stadiums and they had no plans of stopping as they take the tour back to indoor arenas across the US. The band was simply ON FIRE at this time.
This show has one of my favorite versions of any song played on the tour which was an E Street Band debut of "Devils and Dust." It is so raw and so powerful that it just grabs you by the throat. It's great. Throw in others such as: Stolen Car, Loose Ends, Something in the Night, and an I'm A Rocker opener and you're in for a good show. Just for "Devils and Dust" alone, this show is worth the purchase. 
Setlist
I'm A Rocker
Hungry Heart
No Surrender
Night
Loose Ends
Something In The Night
Stolen Car
We Take Care Of Our Own
Wrecking Ball
Death To My Hometown
My City Of Ruins
The E Street Shuffle
Pay Me My Money Down
Devils And Dust
Youngstown
Murder INC
She's The One
Shackled And Drawn
Waitin' On A Sunny Day
The Rising
Badlands
Land Of Hope And Dreams
Jungleland
Born To Run
Dancing In The Dark
Tenth Avenue Freeze-Out
American Land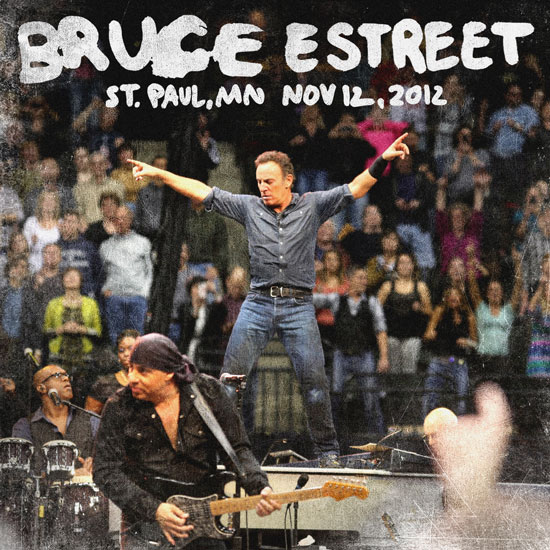 Looks like the Springsteen elves dropped off a gift early for us E Streeters. And what a gift it is. We're talking the first ever live performance of Springsteen's classic album:
The Wild, The Innocent, and The E Street Shuffle
. The set kicks off with an outtake from the album's sessions in "Thundercrack" which leads into a nice surprise of "Seeds." Of course, the main course of this show is the first and great performance of TWIESS. We hope everyone is staying safe and that you have a fantastic holiday season! Here's to a great 2021! 
Setlist
Thundercrack
Seeds
Prove It All Night
Hungry Heart
Working On A Dream
The E Street Shuffle
4th Of July, Asbury Park (Sandy)
Kitty's Back
Wild Billy's Circus Story
Incident On 57th Street
Rosalita (Come Out Tonight)
New York City Serenade
Waitin' On A Sunny Day
Raise Your Hand
Does This Bus Stop At 82nd Street?
Glory Days
Human Touch
Lonesome Day
The Rising
Born To Run
Wrecking Ball
Bobby Jean
American Land
Dancing In The Dark
(Your Love Keeps Lifting Me) Higher And Higher
The gang is back. Bruce Springsteen & The E Street Band played live during NBC's Saturday Night Live show last night and well...they did what E Street does best. Springsteen had two slots to perform and chose two songs to support his latest masterpiece,
Letter To You
. Band brought out a thunderous "Ghosts" as their first performance. It's really hard to imagine that this will not be the tour opener when we finally arrive to that sacred day. A few scenes later and they're back, this time with a performance of "I'll See You In My Dreams." The band absolutely nails this one and now that Bruce has played this to a TV show audience twice (one acoustic and one with band) it's clear that it'll have a major role in the next tour. 
After nearly four years since their last performance, t
he band is back baby. It was incredible to see Bruce smiling and laughing ear to ear as they tore that house down. It just makes you sigh and wish they were getting ready to hit the road. Check out the videos of the performances below! 
Alright, I'm excited about this one. We already got round 1, who's ready for round 2?! I know a lot of Springsteen fans were begging for this one to be included in the archive series as some (if not many) believe this to be the better of two Hammersmith shows. I might fall into the camp that this is a better show overall but to each their own! Be sure to check out the video of "When You Walk In The Room" below for a sample of the show. 
Setlist
Thunder Road 
Tenth Avenue Freeze-Out
Spirit in the Night
Lost in the Flood
She's the One
Born to Run
Pretty Flamingo
Growin' Up
It's Hard to be a Saint in the City
Backstreets
Sha-La-La
Jungleland
Rosalita (Come Out Tonight)
4th of July, Sandy (Asbury Park)
Wear My Ring Around Your Neck
Detroit Medley
For You
When You Walk in the Room
Quarter to Three
Twist and Shout
Carol
Little Queenie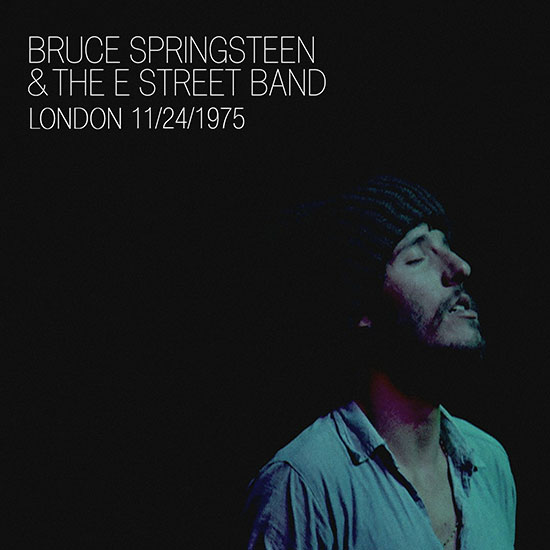 Well this was a nice surprise. Bruce Springsteen was back last night to support the Bob Woodruff foundation in the annual Stand Up For Heroes benefit show. Being 2020, the event was pre-recorded but man did Bruce knock this one out of the park. He is known to usually play songs such as "Land of Hope and Dreams" and "Dancing in the Dark." However, this year, we all wondered if he would play any songs off of
Letter To You
. We did. Not only one, but we were treated to two performances with Patti accompanying Bruce. These were the first "live performances" from the new record with "House of a Thousand Guitars" appearing first and then an incredible version of "I'll See You In My Dreams" to close out the show. In-between Springsteen plays a very stripped down version of "Long Walk Home." Check out the videos below! 
New Jersey is trying to save 2020 with new music featuring The Boss. The Jack Antonoff lead group (the) Bleachers released their new song, "Chinatown," today and it features New Jersey's favorite son. Springsteen takes the last chorus verse. Antonoff says, "as for Bruce, its the honor of a lifetime to be joined by him. He is the artist who showed me that the sound of the place I am from has value and that there is a spirit here that needs to be taken all over the world." Springsteen does make an appearance towards the end of the video. Check out the video for the new single below.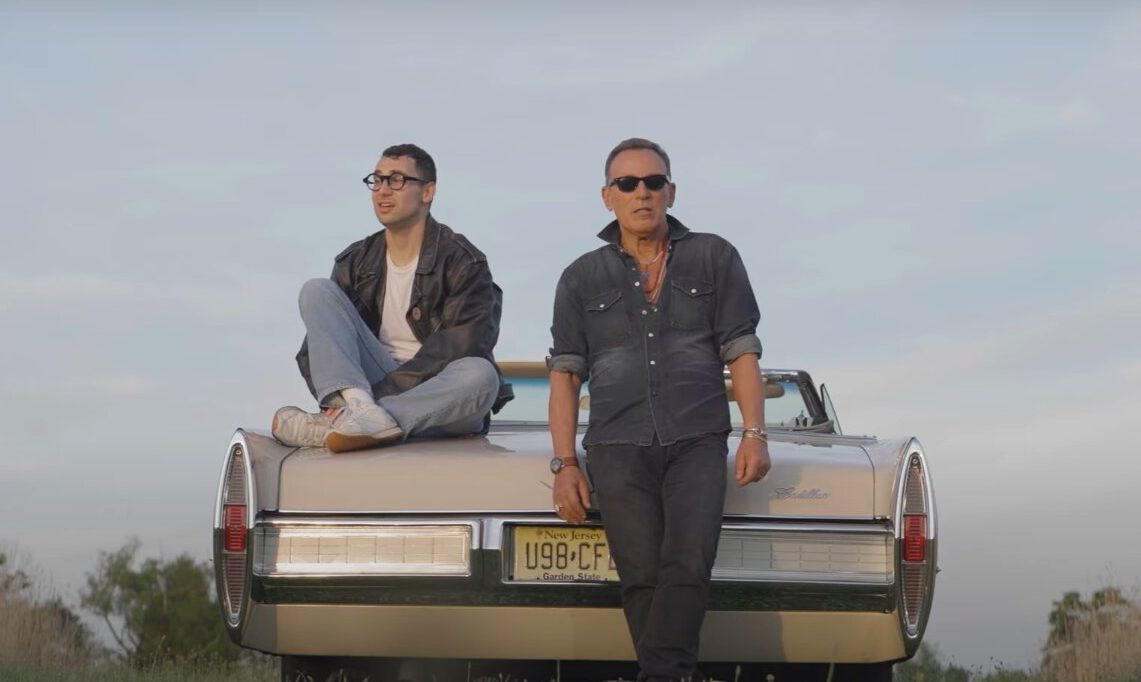 We posted our original thoughts on Bruce Springsteen's upcoming album,
Letter To You
, this past Thursday. Now, we are going to give you a little preview of what to expect in his accompanying film that drops the same day as the new record, October 23. Springsteen opens by saying, "I'm in the middle of a 45 year conversation with these men and women I'm surrounded by and some of you." Although I wish I could say that this was true for me, it's impossible for a 27 year old fan. Bruce expresses that he picked up the guitar to communicate a message and that after all these years, he still feels that "burning need to communicate." 
After Springsteen opens up with his monologue, we cut to a scene with Bruce asking the band to gather around and Steve directing them to get out their notepads. We then get an incredible look as Springsteen demo's the title track on an acoustic guitar while the band takes notes on what to do and where while recording. As Bruce and Roy work out some details in the song, Bruce compares the E Street Band to a "finely tuned racing engine." Springsteen introduces each band member and we're off into a behind the scenes look into the bands recording of "Letter To You." I want to make one thing clear, we are not just listening to the song with B-roll footage of fields on Bruce's farm like the music videos. We are treated to a direct inside look at Bruce Springsteen and The E Street Band recording the song. It's simply as great as you think it is. 
Steve makes a joke to Bruce that the band is on a Beatles schedule...three hours a song and that's it. The band did record this record in only five days. Springsteen's long time manager, Jon Landau then comes in with a joke of his own saying that if they come in on the weekend, the band will end up with a double album. Ah, to dream. 
The great thing about the film dropping alongside the album is that we get to hear Bruce's thoughts behind each song. It's similar to his Western Stars film (although the songs are not in order here) where he gives some explanation before each of the song's presented in this documentary. It is important to note that not all songs on this record appear in the film. Absent songs include "Rainmaker" and "Janey Needs A Shooter." Next up, Bruce talks about his old bandmate George Theiss and how after his recent death, Springsteen becomes the "Last Man Standing" from his very first band, The Castiles. Bruce mentions that he had meditations about him being the last man standing and it ended up being the reason for writing this new record. Springsteen says, "new music just comes sometimes, and only sometimes this is the way it happens." 
One of the cool moments that takes place after watching the band perform "Last Man Standing," is the next cutaway scene. Springsteen joins the band in the studio to do shots. Springsteen shouts, "Gentleman, here's to the road!" Which is greeted by laughs from the band. A really cool moment for our Italy readers as Little Steven cheers to San Siro. San Siro is known for incredible Springsteen audiences. The band jokes, "to opening in San Siro." Can't help but feel somber as they clearly planned to take this album out on the road. Whether or not they were actually going to open this tour in San Siro is another question but Nils jokes, "To the first of four nights!" It really is one of my favorite moments in the entire documentary. Purely based on the fact that it shows how much Bruce and the E Street Band care for their fans and want to play for them. It feels good. We are seen. We are appreciated. Not that it was ever in doubt, it's just really a neat thing for us to see played out before our eyes. I don't want to spoil too much of the conversations here but Bruce and the band members reminisce about memories they have of playing for the crowds over in Italy. I feel like this will be a highlight for many fans, and most definitely for our Italian friends. 
I don't want to give away the details of everything that is said in-between songs but it really is something special. This whole documentary is something special. You get to see Bruce demoing some songs for the band before recording, you get to see the band recording most songs on the new record (including two original songs written in the early 70's), you get to see the process that the band goes through and the conversations that the band has. The album as a whole, as we indicated in our first impressions post, is fantastic. This documentary just takes it to the next level. I think we are all going to be very grateful that we got to see the band in their environment, especially for us younger Springsteen fans. For those who don't know me personally, I'm only 27. Found Bruce on my own and have enjoyed the ride ever since. The fact that I'll have this documentary to look back on well into the future is a good feeling. Our idols...our heroes...doing their thing. Enjoy and rejoice Springsteen fans. This is exactly what we all need in this crazy year. 
You can stream this documentary exclusively on Apple TV+ on October 23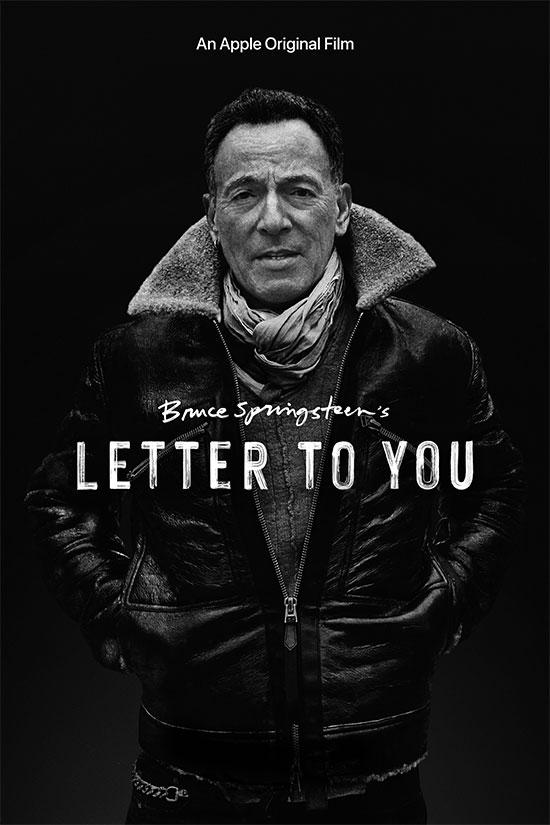 A fantastic new Bruce Springsteen interview with Apple music's, Zane Lowe, was just uploaded to Bruce Springsteen's YouTube page. You can also find the interview on Apple Music. Lowe and Springsteen dive into the new record and go into some interesting facts throughout Bruce's length and legendary career. Lowe really does a fantastic job in his line of questioning and one of the cooler moments is when they were talking about
Nebraska.
Springsteen talks about how instruments can shape albums and thoughts and actually pulls out the guitar that he recorded Nebraska with and plays the first verse. It's pretty incredible to watch. 
You can watch the one hour interview below! Don't forget (not that you have) that Springsteen's new record,
Letter To You
, hits stores this Friday, October 23. 
E Street is back. Bruce Springsteen is back. We have received an early copy of
Letter to You
and these are our first thoughts on our first listen. 
One Minute You're Here: The album opens with Springsteen strumming along to an acoustic guitar. His voice coming through crystal clear and with such raw emotion that it sounds like Springsteen is standing in your living room and performing right in front of you. Roy slowly begins to play in the background with an eventual filling of the air with strings. Almost brings me back to the voice of Bruce on his solo album, Devils and Dust. Great way to start the album.
Letter To You: We have all heard this one by now. Insert your feelings here.  
Burnin' Train: You ready to rock? This burnin' train is coming full throttle down the track. Charlie's Organ is screaming to start on this one. Max comes in with a steady kick drum behind the band and we're off, "Zero's my number, time is my hunter, I wanted you to heal me, but instead you set me on fire." I can see this one becoming a fan favorite for many on the album and will be a scorcher when the band eventually and hopefully hits the road as soon as they can. "With our shared faith, rising dark and decayed, take me and shake me from this mortal cage." 
Janey Needs A Shooter: Hardcore and diehard Springsteen fans will likely know this song. It is very much like the original demo from back in 1972 and now updated with updated vocals and a beyond polished band. Bruce sounds great. Hell, the band sounds even better. Springsteen adds in a harmonica solo in the middle of the song which adds a nice new dimension to the classic, old school rock version. Make no mistake, Bruce and the band ball out on this song. Springsteen belts and drags out "a man who knowwwws herrr styyyllle" as the song starts to come to a close. If you liked the demo version from the early 70s, you will love this. 
Last Man Standing: Song begins with a nice strumming of an acoustic guitar and the band starts to add on, typical E Street fashion here. Springsteen is clearly talking about his career and likely focusing on his early band The Castilles, "You kick the band in side-by-side, you take the crowd on their mystery ride." Bruce reminisces about playing old Legion halls while the crowd puts away their pool sticks as they watched the show. "Rock of ages lift me somehow, somewhere high and hard and loud, somewhere deep into the heart of the crowd, I'm the last man standing now." Bruce is indeed the last man standing from his old band that jump started his career. It's pretty evident that he is recalling these old days as they get out of school and work in their thrift store shirts and jeans and take the stage to set it ablaze. Song ends with an E Street Band jam session with Jake Clemons' saxophone ringing through Bruce's home studio. 
Power of Prayer: Roy leads the band for the intro of the song and then Max comes in hard with a double hit and we're off. A nice and catchy melody that will for sure be caught in the heads of many fans after their first listen. Jake has another sax solo on the end of this number. This song on first listen almost reminds me of a close relative of "Kingdom of Days."
House of a Thousand Guitars: Turn that piano up! Roy leads another song with Bruce shortly coming in a few seconds later, "The blood moon shines across the vale, bells ring out through churches and jails." Did you catch that? I feel like another Springsteen song mentions churches and jails. Anyway, I think Bruce is sharing how much music can connect all of us and how we all...become...one. With roy backing Bruce, "So wake and shake off your troubles my friend, we'll go where the music never ends, from the stadiums to the small town bars."  I have a feeling this one will be another one that gets easily stuck in your head after the first listen. The band fades out with just Roy playing the riff with Bruce singing "A thousand guitars" eight times to end the number. 
Rainmaker: 
Well, I was not expecting the start of this one. Starts very subtle with Bruce slowly preaching, "Parched crops dying 'neath a dead sun." But, man...oh man, wait for the chorus. Hits you a like a ton of bricks with the full band punching you through your speakers, "Rainmaker a little faith for hire!" I can very clearly picture Bruce's veins popping out of his neck singing this one while recording. This might be one of my favorites on first listen and I found myself wanting to keep replaying it. It seriously just grabs you and kicks serious ass. 
If I Was The Priest: Yes, this is a full band arrangement. Rejoice! Seriously...this is incredible and is clearly a highlight of the album. This is another easter egg song on the album for the diehards. Springsteen originally demoed this song back in the early 70's and rearranged the song for this album. Starts with Bruce taking a breath and then..."There's a light on yonder mountain" while guitars lightly strum with Max's high-hat keeping the tempo. Roy comes in about halfway through the first verse and then right at the end...bam. E Street bliss. For sure one of the standouts for me on the album, it really is that good. 
Ghosts: We have all heard this one by now. Insert your feelings here.   
Song For Orphans: Full band...again. Rejoice! Again! This song was featured in Springsteen's live archive series when he released one of his Trenton, NJ solo shows to wrap up the Devils and Dust tour in 2005. This song now gets the treatment it finally deserves. Springsteen opens up his harmonica ringing out with the band kicking ass in the background as E Street seemingly always does on this record. Again, diehards will be very happy with this recording. 
I'll See You In My Dreams: This was the perfect way to end this album. I don't think it is a secret that Springsteen is looking back on his life in this album and remembers those who crossed his path who are no longer with us. "I got your guitar, here by the bed...and although my soul feels like it's been split at the seams, I'll see you in my dreams." Springsteen wants to note that although some important people may be gone, this is for sure not the end..."We'll meet and live and laugh again, I'll see you in my dreams, yeah up around the riverbed, for death is not the end, and I'll see you in my dreams."
These are our brief first thoughts after our first listen to the album from start to finish. We will for sure be diving more into the songs but we wanted to give you an early glimpse into what we thought and also give you a little taste of what to expect. All in all...Springsteen fans are going to be very happy October 23.
After postponing this concert from an original earlier date due to illness, Springsteen and The E Street Band absolutely burn the house down with a fiery set in Atlanta. Many fans are simply excited about getting this Prove It All Night performance as part of the archive series.
You can buy this show now by clicking here!
Setlist
Good Rocking Tonight
Badlands
Spirit In The Night
Darkness On The Edge Of Town
Independence Day
The Promised Land
Prove It All Night
Racing In The Street
Thunder Road
Jungleland
Santa Claus Is Comin' To Town
Night Train
Fire
Candy's Room
Because The Night
Point Blank
She's The One
Backstreets
Rosalita
Born To Run
Tenth Avenue Freeze-Out
Detroit Medley
Raise Your Hand