More alleged molestation victims speak out about St. Francis psychiatrist
Posted: Mar 19, 2014 
Gerald Carrell was sent to Dr. Robert Browne office for counseling when he was 12. It was an experience that left him scarred for life.
Now a teacher in Washington state, Carrell said Browne sexually abused him on that day in 1972.  And he repeated the lewd acts on more than 150 times over the next several years, Carrell said.
"He pulled my pants down and started j***ing me off. I kind of didn't know what to think about it," said the 1977 graduate.
Carrell is one of 15 former Kamehameha Schools students -- all men now in their forties and fifties -- who shared their stories of abuse with Hawaii News Now. Each of their experiences were very similar and contain vivid in details.
Like B.B., who was sent to Browne's office on a weekly between 1977 and 1978. This man, now in his late 40s, said Browne molested him about 50 times, the first time was when he was 13.
B.B. thinks the abuse is one of the reason's he's had trouble coping with everyday life: Long term substance abuse problems, a failed marriage and chronic unemployment. For him, homelessness is a constant battle.
"I don't know enough of the psycho-babble jargon. But something Dr. Browne did triggered something inside that perhaps prevented me from me being who I should have been," he said.
"I spent most of my life -- 40-plus years -- stoned."
Another alleged victim said Browne signed him out of Kamehameha's dorms so he could take him to his Manoa home.
The psychiatrist later asked the boy to join a group discussion with local activists and artists and invited him to stay the night.
"The following morning I woke to Dr. Browne fondling me and then I became very upset about that," said the man, who goes by the initials L.L. in the lawsuit.
Browne -- who died in 1991 at the age of 65 -- was a prominent member of local society. He once headed St. Francis' psychiatric department and served on a number of local community boards, such as the ACLU.
He also took part in the civil rights marches in Alabama back in 1965.
But a lawyer for the victims said he was a prolific predator.
"He's a monster. He's had, he's a pedophile. He's a monster. He had access to children," said attorney Michael Green, who estimates that Browne may have victimized more than 100 boys.
Like the Penn State sex abuse scandal and Catholic priest molestation cases, the allegations are about incidents that happened years ago.
In a statement, Kamehameha Schools said it's now investigating but said that its efforts are being hampered by the fact that the alleged events occurred more than four decades ago.
But the victims believe their accounts are partly corroborated by the school's own records that would show how many students were referred to Browne.
They blame the school and St. Francis for not doing enough to protect them. Both institutions are being sued by the victims.
"Kamehameha had a big hand in this," said Carrell.
"I would have never met the guy for Kamehameha and I certainly would have been better off had I not met him."
Copyright 2014 Hawaii News Now. All rights reserved.
---

---
Friday, August 20, 1999






His role in a restroom sex scandal
rocked the mighty Bishop
Estate in March

By Rick Daysog
Star-Bulletin

Gerard Jervis, whose role in a restroom sex scandal rocked the multibillion-dollar charitable trust, permanently resigned today as a $1 million-a-year trustee of the Bishop Estate.

The 50-year-old Jervis, who was temporarily removed as a trustee in May, tendered his resignation in a letter to the chairman of the estate's interim board of trustees, retired Adm. Robert Kihune.

The resignation is unconditional.

Jervis said his decision is based on the Internal Revenue Service's threat to revoke the Bishop Estate's tax-exempt status if the previous board was not removed permanently.

"As an incumbent trustee, my fiduciary duty to the estate must drive my decisions," Jervis said in his letter.

"I recognize that my final act as a trustee must be the protection of the estate's valuable tax exemption."

Nathan Aipa, acting chief operating officer of the estate, had no comment, saying he was not aware of Jervis' resignation.

Jervis becomes the second trustee of the Bishop Estate to resign voluntarily. Oswald Stender stepped down after the IRS threat. In May, Probate Judge Kevin Chang temporarily removed Jervis along with fellow trustees Richard "Dickie" Wong, Henry Peters and Lokelani Lindsey and replaced the board with five interim trustees.

The interim board is expected to sue for the permanent removal of the old board on Tuesday.

Lindsey also was permanently removed on May 6 by Circuit Judge Bambi Weil after a five-month trial.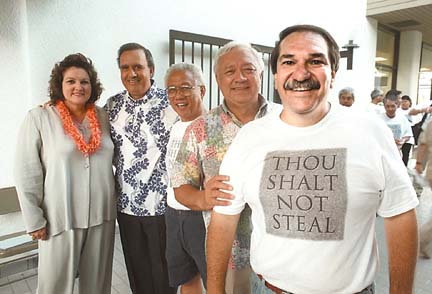 By Dennis Oda, Star-Bulletin
Lokelani Lindsey, Henry Peters, Richard "Dickie" Wong,
Oswald Stender and Gerard Jervis, left to right, in 1995.
---
Jervis today said he believed that the estate's tax-exempt status was "seriously jeopardized" if he remained as a trustee. But Jervis said the IRS threat is based on practices and decisions adopted before he became a trustee in 1994.

An attorney by training, Jervis joined Stender in 1998 in the suit that resulted in Lindsey's permanent removal. But his reputation plunged after he and a trust lawyer, Rene Ojiri Kitaoka, were discovered having sex in a restroom at a Waikiki hotel in March.

The day after the incident, Kitaoka committed suicide and Jervis later took an overdose of sleeping pills.

Despite his resignation, Jervis will likely continue to face litigation related to the Bishop Estate controversy. The attorney general's office is seeking fines against all five trustees and the IRS may seek penalties against individual board members for taking excessive compensation.

Jervis defended his actions, saying that many of his decisions were made only after consulting with staff and outside consultants.

Reaction to Jervis' resignation was positive.

"Wow," said Beadie Dawson, native Hawaiian attorney and critic of trustee policies.

"I'm very proud of Jervis for doing this. It cannot be easy. I believe it is in the very best interest of the trust and the beneficiaries. I think he is to be commended for tendering his resignation."

"I do hope that this message becomes a prime mover for the other trustees. I hope they follow suit."

Dawson said his resignation does not become official until it goes to probate court.

Federal Judge Sam King, a co-author of the Broken Trust essay that criticized the trustees' management, said he "always thought of Gerard Jervis as a good lawyer. His own knowledge has led him to the right conclusion."

Roy Benham, president of the Kamehameha Schools Alumni Associations, Oahu Region, was pleased about the resignation.

"It's for the betterment of the schools and the estate," he said. "This is a good move."

Benham believes alumni and the Kamehameha ohana would prefer to see all the trustees step down on their own except for Oswald Stender, but "he said if they step down, he will."

Randall Roth, a University of Hawaii law professor and co-author of the "Broken Trust" essay, said, "None of the former trustees will ever be reinstated. If the others would follow Jervis' lead, it would save everyone a lot of time, trouble and money."

---

Gerard Jervis' letter
of resignation

Following is the letter of resignation submitted today by
Gerard Jervis to retired Adm. Robert Kihune, chairman
of the Bishop Estate's interim board of trustees.

---

Dear Mr. Chairman:

Upon my appointment as a Trustee of Kamehameha Schools Bishop Estate, I was struck by the honor and extreme importance of this position. It was a truly humbling experience for me.

At first, I set about trying to gain an understanding of the structure and complexities of this enormous Estate. The management systems, subsidiary structures and a deep sense of "how things were done" were all securely in place upon my arrival.

I made inquiry both inside and outside the Estate and was comfortable that we had competent professionals to guide us on legal and tax issues which potentially impacted the Estate. On every decision I participated in, I read the relevant background materials, asked questions of the responsible staff members and consultants and generally satisfied myself that I understood the issues before me. I never, to my knowledge, voted on a tax measure contrary to staff's recommendation, which was usually based upon the advice of outside consultants.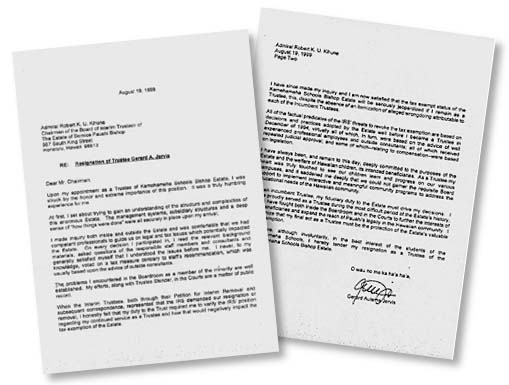 The problems I encountered in the Boardroom as a member of the minority are well established. My efforts, along with Trustee Stender, in the Courts are a matter of public record.

When the Interim Trustees, both through their Petition for Interim Removal and subsequent correspondence, represented that the IRS demanded our resignation or removal, I honestly felt that my duty to the Trust required me to verify the IRS' position regarding my continued service as a Trustee and how that would negatively impact the tax exemption of the Estate.

I have since made my inquiry and I am now satisfied that the tax exempt status of the Kamehameha Schools Bishop Estate will be seriously jeopardized if I remain as a Trustee, this, despite the absence of an itemization of alleged wrongdoing attributable to each of the Incumbent Trustees.

All of the factual predicates of the IRS' threats to revoke the tax exemption are based on decisions and practices adopted by the Estate well before I became a Trustee in December of 1994, virtually all of which, in turn, were based on the advice of well experienced professional employees and outside consultants; all of which received repeated judicial approval; and some of which -- relating to compensation -- were based on legislation.

I have always been, and remain to this day, deeply committed to the purposes of the Estate and the welfare of Hawaiian children, its intended beneficiaries. As a Trustee my heart was truly touched to see our children learn and progress on our various campuses, and it saddened me deeply that we could not garner the requisite Board support to implement interactive and meaningful community programs to address the educational needs of the Hawaiian community.

As an incumbent Trustee, my fiduciary duty to the Estate must drive my decisions. I have proudly served as a Trustee during the most difficult period of the Estate's history, and I have fought both inside the Boardroom and in the Courts to further the interests of the beneficiaries and expand the reach of Pauahi's legacy in the Hawaiian community. I recognize that my final act as a Trustee must be the protection of the Estate's valuable tax exemption.

Therefore, although involuntarily, in the best interest of the students of the Kamehameha Schools, I hereby tender my resignation as a Trustee of the Kamehameha Schools Bishop Estate.

O wau no me ka ha'a ha'a,
Gerard Aulama Jervis

---

Star-Bulletin writers Susan Kreifels and
Gordon Y.K. Pang contributed to this report.

---






---
May 15, 2003
$400,000
That's how much
McCubbin gets for resigning
Hamilton McCubbin, who abruptly resigned as the chief executive of Kamehameha Schools last week in the midst of accusations of an inappropriate relationship with a female staffer, will be paid $400,000 in a confidential severance package, according to sources close to the negotiations.
McCubbin, 61, was also ordered to vacate by August the Kahala home he and his family have lived in, according to the sources. The home, which according to property records is assessed at $679,000, is owned by Kamehameha Schools.
His May 5 resignation came one week after a second estate inquiry into an alleged inappropriate relationship with a female employee. Both McCubbin and estate officials have declined comment on the investigations.
Beadie Dawson, a close friend of McCubbin, said the agreement includes a silence provision that McCubbin would not respond to allegations against him.
Kekoa Paulsen, a spokesman for the trust, declined to comment on the severance package because it is considered "a personnel matter" and is confidential.
McCubbin, who was hired to reform the scandal-weary school in February 2000, earned $350,240, according to the estate's latest tax return, filed June 30. His departure comes three months after he signed a three-year extension to his contract.
McCubbin could not be reached by telephone or at his Kahala home.
Deputy Attorney General Hugh Jones declined to comment on the package.
Jan Dill, president of Na Pua a ke Ali'i Pauahi, an organization of about 1,000 alumni, teachers and parents, also declined to comment on the package.
"It's time to move on," said Dill. "We've been enmeshed in this battle for the soul of Kamehameha for six years now. McCubbin was part of the reform and brought some needed changes, but what we really need is a cultural change."...
At Kamehameha, McCubbin will be replaced by acting CEO Colleen Wong, who has served as the trust's chief legal counsel.
http://starbulletin.com/2003/05/15/news/story2.html
~ ~ ~
---
GOOGLE SEARCH FOR 
KAMEHAMEHA SCHOOLS, SEX SCANDALS
About 13,500 results (0.25 seconds)