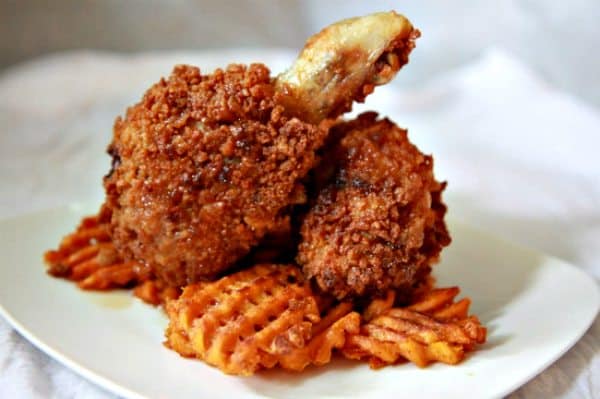 Waffle Fried Chicken
Batter
1 split batch of crispy waffles. (Divide all waffle ingredients, except baking powder, between two bowls)
1 3/4 cups all purpose flour
2 tablespoons sugar
3/4 teaspoons baking powder (all for waffle batter) 
1/2 teaspoon salt
1 3/4 cups whole milk
2 large eggs
6 tablespoons (3/4 stick) unsalted butter, melted, slightly cooled
1 tsp vanilla
Chicken
8 chicken drumsticks

1 tbs of chinese five spice

salt & pepper

vegetable oil
Pre-heat the oven to 400 degrees. 
I split 1 batch of waffle batter, leaving the baking soda out of the batter to be used for dredging and omitting the chinese five spice all together. 
Heat waffle iron,spray with non-stick spray. Using a ladle pour the regular waffle batter (batter with baking soda) into the hot iron and cook until golden and crispy. You will have four waffles.
Remove waffles from the iron, set aside to cool completely. Once they have completely cooled tear waffles and place into a food processor. Pulse the food processor until you have small crumbs.  Spread the waffle crumbs onto a large sheet pan. Place into the hot oven and toast the crumbs, removing any moisture, about 5-8 minutes. I wanted my crumbs on the larger side but if you prefer a finer crumb, remove from the oven, cool completely and return to the food processor, pulse until you reach your desired crumb.
Once the crumbs are dry, reduce the oven to 350 degrees.
While the crumbs are in the oven, fill a large dutch oven or heavy bottom pot with vegetable oil and heat oil to 350 degrees.
Mean while sprinkle the chicken with salt, pepper and chinese five spice.
Dredge the chicken in baking soda free waffle batter, then roll in dried waffle crumbs.  Once you have dredged and "waffled" all the chicken gently drop into hot oil, fry for 10 - 15 minutes. Keep an eye on the brownness of the chicken, you don't want it to get too dark.
Remove the chicken from the oil and check the internal temperature, if it hasn't reached 165, place on a sheet pan with a cooling grid and bake in the oven an additional 10 minutes or until the internal temperature reaches 165 degrees.
Drizzle with maple syrup if desired and serve immediately.
Copyright 2011 - All Rights Reserved - TheNoshery.com