Ropa Vieja with Arepas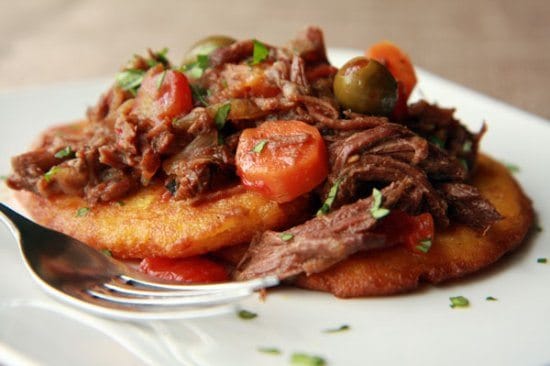 Ropa Vieja
1 pot roast, chuck or round, about 2 1/2 to 3 pounds
1 cup beef broth
1/4 cup sofrito (4 -5 cubes)
2 Tbs tomato paste
1 medium onion, sliced
3 cloves of garlic, chopped
10 pimento stuffed olives
1 envelope of sazon, sin achiote
2 Tbs olive oil
adobo, to season
1 can fire roasted diced tomatoes
2 carrots peeled & sliced
Heat large pan over medium-high heat, drizzle pot roast with olive oil, season with adobo. Brown roast for about 5 minutes on each side, or until evenly browned.
Pour beef both into slow cooker with, softito, tomato paste & sazon.
Place pot roast in slow cooker, add onions, garlic and olives over pot roast.
Set on LOW for 10 hours or HIGH for 6.
2 hours before it's done add carrots and can of tomatoes.
Arepas (adapted from Bobby Flay)
2 1/2 cups milk
1/2 stick (1/4 cup) unsalted butter, cut into pieces
1 1/2 cups white arepa flour (precooked cornmeal)
1 1/2 teaspoons kosher salt
1/2 teaspoon freshly ground black pepper
1 tablespoon honey
Vegetable or canola oil, for cooking
Bring milk to a simmer in a small saucepan, then remove from heat and stir in butter.
Combine arepa flour, salt and pepper in a large bowl. Add the hot milk and honey and stir until combined. Let mixture stand until milk is absorbed enough for a soft dough to form, 1 to 2 minutes (dough will continue to stiffen).
Form the dough into 12 balls (about 2 inches in diameter) and flatten between palms into 3 1/2 to 4-inch patties (about 1/3-inch thick), if the dough is too sticky add more arepa flour.
Heat 2 tablespoons of oil in a large nonstick skillet or griddle over medium heat until the oil begins to shimmer, fry 4 arepas at a time, until lightly golden brown on both sides and just cooked through about 2 to 3 minutes per side; transfer to a baking sheet lined with paper towels until ready to serve.
Copyright 2010 - All Rights Reserved - TheNoshery.com