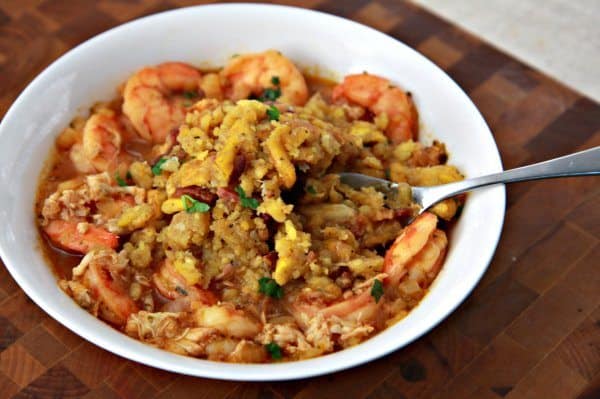 Mofongo con Sopa de Mariscos
Soup
1 lb of jumbo shrimp, with skin and raw (about 16-20)
2 tbs of olive oil
1 large spanish onion, diced
5 cubes of sofrito
1 8 oz bottle of clam juice
6 oz. pouch of lump crab meat
Peel shrimp, reserve skins and set aside.
In a dutch oven or a large pot combine 2 tbs of olive oil, 5 cubes of sofrito and the onion. Saute the onions for about 8 minutes or until tender.
Add 1 8 oz bottle of clam juice, 2 cups of water, shrimp skins, sazon and 1/2 cup of tomato sauce to the pot.
Raise the temperature and bring to a boil, lower the temperature and let simmer for 20 minutes.
Useing a slotted spoon or fry basket to fish out the shrimp skins. If you were smart you would wrap on the shrimp skins in a cheese cloth and make a bundle. That way you don't have to fish them out. Apparently I am not so smart.
Set the heat to medium-low, add shrimp and lump crab meat to the pot. Let it stew for about 15 minutes.
Put the heat at the lowest setting, cover and set aside until ready to serve.
Mofongo
1 12 oz block of cured salted pork
3 green plantains, peeled and cut into 1 inch slices
4 cloves garlic
2 tbs of olive oil
1 tsp of white vinegar
1 tsp of salt
5 whole peppercorns
vegetable oil
Rinse the salted pork under running water for a few minutes, rinsing off some of the salt. Some say to soak it, but I find that rinsing it off works just fine  Pat the salted pork dry with a paper towel.
Using a sharp knife score the skin of the salted pork. This helps to render the fat and get it nice and crispy.  Slice the skin off of the cube of salted pork and set aside.
Using a very sharp knife cut the salted pork cube into thin slices. Lay the skin and pork slices on a baking sheet with a cooking grid.  Bake in the oven at 375 degrees for 25-30 minutes or until it is super brown and crispy. The pork skin will not be ready yet.
Raise the temperature to 400 degrees and bake the skin for an additional 25 minutes or until the skin is crispy, golden brown, and sounds hallow when tapped.
Coarsely chop the bacon and skin, set aside.
Peel and slice the plantains into 1 inch slices. Fill a large bowl with water and 3 tsp of salt or Adobo. Add all the plantain slices to the bowl and set aside until ready to use.
In a mortar and pestle mash, 4 cloves of garlic, 3 tbs of olive oil, 1 tsp of white vinegar, 1 tsp of salt and 5 peppercorns.
Transfer the plantain slices to a plate lined with paper towels and pat dry.
Pour enough vegetable oil to cover the plantain slices, in a deep skillet. Heat the oil to 350 degrees. Add the plantain slices to the oil. (You may have to do this in two batches.)  Fry the plantains for about 15 minutes or until golden.
Using a slotted spoon or frying basket, transfer the plantain slices to a plate lined with paper towels to drain.
Place about 8 - 10 slices in your pilon. Mash the plantains.  Add some chicarron and mash it all together. You may want to keep a spoon handy to help separate and mix.  Add a few more fried plantains and about 1 tsp of mash garlic. Keep mixing and mashing in garlic until you get the taste you want. 
Serve immediately with soup or broth of choice.
Copyright 2010 - All Rights Reserved - TheNoshery.com