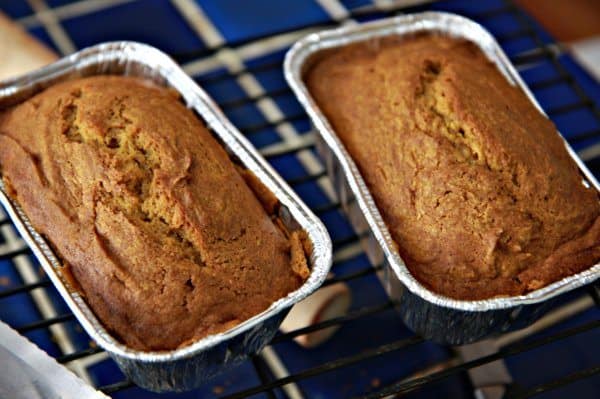 Brown Butter Pumpkin Bread (adapted from Bon Appétit | November 1995)  
3 cups sugar
1 cup browned butter
3 large eggs
1 16-ounce can solid pack pumpkin
3 cups all purpose flour
1 tsp ground cloves
1 1/2 teaspoon ground cinnamon
1 tsp fresh ground nutmeg
1/4 tsp of powder ginger
1 tsp baking soda
1/2 tsp salt
1/2 tsp baking powder
1 cup coarsely chopped pecans (optional)
Preheat oven to 350°F.
Butter and flour two 9x5x3-inch loaf pans.
Melt butter in heavy large skillet over medium-low heat. Cook until edges curl and butter is dark amber (do not burn), stirring occasionally, about 6 minutes.
Beat sugar and brown butter in large bowl to blend. Mix in eggs and pumpkin. Sift flour, cloves, cinnamon, nutmeg, ginger, baking soda, salt and baking powder into another large bowl. Stir into pumpkin mixture in 2 additions. Mix in pecans, if desired.
Divide batter equally between prepared pans. Bake until tester inserted into center comes out clean, about 1 hour. Transfer to racks and cool 10 minutes. Using sharp knife, cut around edge of loaves. Turn loaves out onto racks and cool completely.
Loaves can be wrapped in foil and frozen for up to 1 month.
Copyrigth 2010 - All Rights Reserved - TheNoshery.com