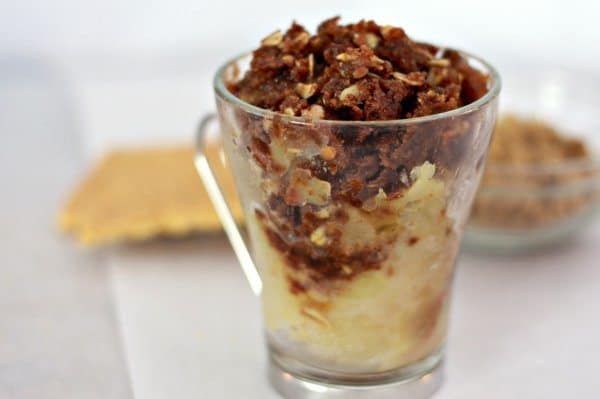 Apple Graham Crisp
2 Granny Smith apples, peeled, cored and sliced
2 Golden Delicious apples, peeled, cored and sliced
1/4 cup sugar
1/4 cup all purpose flour
1 tsp corn starch
1 Tbs fresh lemon juice
3/4 cup graham cracker crumbs
1/4 cup oats
1/4 cup pecan pieces
2/3 cup (packed) golden brown sugar
1 tsp ground cinnamon
1/2 tsp ground ginger
1/4 tsp ground nutmeg
1/4 tsp salt
1 stick chilled unsalted butter, diced
Pre-heat the oven at 375 degrees. Peel core and slice your apples.
In a bowl combine apples, 1/4 cup sugar, 1/4 cup flour, 1 tsp cornstarch and lemon juice in large bowl; toss to combine well. Transfer apple mixture to 9-inch-diameter glass pie dish. Bake in the oven for 40 minutes.
Meanwhile add 7 graham crackers to the food processor and process to coarse crumbs, about 3/4 cup of crumbles. In a bowl combine graham cracker crumbs, oats, pecans brown sugar, spices and salt in medium bowl.  Add butter; rub in with fingertips until topping holds together in small moist clumps.
Sprinkle topping over baked apples and bake an additional 15 - 20 minutes, until apple filling is bubbly. Cover with foil if topping begins to get too brown.
Let the crisp cool for about 10 minutes and serve yourself a heaping helping.
Copyright 2010 - All Rights Reserved - TheNoshery.com