Jesus the Messiah, Our God
The Author and Finisher of Salvation Psalms 18:2, Hebrews 5:9, 12:2.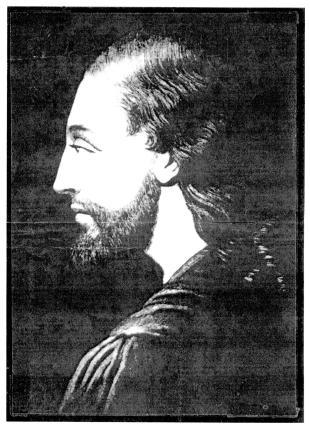 THE ONLY KNOWN "PAINTING" OF JESUS.
This picture was reproduced by John Sartain's engraving "Our Saviour" first published by Richard De Forest, Rochester, NY, and L.W. Carr, Detroit, MI and entered according to Act of Congress in 1865.
The following legend is attributed to the picture:
From the only authentic likeness of our Saviour, cut on an emerald by command of Tiberius Caesar, and given later to pope innocent VII from the treasury at Constantinople, by the emperor of the Turks, for the ransom of his brother, then a captive of the "christians".
Interestingly, there must be a strong resemblance of this picture to Jesus, as he appeared on this earth, because Ellen G. White, was greatly impressed.
She was the prophet that saw Jesus many times in vision, and the person who wrote this story of the crucifixion in 1884.
This is the personal testimony from the letter of Abbie Kellogg Norton, dated March 19, 1935. --->
"I well recall seeing Brother and Sister White coming to our home many times when I was a child - probably in 1878-79 or 1880-81, and Sister White never failed to comment upon the picture and its likeness to the Saviour as she has seen him in visions. I think her exact words were,
"Yes, yes, it looks as I've seen our Saviour in visions - it's more nearly a likeness than anything I have ever seen."
Of course, it made a great impression on us all. Not long before my mother died, she retold this story to some of the brethren and sisters in Mountain View, California."
I can add my personal testimony as I have seen this picture hanging on a bedroom wall at Elmshaven in Deer Park, California. Ellen White's granddaughter showed it to us and told about Ellen White's comments, that it was a great likeness to what she had seen in vision.