---
The Other Side of Paradise
The Plight of Oahu's Leeward
Coast Homeless
By John Fischer, About.com Guide
Leeward Coast Homeless
Photo by John Fischer
Just a few miles and several minutes north of the beautiful Ko Olina Resort on Oahu's Leeward Coast you will find the other side of paradise. There, on sixteen miles of beaches and beach parks stretching beneath the Waianae Mountains, you'll find the tents, wooden containers, vans and simple overhangs that are the residences of many of Oahu's homeless population which, by some estimates, numbers over 4,000.
At first glance it's easy to disparage these people as bums, deadbeats, drug addicts and the like, but this is a disservice to a large number of these folks. While many of these homeless are indeed jobless and current or former addicts, a closer look shows that many are also respectable people and often entire families whose only "crime" is that they cannot afford a place to live.
Housing Costs on Oahu
The median cost of a single family home on Oahu, as of the third quarter 2006, is $635,000. (Honolulu Board of REALTORS®, October 18, 2006) The median cost of a condominium is $315,000. Even on Oahu's less well-to-do Leeward Coast, the median cost of a single family home is $365,000. and a condominium $ 179,000. None of this is to infer that many such residences are even available for sale.
Lives of the Leeward Coast Homeless
Because of laws prohibiting the establishment of permanent residences on beaches and in beach parks, many of these shelters are packed up each morning and loaded into the owners station wagon, van and, yes, even SUV. The local school buses stop at the beach parks to pick up homeless children for school. Many of the homeless adults drive to their day jobs. Many of these people are far from indigent.
This homeless existence is not unique to Oahu. You'll find other such camps on most of the major Hawaiian Islands. It's just that on Oahu, the homeless have found some sense of unity in numbers - numbers that defy law enforcement and befuddle and embarrass state and county politicians.
A Largely Hidden Shame
It's much too easy for government officials and even many local residents to ignore this situation. After all, for the most part this embarrassment is invisible to most of Hawaii's millions of visitors who rarely visit this side of the island. Many locals recognize the situation, but can only be grateful that they themselves have a place to live. Many of them, however, are just a few dollars and a job from joining the homeless. I know one public relations professional who pays $1600 a month for a 900 square-foot apartment. Other locals have harkened back to the old ways, living in homes together with their parents, grandparents and siblings.
Election Year Attention
In an election year, politicians facing reelection make some effort to address the situation. Hawaii's Republican
Governor Linda Lingle
, facing her own reelection campaign, appointed a state official to oversee the emergency construction of shelters for Leeward Coast homeless and, in an emergency proclamation, described the situation as a "major disaster and catastrophe."
Just recently a new homeless shelter was opened at Kalaeloa at the former Barber's Point Naval Station. The state is spending nearly $2 million to renovate a three-story building into 66 living units. Crews are still working on the first floor, which is configured for the handicapped. The state expects the building will house 200 people when complete.
The building has been named Onelauena which, according to Kaulana Park, the state's homeless coordinator for the Leeward coast, means "where all necessities of life are found."
The state expects to complete another emergency shelter at the Waianae Civic Center to house up to 300 people by the end of the year.
Measures like these, however, are mere stopgap solutions, not real answers to the problem. The Kalaeloa Shelter is designated as a transitional shelter where residents can stay for free for up to six months while they attend required classes in job and life skills. Shelters like this, however admirable, still fail to address the homeless who actually have jobs, but need permanent affordable housing. 
The Root of the Problem
What, you may ask, is the root of the problem? After all, Hawaii's economy is strong. Unemployment is the lowest in the nation at around two percent. Anyone who wants a job in Hawaii can find one of some type. Many folks work two or more jobs just to make ends meet.
The real root of the problem are people like you and me - mainlanders who either move to the islands or buy property in the islands driving up the cost of housing each year and driving more and more locals into economic hardship. Many, if not most, of these mainlanders are independently rich or retired rich. They are consumers of society, not contributors to society. Most never work in Hawaii. They depend on others to service their needs.
People ask me why I don't move to Hawaii. For me, it's a matter of principal. Hawaii does not need more mainlanders investing in or moving to the islands. Visit Hawaii. Spend your money. Don't move there.
Renters Fall Victim to Greedy Property Owners
It seems like every week Oahu property owners realize that they can evict renters and sell their homes, condominiums and sometimes entire apartment buildings for tremendous profits. After all, they have a place to live either in Hawaii or on the mainland. It's not their responsibility to find housing for those they displace. If they're locals, then shame on them for hurting other kama`aina.
Permanent Solutions Hard to Find
Permanent solutions to the problem of Oahu's and Hawaii's homeless remain a mystery. It's easy to say that the islands need more affordable housing, but too often the few affordable housing units that are built still are way out of the reach of most of the homeless - even those who work one or more jobs each day.
If anything, the situation is bound to get worse. There are no signs of housing costs ever getting down to where most local residents can attain their dream of home ownership as their mainland contemporaries often can. Each year, more locals decide to move away from paradise just to afford to live.
Ultimately, and perhaps not too far in the future, Hawaii's visitor industry will suffer the consequences of this shameful situation. As locals leave and more mainlanders arrive, there are fewer people to work in the service industry. Someday soon there may be no one to change the sheets in your hotel, serve you your dinner or work in the ABC store. It can only be called a deplorable situation and, unfortunately, one with no answer on the horizon. For now, it remains just the other side of paradise.
Additional Resources
Median Cost of a Single Family Home on Oahu
Honolulu Board of REALTORS®
2000 - $295,000
2001 - $299,900
2002 - $335,000
2003 - $380,000
2004 - $460 000
2005 - $590,000
2006 - $635,000 (as of October 18, 2006)
Homelessness in Hawaii
An index of numerous articles from local and national newspapers regarding the homless situation in Hawaii.
From the Office of Governor
Governor Linda Lingle's July 6, 2006 Emergency Proclamation on Leeward Coast Homeless.
http://gohawaii.about.com/od/hawaiianpeople/a/oahu_homeless_2.htm
---
HOMELESS: KAPIOLANI PARK BECOMES LATEST CAMPSITE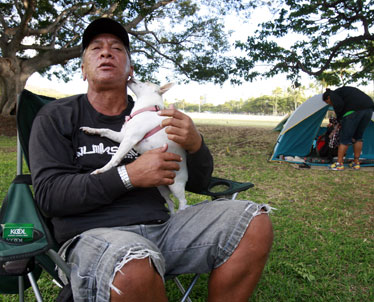 GEORGE F. LEE /
GLEE@STARBULLETIN.COM
Kapiolani Park camper Benjamin Kahalepo, with his dog Kikilani, have called the park home as of late. The former hotel cook has stayed at shelters and other parks and is waiting for help in government-subsidized housing or
Hawaiian Home Lands
.
City seeks ways to limit campers
Roy Thompson, 43, says he has been living in a tent at Kapiolani Park since he was released from prison in April because job-placement programs did not come through for him.
"They said, 'Do what you do best,'" he said. "I'm a thief. I don't want to do that. I do recycling now." He cannot afford rent on the $20 to $40 a day he gets collecting cans.
Soccer moms at the park were wary of Thompson and dozens of other homeless people camping about 200 feet from where their daughters practice and play.
City Parks Department officials say they have had a significant jump in recent complaints about people camping or living in the area. Police have noticed an increase in the number of campers, but it is currently not illegal to camp in the park, said Honolulu Police Department spokeswoman Michelle Yu.
Cherri Masaki, 40, who has two daughters who play soccer in the park, said, "If I had a choice, I'd have them removed. I know people are having a hard time, but this park is so heavily used. There's youth all over. It's scary. Our girls have to go in groups to the bathrooms."
Christine Asuncion, 36, whose 14-year-old daughter plays soccer, said, "If the balls go down (near the homeless), we don't let the girls go. We get the balls."
The homeless people in Kapiolani Park could be forced out if a bill passed by the City Council this week is signed into law by Mayor Mufi Hannemann.
Parks Director Lester Chang said that the city has been working since November to clarify its ordinance prohibiting camping in city parks and beaches without a permit. In November the state Supreme Court ruled that the law was unconstitutional because it was too vague.
If the bill passed by the City Council this week becomes law, it would give police and the Parks Department a tool to ticket campers.
Chang said the city has 15 locations where camping by permit is allowed, but Kapiolani Park is not designated for this type of recreational activity.
Mark Dougherty, a Waikiki resident who lives near the zoo, said the number of tents has jumped to 50 from 20 in the past two months and that the problem is getting out of hand.
At about 7 p.m. Thursday, there were about 15 tents set up in various locations of the park. The majority were on the makai side of Waikiki Shell between the Shell and the bandstand. A few camped on the Paki Avenue side of the park.
City officials do not want to close Kapiolani Park at night to the public as they have with other parks. "Most of the parks we have closed were for safety and health concerns," Chang said.
He said the city is still planning on how it will work with the homeless to try to help them.
The city has recently evicted the homeless from several parks in Mokuleia and on the Leeward Coast and Ewa Plain, shutting them down at night.
"I like to think that, and I hope that, the community as a whole is trying to support these people," Chang said. "I hate to think that the parks are the only resort."
Utu Langi, manager of H-5, which provides services for the Kakaako emergency shelter, said moving the homeless is not going to solve the problem. "It's just going to chase them from one place to another, and they're just going to pick up and move," he said. "They don't have anywhere to go."
He said shelters like Next Step do not have any accommodations now for singles, but do have space for couples or families.
"It's hard because it's urban Honolulu, and we just don't have enough shelter space for the emergency, transitional or affordable housing for them to go to," he said.
---
 December 10, 2009
Police step up enforcement to clear out
Kapi'olani Park
Campers issued citations, property seizure warnings
By Dan Nakaso
Advertiser Staff Writer
On the eve of Sunday's Honolulu Marathon and an upcoming Christmas vacation by President Obama, police have begun writing citations and taking other steps to discourage a growing homeless encampment that sits next to the marathon's Waikíkí finish line.
The crackdown is the city's latest attempt to address a stubborn problem that has defied solution, and drawn complaints from public officials and Waikíkí residents and tourists about homeless in the epicenter of Hawai'i's struggling tourism industry.
It comes just a week after an estimated 40 homeless people were required to move from a spot near the Waikiki Aquarium and Mayor Mufi Hannemann said that what some had thought was a loophole in the city's "illegal camping" law wasn't a loophole after all.
The number of homeless in Kapi'olani Park peaked in summer 2008 with more than 150 sleeping there at night. The size of encampments has ebbed and flowed since but has been on the rise of late.
Art Richardson, a Waikíkí resident, went on a "Neighborhood Walk" with officers from the Waikíkí substation early this year and saw half a dozen tents in the Queen's Beach end of Kapi'olani Park, which sits on the 'ewa side of the Waikiki Aquarium, fronting the ocean.
But this week the number of tents had multiplied to about two dozen, Richardson said, along with several dozen homeless campers.
"It's growing," Richardson said. "It's gotten a lot worse lately."
And that comes even though shelters have said they have space for single men and women.
on the move
Yesterday, many of the homeless people said they moved to the Queen's Beach section of the park in the past several days after Hannemann announced a crackdown on a 6-foot-wide strip of grass that runs along the street-side of Queen's Beach.
Homeless people moved onto the strip under the belief that it was state land and therefore offered them a loophole against the ban on camping in city parks.
But Hannemann said on Dec. 2 that the strip was part of Kapi'olani Park, where overnight camping is prohibited.
"We are committed to keeping Kapi'olani Park clean and safe for everyone," Hannemann said in his announcement. "The Malama o Waikiki renovation program we announced in March has been very successful in restoring heavily used park areas and beachside pavilions, and we are continuing these efforts."
Yesterday, the strip of grass was surrounded by yellow tape and fliers announcing, "temporarily closed for park maintenance."
The fliers state that "all personal property, household goods, animals, etc., must be removed by 11 a.m. Wednesday, December 2, 2009. Any property remaining in the area may be impounded. Perishable property and trash will be discarded."
Misty Martin, 46, had been staying on the strip of grass until she moved farther toward Queen's Beach following Hannemann's announcement.
Then in the early hours of Monday, Tuesday and yesterday, Martin and others said, Honolulu police officers from the Waikíkí substation in standard uniforms and tactical gear began sweeping the encampment and citing people like Martin.
Yesterday, Martin showed a citation she received hours earlier for illegal camping, along with a summons for a court date on Jan. 11.
Martin and others insisted that they weren't violating park ordinances against camping because her tent was packed up and she was merely sitting in a beach chair on the sidewalk when the officers arrived in patrol cars and aboard all-terrain vehicles.
"We know it's because of the marathon," Martin said. "We're definitely being targeted."
Russell Akina, 48, said his two tents were neatly stowed in a baby stroller he uses for his belongings and was walking on the sidewalk along Kalakaua Avenue after using a Kapi'olani Park restroom. As he walked along the sidewalk, Akina said a Honolulu police officer issued him a citation at 2:45 a.m. yesterday.
The handwriting on Akina's citation was difficult to read, but Akina said the officer told him that he was cited for "planning to sleep in the park."
"I told him, 'How could I be intending to sleep when my tent wasn't even up?' " Akina said. "He said, 'Tell it to the judge.' "
enforcing the ban
Jamie Dryburgh, a tourist from Vancouver Island, British Columbia, has visited Waikíkí four times and said the number of homeless campers at Queen's Beach is tarnishing his latest vacation.
He lay on a beach towel near several homeless tents yesterday and nodded his head toward where he had witnessed an argument between a homeless man and a local resident "over nonsense."
"It has definitely put me off," Dryburgh said. "It's not pleasant. From the perspective of police, it looks like a no-win situation."
But Waikíkí resident Bruce Grant, walking along the shoreline in front of the encampment, said, "It doesn't bother me at all. Everybody needs a place to live."
Police spokeswoman Michelle Yu acknowledged yesterday that officers from the Waikíkí substation have been enforcing the ban on camping in Kapi'olani Park in response to Hannemann's announcement.
But Yu said she had no information on what the citations were issued for and had no knowledge of allegations by homeless people that officers were seizing tents and other personal items.
An Air Force and Navy veteran who became homeless in August said officers took his tent and others early yesterday after he left the park so he wouldn't be violating the camping ban.
"I didn't expect to be out here this long, to be honest," said the man, who would not give his name because he is trying to find a job and did not want to be stigmatized. "But how they're treating us is ridiculous. I've got to get out of this situation."
B.J. Kam and several other homeless people said they pack up their belongings every night and stow them beneath banyan trees to avoid camping citations. They then stand on Waikíkí sidewalks or walk along Kalakaua Avenue from 2 a.m. to 5 a.m. to comply with the camping ban.
"At midnight I get out of the park and sit on the curb or just listen to the radio," Kam said. "I don't want to get any tickets."
Like others, Marc Slade, 38, believes the police crackdown is the result of the convergence of Obama's visit from Dec. 23 through Jan. 2 and Sunday's Honolulu Marathon, which will crowd the streets of Waikíkí with thousands of runners, spectators and volunteers and end up at the finish line about 50 yards from where he sleeps.
Yesterday, Slade got up from a mat he was laying on at Queen's Beach and flipped open an oversized King James version of the Bible to find Ezekiel 16:49 and its reference to failing to "strengthen the hand of the poor and the needy."
"Instead of chasing us from the bushes to the bus stops, from beach to beach," Slade said, "they should be trying to help us."
It was unclear how effective the citations were going to be in clearing the homeless from the park.
One homeless man at Queen's Beach said he has received citations from police for camping in Kapi'olani Park, but never showed up for his court appearances — despite the possibility of arrest warrants for failing to appear in court.
"I guess I'll just wait until the cops stop me for something and find out I have warrants," said the man, who would not give his name.
Reach Dan Nakaso at dnakaso@honoluluadvertiser.com.
---
CLICK HERE TO ENTER...
~ o ~