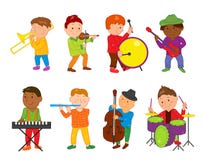 Feis Laitiarain Chuilinn Uí Chaoimh.
Each year, the pupils from Cullen National School take part in Feis Laitiarain . The children play a variety of instruments, recite poetry, sing, etc. We would need a trailer to carry all the medals and trophies which they win each year!!!!
Some of our many talented musicians!
We love music at Cullen NS and our pupils are very talented!  We are committed to the promotion of and development of musical talents. We play a variety of instruments such as the tin-whistle, accordion, concertina, violin, piano, piano accordion and keyboard to name just a few!
The Ballad Group.
The ballad group came 2nd in the Duhallow final of Scór Na bpáistí held in Kanturk at the start of 2017. The talented group includes Molly Morley, Amy Hickey, Katie O Sullivan, Katie Morley and Anna Moynihan. Well done to our talented pupils and their singing teachers!
Ballad Group. 
Our next ballad group also came 1st in Scór Riocht when they sang "Rocky road to Dublin" which was held here in Cullen at the beginning of the year. Well done to all involved and their coach Maria O Sullivan.The very talented singers included Vy Ha O Leary, Emma Herlihy, Mahilet O Leary, Emily Nagle and Humphrey Moynihan. 
Solo Singing.
A big congrats to Anna Moynihan who won 1st place at the Duhallow Scór Na bpáistí final for solo singing. Anna sang "The shores of Lough Bran" beautifully. This was held in Kanturk early 2017. Well done Anna and singing coach Ann Marie O Riordan. 
Anna also came 2nd in the County Final of Scór Na bpáistí which was held in Ovens, Co. Cork in March 2017. 
A big congrats also to Katie O Sullivan who won the U-12 girls English singing at the Fleadh in Kinsale during April 2017. Katie sang "Daybreak 'oer Rathae" and "My fathers cabin small". Katie sang beautifully. Well done to you Katie and your teacher Elle-
Maire O Dwyer.
Katie O Sullivan
Piccolo
Our very talented pupil Vy Ha O Leary competed at the county fleadh in Kinsale, Co. Cork in April 2017, playing the piccolo and was delighted to win 1st place. Vy Ha played a slow air and a march. Well done to Vy Ha who taught herself how to the play the piccolo!