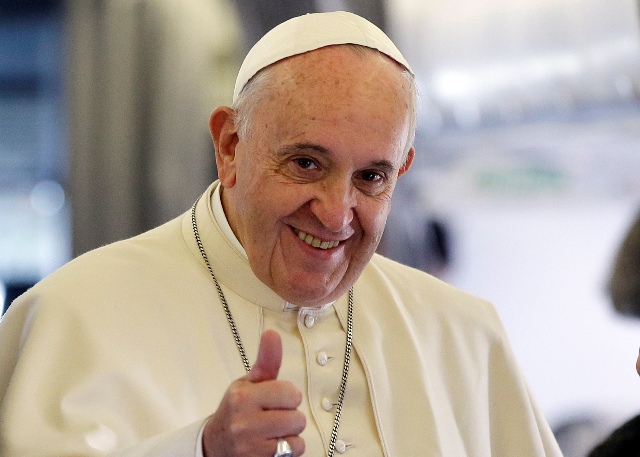 Three days after my book came out on Amazon, I received an e-mail from my friend Asoka stating that he managed to get me a souvenir during Pope Paul's visit to Sri Lanka. I was so honored by his genuine gesture. The fact that we hardly communicated, also, Asoka being a person of strong Buddhist faith, taking so much trouble to obtain the souvenir for me touched my soul deeply. I really wanted to own it as soon as possible.
Apparently the non judgmental People Pope Francis has touched the world as no other Pope ever did with powerful words of wisdom by expressing his unconditional love and compassion for all humanity.
I read an article about how Pope Francis recently went to wash and kiss the feet of prisoners. In our society today prisoners are not perceived as human beings, but as lost souls who have no hope. They are cast aside, and yet the Pope went to demonstrate that their worthiness is equal to everyone else's. We learnt early on in traditional Christianity that we are not worthy, and that we ' don't deserve'
He didn't just preach the word but he is living the word just like Jesus did.
The day after a call came when I least expected.
I was offered an assignment to accompany an elderly disabled lady and settle her in a luxurious retirement medical facility in SRI LANKA.
I accepted the assignment cheerfully to bring peace and joy to two special people in my life, and amazingly, I found so much joy in return. Through the pressures, failures and frustrations, Pat and I accomplished the mission of publishing my memoir. I cannot even begin to articulate how exhausted I was at the time. All I had in mind was to catch up with lost sleep for too long, but I knew it was time to give back with a heart filled with joy and tranquility. The thought of the precious souvenir Asoka got for me uplifted me even more.
THE ASSIGNMENT TURNED OUT TO BE THE LONG OVERDUE real VACATION I NEEDED BADLY.
After settling the lady, I visited my brother Marcus and his wife Charlotte. They were sitting down at their front patio with big smiles.  Both of them looked so at peace. I have no doubt the "Thank you" note I sent him along with the manuscript Pat prepared neatly made him so happy
When his grand daughter Dinuli visited them prior to my visit she had read the note to him loud and clear. She said his face lit up. I felt like he never stopped smiling since then. When I make a decision to go with the flow, everything seems to fall in place.
Gratitude, understanding and compassion make the world a better place for all humanity!
It was a very uplifting experience to handover the book personally to some family and friends who were there for me at the darkest season of my life.
My friend Manel was so surprised that I remembered her being kind to me. We lost touch with each other for a long time. She too lost her husband under tragic circumstances. Apparently, her husband Nihal happened to know Maxie long before I did.
During a Browns Group friends gathering Manel said "Teera always starts saying a serious story and ends up laughing" as I did during this trip. Now I wonder if I had a BRAIN FREEZE to be able to laugh as she says I did. I couldn't help but laugh when Manel related the story of Maxie forging the signature of Prime Minister Dudley Senanayake, which reminded me of the movie "CATCH ME IF YOU CAN".
I said "May be in a place like United States he would have got famous for his brilliant intellect and the capacity to impersonate doctors, lawyers, even politicians." I couldn't help but laugh at the thought of being married to a character like Maxie and learn how clueless I was of most of the scams he pulled.
I enjoyed the freedom since I fled from Sri Lanka in 1980. More interesting details will be revealed in my follow up book DIVINE CONNECTIONS!!!!!!!!!!!
Since the civil war had ended 6 or more years ago, I felt the serenity all over I visited. It was great to learn that now they hold Rotary conferences in a beautiful beach resort in Wadduwa, which used to be a hidden village unheard at the time I grew up there. I was impressed over and over by the green and clean island, and its amazing people.
For one, you don't hear all the pervasive irritating honking. There is no road rage. Sri Lanka is and will always be the beautiful island I grew up in, regardless of where I end up. Sir Arthur C. Clarke once said the Island of Ceylon (former name) is a small universe.
So together with millions around the world, who believe in peace over conflict, love over hate, show kindness to all every step of the way as we put our lives back together. Let me tell you, we grow resilient after every adversity, so as it is for a bone to heal to be much stronger after a fracture.
I left home because I had to. Sometimes decisions are already made for us. We are courageous and wait until enough is enough, and until we run out of choices. Whatever the truth we believe in, to be able to feel the pain of another human struggle, and rejoice in the joy of another human's triumph is what makes us human even when we are miles away. 
MY STORYBOOK CAME OUT ON AMAZON LAST YEAR. AMAZINGLY, SO MANY HAVE READ, AND HAVE PASSED ON THE STORY TO THEIR FRIENDS AND FAMILY ALIKE.