Teera´s Blogs
Subscribe to posts
was edited and published by the Dr. Nandasiri Jasentuliyana, The former Deputy Director General of the United nations.
I want to tell U, keep a journal to connect the dots when it's the right time.
Our Stories connect us 
The line "who am I to judge" is a product of how the universe carries the weight of once goals when the intentions are pure, and sacrifices are made with love in your heart.
The text came out as a book during the time the world went on pause due to a virus went viral. 
Once in a century Pandemic.
The day before my birthday, lightning struck when I got the chilling call from my son Jude that my daughter got hit by a car and the chances of her survival were slim.  OMG! No. Please No.
I needed a miracle. 
Next morning my son called to let me know she will recover fully in time. It was my birthday.  The best birthday present ever. 
But it is a long road for recovery. She has come a long way and a long way to go.
The book was the best thing happened during a very dark season.  
It confirms the words of wisdom came from the famous singer/writer/healer/Professor, Badrajith Jayathilaka, who read the book and wrote that books go in the right hands at the right time. Badrajith and Nandi are all about Do good, Be good.
Several years ago, I wrote my heart out in few lines as I was burdened by the universe and its people. I was immensely surprised when Patrick, my coauthor, wrote that "Teera, that's the best poem you ever wrote".  I never knew that I had written poems or there is a poet or a writer in me.
At that point I knew that it was God's way of calling my name.  There were people lined up with different stories amazingly given intervals accordingly. By then i had the better ability to understand their struggles with love in my heart. 
I never think about myself as a big deal, but most of my stories are worthy of sharing. 
Holy spirit is my administrator.  Jesus was empowered by the holy spirit.  I am empowered by the holy spirit. 
I take advantage of the gift to make a positive difference in the world with great love.
I am glad I know what I know now. 
Our intentions are so powerful, and that's where God works. 
Amplify courage to follow the "LOVE"
The book "Who am I to judge" also sold at Yapa book chain in Sri Lanka and the proceeds are going for a scholarship program to support the under privilege children in remote villages in Sri Lanka. 
Never underestimate the power of the human touch!

Research shows that when a person is touched by another person, signals are sent to the brain which the brain translates into happiness, comfort and feelings of security. These feelings helps to decrease stress.

Recently  I have been volunteering with different organizations to help feed the homeless, and I often wonder why those who are born here in the United States end up in skid row.

On March 31st, 2018, a group of us volunteered to serve dinner to homeless families sheltered by the Union Station Family Center in Pasadena a place I am hoping to visit more often and learn how may i be of help.

Among many others. two families in particular caught my attention that evening, they walked into the dining room lethargically, and sat down looking weary and tired.

The food was cooked and served by the volunteers and placed on the counter to be picked up by the people when they came in, but to my surprise no one made a move.

I noticed a young attractive African American mother of 4 children (ages 7, 6 ,4 and an infant of about a year old).  She wouldn't even look up. We went over and asked if she would like us to bring the food to their table. She replied with a smile, "Yes please."

I was amazed to see her beautiful smile. When I told her that she has a beautiful smile, her smile got wider. We served the food and I attempted to make conversation with her children, and they mostly smiled shyly.

After dinner the older boy sat next to the mother moved his hands to a rhythm and showed off his talent to me. He was happy. The little girl sang, but I could hardly hear her voice, but we all laughed together.

 After they finished eating, the mother cleaned the table and swept the area and said thank you with grateful smile before leaving the room with her children.

Caring is sharing! If you want to be uplifted, uplift another!

Human nature craves to be seen, understood the pain struggle with care and love in our ❤s without judgement.

I woke up the next morning with a new frame of mind at the problem. Hoping and praying that there will be more shelters like this that will help fallen families to get their lives back in order.

I have walked in their shoes and know the pain of not just hunger for food, but hunger for the human touch. Hunger for healthy genuine concern during the hard times.

The family center is a great place and a sanctuary for families to get back on their feet. It provides families the opportunity to stay together, which is a great privilege that cannot be articulated in words.

The word sanctuary reminded me how the subway train has become a place specially for feeble elderly homeless people; a place to keep them safe and warm in the nighttime.

I also noticed the public library is a sanctuary mostly for young homeless people who spend time there during the day, educate themselves in a friendly safe place until they find a way.

Skid Row Coffee in a corner of the library is also a nonprofit social enterprise cafe and job training program that provides products and services that nourish the mind, body and soul; uplifting creative minds and spirit.

Serving homeless families brought back the memories of the Welcome House in Srilanka. The House was a place for young inadequate and disadvantaged women in desperate need of help to recover and start over after building self-confidence. Sadly, the facility was not equipped to accommodate families, so we didn't have the opportunity of having our children with us.

That evening while serving the homeless I realized people are more hungry for human touch: a connection, than for food.

It's degrading enough to be homeless and having to depend on handouts but being discriminated against by the society as being less than human is even worse.

It's easy for us to feed the homeless from our comfort zones and leave feeling good that a good deed was done. But we need to do more. We are saved! We ought to save others with love and compassion.

Serving the homeless that day sent me back in memory lane. I reminisce with gratitude as I recall my former boss Arthur, who left a permanent mark on me. He came to visit me at the time I was at the bottom of the pit. His cheerful attitude uplifted my broken spirit as he never gave me the "poor Teera look' which meant so much to my hungry heart for human touch. Hope!

A white couple with 3 little children also caught my attention. The mother held the infant tight in the safely on her lap. I could feel the anguish that was written all over her. But she was still very beautiful.

She seemed annoyed and irritated at the beginning. Her husband looked beaten down but was also a handsome young man. The children were cheerful and happy and played together. The parents didn't make eye contact with anyone. Obviously, they were shamed of having to depend on handouts. The Lady also cleaned up after the children finished eating.

I offered to give her a hand to finish up and  While cleaning the table I told her she is very beautiful. She smiled big. A shining smile.

Most of the families ate very little, some plates were untouched, but they all seemed so grateful to be served with love.

That night I remembered how hungry I was for the Human Touch when I was at a very low point and had hit the rock bottom. Because I walked in their shoes, I certainly understand their pain.

Common suffering is a great Unifier.

A little act of kindness goes a long way for the fallen families who crave for the human touch that give them HOPE for new beginnings.

Families belongs together. All the kids were quite happy as they feel safe with loving parents.

Nurture is the key to Healthy relationships. Children  should be able to live with at least one loving caring parent figure even if they have one messily meal to share together, so  they are sent out to the world to live a life that matters in  harmony.

As the time goes by, I see ordinary people in silence finding extraordinary ways to give a hand by opening doors to the fallen in the city of Angels. Eliminate poverty and homelessness!

 Homeless really doesn't need to pollute the streets and spaces people pass by and occupy.

Nobody likes litter bugs.

Los Angeles, the city of abundance. Contamination continues. Cleaning must continue!

Angels without wings.

We cannot do great things on this earth. We can do little things with great LOVE; Mother Theresa.

In God's Love.

Teera

This is an Audio Article and please click 
here
  to listen.
A  devoted dog discovers the purpose of its existence. Must-see inspirational movie based on the notion that dogs exist to be of service to humans and how one dog's voice is enthusiastically articulated. Must see inspirational movie. 
It is so beautiful to see the hand of God at work. 
While watching the movie I couldn't help but think about the book God Spelled Backwards: The Journey of an Actress into the World of Dog Rescue. Please check the website
www.sylvakelegian.com
.
This meaningful movie  took me back to memory lane!!!!   I fell in love with a sad-eyed Golden Retriever and took him in when a friend found him on the street and brought him  to my home. The poor thing was so scared, dirty and thirsty. I named him Rover.It was obvious Rover was brutally beaten and thrown out of a home, as he ran to  hiding whenever I picked up a broom to sweep the floor.
More details will be revealed in my follow up book 'DIVINE CONNECTIONS"
When my daughter Shirlene got divorced I had no choice but to leave Rover with my brother's family in Fresno as I made the decision to move to an apartment to stay close to her. Sadly pets were not allowed there but thankfully the whole family loved Rover very much which took a load off me.
A few months later when Shirlene met Gary, I then realized she didn't need me around anymore, so  planned to move back to my house and bring Rover back. I was excited and dreamed how happy Rover would be come home again. Two weeks prior to the move I got shocking news. Rover got hit by a truck and passed away. That broke my heart into pieces.
I was not prepared to put myself through more heart aches by adopting another, but took care of friends' dogs when they had to leave town. During the time I looked after my actress friend Vivian's Dog Lola, as she had to leave the country for a while,. when Vivian came back to pick her up, Lola ran and got in to her jeep without a moment's hesitation.
I was amazed at Lola's obedience and devotion.
It was almost the same story when I took care of Cody, my front house neighbor Tanner's dog the time they went out of town. Cody sat in my front yard and kept looking at their house every day until they came back. Cody ran wagging his tale nonstop so happy his loving family was back. Lucky for me they were well-trained dogs.
I couldn't say that about Rover and Tigger. When I walked them some animal lovers ask with a smile. "WHO WALKS WHO "  I enjoy them walking me and walk with me as they bring "SUNSHINE" to my life.
They teaches us to LOVE  and LAUGH.
When Tigger came along, I fell in Love with the little poodle. He was lost and was roaming around the streets when a neighbor found and brought him to me. When Shirlene met Tigger, without a beat, she said Rover died, re-incarnated and came back as Tigger. Yes! Just like in the movie how Bailey found Ethan after many lifetimes, many years later.
Dogs  are fascinating and their intelligence is phenomenal. Please watch this amazing love story, and buy the book to support those who are making it their call to protect the humans' best friend from inhuman cruelty.
I want to share the good news about the place called
Covenant House California
that reach out to the homeless youth live in isolation in great need to be seen.
We are often too busy to be bothered, but should pay attention and support those who are making every effort to make the world a better place for this generation and the generations to come.  One cannot even begin to articulate how these young fragile lives are challenged in many ways physically and physiologically.
The Covenant House California (CHC) is a non-profit organization whose mission is to reach out to homeless youth at-risk. They offer shelter, opportunities to abused neglected vulnerable youth that had been thrown out of their homes or aged-out of the foster care system. CHC does everything possible to help turn their lives around.
Recently I visited the CHC, in Hollywood; I was so touched by their compassionate work for a very long time and supported them as their commitment, reminded me of the
WELCOME HOUSE IN SRI LANKA
SAVED MY LIFE, MY SANITY THAT KEPT ME FROM FALLING APART.
I was wondering if there is anything I could do to help, so I met Tom Bagwell the assistant Development Director and Amanda Sattler the Chief development and communications officer. Tom gladly gave me a tour and explained to me of the amazing work they do.
I left saying to myself, America must invest more in organizations like CHC that give opportunity to those who have no one to turn to (The need to invest in organizations like CHC is enormous as they see the potential in every young person they serve)
The warm atmosphere and the perfect environment make way for them for a life of Hope and fulfilment. The CHC inspire and achieve their goal to make a tremendous difference.
The jails are overcrowded with lost talented youth because nobody CARED.
I shall pass this way but once; any good that I can do to show to any human being let me do it for I shall not pass this way again.  quote by (Etienne de Grellet) is worth recalling. 
Thank you.
RICHARD ROFFMAN  WAS BORN ON 26TH APRIL 1943. HE PASSED AWAY ON THE 22ND JULY 2016.
Christmas day 2013 was a cloudy day for me and those around me. But for Richard Roffman it was not one of those days. He brought sunshine to my life by leaving a very uplifting  message on my answering machine when least expected, which also gave new meaning to Santa Claus coming to town. He gave me Hope when Hope was needed. It was also a reminder God/Universe doesn't give us what we want, but what we need.
The details will be revealed in my  follow up book "DIVINE CONNECTIONS' I am grateful he crossed my path. Rick copy edited my story in one day. He once told me "Teera! by copy editing your story  I found my call Since then he edited many manuscripts and found joy and fulfillment.
Rick was ready when God called his name. He was very sad when his good friend John Buchak passed away. Rick liked the way John lived and died .He wished  to die the same way and his wish came true.
Rick edited 6 of John's Mystery stories he had been writing for 20 years  He gave John the confidence and the support he needed to publish them months before he peacefully passed away. They made a connection during the time. Rick mentioned to me few times that he really missed John's  company. All of us attended the meetings of The Independent writers of Southern California (IWOS) at the Crown book store miss John very much as he was a grateful humble soul with a heart of gold.
Something very unique about Rick was his ability to laugh at himself when he related the personnel stories/challenges  He used every opportunity to pass his knowledge. I listened to him for many hours and was fascinated by his brilliant intellect. He didn't believe in the new technology. TV, COMPUTERS or CELL phones, but had the capacity to have his writings published without them. Recently when he appeared on channel 9 news, I watched him in amazement. I received the last article he published few days ago in mail.
He was very concerned about the well being of those who are suffering with Alzhemer's disease. Rick believed  they should be given
the freedom to live and die with dignity He spoke about it passionately and used president Reagan as an example and how the president didn't even know who he was once he got  Alzheimer's disease. I agree with Rick and hope I would have the opportunity to pass his message of Love and dignity for all humanity. There were times I noticed him walking as if he carried a heavy weight on his shoulder.
Rick was once called a walking (enclopedia) at an IWOS meeting for his memory of historical events. He certainly was. Rick mailed me letters and articles he wrote.I read them and wrote back to him with my feedback. I was fascinated by his deep clear voice. Once it gave me a bright idea. I wrote a few lines of the song LOVE LETTERS IN THE SAND' sung by Pat Boone and mailed it to him. Couple of days later he called me and ask 'do you want to hear me sing a song" I said Yes He sang the verse I wrote to him like  a happy kid. I am glad I was able to bring out the kid in him.
Rick was not interested in writing a book or his story. So I made a binder with some of his brilliant writings.
When I presented it to him he turned the pages like a child who found a toy who had been wanting all his life. He asked me to keep it for him. It was my pleasure to pass it on to his amazingly beautiful and gracious daughter Lara at his funeral  services. I am certain on his way to heaven, he was taking a peak at all of us gathered to honor his life on earth to witness his precious daughter's smile when she accepted the binder.
Rick started as a student at Syracuse University in NY  and later worked there a as a Teacher.. He told me with a big smile that he met Joe Biden during the time and that he communicated with him even when he became the vice President.
I  sincerely believe Richard Roffman's story should be told because they way I see it has the potential to  change the world of many  people who may be brilliant artists, but have not have the opportunity to exploit the gifts they were born with.
Our story begins at HOME
May his soul rest in Peace.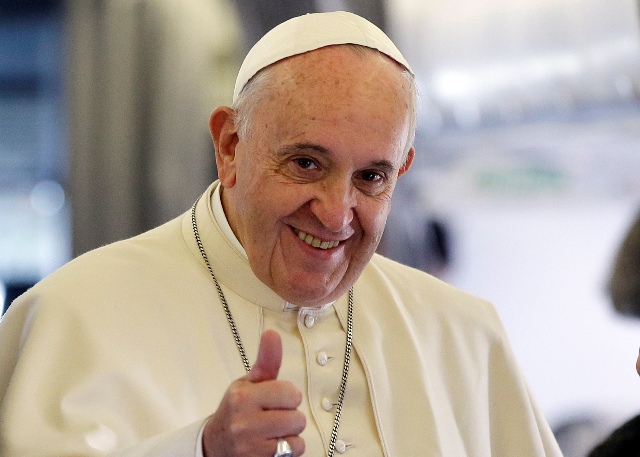 Three days after my book came out on Amazon, I received an e-mail from my friend Asoka stating that he managed to get me a souvenir during Pope Paul's visit to Sri Lanka. I was so honored by his genuine gesture. The fact that we hardly communicated, also, Asoka being a person of strong Buddhist faith, taking so much trouble to obtain the souvenir for me touched my soul deeply. I really wanted to own it as soon as possible.
Apparently the non judgmental People Pope Francis has touched the world as no other Pope ever did with powerful words of wisdom by expressing his unconditional love and compassion for all humanity.
I read an article about how Pope Francis recently went to wash and kiss the feet of prisoners. In our society today prisoners are not perceived as human beings, but as lost souls who have no hope. They are cast aside, and yet the Pope went to demonstrate that their worthiness is equal to everyone else's. We learnt early on in traditional Christianity that we are not worthy, and that we ' don't deserve'
He didn't just preach the word but he is living the word just like Jesus did.
The day after a call came when I least expected.
I was offered an assignment to accompany an elderly disabled lady and settle her in a luxurious retirement medical facility in SRI LANKA.
I accepted the assignment cheerfully to bring peace and joy to two special people in my life, and amazingly, I found so much joy in return. Through the pressures, failures and frustrations, Pat and I accomplished the mission of publishing my memoir. I cannot even begin to articulate how exhausted I was at the time. All I had in mind was to catch up with lost sleep for too long, but I knew it was time to give back with a heart filled with joy and tranquility. The thought of the precious souvenir Asoka got for me uplifted me even more.
THE ASSIGNMENT TURNED OUT TO BE THE LONG OVERDUE real VACATION I NEEDED BADLY.
After settling the lady, I visited my brother Marcus and his wife Charlotte. They were sitting down at their front patio with big smiles.  Both of them looked so at peace. I have no doubt the "Thank you" note I sent him along with the manuscript Pat prepared neatly made him so happy
When his grand daughter Dinuli visited them prior to my visit she had read the note to him loud and clear. She said his face lit up. I felt like he never stopped smiling since then. When I make a decision to go with the flow, everything seems to fall in place.
Gratitude, understanding and compassion make the world a better place for all humanity!
It was a very uplifting experience to handover the book personally to some family and friends who were there for me at the darkest season of my life.
My friend Manel was so surprised that I remembered her being kind to me. We lost touch with each other for a long time. She too lost her husband under tragic circumstances. Apparently, her husband Nihal happened to know Maxie long before I did.
During a Browns Group friends gathering Manel said "Teera always starts saying a serious story and ends up laughing" as I did during this trip. Now I wonder if I had a BRAIN FREEZE to be able to laugh as she says I did. I couldn't help but laugh when Manel related the story of Maxie forging the signature of Prime Minister Dudley Senanayake, which reminded me of the movie "CATCH ME IF YOU CAN".
I said "May be in a place like United States he would have got famous for his brilliant intellect and the capacity to impersonate doctors, lawyers, even politicians." I couldn't help but laugh at the thought of being married to a character like Maxie and learn how clueless I was of most of the scams he pulled.
I enjoyed the freedom since I fled from Sri Lanka in 1980. More interesting details will be revealed in my follow up book DIVINE CONNECTIONS!!!!!!!!!!!
Since the civil war had ended 6 or more years ago, I felt the serenity all over I visited. It was great to learn that now they hold Rotary conferences in a beautiful beach resort in Wadduwa, which used to be a hidden village unheard at the time I grew up there. I was impressed over and over by the green and clean island, and its amazing people.
For one, you don't hear all the pervasive irritating honking. There is no road rage. Sri Lanka is and will always be the beautiful island I grew up in, regardless of where I end up. Sir Arthur C. Clarke once said the Island of Ceylon (former name) is a small universe.
So together with millions around the world, who believe in peace over conflict, love over hate, show kindness to all every step of the way as we put our lives back together. Let me tell you, we grow resilient after every adversity, so as it is for a bone to heal to be much stronger after a fracture.
I left home because I had to. Sometimes decisions are already made for us. We are courageous and wait until enough is enough, and until we run out of choices. Whatever the truth we believe in, to be able to feel the pain of another human struggle, and rejoice in the joy of another human's triumph is what makes us human even when we are miles away. 
MY STORYBOOK CAME OUT ON AMAZON LAST YEAR. AMAZINGLY, SO MANY HAVE READ, AND HAVE PASSED ON THE STORY TO THEIR FRIENDS AND FAMILY ALIKE.
 My sister Mary Bridget  joined  Marcus 11 days after his departure.She was a beautiful woman and was proud about her looks and strong character. She passed away on the 16th morning as our family in US were making plans to-gather to pay respect for Marcus.. It was a celebration of their  lives on earth and  turned out to be a pleasant evening. Who would have thought I would be writing my heart out so soon as I had just finished sharing a tribute I wrote in my brother Marcus's honor with friends and family on the 11th April. The same day the services were held to honor our brother Cyril several years ago. They sacrificed and accomplished so much in their own ways.
Their characters were so different, but they admired and cared for each other. Marcus and  Mary Bridget were one year apart in age and had a close bond as they grew up together during tough times. They silently carried some of the weight to help parents bring us up came after them. Marcus once related the times they chopped firewood together.  Bridget too built a house for her daughter.. She was very proud to live in a home designed by her younger brother Marcus.She planted coconut and, King coconut trees , Banana trees (Plantain)  and vegetable in her back yard with her bear hands Her front yard was filled with beautiful flowers. She walked the earth bare foot and spent an enormous amount of time at the yard  fertilizing and watering them. Bridget offered king coconut water from one of her trees to me on a previous visit. 
She cooked from scratch and served tasty food with pride. We all loved her cooking. Her house was always clean! spotless.
When I heard the news I found peace with the pleasant thoughts and said to myself they joined together and on the "HIGH WAY TO HEAVEN" .Many decades later I have come to the conclusion that  there is no purgatory in between heaven and earth as we were taught.. Once we were followers. My experiences made me learn that the choices we make create heaven or hell on earth. Sometimes the choices are made for us.  We all have to carry some kind of a cross through our lifesjourney  It is how we handle them determines our charactor guides us to our destinations.  No body is spared. 
Mary Bridget never had the opportunity the enjoy the childhood. She had to grow up faster than no kid should. She was married to a stranger at a very young age. Father  believed he would make a better husband than the guy she was dating,.Her wedding shock the village. Mary looked so beautiful walking down the isle, but not even a sad smile. She leaned to love him over time . Her husband Andrew was a agreeable man and they were good together. He read a lot and always saved me the 'Readers Digest' to take with me when I visited their home at the time they provided shelter to two of my children.
She had a lot of heartaches and sadness over the years. Her son Christopher passed away when he was one year old due to a rare health condition. Many years later her eldest son Anthony  got into a mother cycle accident and died on his way to way home from work. No mother should have to bury a child.   She moved on as if she perfected an invisible shield around her that got her through the worst times. I spent quite a lot of time with her during my last trip to Srilanka. At the time she was very feeble, but as far as she was concerned I was still her innocent meek little sister. She didn't like the dress I was wearing, and made me change into one of her dresses she preferred me to wear. I brought it with me, and like the way I look when I put it on some evenings.
She took care of our parents at her home in their final years. Her daughter Marie and her husband took great care of her to the end. 
I was honored when she gave me Pappa's wedding ring for keep sake and made the same statement mother made when I fled from Srilanka, that we may not see each other again. They were both right.
The more I open up to our differences, I feel  even more connected to the complexity to our divine nature. The (UNIVERSE) U (GOD)!!
My brother Marcus de Fonseka passed away on the  5th April 2016. He was born on the 21st November 1931.
It was his time, and my time to write my heart out again.
It is an honor, tremendous joy and a priviledge to say something worthwhile on behalf of a 'HERO'  who put his life on line to stand up for those who couldn't fight for themselves . He forgave the enemies with genunine love in his heart. Exact charactices of Jesus. I was amazed by his wisdom, patience, understanding and great concern.  He came to my rescue miraculously when least expected that lead  me carry on  with  COURAGE learning that I was not walking alone.  Courage give us abaility to look within and transform our pain into LOVE.  
As my nephew  Indu says  He was very proud to design and build HOMES for his three children ! not Houses. Marcus  was a brilliant artist. He followed  father's footsteps, and became an architect at a very early age. To my  knowledge he was the first man designed American Style house in Srilkanka.
While growing up, Marcus made life fun for us. I remember how he made us sit in a Rickshaw and pulled us all over the yard like a  humble Rickshaw man. His was a fun loving guy. His house was always filled with music. and laughter. When he was a teenager he used to go swimming with his friend Hugo almost every Saturday.  One Saturday father didn't alllow Marcus to join his friend as he needed Marcus' help at home.  They were both disappointed , but father gave them no choice, so Hugo left .When he didn't come home that evening, Hugo's family got concerned came to our house looking for him.   
Next morning some fisherman  found his remains by the seashore. We were told that a strong current dragged him to the deep waters.. When pappa heard the news, he said  that day "God saved Marcus's life'" Marcus  and Hugo were known basically  to have glued to each other when they explored the deep blue ocean. I was very little, but it broke my heart to see how Marcus fell apart at his best friend's funeral.
He never hesitated to fight for justice.  Many decades later  I remember, re-live and relate some  memories to celebrate his life on earth . He said he couldn't rest until he put me in that air plane to join my brother Cyril in America. He genuinely cared.. I cannot even begin to articulate how blessed I feel he was my brother. A guradian Angel!
I had sent him a "Thank you" note as his family informed me he may not live too long.  In sincere gratitude  made a list of some of  the sacrifices he made for me.  Amazingly his granddaughter Dinuli  lives in England ,happened to visit him during the time, read the note to him loud and clear. She said his face lit up.
I had the opportunity to visit him few days after my Story book life story  was publisehd. He never stopped smiling during the short visit.  I knew the "Thank you" note was the reason for the warm smile.  It was more like sending flowers while he was still here on earth so he could smell them.
I showed him the book, and he looked at the cover then turned to me with a look of calm delight. 
He didn't need to read my story. He knew my story! 
HE WAS A PEACE MAKER!
May his soul rest in peace.
Marcus adorded our eldest brother Cyril passed away on the 7th April 1997.. We all gathered to honor him during his funeral services on the 11th April 1997 took place in Fresno California.. TODAY 19 years ago.
We had the joy and privilege of knowing Teera since 1967, when she worked for Brown & Company , Amparai. She was an efficient secretary, hard working and reliable....totally dedicated to her family, work and friends. We walked alongside her in good times and bad. We shared her sorrow and experienced her quite yet strong charactor and determination to rise above her inexplicable suffering and sorrow.
Sadly we lost contact with each other a few years after that horrendeous incident in her life, as we moved away from Srilanka to different countries. Destiny saw us reconnected after many years, through mutual friends and although divided by vast distances, through email contact and Teera's book, we have been able to pick up our friendship.Time and distance have not been obsticles and we have had the joy of sharing and reconnecting.
Teera is a gifted writer and the gift is more powerful as it is factual and real....