Archive ~ February 2008
~Daily CUP of T~
Friday, February 29, 2008
TGIF - Thank Golly Ms. Molly!
Quote of the Day:  When there is nothing left to burn...Set yourself on FIRE!   Stars (Band)
MUSICA:
Final Fantasy is a pretty kick butt band that is worthy of a ear or two.  Talented, yes INDEED!  LINK
Cool!:
This site takes online shopping to another level!  Pretty darn cool of the Dutch.  Site: HEMA  LINK
Travel:
Boarding the next plane for ICELAND!  I can fit two in my luggage...anyone game!?  LINK
Thursday, February 28, 2008
 I feel like Chicken tonight, like Chicken tonight!
Did I do dat?!:
1 in every 100 americans is behind bars!! Ok, not the bars with the good stuff - wine and whiskey...We are talking about cold, steel bars of the jail systems.  Oddly enough, I am one to frequent jails but believe a me my friends - I am on the good side of those bars ;)  (Bail Bonds!) Take a look at the article -- LINK
ART:
Camouflage is AWESOME!  Come out! Come Out! Wherever you are!   LINK
Sweet!:
Best fortune in a cookie ever? LINK
Excited!:
Attention all Radiohead fans.  If there is only one festival you attend this year - make it the All Points West Festival.  August 8-10, the festival will feature TWO nights of Radiohead goodness.  Check out the details here --> LINK
Tuesday, February 26, 2008
Good Day!
YEP - I am a YEPPIE!:
Wow!  It is rare that you find a great site and really connect with the content.  This one was right on!  Yeppie Nation is what we live in.  Read on:  LINK
FUNNY STUFF:
Been neglecting your friends or loved ones lately?  Well, send them one of these ecards and they will forgive ya! :)  SomeEcards has some HILARIOUS UPROARINGLY Funny Cards that you can email your peeps.  LINK
Friday, February 22, 2008
WELCOME!
Inspiring!:
What is your life long dream?  Your personal mission in LIFE?  Such a huge question -- well it isn't as scary of a question to answer than you might think.   I think it is really best said by three words: JUST DO IT!  Check out this very inspiring story of a software engineer turned ROCKSTAR!  LINK
Gotta See it!:
The HIGHLY ANTICIPATED Michel Gondry Movie is Here!  It Really IS!
Check out the link and see some behind the scenes action - narrated by Michel Gondry.  LINK
Research:
Some statistics and reports that are very Interesting and Valuable if you are starting up an internet biz or just trying to research online trends.  Pew Internet and American Life Project --> LINK
Naked CHIMP Alert!:
Cinder is a chimpanzee that lost her hair at 5 months.  Sucks to be CINDER in the Winter.  Read On Matees!  LINK
Creative!:
This giant shepherd was an assignment by the Dutch government and it was the first sculpture for the "Year of the Farm" project. It took two months to build the huge shepherd dog, with assistance the local youth of this tiny village.
How CREATIVE!  See how this sculpture was constructed.  LINK
Interesting:
Feeling a tad bit unnoticed...Like nobody sees you or pays any attention to you... Perhaps the answer is to paint yourself BLUE!  The most unacknowledged buildings in Rotterdam were painted blue and are now consequently, the most photographed.  If you look closely, you can probably see Papa Smurf!
Read On! -->  LINK
Neat-O!:
Hero Ha is a young Korean boy still in diaper and a big fan of The Beatles. He loves to sing along and his YouTube videos have made this "Baby Beatles" quite famous.
Here's the clip that started it all: a 3-year-old Hero singing his favorite Beatles song "Hey Jude":  LINK
The Oscars are coming! The Oscars are coming!
A couple of days left until the Oscars - Woweee!  For any of you hosting or attending an Oscar party - here is an EXCELLENT way to liven up the event.  Oscar BINGO cards. 
Step right up and get your Bingo Cards HERE --> LINK
Warning:  You must refresh the page to get additional variations of the card, otherwise it won't be so
BINGO-Y.
Thursday, February 21, 2008
HOLA COCA COLA!
Sweet!:
What better place to practice yoga than an open outdoor park?   Free Yoga lessons at Runyon Park on Saturdays at 9:30am.  LINK
Wednesday, February 20, 2008
Ask and you shall receive!
Learn:
Musica - it makes me happy! Sound Junction is a great site that is dedicated to teaching music - find out all about the way music works and how to make it --> LINK
Gotta have it:
WaahhhLahhh!  All you do is plug this baby in then write a personalized note on the top of the gadget, pop the toast in and there ya go - a sandwich with extra special love!  LINK
Bored of the same ole sites?:
Check out this cool site - just input your favorite site(s) and picture(s) and it will spit out similar ones that you might find interesting.  Lazy way to surf the net - I like it, I like it O'lot!  LINK
Eco-Friendly Housing:
Absolutely beautiful home in Mexico City - Check it out!
Created by architects at ReCURSO studio - this home is made of materials that are totally environment friendly.  Check out more of their fantastic work here --> LINK
Friday, February 15, 2008
I didn't forget about you!  ;)  Ok well, almost.
Inquiring Minds:
Here is a very interesting article about umm nature.  I found it very amusing and informative.  Enjoy!
Interesting:
Sweet!  Blue-tooth enabled Burkas!  I think you get the picture ;)
It gets better!:
Here is a fantabulous diagram on how to cook CHILDREN with BEER?!  I wonder if the darker beers would add more flavor?  Hmmm..... 
China - what have you done now...  LINK
Major Oooopsy! So the article is a little less interesting and is only about the boring subject of how to cook Chicken with Beer -  My bad people.
Thursday, February 14, 2008
LOVE you ALL - Every single one of you!
CHEAOO!
I searched high and low for the most AWESOMEST gift ever that I could give to my loyal readers and I think I found it!  If you love me and you know it clap your hands!! ;)  Ok are ya ready for it -- here it is --> LINK
Wednesday, February 13, 2008
Attention!  May I have your Attention please!
GREETINGS!:
If you are looking to send out a FROM US kind of group card to someone - check out this cool service online.   Greeting cards that you can sign and pass around - what an awesome idea!  Last person to send me one is a ROTTEN egg! HA! LINK
If in Istanbul:
This restaurant looks really Neat-O!  LINK
RADIOHEAD TOURING:
So Radiohead will be touring the US this year - click here to get the 4-1-1.  LINK
Daily PIC:
I know I know... I shouldn't be snapping these pics while driving but sometimes I just get that burst of inspiration that takes me over the top!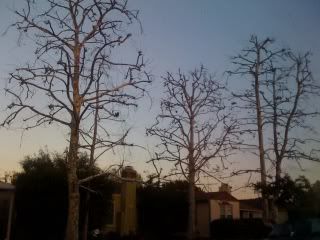 The most twisted trees I have ever seen...
Cool Tool they don't teach in School:
I think I may be on my way to a great rapping career?!  Anyways, the coffee has set in so let me begin.... Ay!
Here is a really cool way of keeping yourself organized, and a way to keep those daily tasks on schedule.  It is an online calendar that you can add events to and share with friends - very simple in design and user friendly.  If you are nice to me, I might even share mine with you ;)  LINK
Basketball anyone:
March madness is coming around the corner - thought I would put up some crucial dates for all those B-Ball lovers.  You can actually sign up online and get online access to watch all of the games online!  LINK
| | | |
| --- | --- | --- |
| March 16: | | Selection Sunday |
| March 20 & 21: | | First Round |
| March 22 & 23: | | Second Round |
| March 27 & 28: | | Sweet Sixteen |
| March 29 & 30: | | Elite Eight |
| April 5: | | Final Four |
| April 7: | | Championship Game |
And that my friends was an early V-day gift for all the boys!
I will be trying to keep up with these games, unless of course they overlap with my boy NASH's schedule.  Can't miss Nash the Flash put Kobe in the Trash!!
Tuesday, February 12, 2008
Back by POPULAR DEMAND!
NAcho Ordinary Love Story:
Eagle vs. Shark!
The fabulous Jemaine Clement from Flight of the Conchords stars in this quirky love comedy.  It didnt get that great of reviews but how can you possibly go wrong with EAGLES and SHARKS!!  Perhaps a great V-Day rental?  LINK
Awww:
The things that make ya go woooof!  Check out the Swedish Vullhund - Ohh so cute!  The Swedish Vullhund was friend of the VIKING from wayy back in the umm Viking days... yes the Grand ole Viking days.  It was also one of 4 new breeds that made a debut in the 2008 Westminster Dog Show.  Vullhund on the left, my Sweet Desi Lou on the right -- see any resemblance?!  Just as cute, only half the terror! 
MUSICA!
This Valentine's Day, celebrate the sensual and the steamy at local indie-label Echo Park Records' anniversary party. The venture is the creation of LA impresario Alexis Rivera (who also manages cool-kid rockers Ima Robot). Echo Park's special three-night bill kicks off tonight with Latin party architects Very Be Careful and Austin's own spice kings, Grupo Fantasma (check the hot horn section), as well as sets from DJs Dâm Funk and Paul Devro.  LINK
When

Thur Feb 14 (8:30pm)

Where

Echoplex (1154 Glendale Blvd, 213.413.8200)

Price

$10

Details
Way COOL!:
This is pretty much the coolest thing that I have seen today.  Take a Looksy!  LINK
Friday, February 8, 2008
Ahoy there Mateeees!
Sad Sad Sad:
Looks like Polaroid is going to do away with the camera and polaroid film by 2009 - QUE HORRIBLE!!  Read ON.. LINK
This day in HISTORY:
The Boy Scouts of America Is Founded (1910) -- how awesome is that! 
Thursday, February 7, 2008
Sweet!
Wednesday, February 6,2008
Here's a cool pic that I took while driving home from work the other day.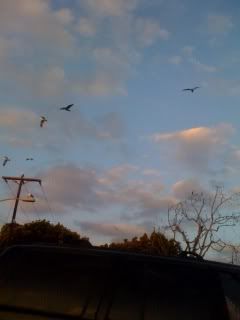 Tuesday, February 5, 2008
Bienvenidos!
BUY ME!
Want to buy the most awesomest T-shirts of all times in the whole entire universe and beyond!?  Well look no further...well, just a bit - look below!   LINK
MUSIC:
This NY four-piece draw on their diverse backgrounds and interests, experimenting with African guitar music, the Western classical canon, hazy memories of Cape Cod summers, winters in upper Manhattan, and reggaeton. "Equal parts shruggy New York indie strumming and groovy Afro-pop, Vampire Weekend's organ-and-drum runs highlight narratives about relationships, punctuation, and sometimes both" - Spin. Named "Hot New Kids" in Rolling Stone's "Hot" issue.   LINK
TRAVEL:
Fee Fie fo Food, banana fanna fo booed, me my mo Mood -- Food!   The LA Times came up with a list of their favorite FOOD FESTIVALS - Check em out!
Friday, February 1, 2008
Welcome!
AWESOME!
God I thank you for GOOGLE!  This one for all of you BUILDERS out there!  Google offers us a 3-D modelling tool that we can use PARA GRATIS!  LINK
Absolutely Absurd!
A group of brazilians designed a float that represented the Holocaust - with manequins that represented dead bodies and a dancer dressed like HITLER!  Brazil, what have you done now!  Needless to say, the float was banned from the Carnival parade - well kinda...  LINK
GRINGOS!
A BURRITO PIE!?  What in the... I think I just lost my appetite.  I don't think we can blame Mexico for this one. 
LINK
CHINA!
Who wants to move to China with me?!
China Freeze costs the country MILLION of dollars - Aye Carumba!
Millions of travellers were left stranded - Ohh Golly Miss Molly!
Officials warned that they could experience a food shortage due to the wrecked winter crops - CHINGAOU!
Snow is still expected over the next few days and temperatures are below Zero - DIOS MIO!
OK so should we scratch the China plan or just bring our own helicopters, heated blankets, MRE's, and Snowmobiles!  LETS DO IT!
INTERESTING:
Human Zoo!? Monkey say What!?
A community of 'long-necked' Burmese refugees in Thailand are currently being denied the right to relocate to other counties within Thailand.  Apparently, they are a great tourist attraction and the county does not want to lose the dinero that they bring in.  Hmmm... Very interesting... LINK