FRIDAY, SEPTEMBER 14, 2012

07:34 AM

Woken at 05:50 am by the audio spotlight acoustic weapon, that is now being ISOLATED directly to my FUTON/COUCH/BED.  I Video taped the incident, and found that upon NORMAL PLAYBACK you cannot pick up on the Ultrasound Vibro-Acoustic, UNLESS YOU USE HEADSETS which picks up on the high frequency ultrasound.

It finally DAWNED ON ME as to why the audio on the playback cannot be heard, it is because WHAT BETTER WAY TO HIDE the CRIME of USING HIGH FREQUENCY ULTRASOUND DEVICES like LONG RANGE ACOUSTIC DEVICE (LRAD), AUDIO SPOTLIGHT, and HYPERSONIC SOUND SPEAKERS - since it technically is not supposed to be heard by anyone other than the person it is being pointed to.

But for some reason, MY OLD DIGITAL VIDEO, is able to actually RECORD the ULTRASOUND VIBRO-ACOUSTIC, but YOU HAVE TO USE HEADSETS in order to PICK UP on WHAT I AS THE VICTIM OF LRAD/AUDIO SPOTLIGHT/HYPERSONIC ULTRASOUND can HEAR -

Therefore, upon looking at the video it will appear are not acoustic vibration hum, YOU MUST PUT ON HEADSET/OR EARPHONES in order to PICK UP on the HIGH FREQUENCY ULTRASOUND VIBRO-ACOUSTIC HUM.

FROM ATTACHMENT LINK SCROLL DOWN TO BOTTOM OF PAGE FOR QUICKTIME VIDEO ATTACHMENT FILE

NAME: 

MUST USE HEADSET TO HEAR ACOUSTIC HARASShttps://sites.google.com/site/targetedyesorno/attachments

i SET UP A YOU TUBE ACCOUNT, AND AM STARTING TO UPLOAD VIDEOS, AND/OR INFORMATION DOCUMENTED FROM MY TARGETING.  WILL CONTINUE TO DOCUMENT IN THIS MANNER AS WELL, IN ORDER TO ENSURE THAT THE TACTICS USED FOR THE PURPOSE OF HARASSMENT, TERRORIZING, SLEEP DEPRIVATION, AND THE MYRIAD OF OTHER TACTICS BEING DEPLOYED BECOME PUBLIC.

https://www.youtube.com/user/aldamysteriosa1

SUNDAY, SEPTEMBER 15, 2012

08:00  AM

The DIRECTIONAL ULTRASOUND AUDIO SPOTLIGHT WAS BLARING THIS MORNING, COMING FROM THE LOWER UNIT, BUT BECAUSE I HEARD SOMEONE ON THE 4TH LEVEL ACROSS THE WAY, THEY APPEAR TO BE THE ONES WHO WERE ACTIVATING THE WEAPONS SYSTEM.  THE SPEAKERS ITSELF ARE LOCATED ON THE 2ND FLOOR, SINCE IT IS FLOOR BASED. 

NEEDLESS TO SAY I AM POSTING NOT ONLY BECAUSE THE DIRECTIONAL ULTRASOUND AUDIO SPOTLIGHT/HYPERSONIC WEAPON WAS BLARING IN ORDER TO WAKE ME UP -

BUT IT WAS THE NEUROLOGICAL AND BIOLOGICAL EFFECTS AFTER HAVING BEEN WOKEN BY THE WEAPONIZED USE OF THE DIRECTIONAL ULTRASOUND SPEAKER SYSTEM -

IT WAS SLURRED SPEECH, RIGHT TEMPORAL LOBE STINGING, AND NUMBNESS ON THE LOWER LIPS.

WHAT THIS SHOWS IS THAT LAST NIGHT, ALL THE WAY INTO THIS MORNING - THE CORE AREA OF TARGETING IS IN THE SPEECH AREA - you WOULD NEED TO GET THE RECORDS FROM TALK SHOE SHOW ID 89899 FOR THE EXACT TIME WHEN I STARTED TO POST IN CHAT ABOUT THE MASSIVE HEAD SHOT THAT I TOOK.  IT WAS SO BAD.

FOR THAT MATTER MOST ALL THE DOCUMENTING THAT I HAVE BEEN DOING HAS BEEN PLACED IN THE FOLLOWING SHOW

from TALK SHOE LIVE


FFCST ,OPEN LINES CALL




Am I Human




FFCST , Freedom From Covert Surveillance And Torture .Open Lines Confe...

Next Episode

  




EPISODE802 - FFCST ,OPEN LINES CALL




Time:

09/16/2012 10:00 PM EDT




Call ID:

89899

http://www.talkshoe.com/talkshoe/web/Search.jsp?search=89899&pageNumber=0&pageSize=25&cmd=search

I am on that Talk Shoe chat most of the time, ALL RECORDS THAT MATCH WITH DATES THAT I HAVE DOCUMENTED IN THIS LOG under CHAT GRABBER are GONE or NOT THERE, which shows that this HOST is WORKING BOTH SIDES but MOST OF ALL WITHIN THOSE CHATS ARE DOCUMENTED PIECES OF INFORMATION - THAT CAN IN FACT BEGOTTEN THROUGH LEGAL MEANS VIA TALK SHOE - AND THIS SHOW IS TO BE TARGETED TO ENSURE ALL MY DOCUMENTING - IS PRESERVED -

REGARDLESS -

I TOOK A MAJOR HIT LAST NIGHT IN THE RIGHT TEMPORAL LOBE, AND THIS MORNING, ANOTHER GROUP CONTINUES TO TARGET THIS REGION - THE TARGETING WAS SO BAD I WAS HEARING WHAT IS KNOWN AS MICROWAVE CLICKING INSIDE MY HEAD - THE PEOPLE DOING IT - WERE HITTING THE SAME REGION SO HARD USING THE TMS - THAT IT FELT LIKE SOMETHING EXPLODED INSIDE MY HEAD - I AM SURE AT THIS POINT THERE IS INTERNAL BLEEDING - WHEN THAT STRONG OF TARGETING TAKES PLACES - IT IS COOKING THE INSIDE OF THE BRAIN - WHEN THE  CLICKING CAN BE HEARD - THE ONLY PROBLEM I WAS NOT HEARING ANYTHING - THE TARGETING WAS UPON THE RIGHT TEMPORAL LOBE - AND IT WAS BEING FIRED AT SPEECH CENTERS ALONG WITH OTHER BIOLOGICAL FUNCTIONS IN THAT ENTIRE REGION -

THIS IS WHAT THE NORTH ATLANTIC TREATY ORGANIZATION (NATO)  SAYS ABOUT MICROWAVE c) Microwave Hearing: A phenomenon in which

microwave pulses

of certain characteristics

are heard as clicks or buzzes

. The mechanism of this phenomenon is believed to be a

thermoelastic transduction of the rapid temperature rise caused by the RF pulse into a mechanical wave in the head

that is heard by the normal hearing apparatus. It is not believed to be harmful, but some consider that it might be annoying.

This is what the NORTH ATLANTIC TREATY ORGANIZATION DESCRIBES this as being - RADIO FREQUENCY - ONLY THEY WER NOT DOING IT SO I COULD HEAR - THEY WERE DOING IT TO COOK THE INSIDE OF MY BRAIN - AND I WOKE UP TO THE NEGATIVE NEUROLOGICAL EFFECTS OF THE MASSIVE HIT I TOOK LAST NIGHT - EVERY FUCKING PERSON IN THIS APARTMENT COMPLEX COULD HEAR ME SCREAMING -

HERE IS WHAT ELSE NATO was and continues to STUDY - who are they STUDYING - WELL THEIR PERSONNEL and HOW THESE WEAPONS EFFECT THEM.


e)    RF Human Exposure Standards: NATO and other international bodies have established health and safety recommendations for permissible exposure limits for human exposure to RFR energy. Such recommendations would doubtless apply to occupational exposures during development, training, and use of RF technologies for non-lethal applications. For NATO, the applicable standard is STANAG 2345 "Evaluation and Control of Personnel Exposure to Radio Frequency Fields – 3 kHz to 300 GHz."

2) Electromagnetic – Visible and Invisible Light and Lasers: Most NLT concepts utilizing light are intended to temporarily disrupt vision. For these, the principal human effect of concern is damage to the eye. In particular, the ability of the eye to focus certain frequencies on the retina creates an increased risk of damage from these frequencies. Secondary effects due to visual impairment are also of concern.Example: WHEN YOU TAKE AN X-RAY at your local DENTIST or LAB - notice that the PERSON who takes the X-RAY always LEAVES THE ROOM - in particular an X-RAY TECHNICIAN who TAKES X-RAYS all day long - Also NOTICE that they WEAR a NECKLACE that TRACKS RADIATION EXPOSURE - if it REACHES A CERTAIN POINT - they are IMMEDIATELY WARNED -

IF THESE XRAY TECHNICIANS at the HOSPITAL or OUTPATIENT FACILITY make it necessary for SAFETY and EXPOSURE reasons to WEAR these Radiation Detectors - it STANDS TO REASON that THERE IS RUN OFF - even being in another room that is BUILT to withstand EXPOSURE  - meaning, RUN OFF is RUN OFF - and unlike BULLETS AND BOMBS - RADIO FREQUENCY ENERGY IS A FIELD OF ENERGY - THAT IS GENERATED - THEN PINPOINTED AT THE TARGET - BUT THE FIELD MEANS EXACTLY THAT - IT ENCOMPASS A REGION - AND JUST BECAUSE THE DIRECTIONAL ULTRASOUND SPEAKERS - ARE POINTED UP - DOES NOT MEAN - THAT THE FUCKING ASSHOLE BEHIND IT ARE NOT IN FACT BEING EXPOSED - IF ANYTHING - BECAUSE MOST ARE EXPERIMENTAL - THEY ARE BEING HIGHLY EXPOSED - AND THAT IS HOW THEY KNOW TO BUILD BETTER PROTECTIVE MEASURES -

The POINT BEING, LAST NIGHT I took a MAJOR MICROWAVE HIT to the RIGHT TEMPORAL LOBE - I mean when I can HEAR THE CLICKING when I am SPEAKING, these PERPS TURNED THE WEAPON UP FULL SCALE - it is the SAME WHEN THEY AMP UP THE ULTRASOUND AUDIO SPOTLIGHT - AND I COULD FEEL HOW MUCH DAMAGE WAS BEING SUSTAINED AS THESE PERPS LAST NIGHT WITH ACCESS TO THE WEAPONS - WERE LITERALLY - COOKING THE INSIDE OF MY BRAIN -

THIS MORNING, IS THE SAME WAY - THEY CONTINUE TO TARGET THE RIGHT TEMPORAL LOBE - ALONG WITH OTHER REGIONS ON THE RIGHT SIDE - BUT MOST OF ALL - IT IS DONE WITH PURE HATRED IN THE HOPES OF CAUSING PERMANENT DISABILITY BY BASICALLY MICROWAVE COOKING SOMEONE ELSE HUMAN BRAIN. 

SUNDAY, SEPTEMBER 16, 2012

08:52 AM

I am continually WOKEN by Residential Domestic Terrorist's with access,

BIOLOGICAL TECHNOLOGICAL WEAPONS

in this Apartment complex, who indiscriminately access the Weapons systems, and fire them for no other reason than they have access to these Biological-Technological Weapons, and are COMMITTING FIRST DEGREE

BIOLOGICAL TERRORISM.

I finally telephoned the San Rafael Police Department to get them to help Isolate THE EXACT location of who is using these

BIOLOGICAL WEAPONS

being used in this APARTMENT COMPLEX, but instead was RIDICULED, SLANDERED, and REFUSED in a blatant form of IGNORANCE, OBSTRUCTION OF JUSTICE, DERELICTION OF DUTY, BLATANT DISREGARD FOR MY SAFETY, LABELED BECAUSE THE

OFFICER LELAND, BADGE 526

CLAIMED TO NOT KNOW WHAT A LONG RANGE ACOUSTIC DEVICE WAS - A DIRECTIONAL ULTRASOUND, and because this OFFICER CLAIMED he had NEVER HEARD of a LONG RANGE ACOUSTIC DEVICE - chose instead to DISCRIMINATE AGAINST ME based on what is considered a PROTECTED CLASS OF PEOPLE -

IMMEDIATELY UPON CALLING - CHOSE TO DISCRIMINATE AGAINST ME BASED ON WHAT HE PERCEIVED JUST HAPPENS TO BE A PROTECTED CLASS OF PEOPLE - BE TELLING ME WITHOUT COMING TO SPEAK WITH ME, GATHERING INFORMATION THAT I NOW HAVE POSTED TO YOU TUBE - OR EVEN TAKING THE TIME - THIS OFFICER - WENT INTO WHAT IS KNOWN AS THE TALKING POINT IN OBSTRUCTION OF JUSTICE.  MOST OF ALL THIS OFFICER - JUDGED ME - more than likely based on preconceived, erroneous, if not altogether fraudulent information provided to him RIGHT AFTER I telephoned the police to have them COME OUT and FIGURE OUT who IS firing the BIOLOGICAL WEAPONS into the PRIVACY of MY HOME.

Due to this OFFICERS PRECONCEIVED DISCRIMINATORY BELIEF - he chose to IMMEDIATELY SLANDER, more than likely via some third party interference, as opposed to COURT ORDER DOCUMENTS that CLAIM THIS TO BE TRUE, since THERE ARE NONE. 

BASED UPON THIS OFFICER'S PREJUDICE and DISCRIMINATORY FALSE and SUBJECTIVE BELIEF because I stated that A RESIDENT of this COMPLEX has ACCESS to A LONG RANGE ACOUSTIC DEVICE/ AUDIO SPOTLIGHT OR HYERSONIC SOUND - and WAS PROJECTING AND POINT THIS WEAPON into the PRIVACY OF MY UNIT and ACOUSTICALLY HARASSING ME -

THIS OFFICER LELAND, BADGE 526, chose TO SUBJECTIVELY JUDGE without conducting a criminal investigation because he did not know what a LONG RANGE ACOUSTIC DEVICE/AUDIO SPOTLIGHT/DIRECTIONAL ULTRASOUND was.  OR if he did, HE CHOSE TO PERCEIVE with EXTREME PREJUDICE AND DISCRIMINATORY BELIEFS  - as such OFFICER LELAND committed the following offenses

1.

DEPRIVATION OF RIGHTS UNDER THE COLOR OF LAW

- denial of law based upon this OFFICERS IGNORANCE but NONE THE LESS his RECORDED STATEMENT - against A PROTECTED CLASS OF PEOPLE - this officer REFUSED, and not ONLY REFUSED to ASSIST, but BECAUSE HE DID NOT KNOW - what a LONG RANGE DIRECTIONAL SOUND DEVICES WAS - and based ON HIS BELIEF - so STRONG was this BELIEF that this OFFER BLURTED OUT THE WORDS - to DISCRIMINATE AGAINST A PROTECTED CLASS OF PEOPLE -

2. DERELICTION OF DUTY based on STEREOTYPE perception of ones state of mind, because the OFFICER CLAIMS on RECORDING that he was NOT AWARE in his ENTIRE CAREER of a DIRECTIONAL ULTRASOUND DEVICE, in the form of a LONG RANGE ACOUSTIC DEVICE - HYPERSONIC SOUND SPEAKERS - or AUDIO SPOTLIGHT  - whereby, FOCUSED SOUND can travel at short or long distances and be TARGETED TO A SPECIFIC PERSON -

Protected class is a term used in United States anti-discrimination law. The term describes characteristics or factors which can not be targeted for discrimination and harassment. The following characteristics are considered "Protected Classes" and persons cannot be discriminated against based on these characteristics:

The Americans with Disabilities Act gives civil rights protections to individuals with disabilities similar to those provided to individuals on the basis of race, color, sex, national origin, age, and religion. It guarantees equal opportunity for individuals with disabilities in public accommodations, employment, transportation, State and local government services, and telecommunications.

... Title II of the ADA prohibits discrimination against qualified individuals with disabilities in all programs, activities, and services of public entities.

...

How does title II affect participation in a State or local government's programs, activities, and services?

A. A state or local government must eliminate any eligibility criteria for participation in programs, activities, and services that screen out or tend to screen out persons with disabilities, unless it can establish that the requirements are necessary for the provision of the service, program, or activity. The State or local government may, however, adopt legitimate safety requirements necessary for safe operation if they are based on real risks, not on stereotypes or generalizations about individuals with disabilities. Finally, a public entity must reasonably modify its policies, practices, or procedures to avoid discrimination. If the public entity can demonstrate that a particular modification would fundamentally alter the nature of its service, program, or activity, it is not required to make that modification.
The Unruh Civil Rights Act (California Civil Code Section 51) provides protection from discrimination by all business establishments in California, including housing and public accommodations, because of age, ancestry, color,

disability

, national origin, race, religion, sex and sexual orientation. Other State laws relating to prohibitions of discrimination based on disability include...

THE POINT, as such OFFICER LELAND - did in fact DEPRIVE ME OF MY CIVIL RIGHTS TO EQUAL PROTECTION UNDER THE LAW - BASED ON HIS SUBJECTIVE PERCEPTION that I SUFFERED some MENTAL DISABILITY, as such THE RESIDENTIAL OCCUPANTS with ACCESS TO THESE BIOLOGICAL WEAPONS - IMMEDIATELY CONTINUE TO USE THE BIOLOGICAL ACOUSTIC WEAPONS SYSTEM - because this OFFICER OF THE LAW - NOT ONLY JUDGED ME - BUT TOLD ME TO LEAVE SAN RAFAEL, CA - SINCE I WAS BEING HARASSED - NOW LETS GO TO HARASSMENT LAWS -

Police misconduct refers to inappropriate actions taken by police officers in connection with their official duties. Police misconduct can lead to a miscarriage of justice and sometimes involves discrimination. In an effort to control police misconduct, there is an accelerating trend for civilian agencies to go beyond review to engage directly in investigations and to have much greater input into disciplinary decisions.[1] With the proliferation of mobile devices capable of recording alleged misconduct, existing eavesdropping laws in some jurisdictions are being leveraged to prosecute civilians, while in other circumstances police will illegally seize or delete evidence.[2][3]

Types of misconduct include, false confession, false arrest, falsified evidence, false imprisonment, intimidation, police brutality, murder, police corruption, political repression, racial profiling, sexual abuse, surveillance abuse and off-duty misconduct.

[

4

]

Others include

Last night random residents, and their guest began USING THE BIOLOGICAL WEAPONS in the form of DIRECTIONAL ULTRASOUND, that TARGETED DIRECTLY at me, using a LOW VIBRO-ACOUSTIC HUM, that is really generated by High Frequency Ultrasound.  It is like placing a MICROPHONE on a running generator, than DIRECTING the ULTRASOUND at my CRANIAL and BIOLOGICAL AREA, as such the FOLLOWING DAMAGES are what this DOMESTIC and BIOLOGICAL TERRORIST ORGANIZATION are HOPING TO ACCOMPLISH.

FUTURE WAR – Non-Lethal Weapons in Twenty First Century Warfare" by Colonel John B. Alexander, U.S. Army (retired)In addition to levitation of objects, it is known that MATERIALS can be DESTABILIZED with ACOUSTIC ENERGY.  OTHER INDICATIONS OF THAT INTERACTION OF SOUND ON STONE OBJECTS include complaints that have been lodged by the U.S. Parks and Recreation Service about DAMAGE to the bridges of red rock at Arches National Monument in Utah. The DAMAGE has been caused by U.S. Air Force fighters that frequently overfly the area on combat maneuvers.

Dean Barker, and Old Crow from the World War II era, has continued to explore military applications of ACOUSTIC TECHNOLOGY.  He stated that,

in experiments he conducted for the Army twenty years ago,

they were able to move concrete walls a slight distance

.  Barker also reported that

they had successfully DESTABILIZED CRITICAL METAL ELEMENTS




He claimed to have an ACOUSTIC DEVICE that could be PLACED NEXT to the RAILROAD TRACKS that would CAUSE them TO WEAKEN. The STRUCTURAL FATIGUE WAS NOT VISIBLE TO THE NAKED EYE, but

the TRACK WOULD DISINTEGRATE

when the TRAIN RAN OVER IT.

NOW - I am going to COVER SOMETHING that TRANSPIRED last night while I was on the late call on TALK SHOE, via TheAntFarm show. 

1. As I made a suggestion for the Targeted Victims' to do what I did - begin AUDIO DOCUMENTING everything that LAW ENFORCEMENT does not do to ASSIST you when You call them for HELP.  Whereby, the Officer and./or Police Station Choose to Discriminate against you, and Deprive you of your Rights, based on a STEREOTYPE PRESUMPTION, and PREJUDICIAL JUDGEMENT that somehow YOU AS A VICTIM have issues grasping reality. 

a. What this may do is begin to AUDIO DOCUMENT all local, state, and federal agencies WHO DEPRIVED a TARGETED VICTIM of their RIGHT and LIBERTIES based on the PRESUMPTION that the TARGET is MENTAL therefore, they could DISCRIMINATE AGAINST THEM by DENYING THEM EQUAL PROTECTION, EQUAL RIGHTS, under the RULE and COLOR of LAW.

By beginning to show this BLATANT DERELICTION OF DUTY, and MASS DEPRIVATION OF RIGHTS under RECORDING OF EVERY SINGLE AGENCY a the LOCAL, STATE, and FEDERAL LEVEL - whereby, these AGENCIES FLAT OUT DENY and DEPRIVE you of YOUR FUNDAMENTAL RIGHTS - and that YOU CAN CAPTURE THEM ON AUDIO or VIDEO SLANDERING YOU, and against a PROTECTED CLASS OF PERSON'S - this become EVIDENCE that LOCAL, STATE, and FEDERAL AGENCIES have DENIED AND DEPRIVATION A TARGETED VICTIM of their RIGHTS based on a STEREOTYPE, DISCRIMINATORY PRESUMPTION AND JUDGEMENT. 

then PUBLISH ALL OF THESE RECORDINGS - by VARIOUS TARGETED INDIVIDUAL'S onto ONE YOU TUBE CHANNEL - that can be USED AS EVIDENCE that A VICTIM of this DOMESTIC and BIOLOGICAL TECHNOLOGICAL TERRORIST ORGANIZATION - are INTERFERING WITH IF NOT OUT AND OUT OBSTRUCTING JUSTICE - by way of INTERFERING WITH THE JUDICIAL AND CRIMINAL INVESTIGATIVE PROCESS'


2. A MAN by the NAME OF JAMES was on the LATE NIGHT CALL - and LITERALLY WENT OFF ON MY BY ACCUSING ME OF BEING A REPTILIAN, DEMON, WITCH, and therefore was TARGETED and TORTURED because I deserved it.  He was SO ZEALOT in his speech towards me, and convinced that I was somehow EVIL, a part of the Illuminati, and Myriad of other Conspiracy theories in the form of GOD v DEVIL, that he literally BELIEVED that he could ACCUSE me a VICTIM of this, but ALSO WAS SO CONVINCED of THIS BELIEF that HE LITERALLY, and I MEAN LITERALLY BELIEVED THAT I SHOULD BE TARGETED, TORTURED, AND KILLED -

THE REASON WHY I AM BRINGING THIS PARTICULAR CASE UP -IS BECAUSE IT OUTLINES THE HARD CORE FUNDAMENTALIST POINT OF VIEW and WHY THEY FEEL THEY ARE JUSTIFIED OR IT IS JUSTIFIED TO TERRORIZE, TORTURE, PHYSICALLY ASSAULT, USE INDISCRIMINATE ACTS OF PURE AND CONCENTRATED VIOLENCE UPON AND AGAINST A TARGETED VICTIM.

In the case last night, it was a man named JAMES, who was a former war veteran, who suffers from either brain damage, or PTSD.  HE GOT WITH GOD, so to speak, and now is a hard core believer that there are HUMAN BEINGS who are EVIL REPTILIANS', DEMONS, EVIL WITCHES, and as such WENT OFF ON ME LAST NIGHT accusing me of all sort of EVIL THINGS that he WAS CONVINCED, totally and absolutely convinced that I was.  And because of this HARD CORE FUNDAMENTALIST BELIEF - he also believed that THE REASON I WAS TARGETED WAS BECAUSE I DESERVED TO BE TORTURED, TERRORIZED, AND KILLED in this LIFE for being a REPTILIAN ILLUMINATI EVIL PERSON.

This type of HARD CORE FUNDAMENTALISM, no MATTER WHAT THE BELIEF IS -  in particular this GOD v SATAN - has permeated throughout TARGETING. 

It is a HARD CORE TACTIC that the Architect's and Handlers' manipulatively use and abuse when AGGRESSIVELY RECRUITING their CIVILIAN RECRUITS' who begin to BELIEVE the Fraud, and Lies being sold to them by PROFESSIONAL PSYCHOLOGICAL and NARRATIVE EXPERTS. 

That these Professional Operators' working on behalf of State, Corporate and Educational Research Facilities, bank on this ABUSIVE DEPLOYMENT of SUCH TACTICS, they literally FEED INTO THE FEARS of their TARGET AUDIENCE, aka CIVILIAN RECRUITS, and that they ACTIVELY SEEK OUT MEN, WOMEN and YOUTHS who fall into these type of FUNDAMENTALIST BELIEF SYSTEMS -

WHAT TRANSPIRED LAST NIGHT, was IN POINT OF FACT the LEVELS OF A HARD CORE FUNDAMENTALIST BY A MAN WHO WAS SO INDOCTRINATED INTO HIS BELIEF SYSTEM, WHO LITERALLY COULD NOT STOP ACCUSING ME OF THIS PURE AND CONCENTRATED BELIEF THAT I WAS A REPTILIAN, DEMON, WITCH, EVIL BEING, and DESERVED IN THE MOST LITERAL SENSE, DESERVED TO BE TORTURE, HARMED, STALKED, TERRORIZED, AND KILLED in THIS LIFE - because HE LITERALLY BELIEVED I DESERVED to DIE.

And, what I got was PROOF that those being RECRUITED by this ORGANIZED DOMESTIC and BIOLOGICAL-TECHNOLOGICAL TERRORIST ORGANIZATION, are PEOPLE who LITERALLY BELIEVE that the TARGETED VICTIM is EVIL - and that BECAUSE OF THIS INDOCTRINATED BELIEF, this man LITERALLY like ALL THE RECRUITED PERPS - ARE CONVINCED THAT I SHOULD BE ELIMINATED - IN THE CASE OF THIS MAN - IT WAS BECAUSE HE BELIEVED I WAS A REPTILIAN, A DEMON, SATANIC WORSHIPING EVIL WOMAN, A WITCH. MEMBER OF THE ILLUMINATI- and AS SUCH - SHOULD IN FACT BE TARGETED FOR TORTURE, TERRORISM and DEATH in this LIFE. 

THIS MAN LAST NIGHT REPRESENTS THE MAJORITY AND MINDSET OF the PURE AND CONCENTRATED EXTREMISM I AS THE TARGETED VICTIM have BEEN DEALING WITH - and THIS MANS CONVICTION, is not UNLIKE OTHER HARD CORE FUNDAMENTALISM EXTREMIST BELIEFS - was PROOF that ALL MY TARGETING - has been BASED ON CIVILIAN RECRUITS' WHOSE SAME or OTHER BELIEF SYSTEMS are SO INGRAINED that they are LITERALLY CONVIENCED - that the TARGETED VICTIM - DESERVES what they are GETTING -

IT WAS SAD TO HEAR THIS MAN GO OFF ON WHAT HE THOUGHT HE KNEW ABOUT ME, BUT IT WAS A WELCOME RELIEF TO HEAR FOR THE FIRST TIME - THE TRUE NATURE OF HOW THESE CIVILIANS ARE RECRUITED, HOW THE HANDLER'S AND ARCHITECT'S PREY UPON THESE CIVILIANS DEEPEST FEARS, AND HOW THEY USE IT AS A WEAPON, TO RECRUIT, GALVANIZE OTHERWISE DECENT PEOPLE INTO A FALSE BELIEF SYSTEM THAT LITERALLY MAKES THEM BELIEVE - THE TARGET - DESERVES TO BE TORTURED, TERRORIZED, ASSAULTED, HARMED, DESTROYED, AND MURDERED - ALL BASED UPON HOW THE ARCHITECT'S AND HANDLERS' MANIPUALTED THE PSYCHOLOGY OF THESE CIVILIAN RECRUITS'

JAMES/JIM - REPRESENTS - ALL RECRUITED CIVILIAN PERPS, with EXTREMIST FUNDAMENTAL, DELUSIONAL BELIEFS - that the ARCHITECT'S and HANDLER'S AGGRESSIVELY PREY UPON - so that they can RECRUIT and INCITE what appeared to be OTHERWISE DECENT PEOPLE - into such a FEAR BASED HARD CORE BELIEF - that the TARGETED VICTIM - LITERALLY DESERVES TO BE BRUTALLY OPPOSED AND HARMED - to the POINT OF DEATH - BECAUSE THESE RECRUITS' LITERALLY BELIEVE - THAT TARGETED VICTIM DESERVES IS -

JIM - PROVED TO ME - THE LARGEST SEGMENT OF THE CIVILIAN POPULATION BEING RECRUITED - are PEOPLE WHO HAVE OR BELONG TO SOME BELIEF SYSTEM - IN PARTICULAR RELIGIOUS IN NATURE - WHEREBY. THE PROFESSIONAL PSYCHOLOGICAL MANIPULATOR HANDLER'S PREY UPON THESE PEOPLE - IN ORDER TO AGGRESSIVELY FEED THEIR DEEPEST FEARS -which IN TURN GALVANIZES THEM INTO COMMITTING INDISCRIMINATE ACTS OF VIOLENCE AGAINST THE TARGETED VICTIM BECAUSE THEY ARE INDOCTRINATED INTO AN EXTREMISM FALSE BELIEF SYSTEM - and THEREFORE, BELIEVE WHAT THEY ARE DOING IN PARTICULAR USING INDISCRIMINATE ACTS OF VIOLENCE AGAINST THE TARGETED VICTIM - IS SOMEHOW JUSTIFIED BASED ON THE FALSE PREMISE SOLD TO THEM BY THE HANDLERS' WHO PREY LIKE PREDATORS UPON THESE PEOPLE - IN ORDER TO FEED THEIR WORSE FEARS SO THAT THEY TAKE THESE FEARS OUT - UPON AN INNOCENT, DEFENSELESS HUMAN BEING -

BUT THERE IS ONE OTHER CATEGORY OF PEOPLE who are AGGRESSIVELY INVOLVED in TARGETING VICTIMS with INDISCRIMINATE VIOLENCE, THESE ARE INDIVIDUAL'S WHO ARE FULLY AWARE, DO NOT HAVE SUCH BELIEF SYSTEMS, BUT DO SO OUT OF SHEER SADISTIC JOY AT LITERALLY INFLICTING MASSIVE LEVELS OF BRUTAL VIOLENCE UPON AND AGAINST THE HUMAN LIFE of a TARGETED VICTIM - these FULLY COGNIZANT INDIVIDUALS' WHO PARTICIPATE WITH FULL KNOWLEDGE, AND NOT AN INDOCTRINATED INTO SOME NEGATIVE NARRATIVE DRIVEN FALSE BELIEF SYSTEM ABOUT THE TARGETED VICTIM - ARE WHAT IS KNOWN IN THE WORLD OF PSYCHIATRY as - FULL BLOWN SADISTIC PSYCHOPATHS for these TYPE OF INDIVIDUAL'S GRAVITATE to to these TYPE OF GROUPS to FULFILL some SADISTIC FANTASY of DOING GRAVE HARM PUBLICLY TO AN INNOCENT HUMAN BEING - JUST FOR THE SHEER THRILL OF WATCHING A TARGETED VICTIM BEING TORTURED, AND INFLICTED WITH MASSIVE LEVELS OF PAIN and SUFFERING -

so there are REALLY just TWO TYPES OF PERPS -
1. the FALSE BELIEF SYSTEM INDOCTRINATION  - which the Handler's PREY upon these type of people to FEED their ABSOLUTE FEARS to the POINT that they will GALVANIZE and LITERALLY BELIEVE EVERYTHING the TARGET IS GETTING IS DESERVED.
2. Those who are NOT INDOCTRINATED based on some FALSE BELIEF, but WHO SIMPLY ENJOY SEEING OTHER PEOPLE SUFFER - these PEOPLE are the MOST DANGEROUS because they are FULLY COGNIZANT that they are INFLICTING INDISCRIMINATE LEVELS OF VIOLENCE - JUST FOR THE SHEER PLEASURE OF DOING IT - they are what are CALLED - SADISTIC PSYCHOPATHS -

REGARDLESS OF WHAT CATEGORICAL TYPOLOGY THESE CIVILIAN RECRUITED PERPS FALL INTO, ALL OF IT LEADS TO THE FOLLOWING, VERY BASIC OUTCOMES:


Murder, First Degree
The unlawful killing of another human being with malice, premeditation and deliberation.
4 Types of Serial Killers:
Thrill Seekers

:

See outsmarting law enforcement as a game, enjoy media attention, police pursuit, and evading the authorities. They send messages, and keep records.




Mission Oriented

:

Feel they are doing society a favor by eliminating certain people like prostitutes.




Power and Control

:

Enjoy the victim's terror, suffering, and screaming.




Souvenirs & Serial Killers:

 

Serial killers often keep mementos of their victims

.

Robert Keppel places these collections into 2 categories: souvenirs and trophies.

Souvenirs

:

Personal items allow the killer to enjoy the memories of the crime.

A

trophy

can become something of a shrine.
THE CRIME OF GENOCIDE

 
On December 9, 1948, in the shadow of the Holocaust and in no small part due to the tireless efforts of Lemkin himself, the United Nations approved the Convention on the Prevention and Punishment of the Crime of Genocide. This convention establishes "genocide" as an international crime, which signatory nations "undertake to prevent and punish." It defines genocide as:
Genocide means any of the following acts committed with intent to destroy, in whole or in part, a national, ethnical, racial or religious group, as such: (Targeted Victims belong within one or more of these groups... to form the COLLECTIVE GROUP called TARGETED INDIVIDUAL'S as such the following, applies. )

(a) Killing members of the group;
(b) Causing serious bodily or mental harm to members of the group;
(c) Deliberately inflicting on the group conditions of life calculated to bring about its physical destruction in whole or in part;
(d) Imposing measures intended to prevent births within the group;
(e) Forcibly transferring children of the group to another group.

MONDAY, SEPTEMBER 17, 2012
Called the Attorney I met with on September 7, 2012. 

During this meeting I was asked to call back the following week, which I did on Wednesday, Sept 12, 2012, and was told that the Attorney would be in depositions during the week and to call back today, Monday Sept 17, but on Friday the Attorney telephoned me, a call that I missed, and upon hearing the message called back the Office.  From which I was told by his Assistant that she would get the message to him.
LARKIN is the name of the Assistant to this Attorney - and the REASON why I  QUESTION this female is because on September 7, 2012, I needed to give copies to the attorney, and I caught her THROWING AWAY the contract information.  I have called the OFFICE now A TOTAL OF THREE TIMES to get a message to the ATTORNEY and this ASSISTANT keeps finding excuses to NOT GET THE MESSAGE to the ATTORNEY. 

If this is the CASE we have A CLEAR CASE OF OBSTRUCTION OF JUSTICE, by WAY OF RECRUITING the ASSISTANT to NOT GET MY TELEPHONE MESSAGES to the ATTORNEY. 

By way of the MESSAGE I received from the ATTORNEY, it sounded like HE HAD BEEN WAITING FOR ME TO CALL - and HENCE he TELEPHONE ME BACK.  As such WE HAVE A HUGE PROBLEM if in FACT this LARKIN has been RECRUITED TO STOP THE JUDICIAL PROCESS from MOVING FORWARD. 

MONDAY, SEPTEMBER 17, 2012
23:52 PM
The CULT DRIVEN MASS MURDERING GENOCIDAL KILLERS' with ILLEGAL ACCESS TO UNITED STATES MILITARY NON LETHAL- NON KINETIC WEAPONS TO INCLUDE ACOUSTIC WEAPONS AND RAYTHEON ILLEGAL FIELD TESTING WEAPONS - CONTINUE TO ACTIVE THE WEAPONS SYSTEM - IN PARTICULAR THE ACOUSTIC WEAPONS AND SPOTLIGHT AUDIO ACOUSTIC VIBRATIONS INTO THE PRIVACY OF MY RESIDENCE.  
THIS TYPE OF LATE NIGHT HARASSMENT CONTINUES TO BE USED BY THIS DOMESTIC TERRORIST ORGANIZATION, IN PARTICULAR THE RESIDENTIAL CULT DRIVEN MASS MURDERING, GENOCIDAL KILLER'S LIVING IN THIS RESIDENCE - THESE CIVILIAN RECRUITS CONTINUE TO HARASS AND PROVOKE IN THE FIRST DEGREE - BECAUSE THERE IS NO REASON WHY AT ALMOST MIDNIGHT THESE WEAPONS SHOULD BE USED, OTHER THAN THE LITERAL FACT THAT THESE CULT DRIVEN MASS MURDERING, GENOCIDAL KILLER'S WITH THEIR ILLEGAL ACCESS TO UNITED STATES MILITARY NON KINETIC WEAPONS CONTINUE TO BE ALLOWED TO FIRE THESE WEAPONS - INTO THE PRIVACY OF AN URBAN RESIDENCE - IN AN SUBURBAN NEIGHBORHOOD - NOT ONLY PROJECTING THESE ENERGY WEAPONS INTO THE PRIVACY OF THIS PRIVATE LIVING SPACE BUT ALSO PROJECTING THE FIELD OF ENERGY - THOUGHT THIS APARTMENT COMPLEX - AS SUCH - 
AS SUCH, NOT ONLY DO THESE DUMB ASS MOTHERFUCKER'S OVER EXPOSE ME TO THESE NON IONIZING RADIATION MILI-METER AND SUB-MILIMETER WAVELENGHTS - BUT ALSO EXPOSE ANYONE IN THE FIELD OF ENERGY TO NON IONIZING RADIATION - AND IF THERE ARE CHILDREN IN THE SURROUNDING FIELD - THEY BECOME MORE EXPOSED THAN MYSELF BECAUSE THEIR BIOLOGIES AND NEUROLOGIES ARE STILL DEVELOPING - 
THIS IS THE SHORT DOCUMENTARY OF THE USE OF DIRECT ENERGY WEAPONS DURING THE FIRST GULF WAR - AND RUMSFELD BEING QUESTIONED ABOUT THE MICROWAVE/DIRECT ENERGY WEAPONS - 
part 2   http://www.youtube.com/watch?v=-2Pkcbj-n5E&feature=relmfu

part 1   http://www.youtube.com/watch?v=aGBy5raGxlA&feature=relmfu

part 3    http://www.youtube.com/watch?v=n-R3JQYxVcI&feature=relmfu
I TRULY BELIEVE THAT THESE CIVILIAN PERPS SHOULD LITERALLY BE EXTERMINATED - JUST BECAUSE THEY ARE SO FUCKING IGNORANT - AND THAT IGNORANCE HAS CAUSED THE HUMAN LIVES OF TARGETED INDIVIDUALS - AND THE ATTEMPTED MURDER ON A DIALY BASIS OF THE SURVIVING TARGETED INDIVIDUALS - BECAUSE OF THIS SHEER SCALE MASS LEVEL GROUP THINK, HIVE MINDED MASS COLLECTIVE SHEER STUPIDITY AND IGNORANCE - IT WOULD DO THIS OVER POPULATED PLANET A WORLD OF GOOD IF SUCH STUPID ASS MOTHER FUCKING IDIOTS WERE SIMPLY EXTERMINATED - 
TUESDAY, SEPT 18, 2012
07:41 am
Was woken by the AMPTED UP AUDIO SPOTLIGHT that was GENERATING ONE OF THE UNITS BATHROOM FANS - that CONTINUES TO BE PROJECTED into the PRIVACY of MY APARTMENT.  I took the DIGITAL RECORDER and PLACED IT ON THE FLOOR BELOW MY BED/COUCH to see if it could pick up on the ULTRASOUND ACOUSTIC WEAPON being used.  INDEED it did PICK UP on the HIGH FREQUENCY PITCH that GENERATES THE ULTRASOUND being ILLEGALLY PROJECTED into the PRIVACY of MY UNIT.  
As such, I have been able to ISOLATE the ACOUSTIC HIGH FREQUENCY on the DIGITAL AUDIO RECORDER TO show PROOF that there is a DIFFERENCE BETWEEN THE HEAVY USE OF ACOUSTICS THAT ARE REMOTELY ACCESSED and FIRED INTO THIS UNIT all DAY LONG - as OPPOSED TO WHAT IS CONSIDERED NORMAL AMBIENT NOISE - the DIFFERENCE can in fact BE PICKED UP ON THE DIGITAL AUDIO RECORDER.  
I have to wait because the ASSHOLES REMOTELY TURNED ON THE REFRIGERATOR GENERATOR - because they WANTED THAT TO BE PICKED UP ON THE RECORDING AS WELL, BUT IT WILL NOT WORK - BECAUSE I WILL WAIT FOR THE SILENCE WITHOUT ANY AMPLIFICATION OF APPLIANCES OR AGGRESSIVE VIOLENT USE of the UNITED STATES DEPARTMENT OF DEFENSE MILITARY ACOUSTIC WEAPONS SYSTEM - in order to CAPTURE - what I need to ON RECORDING TO LEGALLY PROVE that a MILITARY WEAPONS SYSTEM is IN FACT BEING UTILIZED and TARGETED TO MY PRIVATE RESIDENCE by NEIGHBORS who HAVE ALLOWED THESE WEAPONS TO BE SET UP IN THEIR HOMES - IN PARTICULAR THE LOWER 2ND FLOOR UNIT - since THE SOUND THAT IS BEING GENERATED THAT TARGETS MY BED/COUCH COMES FROM IN FACT THE FLOOR UP - THAT PROVES - like IN THE LATEST RECORDING when I PUT THE DIGITAL AUDIO RECORDER ON THE FLOOR TO ALLOW IT TO RECORD - WHICH PICKED UP ON THE HIGH FREQUENCY PITCH that the ULTRASOUND AUDIO SPOTLIGHT GENERATES WHEN BEING USED - WAS IN FACT ON THE FLOOR - AND THE DIFFERENCE WILL BE IN THE NORMAL AMBIENT SOUNDS THAT ARE NOT DELIBERATELY MECHANICALLY MANIPULATED.  
Needless to say THE 2ND FLOOR LOWER UNIT, WITH THE SAME LAYOUT AS MY UNIT, BUT IS DIRECTLY BELOW ME - - IS WHERE THE BULK OF THE WEAPONS ARE BEING GENERATED FROM - REGARDLESS OF WHO HAS REMOTE ACCESS TO THE - THE ACTUAL WEAPONS SYSTEMS ARE IN THE LOWER UNIT. 
If the WEAPONS ARE NOT IN THE PHYSICAL PROXIMITY OF THAT UNIT, THEY ALLOWED THEIR UNIT  CEILING TO BE CUT INTO, IN ORDER TO PLACE THE BIOLOGICAL ACOUSTIC ULTRASOUND WEAPONS INTO THEIR CEILING FLOOR, SO IT WOULD GENERATE THE SOUND UPWARDS - AS SUCH THAT IS PROVISION OF MATERIAL SUPPORT TO THE DOMESTIC TERRORIST ORGANIZATION - MATERIAL LODGING FOR THE DOMESTIC TERRORIST ORGANIZATION TO SET UP DIRECTIONAL ULTRASOUND ACOUSTIC BIOLOGICAL WEAPONS WITHIN THEIR HOME - AND THAT THESE ACOUSTIC ULTRASOUND BIOLOGICAL WEAPONS ARE BEING INDISCRIMINATELY ACTIVATED EITHER BY THE LOWER 2ND UNIT, OR WHATEVER RESIDENTS - HAVE REMOTE ACCESS TO THE UNITED STATES MILITARY GRADE DIRECTIONAL ULTRASOUND ACOUSTIC BIOLOGICAL WEAPONS. 
AND I KNOW BEYOND A DOUBT THAT I AM ON THE RIGHT PATH IN TERMS OF ISOLATING THE WEAPONS TO THE LOWER UNIT BECAUSE WHAT THE FUCK DID THEY DO THE MOMENT THE REFRIGERATOR GENERATOR TURNED OFF - BUT TURN ON THE UNITED STATES DEPARTMENT OF DEFENSE ACOUSTIC ULTRASOUND WEAPONS - in order FOR ME TO NOT BE ABLE TO DO A CLEAN RECORDING of the SILENCE - 
THIS PROVES THAT THE LOWER UNIT along with OTHER RESIDENCE are IN FEAR of BEING CAUGHT USING THESE MILITARY WEAPONS - because I HAVE BEEN GETTING SMART IN TERMS OF HOW TO ISOLATE WHERE THESE WEAPONS ARE SET UP - AND THAT THEY ARE BEING REMOTELY ACCESSED BY THOSE RESIDENTS WHO ARE ACTIVELY PROVIDING MATERIAL SUPPORT TO THIS DOMESTIC TERRORIST ORGANIZATION, and MOST OF ALL WHAT THESE TWO RECORDINGS DO ARE TO ISOLATE THE LITERAL CRIMINAL FACT THAT MY NEIGHBORS ARE THE ONE'S UTILIZING THESE UNITED STATES DEPARTMENT OF DEFENSE MILITARY WEAPONS - AND THAT IT IS NOT SATELLITES THAT DO THE HARASSMENT, THEY ARE NEIGHBORS - WHO PROVIDE MATERIAL SUPPORT TO THIS DOMESTIC TERRORIST ORGANIZATION - MORE THAN LIKELY - THESE NEIGHBORS - ARE BEING PAID TO PLACE THESE WEAPONS SYSTEMS IN THEIR HOMES OR TO ALLOW THEIR HOMES TO BE USED TO SET UP THE WEAPONS SYSTEMS - 
AS SUCH THE LOWER 2ND FLOOR UNIT - IS HUGE in HAVING ALLOWED THIS DOMESTIC TERRORIST ORGANIZATION TO PLACE THE WEAPONS, EQUIPMENT, AND MOST OF PROVISION OF MATERIAL SUPPORT, LODGING OF BIOLOGICAL WEAPONS SYSTEM IN THEIR HOME - BY WAY OF ACCESSING THIS PRIVATE RESIDENCE.
THE 2ND FLOOR UNIT, THAT IS DIRECTLY BELOW ME - IS IN FACT PROVIDING MATERIAL LODGING for the DIRECTIONAL ULTRASOUND ACOUSTIC BIOLOGICAL WEAPONS, AND MATERIAL SUPPORT TO THIS DOMESTIC TERRORIST ORGANIZATION WITH ACCESS TO UNITED STATES DEPARTMENT OF DEFENSE DIRECTIONAL ULTRASOUND ACOUSTIC BIOLOGICAL WEAPONS.  They are NOT the ONLY UNIT, but because this LOWER 2ND FLOOR UNIT, TRACKS THE ENTIRE LAYOUT OF MY APARTMENT - THEY ARE THE ONES' WHO HAVE ALLOWED THEIR UNIT TO BE USED IN PARTICULAR TO SET UP THE DIRECTIONAL ULTRASOUND BIOLOGICAL WEAPONS IN THEIR UNIT.
WEDNESDAY, SEPTEMBER 19, 2012
On Joe's Talk Shoe call last night, I posed the following to the group.
Because everything that is being done to TI's are FORMS OF VIOLENCE against or VIOLENCE inflicted upon the HUMAN LIVES of True Target's, and NO MATTER what you say or do, no matter how much evidence to the contrary that you provide to these recruited perps, NOTHING APPEARS to SINK IN, to REGISTER in their brains - as such, IT FLASHED, the QUOTE:

"YOU CAN'T REASON WITH ADDICTS"

But even more disturbing was the FACT that these RECRUITED PERPS are ADDICTED to VIOLENCE - Sadistic Forms of Violence that they not only inflict on a daily basis, but do so thinking what they are doing is funny.  That there are different forms of this Violent Behavior that is EXHIBITED from anyone who has PARTICIPATED - There are Thrill Seekers, Mission Offenders, and Hard Core Recruits - in each category, there is an ELEMENT of SADISM or SADISTIC Behavior.  That the more INDOCTRINATED A RECRUIT becomes into the FOLD, the MORE AGGRESSIVE and PATHOLOGICAL they ACTUALLY become. 
Unlike most Addicts be they Alcoholic, Drug, or Substance abusers in general the only harm they inflicted is against themselves via their addiction.  Not that Drunks are not, or do not get violent, or a drug addict commits a violent crime in order to get funds for their habits - but on the whole these ADDICTS generally are NOT ADDICTED to the VIOLENCE that ensues but the CHEMICAL SUBSTANCE that causes them to do Violent Things. 
Yet in the CASE of the RECRUITED PERPS, to include ALL CIVILIAN PERPS - they GO INTO IT with A CONSCIOUS KNOWLEDGE that they are GOING TO BE INFLICTING VIOLENCE against the LIVING LIVES of the TARGETED INDIVIDUAL.  That everything about TARGETING is VIOLENCE and that those being recruited into the fold KNOW the things they are DOING is to INFLICT AS MUCH VIOLENCE AGAINST the TARGETED VICTIM AS POSSIBLE -
Hence the TARGET is only a MEANS by which THE RECRUITED PERPS are allowed to INFLICT VIOLENCE upon - and that it is NOT what the TARGETED VICTIM is or is NOT, but in PROVING that ALL THOSE WHO CAN BE RECRUITED INTO THE FOLD - HAVE VIOLENT TENDENCIES - and for those FULLY INDOCTRINATED - IT BECOMES A DRUG - A FIX - TO INFLICT VIOLENCE AGAINST the TARGETED VICTIM. 
The Following is a Good Breakdown of what ALL Targeted Victims' are dealing with
it is called the
SADISTIC PERSONALITIES:

http://lifestyle.iloveindia.com/lounge/sadistic-personality-disorder-10540.html

Sadist personality disorder can be defined as a pattern of gratuitous cruelty, aggression and demeaning behavior indicating a lack of empathy for other people. A sadistic person leaves no stone unturned when it comes to humiliating people in front of others. Be it the subordinates, children, students, prisoners, patients or spouses, not even a single person is spared from a sadist's controlling behavior.
All these people are likely to suffer the sadist's "control freakery" or exacting "disciplinary" measures. Much against the psychopaths who use the physical force to showcase their crime, sadists confine their aggressiveness to social gatherings, such as family or workplace only. Often fascinated by gore and violence, sadists turn out to be vicarious serial killers. Hitler is the best historical figure that best fits this disorder. Such people love death, torture and marital arts in every form. To know the different characteristics of a sadistic personality disorder, glance through the lines below.

Characteristics Of A Sadistic Person
A sadistic person does not hesitate in humiliating people in front of others. The disgrace that he puts down on other person makes him feel unstoppable and supreme.

He treats all the people under his control, irrespective whether the other person is a child, student, patient or prisoner, unkindly and harshly. All that he aims for is an unchallenged dominance in the relationship. Anyone who tries to lose free is treated in a callous manner. 

A sadist finds pleasure in harming or causing pain to others by lying without any motive behind achieving any other goal. The harm that he inflicts upon the other person makes him feel invincible and contented.

Unlike normal people, a sadistic person frightens and terrorizes people for the sake of getting his work done.

He often restricts the freedom of people with whom he shares a close relationship. For example, the spouse is not allowed to leave the house premises unaccompanied or the teen-age daughter is not permitted to attend social functions. Such is the person's controlling nature that nobody is allowed to have his/her say. For a sadistic person, his is the final word and ultimate law. It must be obeyed, no matter how outrageous and senseless it may be.

A sadistic person is highly enthralled by violence, weapons, martial arts, injury, death or torture. He/she channelizes the killer instinct in socially acceptable ways such as "studying" and admiring historical figures such as Hitler.

He does not falter from using cruelty or violence for establishing dominance in any relationship. The ultimate goal is to have full and undivided control over the person or the situation.
 22:19
RECORDED ANOTHER AMPLIFIED ACOUSTIC, THIS TIME AROUND, THE HUBRIS MADE THESE SADIST'S SIMPLY JAM IT AT FULL FORCE.  I PLACED THE RECORDED NEW AMPLIFIED SOUND, THAT PICKED UP VIA A SIMPLY DIGITAL VOICE RECORDER.
FROM THE LINK SCROLL DOWN TO BOTTOM OF PAGE AND DOWNLOAD:  ACOUSTIC HARASS NEW FREQUENCY 9.19.12
https://sites.google.com/site/targetedyesorno/attachments
THURSDAY, SEPTEMBER 20, 2012
GREAT ARTICLE by a former Military Veteran, James Jeffrey who served as a DRONE OPERATOR, and talks about what is tantamount to REMOTE KILLING, and the ADVENT OF UNMANNED ARIEL VEHICLES OR DRONES

http://www.guardian.co.uk/commentisfree/2012/sep/19/drone-warfare-deadly-civilian-toll
EXCERPT  ...Drones are becoming the preferred instruments of vengeance, and their core purpose is analogous to the changing relationship between civil society and warfare, in which the latter is conducted remotely and at a safe distance so that implementing death and murder becomes increasingly palatable.

EXCERPT... It's very easy to kill if you don't view the target as a person. When I went to Iraq as a tank commander in 2004, the fire orders I gave the gunner acknowledged some legitimacy of personhood: "Coax man, 100 meters front." Five years later in Afghanistan, the linguistic corruption that always attends war meant we'd refer to "hot spots", "multiple pax on the ground" and "prosecuting a target", or "maximising the kill chain"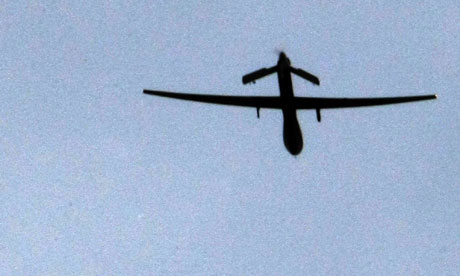 A US Predator drone in Afghanistan. The strike in Somalia means armed drones are operating in six countries. Photograph: Joel Saget/AFP/Getty Images
I find myself caught between the need to follow the drone debate and the need to avoid unpleasant memories it stirs. I used drones – unmanned aerial vehicles – during the nadir of my military career that was an operational tour in Afghanistan. I remember cuing up a US Predator strike before deciding the computer screen wasn't depicting a Taliban insurgent burying an improvised explosive device in the road; rather, a child playing in the dirt.
After returning from Afghanistan at the end of 2009, I left the British army in 2010. I wanted to put as much distance as I could between myself and the UK, leaving to study in America (where I still reside). By doing so, I inadvertently placed myself in the country that is spearheading development in drone technology and use, highlighted by each report of a drone strike and the usual attendant civilian casualties.
Political theorist Hannah Arendt described the history of warfare in the 20th century as the growing incapacity of the army to fulfil its basic function: defending the civilian population. My experiences in Afghanistan brought this issue to a head, leaving me unable to avoid the realization that my role as a soldier had changed, in Arendt's words, from "that of protector into that of a belated and essentially futile avenger". Our collective actions in Iraq and Afghanistan after 9/11 were, and remain, futile vengeance – with drones the latest technological advance to empower that flawed strategy.
Drones are becoming the preferred instruments of vengeance, and their core purpose is analogous to the changing relationship between civil society and warfare, in which the latter is conducted remotely and at a safe distance so that implementing death and murder becomes increasingly palatable.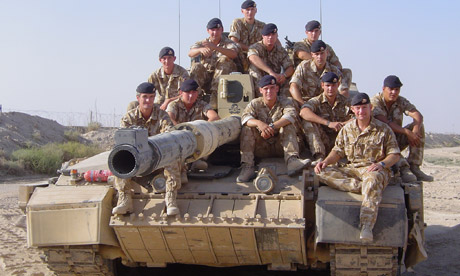 The author (at far left) as a lieutenant Challenger 2 troop leader in al-Amarah, Iraq, 2004. Photograph: James Jeffrey
Hyperbole? But I was there. I sat in my camouflaged combats and I took the rules of engagement and ethical warfare classes. And frankly, I don't buy much, if any, of it now – especially concerning drones. Their effectiveness is without question, but there's terrible fallout from their rampant use.
Both Pakistan and Yemen are arguably less stable and more hostile to the west as a result of President Obama's increased reliance on drones. When surveying the poisoned legacy left to the Iraqi people, and what will be left to the Afghan people, it's beyond depressing to hear of the hawks circling around other theatres like Pakistan and Yemen, stoking the flames of interventionism.
I fear the folly in which I took part will never end, and society will be irreversibly enmeshed in what George Orwell's 1984 warned of: constant wars against the Other, in order to forge false unity and fealty to the state.
It's very easy to kill if you don't view the target as a person. When I went to Iraq as a tank commander in 2004, the fire orders I gave the gunner acknowledged some legitimacy of personhood: "Coax man, 100 meters front." Five years later in Afghanistan, the linguistic corruption that always attends war meant we'd refer to "hot spots", "multiple pax on the ground" and "prosecuting a target", or "maximising the kill chain".
The Pentagon operates about 7,000 drones and asked Congress for nearly $5bn for drones in the 2012 budget. Before retiring as air force chief of staff, General Norton Schwartz was reported as saying it "was 'conceivable' drone pilots in the air force would outnumber those in cockpits in the foreseeable future". That's not a brave new world, far from it.
The encroachment of drones into the civilian realm is also gaining momentum. President Obama signed a federal law on 14 February 2012, allowing drones for a variety of commercial uses and for police law enforcement. The skies above may never be the same. As with most of America's darker elements, such as its gun culture, there's profit to be made – the market for drones is already valued at $5.9bn and is expected to double in 10 years.
During my time in Afghanistan, drones were primarily supplied by the US as our drone capability was miniscule in comparison. The British military still relies on US support, only owning about five armed drones. They have been busy, though: as of May 2012, the Ministry of Defence confirmed these had flown a total of 34,750 hours, and fired 281 missiles and laser-guided bombs.
With continued cuts to the British army's personnel levels, it isn't hard to envisage drones increasingly replacing boots on the ground. And since the UK already has the world's highest number of CCTV cameras, the intrusion of drones into surveillance Britain doesn't require much imagination.
Technological advancements in warfare don't have a good track record in terms of unintended consequences. As Chris Hedges reveals in his book War is a Force That Gives Us Meaning, an estimated 62 million civilians perished in the 20th century's wars – "nearly 20 million more than the 43 million military personnel killed".
Will the 21st century repeat such foolish tragedy? Many years still remain. I'd argue we should err on the side of caution and remain immensely wary of drones.
© 2012 Guardian News and Media Limited or its affiliated companies. All rights reserved.
;This mans BREAK DOWN as a British Military DRONE OPERATOR is the

EXACT TRUE REPRESENTATION of what ALL TRUE TARGETED VICTIM'S are DEALING WITH.

 

Recruits, Trainee's and Civilian's who have been GIVEN ILLEGAL ACCESS TO THESE REMOTE WEAPONS in their EXPERIMENTAL, DEVELOPMENT, and FULLY OPERATIONAL STAGES - who INDISCRIMINATELY ACTIVATE, TARGET, AIM, AND FIRE these WEAPONS from a SAFE DISTANCE - and THINK NOTHING of the LITERAL IMPACT, and FACT that there is SOME HUMAN BEING on the RECEIVING END of these REMOTE OPERATED WEAPONS -

THE ONLY DIFFERENCE IS THAT THE TARGET DOES NOT DIE IMMEDIATELY, because it is NOT KINETIC FORCE that is BEING APPLIED REMOTELY, IT IS NON KINETIC/NON LETHAL FORCE being INFLICTED on a 24/7/365 basis. 

And, that those who CONTINUE TO FIRE THEM - do not SEE THE HUMANITY in the VICTIM on the OTHER END of the WEAPONS SYSTEM, only that LIKE the Former Military Drone Operator said, it is the "preferred instrument of vengeance, and prosecuting the target", this is THE EXACT and I MEAN THE EXACT same MINDSET that is being INDOCTRINATED and INGRAINED into the HEARTS and MINDS of these CIVILIAN RECRUITED CULT DRIVEN DOMESTIC TERRORIST'S who have ALREADY been INSTRUMENTAL IN THE FIRST DEGREE MASSACRES of TARGETED VICTIM'S who CAME FORWARD TO ALL PROPER AUTHORITIES to GET THEIR TARGETING TO STOP.

This retired British Military Drone Operator, also TOUCHES upon something else that is worth identifying he uses the EXCELLENT term, "CORRUPTED LINGUISTICS" - which simply means the manipulation of words, the sanitizing, and whitewashing of something VIOLENT and HORRIBLE, and to SPIN it into something FAR LESS than what it TRULY IS. 

The PERFECT example is the Re-Branding of the Term

BRUTAL TORTURE

into the new whitewashed and sanitized term,

ENHANCED INTERROGATION

, or the DoD change via a DoD Directive dated 23 May 2011 - FROM:

Psychological Operations (PSYOP) to Military Information Support Operations (MISO)


the latest

United States Army Field Manual FM 3-39.40 INTERNMENT and RESETTLEMENT OPERATIONS



whereby there is now something called -

REHABILITATION OPERATIONS of the Relocated Detainees/Internees -

Providing rehabilitation services to prepare prisoners for release as civilians or for return to duty with the prospect of being productive Soldiers/citizens.As such the RE-BRANINDING to Whitewash and Sanitize something to appear less offensive, violent, or cruel, which is basically a CORRUPTED use of LINGUISTIC.

Therefore, you TAKE CHINA and NORTH KOREA'S

RE-EDUCATION CAMPS

, you Re-Brand and use Corrupted Linguistics and what you get is the UNITED STATES DEPARTMENT of DEFENSE'S WHITEWASHED and SANITIZED VERSION: RE-HABILITATION FACILITIES - and in the END what you truly have is the EXACT same thing.


Allowing detainee participation in their own adjudication and rehabilitation destiny.

REHABILITATION PROGRAMS

8-29. Rehabilitation programs are not mandatory, but they should be encouraged for detainees who are assessed to be appropriate candidates for rehabilitation. Rehabilitation programs should be constructed based on the specific needs of detainees and the environment into which they will be released. In some OEs the detainees may be almost totally illiterate, requiring extensive baseline academic training to increase literacy. Other populations may be very literate, but live within environments that are economically challenged, requiring vocational training or education to develop skills that can result in economic prosperity for individuals and the HN. There are any number of environmental considerations and combinations of factors that must be weighed when developing a relevant rehabilitation program.

EVALUATION AND ASSESSMENT

8-30. Throughout capture, processing, and orientation to the detention system, each detainee should be carefully evaluated. This evaluation is used to place the detainee appropriately within specific rehabilitation programs. Factors such as literacy, education, geographical origin, vocational skills, professional skills, military experience, construction skills, and management experience are considered. Religious affiliation should only be used in the context of appropriate placement. Detention and prison environments may serve as optimal arenas to remove sectarian biases and the pervasive sense of sect-based quotas. The assessment of detainees'' backgrounds allows the detention staff to use resources properly, mitigating the burden on the detention staff and state.

8-31. Some detained personnel, specifically during stability operations, may be detained for criminal activity that is deemed a threat to U.S. assets or to HN or multinational partners. Though the crimes they are alleged to have committed should not be a consideration in their treatment, the assessment of these factors may help to strategize the appropriate placement of detainees. A detainee may be a combatant who meets all criteria under the Geneva Conventions as an EPW and may benefit from some level of job training that is consistent with rehabilitation programs. While EPWs may not require rehabilitation in the strictest sense, training them with a skill that they can apply upon release may provide them with nonmilitary-related opportunities that can contribute to their economies and support their families upon release. Further, these programs keep them actively engaged in a constructive activity making them less likely to cause disruptions within the facility. All of these things must be considered when evaluating and assessing requirements.

VOCATIONAL TRAINING AND EDUCATION

8-32. While a strong liberal arts education may be considered the foundation of a rehabilitation process, a vocational education is generally the core of a successful rehabilitation process. Vocational training potentially provides the skills for immediate employment and economic viability for a detainee upon reintegration into the population. After initial assessment and evaluation, detainees may be enrolled in a vocational track. These tracks should mirror the local industry so that the skills developed in detention are relevant upon release. The initial evaluation and assessment considers the detainee''s prior work history, occupational interests, occupational aptitudes, and employment opportunities offered in his or her community. It also provides for occupations that are personally meaningful to the detainee, while

8-10    FM 3-10.40    12 February 2010

supporting the detainee''s academic and resocialization needs. Following the initial evaluation and assessment, the detention staff compiles a list of tracks that are consistent with the detainee''s abilities and interests. The detainee is given the opportunity to choose his/her preference from that list. This process is important to the overall rehabilitation strategy because the opportunity to make choices provides an opportunity for detainees to exercise a level of autonomy. Introducing the ability to make choices regarding their future allows for the preservation of dignity and control in a relatively powerless environment.

8-33. Local businesses are typically consulted to determine what skills are in demand, and vetted members of the local community may be used to teach these skills at the detention facility. This allows the detainees to learn a skill as it is practiced in the community and also establishes points of contact within the industry. The proactive enlistment of community involvement is very beneficial to the detainee''s reintegration, allowing acceptance and reintegration to begin before the detainee is released. Strong community involvement and support also provides potential employers with a pool of skilled laborers in which they have established a relationship. Detainees may possess skills of their own that can be exploited to instruct other detainees. With the wise use of resources and the incorporation of vocational training in the rehabilitation system, detainees can become some of the most useful and potentially productive members of society. Vocational and professional training may be made available for——

␣ Management. ␣ Fireman. ␣ Entrepreneurship. ␣ Medicalspecialties. ␣ Constructionspecialties.

8-34. Coordination with the local HN business community can provide opportunities for work programs in which the detainees can gain hands-on experience in their chosen vocation. These opportunities depend on the local economic environment and the economy''s ability to absorb the workforce. These work programs must be carefully controlled, and participants (detainee and sponsoring business) must be evaluated for security risks.

8-35. Transition programs may be integrated for detainees who have received release documentation and are awaiting reintegration by the appropriate HN authority. This provides for the continuing education of the detainee to reinforce structure and self-improvement, increasing the probability for success when they are integrated back into society.

ACADEMIC INSTRUCTION

8-36. A facility may require the implementation of educational programs that are geared to benefit detainees——coupled with other rehabilitation efforts outlined in the following paragraphs. The detention facility is not only dedicated to sustaining good order and discipline, but also attempts to better individual detainees in preparing for future reintegration into society.

8-37. The TIF reconciliation center is responsible for ensuring that each program of instruction has the potential to provide a substantial impact on detainees participating in the programs. Rehabilitation programs are self-improvement programs where each willing detainee has the opportunity to better himself or herself and achieve program outcomes. These programs are critical for reintegration into the population. Self-improvement programs (literacy, life skills) offered by the TIF reconciliation center and coupled with additional programs (vocational, information operations, economic programs) that support the civilian population and economy can achieve a substantial level of success.

8-38. Educational programs developed and offered by the TIF reconciliation center should be based on the literacy rate of detainees within the facility. Illiterate detainees are separated from those who are literate, and the curriculum is devised accordingly. The educational programs supporting higher learning skills should be approved by the HN and monitored for proper curriculum development that is consistent with, at a minimum, HN educational standards. These services may need to be designed to teach a person who had little or no educational background before internment.

8-39. The lack of basic reading, writing, and math skills may be a major contributing factor to why a high number of illiterate males participate in combatant or illegal activities. The diminished opportunity to

12 February 2010    FM 3-39.40    8-11

obtain profitable employment needed to support families may cause some to support criminal or insurgent elements for employment. The lack of education can be a major contributor, causing moderate males to turn to combatant, criminal, or insurgent activities for monetary reasons, even though they do not believe in or personally support the activities or cause. Moderate detainees who participated in combatant, criminal, or insurgent acts because of little or no opportunity to provide for their families, may be discouraged from rejoining combat, criminal, or insurgent organizations through education programs and the subsequent opportunities that education provides.

8-40. The TIF reconciliation center may focus on elementary education if detainees possess only rudimentary education skills. Detainees attending these classes may have no formal education experiences and may be illiterate. Illiteracy can lead to desperation that fuels adverse motivations in otherwise moderate detainees. Detainees participating in rehabilitation programs may be scheduled to attend school for a predetermined period and be tested at the end of the period to measure their comprehension. If a detainee meets program standards, that individual receives credit for the program; if the detainee does not pass program standards (as set by the TIF reconciliation center and HN), the individual does not receive credit. The educational programs may be taught by HN teachers who are employed by the TIF reconciliation center services. Some program teachers may be detainees or RP with specific skills. Teachers develop educational programs based on detainee constraints, time available, and security requirements.

8-41. Religious discussion groups may also be offered to detainees as a program to educate them on specific aspects of their religion. The program should be taught by vetted religious leaders of the same religious affiliation as the detainees. The program educates detainees on the nationally accepted teachings of their religion as viewed by the HN society. During the program, detainees are brought together with religious leaders and scholars to focus on major teaching points of dogma. The program may be valuable in curbing extreme fanaticism that may be a catalyst for violence within the detainees'' world view.

8-42. A liberal arts education has been described as ""the foundation of the rehabilitation process."" A curriculum such as politics, HN constitution, and the structure of the HN government provides more fluency in discussing these topics, and detainees will better appreciate their situation and how they can peacefully contribute to its success. Other worthwhile periods of instruction may include managing money, job applications, basic computer skills, basic communication skills, hygiene, first aid, crime and suspicious activity reporting, and community familiarization and awareness.

RELIGIOUS DISCUSSION GROUPS

8-43. The detention facility commander may approve religious discussion groups within the facility. The goal for religious groups is to provide religious support to detainees and moderate extremists within the facility. This is above and beyond the standard clerical support that is required and provided in the course of normal detention operations. Clerical leaders who are chosen to participate must be carefully vetted and are typically selected from moderate elements of their respective religions. Religious discussion is never forced on a detainee; participation in this program is voluntary.

8-44. Extremists participating in religious discussion groups may be tempered by the more moderate philosophy and reinforced by socialization with other more moderate detainees. It is also possible that religious extremists may reject a moderate interpretation of their religion and detract from efforts to present a moderate approach. Many extremists may not participate, fearing that the facility-sanctioned advocate is a cooperative spiritual leader. Detention facility commanders must allow autonomy, within established security requirements, for religious leaders and instructors. The only way that moderate leaders retain credibility is by operating on their own——forced sessions of ""religious reeducation"" only discredit a religious leader to those who are receptive and have little impact on those who are inherently beyond reconciliation. Detainees may also use personal time to engage in worship or religious study on their own. The detention system may wish to implement instruction in ""social intervention"" based on HN principles, rather than straight doctrinal dogma.

TEAMING

8-45. Socialization is an important component of prison populations. The detention system is composed of teams to mitigate the potential for socialization and indoctrination that is counter to U.S. and HN interests

8-12    FM 3-10.40    12 February 2010

and to shape positive socialization and influence. This allows detainee opportunities for social development, integration, and exposure to the perspectives of others within a group that is populated in a manner which reduces the likelihood of disruptive, criminal, or antisocial behavior. Following initial evaluation and assessment, detainees are placed on an existing team. Just as individuals are segregated upon apprehension for security and information-gathering purposes, the detention population is similarly segregated and recombined in elements that facilitate security and information gathering and shaping of the detainee social network.

8-46. A team established within the detention facility conducts all activities as a group. The team leader serves as the liaison with detention staff and conveys fellow detainees'' sentiments. Teams aid in converting detention into a rehabilitative environment, rather than one that is punitive or idle. Teams do not eliminate extremism or recidivism, nor do they create jobs. However, they may diminish the prevalence or need to engage in profitable criminal behavior because released detainees are better equipped to function appropriately in society.

HERE IS THE GOARMY.COM RECRUITMENT FOR INTERNMENT/RESETTLEMENT SPECIALISTS
Enlisted

Officer
Active Duty

Army Reserve

Open to Women

Entry Level
Overview
Internment/resettlement specialists are primarily responsible for day-to-day operations in a military confinement/correctional facility or detention/internment facility.

Job Duties
Supervision of confinement and detention operations

External security to facilities

Counseling/guidance to individual prisoners within a rehabilitative program

Records of prisoners/internees and their programs
Requirements
Those who want to serve must first take the Armed Services Vocational Aptitude Battery, a series of tests that helps you better understand your strengths and identify which Army jobs are best for you.
Training
Job training for an internment/resettlement specialist requires 10 weeks of Basic Combat Training and eight weeks of Advanced Individual Training with on-the-job instruction. Part of this time is spent in the classroom and in the field.

Some of the skills you'll learn are:
Military laws and jurisdictions

Self-defense and use of firearms

Interpersonal communications skills

Search/restraint and custody/control procedures
Helpful Skills
Interest in law enforcement

Physically and mentally fit

Ability to make quick decisions

Remain calm under heavy duress
Required ASVAB Score(s)
Skilled Technical (ST) : 95
Learn more about the ASVAB and see what jobs you could qualify for.
Compensation
Total compensation includes housing, medical, food, special pay, and vacation time. Learn more about total compensation.

Education Benefits
In the Army, qualified students can earn full-tuition, merit-based scholarships, allowances for books and fees, plus an annual stipend for living expenses. Learn more about education benefits.

Future Civilian Careers
The skills you learn will help prepare you for a career with federal, state and local law enforcement.
Military police protect the lives and property on Army installations by enforcing military laws and regulations. They also control traffic, prevent crime and respond to all emergencies.


Active/Reserve: Both
Officer/Enlisted: Enlisted
Restrictions: None

Criminal investigations special agents are primarily responsible for investigating any criminal allegations/offenses related to the Army. They handle felony-level crimes that involve Army property and Army personnel.


Active/Reserve: Both
Officer/Enlisted: Enlisted
Restrictions: None

TUESDAY, SEP 25, 2012
From TeaIdaho, who let me know about the EPA being SUED for ILLEGAL, HEINOUS HUMAN EXPERIMENTATION'S
NO FUCKING SHIT THE UNITED STATES GOVERNMENT CONDUCTING HEINOUS, and BARBARIC HUMAN EXPERIMENTS ON UNSUSPECTING AMERICAN'S?  NO FUCKING SHIT, THAT A UNITED STATES GOVERNMENT AGENCY DID NOT GIVE A SHIT ABOUT THE FACTS THEY KNEW COULD CAUSE HARM TO THE TARGETED VICTIM?  NO FUCKING SHIT, THAT AN AGENCY OR TWO OR MORE WERE FULLY AWARE THAT THE PARTICULATE THAT WAS BEING GASSED TO THESE VICTIMS' IS A CONTRIBUTING FACTOR TO DEATH - BUT STILL DID IT ANYWAY - NOT LITERAL FUCKING, MOTHERFUCKING, SHIT -
And to cap it all, last September EPA Administrator Lisa Jackson told the Oversight and Investigations Subcommittee of the House Energy and Commerce Committee, "Particulate matter causes death. It doesn't make you sick. It's directly causal to dying sooner than you should."
Printer-friendly
Email to friend
After accumulating evidence via the Freedom of Information Act that showed the Environmental Protection Agency conducted disturbing experiments that exposed humans to inhalable particulates the agency has said are deadly, sound science advocate Steven Milloy has sued the federal government. 
The trials, which were carried out at EPA's Human Studies Facility at the University of North Carolina in Chapel Hill, exposed subjects to fine particulate matter (called "PM2.5") at extremely elevated levels for up to two hours at a time. EPA's Web site on particulate matter and its 2009 "Summary of PM2.5 Risk Estimates," stated, "an examination of cause-specific risk estimates found that PM2.5 risk estimates for cardiovascular deaths are similar to those for all-cause deaths…." Also, in July 2011 EPA stated in the Federal Register announcement of its Cross-State Air Pollution Rule that "a recent EPA analysis estimated that 2005 levels of PM2.5 and ozone were responsible for between 130,000 and 320,000 PM2.5-related and 4,700 ozone-related premature deaths…."
And to cap it all, last September EPA Administrator Lisa Jackson told the Oversight and Investigations Subcommittee of the House Energy and Commerce Committee, "Particulate matter causes death. It doesn't make you sick. It's directly causal to dying sooner than you should."
But in descriptions more tangible than statistical, the experiments conducted by EPA's North Carolina doctors sound like something out of World War II-era Germany.
"EPA obtained their PM2.5 from a diesel truck," explained Dr. David Schnare, a former EPA litigator who is now director of American Tradition Institute's Environmental Law Center, which filed the lawsuit in Virginia. "It is difficult to overstate the atrocity of this research.
"EPA parked a truck's exhaust pipe directly beneath an intake pipe on the side of a building. The exhaust was sucked into the pipe, mixed with some additional air and then piped directly into the lungs of the human subjects. EPA actually has pictures of this gas chamber, a clear plastic pipe stuck into the mouth of a subject, his lips sealing it to his face, diesel fumes inhaled straight into his lungs."
Among other things, the lawsuit demands that:
·      EPA to be barred from conducting illegal life-and health-threatening experiments
·      A formal investigation of EPA's human experiments
·      Regulations based on the illegal experiments to be suspended pending an investigation
"In the context of rules established after scientific horrors of World War II and the Tuskegee syphilis experiments," Milloy said in a press release announcing the lawsuit, "the notion that EPA would pipe high levels of PM2.5 and diesel exhaust into the lungs of unhealthy people to see what would happen is simply appalling."
In June Milloy filed a complaint with the North Carolina Medical Board that accused three doctors in the state – two employed by EPA (Dr. Andrew Ghio and Dr. Wayne Cascio) and one by the University of North Carolina (Dr. Eugene Chung) – of intentionally exposing test subjects to PM2.5. In his letter he outlined the details of EPA's outrageous activities to the board's president.
"During these experiments," Milloy wrote, "the study subjects were intentionally exposed to airborne fine particulate matter ("PM2.5") at levels ranging from 41.54 micrograms per cubic meter to 750.83 micrograms per cubic meter for periods of up to two hours."
Milloy alleged the three doctors violated EPA standards of conduct in human research as well as the Hippocratic Oath. Based upon information he obtained via FOIA, Milloy learned that experiments were conducted on 41 subjects. Of those, one experienced atrial fibrillation – a 58-year-old obese woman with a history of health problems and family history of heart disease – and another developed an elevated heart rate. Both returned to normal breathing and heartbeat function within two hours, according to an EPA report.
Among the requirements established by EPA, researchers must minimize risk to subjects and risks must be reasonable compared to anticipated benefits. Since EPA has already determined that PM2.5 is lethal and can cause death within hours of breathing it from the diesel truck's exhaust pipe, no apparent benefit could have been derived from the research. Test subjects must be fully informed of the risks involved, and studies with "risk of substantial injury to a human subject" are not to be approved except in extremely rare cases that are approved by higher agency authorities. Milloy – who received 3,500 pages of documents responsive to his FOIA request – alleges the test subjects were never told that their health, or lives, were imperiled.
Milloy, who publishes the Web site Junkscience.com, has created a special Internet site for the case called EPAHumanTesting.com. The site archives extensive details, which include historical context about the legal and proper conduct of scientific experiments on human beings, in addition to copies of the documents he received and correspondence with government officials about the case.
"That EPA administrator Lisa Jackson permitted this heinous experimentation to occur under her watch shocks the conscience," said Milloy.
Paul Chesser is an associate fellow for the National Legal and Policy Center and publishes CarolinaPlottHound.com, an aggregator of North Carolina news. He was also director of communications last year, and a senior fellow for part of this year, for the American Tradition Institute, which filed the lawsuit representing Steve Milloy.

THEREFORE THE GREATEST FALLACIOUS LIE, IS IN THE LITERAL FACT THAT THE UNITED STATES GOVERNMENT NO LONGER COMMITS SUCH HEINOUS CRIMES AGAINST AMERICAN CITIZENS IN THE FORM OF ILLEGAL, NON CONSENTING, NOT INFORMED HUMAN EXPERIMENTATION'S.  THAT IN POINT OF THE MOST LITERAL FACTS - EVEN THE EPA GETS INVOLVED IN HUMAN SACRIFICE. THAT THEY NEVER GIVE PROPER INFORMATION, THAT THEY NEVER DIVULGE TO ANYONE THE RISKS, OR THE KNOWN FACTS THAT IT COULD CAUSE DEATH - OR HOW DANGEROUS IT IS - NOTHING - OTHER THAN COLLECTIVE SILENCE - TO INCLUDE THE COLLECTIVE SILENCE OF THE GENERAL PUBLIC - IN THE CASE OF TARGETED VICTIMS OF THIS DOMESTIC TERRORIST ORGANIZATION -

AS SUCH WHAT THIS OUTING AND CRIMINAL FEDERAL LAW SUIT DOES IN OPEN UP A HUGE, HUGE, PANDORA'S BOX INTO WHAT ELSE IS THE GOVERNMENT DOING - AFTER ALL THE PRESIDENTIAL COMMISSION  FOR THE STUDY OF BIOETHICAL ISSUES THAT OBAMA PUT TOGETHER -HAS NOT DONE JACK MOTHERFUCKING SHIT FOR THE VICTIMS OF WHAT GOVERNMENT AND THEIR CORPORATE COUNTERPARTS HAVE BEEN DOING. 

HERE IS MY LATEST YOU TUBE UPLOAD.  MY VACUUM CLEANER ROLLED ONTO A DIRECT ENERGY ACOUSTIC WEAPON HOT SPOT, AND BEGAN ECHOING OFF THE WEAPONS SYSTEM TO GENERATE THE HIGH FREQUENCY ULTRASOUND AND LOW FREQUENCY INFRASOUND.
https://www.youtube.com/watch?v=d6PtsH0878Q&feature=plcp
FRIDAY, SEPTEMBER 28, 2012
03:02 AM
WAS ATTEMPTING TO GO TO SLEEP, WHEN RIGHT BEFORE I WAS DRIFTING OFF TO SLEEP THE RESIDENTIAL DOMESTIC TERRORIST RECRUITS' DECIDED AS USUAL TO ACTIVATE THE BIOLOGICAL DIRECTIONAL ACOUSTIC WEAPONS SYSTEM, FIRST BY AMPING UP THE REFRIGERATOR COMPRESSOR/MOTOR, THEN WITH THE DIRECTIONAL ULTRASOUND SPOTLIGHT SPEAKERS - 
I got out of bed, and went out to smoke but also HEAR which ARROGANT FUCKING ASSHOLE RESIDENTIAL RECRUIT was GOING TO GIVE THEMSELVES AWAY, AND ALL ONE HAS TO DO IS PUSH - JUST ENOUGH and these HACKS for RECRUITS BREAK - in this case it was to CONFRONT THEM WITH HOW MUCH THEY WERE BEING PAID TO DO THIS SHIT AT TWO IN THE MORNING - AND LOW AND BEHOLD WE HAVE A WINNER - THE FIRST FLOOR DIRECTLY BELOW ME - WHO AFTER BEING CONFRONTED ABOUT HOW MUCH HE WAS BEING PAID TO USE THESE WEAPONS - IMMEDIATELY SAID - NOT ENOUGH - 
FROM WHICH THE FEMALE IN THAT UNIT SAID SOMETHING, AND THEY WENT BACK INTO THE UNIT - IMMEDIATELY - 
THIS IS WHERE THE MONEY TRAIL OF RESIDENTS AND HOW MUCH ADDITIONAL FUNDING IS SHOWING UP OR ANY NEW ITEMS RECEIVED - AS PAYMENT FOR SERVICES RENDERED BY THIS DOMESTIC TERRORIST ORGANIZATION - BUT YOU CAN BET - THERE WILL BE ADDITIONAL FUNDING, NEW VEHICLES - ETC - THAT WILL SHOW UP, AND CAN IN FACT BE TRACED BACK TO THOSE TAKING BRIBES - AND MONEY - FROM THIS DOMESTIC TERRORIST ORGANIZATION - there will be A MATERIAL OR MONETARY TRAIL - that can be CRIMINALLY INVESTIGATED AGAINST - 
I WILL CONFIRM THE FIRST FLOOR UNIT - SO THAT I CAN POST THIS MOTHERFUCKERS NAME FOR TAKING BRIBES BY THIS MOTHERFUCKING DOMESTIC TERRORIST ORGANIZATION AND USING THESE FUCKING BIOLOGICAL MOTHERFUCKING WEAPONS - UPON AND AGAINST ME - 
--- On Fri, 9/28/12, 13238393917@tmomail.net <13238393917@tmomail.net> wrote:


From: 13238393917@tmomail.net <13238393917@tmomail.net>
Subject: 
To: jtkuwatani@yahoo.com
Date: Friday, September 28, 2012, 2:42 AM



The tattoo male on the 1st floor who also shares the grid straight down the wall admired out loud when confronted that he is not being  PAID enough to do the night shift targeting.  I demand all his financial records be goren u will find Handlers.   Fuck these terrorist motherfuckers.   Unit  103 says Sooy, but this is a white guy.   102 Pulido, ringor, ponton, 101 mahadev, sathavarpu, saxena more  will confirm location number of 1st floor unit.   They always Break & give themselves away. 

This message was sent from a T-Mobile wireless phone.
FRIDAY, SEPTEMBER 28, 2012
16:38 PM (Biological Weapons System finally shuts down) RETALIATION by Resident Manager for asking him, once again, to check out who is using the DEVICE/EQUIPMENT that continues to make AND generate this LOUD BUZZING HUM that VIBRATES my entire apartment.  
Returned from grocery shopping at approximately 15:15 to the LOUD USE of the BIOLOGICAL ACOUSTIC WEAPONS SYSTEM.  it appears to have been ORCHESTRATED this time around VIA RETALIATION from the APARTMENT MANAGER who attempted to say that I was the ONE MAKING THE NOISE.  I will post the TWO PLUS HOURS OF RECORDINGS, where I taped the DIGITAL AUDIO RECORDER to the BATHROOM WALL - it can be heard faintly - and when you place HEADSETS ON - you can DISTINCTLY HEAR THE SOUND.  
I had spoken to Jason on three separate occassions' the first was about two plus weeks ago, and right before Jose the maintenance man left for another job, and that was why the next week when I spoke to Jason, he told me that Jose had taken a job elsewhere, and that when the new maintenance man came, he would have him check on it.  
Then on Saturday, September 15, 2012 at approximately 12:30 AM, the Building Manager happened to be coming out of Apartment 306, and I asked him to check the noise, he placed his head down on the corner wall next to Unit 302, and said there was a hum, and it appeared to be coming from Unit 203, then he left, to what I assumed was to go and check where the Noise was originating from.  
Today, after speaking with Unit 203, and them telling me it was not them, that they were hearing the VIBRATING HUM, but continued in their FALSE ATTEMPTS TO ACCUSE ME of making all sorts of noise.  I sit on this couch, and do my research, etc.  The point being, this Unit then LIED to THE BUILDING MANAGER, after having told me that THEY WERE HEARING the VIBRATION - because Jason showed up to talk to me - from which HE THEN STATED that the LOWER UNIT 203, did not hear anything.  
After speaking with unit 203, I then went to speak to the Bldg Manager, who was speaking with another tenant.  After this female tenant left, I went to speak with the Manager.  it was instantaneous, that he was having complaints by unit 203, and unit 301 - that I was the ONE MAKING ALL THE NOISE and BANGING  - 
And, other than when I had the Building Manager place the HEADSETS ON - to LISTEN to the RECORDINGS - that I had just done today - and he was able to HEAR THE SOUNDS - from which he admitted to - and from which I have already documented onto MY YOU TUBE CHANNEL - to include the CALL to the SAN RAFAEL, CA POLICE DEPARTMENT - it is RATHER DISINGENUOUS, if not FRAUDULENT that the two units are ALL OF A SUDDEN CONCERNED - it is MORE LIKE A COVER YOUR ASS - just in case.  
Needless to say, the Bldg Manager said that he would soon be leaving, but he would let the maintenance person know that there was a sound coming.  
In any event, had I not had the RECORDINGS, and ALREADY AND LONG SINCE POSTED THEM - what THIS ATTEMPT WAS - IS WHAT YOU CALL A SET UP, but because I have the RECORDINGS both AUDIO and VIDEO - and that these SOUNDS can BE ISOLATED to LOCATIONS and REGIONAL - in particular the ONE AT 534 AM - it is NOT ME who is doing this - BUT people in the building who have REMOTE ACCESS to these BIOLOGICAL ACOUSTIC WEAPONS and INDISCRIMINATELY TURN THEM ON AND OFF.  - 
I have the DIGITAL AUDIO RECORDING that you can see in the DIGITAL VIDEO that I taped to the BATHROOM WALL - and LET IT RECORD.  I STARTED THE RECORDING AT APPROXIMATELY 15:15 PM after returning from Safeway, grocery shopping.. This is what continues to RUN illegally and is projected directly into the privacy of my home.  
FROM THE LINK SCROLL DOWN TO :  BLDG RETALIATION 
it is approximately TWO PLUS HOURS LONG - and at 16:38 pm was when the system was turned off - JUST MIRACOUSLY AS THE BUILDING MANAGER decided to pay me a VISIT to let me know that he had spoken to the lower unit, who then denied that they too had heard and are hearing the LOUD VIBRATING HUM.  FUNNY how it works the SYSTEM GOES DOWN after OVER TWO HOURS OF RECORDING - then the BUILDING MANAGER SHOW UP to let me know HE DID NOT HEAR ANYTHING - 
Regardless, - i have real time documentation on both the digital voice and audio - that can be timelined out because of the 1pm meeting with Nelsonjobs...  which can VALIDATE DATE AND TIME - 
BUT MOST OF ALL THE FOLLOWING LINK is the TIME LINE of how long I have asked that this BIOLOGICAL ACOUSTIC HARASSMENT in this Building STOP.  
Here are TODAYS LATEST RECORDINGS ON MY YOU TUBE CHANNEL
SATURDAY, SEP 29, 2012
10:15 AM
THE RESIDENTS WITH ILLEGAL CRIMINAL FELONY ACCESS TO THESE WEAPONS - RAN THE ELECTROMAGNETIC, ULTRASOUND AND INFRASOUND WEAPONS - ALL NIGHT.  I WOKE ON SEVERAL OCCASION BECAUSE THE WEAPONS WERE BEING USED AT HIGH CAPACITY MICROWAVE LEVELS.  As such WHAT WAS TRANSPIRED LAST NIGHT and CONTINUES TO TRANSPIRE TODAY ARE THE RESIDENTS OF THIS APARTMENT COMPLEX WHO ARE BEING PAID  -  to BASICALLY SLOW COOK A HUMAN BEING IN A MICROWAVE OVEN, BY SLOWLY COOKING THEIR INTERNAL ORGANS, CELLS, BLOOD, AND BIOLOGY - THAT IS WHAT IS TAKING PLACE IN SAN RAFAEL, CALIFORNIA AT MY CURRENT LOCATION - 
THIS IS WHAT these

 CIVILIAN

 RESIDENTS, VISITING OCCUPANTS at MY CURRENT LOCATION IN SAN RAFAEL, CALIFORNIA ARE GUILTY OF ILLEGAL ACCESS and CRIMINAL FELONY USE of UNITED STATES MILITARY GRADE WEAPONIZED TECHNOLOGIES - IN ORDER TO COMMIT DAILY ATTEMPTED MURDER IN THE FIRST DEGREE BY OVER EXPOSING ME TO HIGH LEVELS OF NON IONIZING RADIATION - WITHIN THE PRIVACY OF MY HOME. 
The DIRECTIONAL ULTRASOUND and INFRASOUND and ACTIVE DENIAL were used in TANDEM throughout the DAY and NIGHT by these RESIDENTIAL RECRUITS with REMOTE ACCESS to the WEAPONS.  
The lower unit 203, is FULL OF BIG TIME SHIT, as YOU CAN HEAR THEM RUNNING TO AND FRO TURNING ON AND OFF THE WEAPONS SYSTEM - ACTING AS IF THESE FUCKERS ARE THE VICTIM - AS OPPOSED TO BEING THE SADISTIC TERRORIST'S GOING AROUND TURNING ON AND OFF THESE WEAPONS  
THE FOLLOWING DIRECT ENERGY WEAPONS - ARE BEING GENERATED BY THESE ULTRASOUND AND INFRASOUND WEAPONS by HARNESSING THE RADIO FREQUENCY ELECTROMAGNETIC SPECTRUM, which 
1. ACTIVE DENIAL OR HEATING
2. DIRECT ELECTROMAGNETIC CURRENT OR ELECTRICAL SHOCKS
3. MICROWAVE - ability to use it at high or low levels to INTERNALLY COOK and HEAT ORGANS, BLOOD, TISSUE
4. DIRECTIONAL ULTRASOUND for the PURPOSE of DIRECTING SOUND OR FREQUENCY into a SPOTLIGHTED AREA
5. FULL CHARGE ELECTRIC SHOCKS
6. Portable IED BOMB JAMMING DEVICES (to short out, disrupt, and disable electronics and appliances)
7. Directional Electromagnetic waveforms that send laser precision targeting
8. Generation of an Electromagnetic field, in order to GUAGE and TRACK biological and neurological functions
9. Illegal access TRANSCRANIAL MAGNETIC STIMULATION WEAPONRY that SENDS DIRECT MAGNETIC CURRENTS into TARGETED REGIONS of BIOLOGICAL AND NEUROLOGY 
10. BIOMETRIC BASE STATION more than likely housed on the 2nd floor unit 203, which illegally Reads my biometric signals, to include neurological signals into the Base Station, which sends this data via wireless capabilities to a DEDICATED SERVER, from which those will illegal, criminal, and felony access can THEN SEND SPECIFIC TARGETED HITS - back through the server, which feed back into the base station, and send that pulsed electromagnetic signal - back to my BIOLOGY and NEUROLOGY
11. Illegal Experimental use of Man Powered/Portable Near Infrared, Terahertz/SubMilimeter electromagnetic Wave Through Wall Surveillance

13:51 PM

BLOCKED FROM SIGNING THE CHANGE.ORG PETITON THAT WAS LINKED TO THIS ARTICLE -

http://www.change.org/petitions/president-barack-obama-commute-the-36-month-sentence-of-dr-shakir-hamoodi

to include BLOCKED ACCESS from SIGNING INTO the CHANGE.ORG website altogehter.


Was reading an excellent article at the Guardian UK by Glenn Greenwald

Iraqi-American is imprisoned by US for saving his family from US sanctions
A harrowing case of a Missouri engineer highlights the travesties routinely imposed on Muslim Americans

http://www.guardian.co.uk/commentisfree/2012/sep/28/iraq-us-constitution-and-civil-liberties?INTCMP=SRCH



It details an American refugee, and his wife from Iraq, that came this country for a better life.  How he and his wife raised five American born children, and then during the Iraq Sanctions during the First Gulf War, along with all other sanctions that the United States has imposed, caused his relatives still stuck in Iraq in Dire humanitarian straights, to include starvation, abject poverty etc.  As such, he would send $25 to $100 dollars a month into a Jordan Bank Account, so his family could use it to purchase fundamental basics in order to survive, like food, clothing, medicine, etc. 

And because of his Anti-War Stance during the Bush/Cheney lead up to the Iraq War - and his knowledge that there were NO WEAPONS of MASS DESTRUCTION, the UNITED STATES GOVERNMENT under BOTH BUSH, and NOW OBAMA - have sentenced this man to THREE YEARS in a FEDERAL PENITENTIARY, even though it has been proven, THAT ALL THIS MAN DID was SEND MONEY THAT ONLY WENT TO HELP HIS STARVING FAMILY. 



As such, when other people in the Columbia region of the United States found out he was doing this, asked him to assist, because they TOO had family members that were in DIRE HUMANITARIAN STRAIGHTS and they wanted to assist them as well.  Only this man, who SPOKE out about the LIES of the Bush/Cheney Regime is being sentenced with such a HARSH JAIL SENTENCE - and that the OBAMA Administration is now the one PUSHING what the BUSH/CHENEY REGIME started, which was to CRIMINALLY CONVICT people whom they claim provided material support - to a country that had SANCTIONS placed against it. 



Once again, INFORMATION STOLEN at the expense of the HUMAN SUFFERING, TORTURE, PHYSICAL DAMAGES, AND TERROR inflicted upon and against a Targeted Victim becomes a multi-million dollar pieces of equipment, that SOMEONE ELSE FINANCIALLY GAINS from.  To put it BLUNTLY - THESE STATE, CORPORATE, EDUCATIONAL, RESEARCH, WEAPONS MANUFACTURER'S, PRIVATE SECURITY, ET AL - HAVE MURDERED - I REPEAT MASSACRED, INNOCENT TARGETED INDIVIDUAL'S - SO THAT THEY COULD DEVELOP THEIR GIZMOS, GADGETS, AND WEAPONIZED TECHNOLOGIES - 





SUNDAY, SEPTEMBER 30, 2012
09:13 am

Early wake up call by the Residential Domestic Terrorist's who amplify the Biological Acoustic Weapons system.  These domestic terrorist were doing work on the left cranial region, that is why the left ear is numb this morning. 

I found two new articles that are in line with

Military's "Luke Skywalker" Binoculars Use Brain Waves to Spot Threats
http://www.forbes.com/sites/katiedrummond/2012/09/18/darpa-threat-recognition/

Five years after the Pentagon first conceived of them, the binoculars of the future have arrived: Scopes that not only allow soldiers to scan wide-ranging areas and lengthy distances, but that tap into their brains to vastly improve threat-detection.
Called the Cognitive Technology Threat Warning System (CT2WS), the initiative was first launched in 2007 by — not surprisingly — DARPA. Today, the agency announced the results of field tests using the futuristic system, which was nicknamed "Luke Skywalker" early on in the program. According to DARPA, the binoculars yielded a 91 percent success rate in detecting threats. By comparison, soldiers using conventional binoculars or camera systems currently miss around 47 percent of potential dangers.
Think of CT2WS as binoculars on steroids. The system is comprised of a high-powered video camera, mounted to a tripod, that boasts a 120-degree field of vision. That camera works in tandem with an electroencephalogram (EEG) cap, worn on a soldier's head, that actually monitors brain signals in real-time and then transmits them to a computer system. That system is programmed with "cognitive visual processing algorithms" that can crunch the deluge of brainwave data, and "cue" noteworthy images for an operator to look over.
Using the system, a soldier scanning a given region would be "shown approximately ten images per second, on average." Instead of having to process potential threats oneself, the soldier (and an operator reviewing key images) would instead rely on subtle brain signals — picked up by the EEG cap — to hone in on hazards. The EEG data, according to DARPA, can enhance accuracy and hasten the rate at which threats are detected, by spotting them inside the brain before a soldier has even processed the situation.
"CT2WS built on the concept that humans are inherently adept at detecting the unusual," reads a statement from DARPA. "Even though a person may not be consciously aware of movement or of unexpected appearance, the brain detects it and triggers the P-300 brainwave, a brain signal that is thought to be involved in stimulus evaluation or categorization."
In other words, CT2WS harnesses that capacity for detection, without relying on conscious input from the wearer. And, at least according to these field tests, it seems to work extremely well when combined with human input. When tested without someone wearing an EEG cap, the system produced 810 false alarms every hour. Add a soldier decked out in EEG sensors to the mix, and that figure dropped to five false positives.
I've reached out to DARPA for more particulars on the prototype, which was developed by a team that includes HRL Laboratories and the University of California, San Diego. But based on reporting from Sharon Weinberger at Wired in 2007, the agency also wanted the binoculars to have a range from 1,000 to 10,000 meters, and be able to spy moving vehicles at a range of up to 6 miles.
Back in 2007, the agency also wanted the binoculars in-use within a few years. Obviously, it's taken a little longer than that. But hey, recreating the Star Wars universe on planet earth is bound to take time.
HERE IS SOMETHING THAT I HEARD IN PASSING BY THE HANDLERS' DURING THE EARLY 2006 GO LIVE PROCESS.  THAT THEY HAD A WAY TO GET RID OF THE EVIDENCE - THE EVIDENCE WOULD BE THE ILLEGAL IMPLANTION OF A DEVICE, IN PARTICULAR A CRANIAL DEVICE AND THAT ONCE THEY HAD SO CALLED FINISHED WITH WHAT THEY WERE DOING - COULD DESTROY THE EVIDENCE -

LOW AND BEHOLD WE HAVE THE DISSOLVING ELECTRONIC

Sep 27, 2012 04:47 PM EDT
http://www.medicaldaily.com/articles/12385/20120927/scientists-invent-vanishing-electronics-dissolve-body.htm

Scientists Invent Vanishing Electronics That Dissolve in the Body
By Christine Hsu
electronics
Scientists have created ultra-thin electronic devices that can "melt away" in the body once their job is done.
A new study, published in the journal Science, details how scientists have created a tiny, fully functional electronic device capable of vanishing within their environment, like in the body or in water, once they are no longer needed or useful. There are already implants that dispense drugs or provide electrical stimulation but they do not dissolve.
The latest creation is an early step in a technology that may benefit not only medicine, like enabling the development of medical implants that don't need to be surgically removed or the risk of long-term side effects, but also electronic waste disposal.
Researchers led by John Rogers, a materials scientist at the University of Illinois at Urbana-Champaign, Fiorenzo Omenetto, a biomedical engineer at Tufts University in Medford, Massachusetts, and Youggang Huang of Northwestern University have already designed an imaging system that monitors tissue from inside a mouse, a thermal patch that prevents infection after a surgical site is stitched up, solar cells as well as strain and temperature sensors.
While most electronic devices are built to last, the latest device is made up of silicon and a tiny magnesium oxide circuit encapsulated in a protective layer of silk that can easily and harmlessly be absorbed by body fluids.
"We refer to this type of technology as transient electronics," Rogers, a professor of engineering at the University of Illinois, said in a statement. "From the earliest days of the electronics industry, a key design goal has been to build devices that last forever -- with completely stable performance. But if you think about the opposite possibility -- devices that are engineered to physically disappear in a controlled and programmed manner -- then other, completely different kinds of application opportunities open up."
The researchers, who have already developed "electronic tattoos," sensors that bend and stretch with the skin, say that they can now make just about any kind of dissolving high-performance electronic or optical device using transient electronics, according to Nature News.
In the latest experiment, researchers had created tiny computer chip-like devices that were designed to generate heat to kill germs and fight infection after surgery. They found that the devices worked in mice for more than a week until their silk coating dissolved enough for bodily fluids to break down key parts of the device. They found that after three weeks, the tiny gadgets had completely vanished.
The latest technology could also be used to develop cell phones and other common gadgets that dissolve after a number of years rather than ending up in landfills, according to researchers.
"These electronics are there when you need them, and after they've served their purpose they disappear. This is a completely new concept," Huang said.
BE ON THE LOOK OUT FOR THIS DOMESTIC TERRORIST ORGANIZATION that has been targeting people such as myself, ILLEGALLY EXPERIMENTING on, and developing these experimental gizmos, gadgets, and weaponized devices into fully operational weaponized technologies  - are going to set off a Loose Suitcase Nuke, in order to bring together all the elements, from trained human personnel, to citizen snitches, to weaponized surveillance, to weaponized anti-personnel non kinetic weaponry - and then TURN AROUND and USE IT ON THE MASSES as in All American's.
IN ORDER TO DESTROY OUR DEMOCRACY, SHRED THE FINAL BITS OF OUR CONSTITUTION - AND TAKE OVER THIS COUNTRY

BE ON THE LOOK OUT FOR FALSE FLAG OPERATIONS (they are already starting), and being conducted by these STATE AND CORPORATE SPONSORED TERRORIST'S - they are going to be INSIDE JOB, after INSIDE JOB - Progressively Larger SCALE TERRORIST ATTACKS, on American soil, but are being carried out by this Domestic Terrorist Organization - and their Civilian Recruits'  -

WHY AM I SURE this CULT DRIVEN DOMESTIC TERRORIST Organization is fully capable of pulling off MASS FALSE FLAG Terrorist Attacks on their Own People - because they have MASSACRED, innocent, scapegoated Targeted Individual's for years - just to turn their experimental gizmos, gadgets, and weaponized technologies into fully operational Anti-Personnel Crowd Control and Mass Subjugation devices.  

THE DEAD TARGETED INDIVIDUAL'S -
https://sites.google.com/site/targetedstalkedterrorized/home/to-those-who-died-of-their-targeting
MONDAY, OCTOBER 1, 2012
00:29 AM
Was drifting off to sleep, when the residential domestic terrorist recruits at my current location in San Rafael, CA - were monitoring the Biological Acoustic, Microwave, and Chemical Weapons - and started with the EARLY AM TARGETING - this would be UNIT 103, and their VISITING DOMESTIC TERRORIST FRIENDS who gather into various UNITS at this CURRENT LOCATION and TURN ON BIOLOGICAL WEAPONS SYSTEMS and being TARGETING. 

In this CASE LOWER UNIT 103, has A MYRIAD OF PEOPLE WHO ARE COMING AND GOING, AND LOW AND BEHOLD HE GETS A CALL - THE DOMESTIC TERRORIST'S SHOW UP - LAY IN WAIT - and THE MOMENT I AM DRIFTING OFF TO SLEEP - UNIT 103 - THE FIRST FLOOR UNIT - GOES APE SHIT with THE BIOLOGICAL WEAPONS ACCESS and ALLOWS THEIR DOMESTIC TERRORIST FRIENDS - TO BEING FIRING - INDISCRIMINATELY INTO THE PRIVACY OF MY LIVING SPACE -

These LATE NIGHT BIOLOGICAL WEAPONS ATTACKS - have been DOING SERIOUS BIOLOGICAL HARM - IN PARTICULAR WHEN THE ACTIVE DENIAL IS BEING USED - TO BURN MY SKIN, HEAT MY INTERNAL ORGANS, AND HEAT MY SKIN - I DEMAND THAT UNITS 103, AND UNIT 203 - WHO HAVE DIRECT ACCESS TO MY UNIT VIA THE ELECTRICAL WIRING - BE CRIMINALLY QUESTIONING - ALONG WITH THE 3RD FLOOR UNITS WITH CONNECTING WALLS - BECAUSE THOSE UNITS AS WELL - HAVE BEEN DOING HEAVY DUTY BIOLOGICAL WEAPONS - TARGETING -

MONDAY, OCTOBER 1, 2012
03:55 AM
Monday, October 1, 2012
02:32 am
The sound you hear on the attachment page link
SCROLL DOWN TO:  IN EAR CANAL RECORDING

https://sites.google.com/site/targetedyesorno/attachments

Could be heard from what appeared to be outside, but when I took the voice recorder out on the blacony the sound is barely audible.  Then I decided to use my Olympus ME-12 Noise Canceling Microphone, took off the black foam that covers it, and placed the microphone directly into my ear canal, and allowed the high frequency chirping/whirring record, and low and behold the Directional Ultrasound spotlighted at my HEAD/EAR - or an ILLEGALLY IMPLANTED ACOUSTIC DEVICE INSIDE MY EAR CANAL - that is AMPLIFYING SOUNDS -

When placed outside to see if it would record the high frequency chirping/whirring, almost like a bunch of crickets, it is barely audible, if at all, but upon placing the microphone directly into my ear canal, it is the audible frequency that I am hearing, only it is being recorded while the Olympus ME-12 Noise Canceling Microphone, is inside my ear canal, it is as loud as can be.

THE SOUND YOU HEAR IN THE RECORDING ARE NOT CRICKETS - IT IS THE SOUND OF THE LATEST MICROWAVE BIOLOGICAL WEAPONS SYSTEM BEING FIELD TESTED AND USED BY THE RESIDENTS AT 108 PROFESSIONAL CENTER PARKWAY WITH ILLEGAL ACCESS TO THESE MILITARY GRADE ANTI-PERSONNEL WEAPONS -

This is a link to the Olympus ME-12 Noise Canceling Microphone that I used
http://www.amazon.com/Olympus-ME-12-Noise-Canceling-Microphone/dp/B00006HSBC/ref=sr_1_9?ie=UTF8&qid=1349084333&sr=8-9&keywords=voice+recorder+microphone
The 2nd floor unit directly below me on the 2nd floor is the unit where most of the biological weapons appear to be generated from. 

In addition to this the LOWER 2ND FLOOR UNIT - HAS THE MAN PORTABLE ACTIVE DENIAL SYSTEM FACING DIRECTLY UPWARDS BELOW MY BED AND FEET, WHICH IS PROJECTING the HIGH FREQUENCY, WHICH IS CREATING NOT ONLY INCREASED HEAT IN MY UNIT, BUT ALSO MICROWAVE ENERGY PROJECTING FROM THE FLOOR BEING GENERATED BY THE LOWER 2ND FLOOR APARTMENT UNIT 203.  IT IS THE ONLY DIRECTIONAL WAY IN WHICH THE RAYTHEON ACTIVE DENIAL CAN GENERATE HEAT COMING FROM THE FLOOR - AND CREATE A FIELD OF HIGH FREQUENCY MICROWAVE LIKE ENERGY INTO MY UNIT.  AS SUCH THE 2ND FLOOR UNIT IS TO BE CRIMINALLY PROSECUTED UNDER ALL DOMESTIC TERRORIST LAWS, AND INTERNATIONAL LAWS, AND ILLEGAL USE OF A UNITED STATES MILITARY BIOLOGICAL WEAPONS SYSTEM.

TUESDAY, OCTOBER 2 2012
12:46 PM
1. Was woken by the illegal use of ANTI-PERSONNEL WEAPONS - starting documenting the ATTACKS, via the illegal RESIDENTIAL USE of the United States DoD anti-personnel TERAHERTZ weapons that go beyond the ACTIVE DENIAL heat, but TRAVEL into the BONE, TISSUES, BLOOD, and CELLULAR levels - 
The TEXT FILES TO MY EMAIL STARTED AT 02:39 AM when I was woken due to MASSIVE OVERHEATING of INTERNAL BIOLOGY.  
The ILLEGAL, CRIMINAL  FIELD TESTING by the WEAPONS MANUFACTURER'S, DEPARTMENT OF DEFENSE, ALONG WITH PRIVATE SECURITY, AND CIVILIAN RECRUITS  are HIGH LEVEL ANTI-PERSONNEL BIOLOGICAL WEAPONS USING SUB-MILIMETER WAVEFORM that goes beyond even the levels of Active Denial Heating of the Outer Layers of the Skin, these Anti-Personnel weapons that are being USED in San Rafael, CA - are using WAVE FORMS travels through the outer layer of the skin and directly into THE BIOLOGY itself.  
This generation of ANTI-PERSONNEL BIOLOGICAL WEAPONS being PROJECTED into the PRIVACY of MY LIVING SPACE - are TERAHERTZ in nature, not unlike the FULL BODY SCANNERS at most Airports whereby. the SCAN GOES BEYOND THE SKIN - the ONLY DIFFERENCE what is BEING DIRECTED AND PROJECTED INTO MY HOME, AND AT MY BIOLOGY are BEING USED as BIOLOGICAL WEAPONS to BREAKDOWN the INTERNAL ORGANS, TISSUES, BONE DENSITY, AND A MYRIAD OF OTHER BIOLOGICAL and NEUROLOGICAL MAKE UP - all the way down TO DNA DAMAGES.  These are LETHAL WEAPONS TESTING at this POINT, and BEING CONDUCTED by a DOMESTIC TERRORIST ORGANIZATION  - 
Basically, it is SEVERAL HOURS later from the MASSIVE BIOLOGICAL WEAPONS ATTACKS - AND THE OUTER LAYER OF SKIN AND INTERNAL ORGANS ARE STILL HEATED - AND TINGLING that is HOW AGGRESSIVE AND VIOLENT these ILLEGAL BIOLOGICAL WEAPONS FIELD TESTING and TRAINING are. 

2. At approximately 12 pm - I attempted to get into my TMOBILE ACCOUNT ONLINE in order to check on dates, etc.  The following ERROR MESSAGE SHOWED UP - 
https://my.t-mobile.com/Login/?rc=1ceffc9b59c64b936da13f5606ea4f90f8b423febe7d1beca9d1ddd6ded466667c9ad0bfcaaee3ca3afdaf5d217a5887e0a7ad4a11436d96&msisdn=3238393917

| | |
| --- | --- |
| | The phone number you entered, 3238393917 , has been canceled. If you feel that this information is incorrect, please contact us at 1-877-453-1304. |
Log in to My T-Mobile

Please enter your T-Mobile phone number and password.

Remember me on this computer




Sign up for My T-Mobile

Get easy, online access to your mobile world.

Check minute and message usage
View or pay your bill
Change your plan or services
Get support for your phone

And much more!

 
At 12:07 PM I dialed the number indicated 1-877-453-1304, from which a Foreign person answered, since most of my Targeting of late is from the Filipinos, and other foreigners here in San Rafael, Ca it stands to reason that this latest group of INTERNATIONAL TERRORIST RECRUITS are being given ILLEGAL ACCESS to THE SWITCH that transpires when I DIAL the Legal and Legitimate Telecommunication Company, and GET the THIRD PARTY RECRUITS who ILLEGALLY and Fraudulent POSE as legal and legitimate Employees of TMobile.  
FROM THE LINK, SCROLL DOWN TO BOTTOM OF PAGE WHERE FILES ARE ATTACHED: TMOBILE RECORD FRAUD 
https://sites.google.com/site/targetedyesorno/attachments
What you will hear, intermittently in the background are the LATEST GROUP of RECRUITS who are ILLEGALLY and FRAUDULENTLY posing as LEGAL and LEGITIMATE Employees of TMOBILE.  Pretend to be Customer Service, but who in point of fact. are recruited members of this DOMESTIC TERRORIST ORGANIZATION -

WHAT ALWAYS GIVES THE FRAUD AWAY, are the PEOPLE IN THE BACKGROUND who think IT IS SOMEHOW COMICAL TO BE  COMMITTING CYBER AND TELECOMMUNICATION FRAUD.  At not time is what the FEMALE in the background saying - HAVE ANYTHING to do WITH LEGITIMATE TELECOMMUNICATION TROUBLE SHOOTING but in FACT BELIEVES that HAVING ILLEGALLY GAINED ACCESS TO A LEGITIMATE NUMBER I DIALED - AND ILLEGALLY AND FRAUDULENT POSING AS A TMOBILE EMPLOYEE IS SOME TYPE OF GAME -

BY LEGAL VIRTUE OF THE FOLLOWING INFORMATION and the FACT that the RESIDENTS at my CURRENT LIVING LOCATION CONTINUE TO USE THESE DIRECTIONAL ACOUSTIC WEAPONS THAT CAUSE A VIBRATION which HAS BEEN DOCUMENTED and TOLD to THOSE AROUND - this 1999 Study, SHOWS THE FOLLOWING NEGATIVE BIOLOGICAL EFFECTS of USING THESE VIBRO-ACOUSTIC WEAPONS and that BY DOING SO - IT IS TO DELIBERATELY AND WITH PREMEDITATED MALICIOUS INTENT - BRING ABOUT THE RESULTS listed in the FOLLOWING REPORT from the NATIONAL INSTITUTE OF HEALTH -

The clinical stages of vibroacoustic disease.
Castelo Branco NA. Occupational Medicine Research Center, Lisbon, Portugal.
http://www.ncbi.nlm.nih.gov/pubmed/10189154
Abstract
BACKGROUND: Vibroacoustic disease (VAD) is an occupational disease occurring in susceptible workers who have had long-term exposure (> or = 10 yr) to large pressure amplitude (> or =90 dB SPL) and low frequency noise (< or = 500 Hz). The clinical progression is insidious, and lesions are found in many systems throughout the body. Some of the findings, such as extracellular matrix changes, appear to be specific to this disease. Others, such as cognitive impairment, seem to be common in different types of stress-induced pathology. In 1956, Professor Eugenia Andreeva-Galanina developed a classification of hand-arm vibration- induced pathology. This has been further refined and has become an important tool in occupational medicine. Thus, it is also important now to define the clinical stages of VAD in accordance with the appearance of the most common signs and symptoms.

METHODS: We analyzed the files of 140 patients with VAD, paying close attention to the chronology of the clinical findings, the registry of eventual and on-the-job accidents, and the evaluation of disabilities.

RESULTS: We have classified VAD in function of the time it took for 50% of the population to acquire the relevant sign or symptom. Stage I, mild signs (behavioral and mood associated with repeated infections of the respiratory tract, e.g., bronchitis); Stage II, moderate signs (depression and aggressiveness, pericardial thickening and other extracellular matrix changes, light to moderate hearing impairment, and discrete neurovascular disorders); Stage III, severe signs (myocardial infarction, stroke, malignancy, epilepsy, and suicide).

CONCLUSION: This classification should be capable of assessing work fitness, and is a primary approach to a complex and multidisciplinary problem with implications in diagnosis, prevention and disability compensation within VAD.
MY YAHOO EMAIL IS NOT LETTING ME ACCESS MY OWN ACCOUNT - IT IS THE ONE THAT I HAVE MY BANKING AND A MYRIAD OF OTHER PRIVATE AND PERSONAL INFORMATION ON - BUT I CAN ACCESS MY OTHER YAHOO ACCOUNT AS SUCH - THIS BECOMES A CLEAR LEGAL CYBER HACKING ISSUE - BECAUSE THAT IS MY PRIVATE AND PERSONAL INFORMATION AND SOMEONE IS IN MY FUCKING YAHOO ACCOUNT.
Automatic page updates causing problems with your screen reader?
If you are using a screen reader and having problems using Mail, it might help to disable automatic page updates. Please note, this will also disable chat and text messaging within Yahoo! Mail. You can toggle automatic updates on and off using the link below. Disable automatic page updates.
Sorry for the inconvenience.
We're sorry, but Yahoo! Mail has encountered a temporary error. You can try back again shortly, or visit our Help pages for ways you might be able to fix the issue yourself (Temporary Error 15).
Thanks,
The Yahoo! Mail Team
Welcome
Inbox
New
Folders
Mail Options

Copyright © 1994-2012 Yahoo! Inc. All rights reserved. Terms of Service - Copyright/IP Policy - Guidelines
NOTICE: We collect personal information on this site.
To learn more about how we use your information, see our Privacy Policy - About Our Ads.






WEDNESDAY, OCTOBER 3, 2012
00:09 am
EXTREMIST RADICALIZED VIGILANTE RECRUITED DOMESTIC TERRORIST NEIGHBORS
- WITH ILLEGAL ACCESS TO UNITED STATES MILITARY GRADE DIRECT ENERGY ELECTROMAGNETIC ANTI-PERSONNEL WEAPONS CAPABILITIES.  
I found the NATIONAL INSTITUTE OF HEALTH along with another REPORT on VIBROACOUSTIC DISEASE. 
What this shows is as far back as 1999, the KNOWN NEGATIVE BIOLOGICAL, NEUROLOGICAL, AUTO-IMMUNE, RESPIRATORY, CARDIOVASCULAR, and a MYRIAD of other NEGATIVE HUMAN EFFECTS of being EXPOSED to these VIBROACOUSTIC FREQUENCIES - that the RESIDENTS here CONTINUE TO TURN ON and OFF - knowing that THEY ARE CAUSING another HUMAN BEING MASSIVE LEVELS OF OVER EXPOSURE TO UNNECESSARY ACOUSTIC FREQUENCIES - AND BEING DONE WITH THE INTENT TO MAIM, MUTILATE, DISABLE, AND ULTIMATELY MURDER IN THE FIRST DEGREE -
Here is another report about those Target who get NOISE CAMPAIGNS
<Alda>
using these low frequency vibrations or BUZZING HUMS that permeate throughout your living space
<Alda>
Late-onset epilepsy was diagnosed
<Alda>
Some kind of respiratory insufficiency
<Alda>
Balance disturbances were also a common complaint,
<Alda>
ranged from dizziness to severe vertigo
<Alda>
Unique and sudden episodes of non-convulsive neurological deficit
<Alda>
cerebral ischemic vascular accidents,
<Alda>
sign of progressive neurological deterioration and early aging process,
<Alda>
ndividuals were endocrine disorders, the most common being thyroid dysfunction
<Alda>
28 had malignant tumours.
<Alda>
malignant gliomata, and all respiratory system tumours were squamous cell carcinomas (
<Alda>
VAD patients: decreased respiratory drive
<Alda>
Vibroacoustic Disease
<Alda>
as such when you begin to look at the NEGATIVE BIOLOGICAL EFFECTS
Guest 7 has left the chat

<Alda>
THE RESIDENTS here are doing it in order TO CAUSE DELIBERATE NEGATIVE BIOLOGICAL EFFECTS


auto-immune diseases in LFN-exposed individuals. In the electron microscopy studies of VAD-patient pericardial fragments
<Alda>
LFN is low frequency noise
<Alda>
As such, by the recruited residents who turn on and off this directional acoustic weapon
<Alda>
that permeates this vibrating hum projected into my home
<Alda>
they do so WITH THE KNOWLEDGE that they ARE CAUSING DELIBERATE NEGATIVE BIO EFFECTS
<Alda>
that CAN BE LIFE THREATENING
<Alda>
that theY RUN THESE WEAPONS for YEARS
<Alda>
so the NOISE Campaign is not JUST LOUD NOISE
<Alda>
it is also using LOW FREQUENCY OR HIGH FREQUENCY ULTRASOUND and INFRASOUND
<Alda>
I just gave you some of the SCIENTIFIC REPORTS
<Alda>
they call it VIBROACOUSTIC DISEASE
<Alda>
and the HANDLERS who handed these RESIDENTS THEIR REMOTE ACCESS KNOW FULLY what happens to the HUMAN BIOLOGY when these ACOUSTIC WEAPONS are used
<Alda>
the WAY THEY HAVE BEEN HERE
<Alda>
and IN OTHER RESIDENTIAL LOCATION
<Alda>
PREMEDITATED MURDER
<Alda>
PREMEDITATED ATTEMPTED MURDER EVERY SINGLE DAY THEY TURN ON THOSE ACOUSTIC WEAPONS

The clinical stages of vibroacoustic disease.
Castelo Branco NA. Occupational Medicine Research Center, Lisbon, Portugal.
Abstract
BACKGROUND: Vibroacoustic disease (VAD) is an occupational disease occurring in susceptible workers who have had long-term exposure (> or = 10 yr) to large pressure amplitude (> or =90 dB SPL) and low frequency noise (< or = 500 Hz). The clinical progression is insidious, and lesions are found in many systems throughout the body. Some of the findings, such as extracellular matrix changes, appear to be specific to this disease. Others, such as cognitive impairment, seem to be common in different types of stress-induced pathology. In 1956, Professor Eugenia Andreeva-Galanina developed a classification of hand-arm vibration- induced pathology. This has been further refined and has become an important tool in occupational medicine. Thus, it is also important now to define the clinical stages of VAD in accordance with the appearance of the most common signs and symptoms.
METHODS: We analyzed the files of 140 patients with VAD, paying close attention to the chronology of the clinical findings, the registry of eventual and on-the-job accidents, and the evaluation of disabilities.

RESULTS: We have classified VAD in function of the time it took for 50% of the population to acquire the relevant sign or symptom.

Stage I, mild signs

(behavioral and mood associated with repeated infections of the respiratory tract, e.g., bronchitis);

Stage II, moderate signs

(depression and aggressiveness, pericardial thickening and other extracellular matrix changes, light to moderate hearing impairment, and discrete neurovascular disorders)

;

Stage III, severe signs

(myocardial infarction, stroke, malignancy, epilepsy, and suicide).


CONCLUSION: This classification should be capable of assessing work fitness, and is a primary approach to a complex and multidisciplinary problem with implications in diagnosis, prevention and disability compensation within VAD.



from attachment link scroll down to bottom of page download:  VIBROACOUSTIC CLINICAL REPORT  AND VIBROACOUSTIC DISEASE
https://sites.google.com/site/targetedyesorno/attachments
09:40am
Residential Recruited Domestic Terrorist continue to AGGRESSIVELY utilize their illegal, criminal, and felonious access to the MILITARY GRADE WEAPONS SYSTEM, set up and rigged throughout this unit.
The ignorance that is they LOWER THE VOLUME, but continue to PERMEATE THE LOW VIBRO ACOUSTIC will somehow, make it more covert or alright -
THE POINT IS - THE WEAPONS CONTINUE TO BE TURNED ON AND FIRED - THE POINT IS THAT THEY SHOULD NOT BE USED AT ALL - THE POINT IS - SWITCHING TO ANOTHER WEAPON IN THE ARSENAL OF WEAPONS PROVIDED - DOES NOT CHANGE THE POINTS OF FACT - THAT RESIDENTIAL IN PARTICULAR THE LOWER 2ND UNIT - CONTINUE - WITH SADISTIC, FANATICAL, AND ZEALOT OBSESSION - USE THE WEAPONS - TURN ON THE WEAPONS - AND FIRE THE WEAPONS - 
These Residential Vigilante Terrorist's also believe that by changing up which weapon they use will somehow make what they are doing LEGAL - so today they are the WEAPONS HANDED to them, or given remote access to them, from which these RESIDENTIAL VIGILANTE TERRORIST'S will be BRIBED in some manner, generally FINANCIALLY, or other in the case of the lower unit, I AM SURE IMMIGRATION STATUS. The point is, they CONTINUE to use these WEAPONS, in an almost 
RADICALIZED, EXTREMIST,
RITUALISTIC, SADISTIC, AND FUNDAMENTALIST ZEALOT NEED TO MURDER THEIR TARGET, in a SLOW KILL and SLOW COOK using DIRECT ENERGY ELECTROMAGNETIC, ULTRASOUNIC, INFRASONIC, AND TERAHERZT SUBMILLIMETER WAVE FORM ENERGY WEAPONS.  TO INCLUDE DIRECT SHOCKS USING CATTLE PROD VOLTS OF ELECTRICITY THAT THEY SEND THROUGH THE FLOOR. 
11:39 AM
NELSON STAFFING
NULL AND VOID ANY WAIVER OF LIABILITY TO DAVID L NELSON, ASSOCIATES, PARTNERS, ET AL - BASED ON FRAUDULENT MISREPRESENTATION AND/OR OMISSION OF MATERIAL FACTS -
Just sent an email to NELSON STAFFING, an employment agency down the hill.  I filled out forms in order to get jobs in ACCOUNTING, but there is ONE FORM that is MISSING and it had to do with the NAME DAVID L. NELSON - being presented as if it was about the NELSON STAFFING AGENCY - but because of the manner in which it was presented - and upon doing additional RESEARCH - the
TERM
FRAUDULENT MISREPRESENTATION OR OMISSION OF MATERIAL FACTS
is what appears to have Transpired within the OFFICES of the NELSON STAFFING. 
I sent an email requesting that copy so that I can do further LEGAL RESEARCH into IF DAVID L. NELSON is a partner in the NELSON STAFFING or IF, JENNY PONCE - that is also why I said to them ANYTHING can be CHALLENGED IN A COURT OF LAW -  I do not WORK FOR OR WILL I EVER GIVE CONSENT TO FUCKING TERRORIST MURDERERS WHO FIELD TEST THEIR WEAPONS UPON A NON CONSENTING HUMAN BEING - AND USING FRAUD IN ORDER TO GAIN SIGNED CONSENT - BECOME A CRIMINAL ACT -  I WENT TO NELSON AGENCY IN ORDER TO DO TEMP WORK IN ACCOUNTING - PERIOD - and ANYTHING THAT IS DONE - THAT IS NOT ABOUT ME BEING PLACED EMPLOYMENT WISE DOING ACCOUNTING - THAN ANYTHING - THOUGHT TO BE GAINED - IS BASED ON FULL SCALE CRIMINAL AND FELONIOUS FRAUD -
IS BECAUSE ONE OF THE MAJOR WEAPONS BEING FIELD TESTING, ILLEGALLY IN MY APARTMENT COME FROM RAYTHEON - AND IF THIS IS THE SHADY CRIMINAL FELONIOUS FRAUDULENT MANNER IN WHICH RAYTHEON AND OTHER ARE ILLEGALLY AND FRAUDULENTLY ATTEMPTING TO GET CONSENT - THEN THESE FUCKING TERRORIST CAN GO FUCK THEMSELVES - BECAUSE I WENT TO AN INTERVIEW WITH THE NELSON STAFFING FOR ACCOUNTING JOBS - NOT TO BE FRAUDULENTLY TRICKED OR COERCIBLE FRAUD AND PURE SCALE PREMEDITATED MANIPULATION BY AN EMPLOYMENT AGENCIES EMPLOYEE TO SLIP IN PAPERWORK - IN THE HOPES THEY COULD FRAUDULENTLY OBTAIN SOME FORM OF CONSENT -
THE ONE THING THESE MASS MURDERING MOTHERFUCKING TERRORIST
WILL NEVER GET IS WILLING CONSENT - NOT FUCKING EVER -
SO INSTEAD THESE FUCKING GENOCIDAL KILLER'S USE FELONIOUS MISREPRESENTATION, AND OMISSION OF MATERIAL FACTS BY BRIBERY AND RECRUITMENT OF EMPLOYEES WITHIN LEGITIMATE AGENCIES - AS THEIR MEANS TO COMMIT FELONY FRAUD FOR THEM. 
AS SUCH IT RENDERS ANY WAIVER OF LIABILITY OF DAVID L NELSON, ASSOCIATES, PARTNERS ET AL - NULL AND VOID - BY VIRTUE OF FRAUDULENT MISREPRESENTATION AND/OR OMISSION OF MATERIAL FACTS -
David

Nelson
science software engineer and data analyst at Raytheon/JPL/NASA
Greater Los Angeles Area

Research
As a LinkedIn member, you'll join 175 million other professionals who are sharing connections, ideas, and opportunities. And it's free! You'll also be able to:
See who you and David Nelson know in common
Get introduced to David Nelson
Contact David Nelson directly
David Nelson's Overview
Current

science software engineer and data analyst

at

Raytheon/JPL/NASA
Science analyst/programmer

at

Jet Propulsion Laboratory

Connections

5 connections
Science analyst/programmer
Government Agency; 5001-10,000 employees; Defense & Space industry
1998 – Present (14 years)
David

Nelson
science software engineer and data analyst at Raytheon/JPL/NASA
Greater Los Angeles Area

Research
As a LinkedIn member, you'll join 175 million other professionals who are sharing connections, ideas, and opportunities. And it's free! You'll also be able to:
See who you and David Nelson know in common
Get introduced to David Nelson
Contact David Nelson directly
David Nelson's Overview
Current

science software engineer and data analyst

at

Raytheon/JPL/NASA
Science analyst/programmer

at

Jet Propulsion Laboratory

Connections

5 connections
Science analyst/programmer
Government Agency; 5001-10,000 employees; Defense & Space industry
1998 – Present (14 years)
22:30 PM
NOSE BLEED
- RESIDENCE IN SAN RAFAEL, CA - CONTINUE TO ABUSIVELY UTILIZE THE WEAPONRY - IN THEIR CRUSADE TO MURDER -
THIS NOSE BLEED IS A NEUROLOGICAL SIGNS OF OVEREXPOSURE AND ABUSE TO THE ILLEGAL USE OF COGNITIVE NEUROTECHNOLOGIES - IN PARTICULAR RESIDENTS AT THIS CURRENT LOCATION WITH ILLEGAL, CRIMINAL REMOTE ACCESS TO TARGETING - AND THE INSIDIOUS ABUSIVE USE OF THESE WEAPONS. 
DUE TO THE MASSIVE OVER EXPOSURE AND INSIDIOUS VIOLENCE BEING INFLICTED AT THIS CURRENT LOCATION WITH THE CURRENT RADICAL EXTREMIST RESIDENT RECRUITS - and the CONSTANT OVER EXPOSURE TO THESE WEAPONIZED MILITARY GRADE TECHNOLOGIES - IN PARTICULAR THE LOWER UNIT 203, WHO KEEP THE WEAPONS GOING AT ALL HOURS OF THE DAY AND NIGHT - THERE IS ALWAYS A BIOLOGICAL CONSEQUENCE -
As such, and in particular the LOWER UNIT 203, who continues to ABUSIVELY USE THESE WEAPONS - ALONG WITH OTHER RESIDENTS AT THIS LOCATION AND THEIR FRIENDS WHO SHOW UP AND FIRE THESE WEAPONS - ARE TO BE CRIMINALLY HELD FOR ATTEMPTED MURDER - OVER EXPOSURE OF NON IONIZING RADIATION BEING PROJECTED INTO THE PRIVACY OF THIS APARTMENT - AND FULL SCALE CONSPIRACY TO COVER UP THE CRIMES OF ATTEMPTED MURDER ON A DAILY BASIS AS THESE RESIDENT - ABUSIVELY USE THESE WEAPON IN AN ATTEMPT TO MURDER - ANOTHER HUMAN BEING -
THURSDAY, OCTOBER 4, 2012
15:00
Sent this to the WHITE HOUSE for legal documentation purpose on future PUNITIVE DAMAGES showing that I continued to seek INTERVENTION and CRIMINAL JUSTICE against ALL involved in my TARGETING.   AND THAT NO SO CALLED POSSESSION OF DOCUMENTS CLAIMING OTHERWISE - IS LEGAL - 
October 4, 2012 
SENT TO THE WHITE HOUSE FOR INTERVENTION OF DOMESTIC TERRORIST ACTIVITIES.
http://www.whitehouse.gov/thank-you
Thank You!
Thank you for contacting the White House.
President Obama is committed to creating the most open and accessible Administration in history.  That begins with taking comments and questions from you, the American people, through our website.
Our office receives thousands of messages from Americans each day.  We do our best to reply to as many as we can, but please be aware that you may find more information and answers to your questions online.  To follow news and learn more about President Obama's plans for winning the future, you can sign up for updates from the White House, read the White House Blog, or listen to White House podcasts.
For an easy-to-navigate source of information on Federal government services, please visit: www.USA.gov.
Thank you again for your message.

The Office of Presidential Correspondence
I am writing today to ask for your assistance, and Presidential intervention to put a Stop to the criminal felonies of illegal, non consenting human experimentation, via the use of radio frequency, non ionizing radiation weaponry that harness the electromagnetic spectrum.
It has to do with the 21st Century Arms Race, and Domination of the Electromagnetic Spectrum, and the advent of non lethal anti-personnel crowd control weaponry.   (e.g. man portable active denial, acoustic shields, sonic bullets, directional ultrasound and infrasound speakers, hand held terahertz sub millimeter wave scanners), in addition to the advent to Cognitive Nano-Neuroscience/Nano-Neurotechnology and Neuro-technological application in National Security, and National Defense. The cutting edge caliber and nature of these experimental, field-testing, training the use of, and fully operational biological technological weaponry, can only come from classified, or otherwise government agencies who see the advent of these Non Lethal Anti-Personnel Crowd Control Weapons as an advantageous tool.
Therefore the Primary culprits are the Department of Defense via the Defense Advanced Research Project Agency, JNLW, NSA, DIA, DOE, and in the case of Raytheon's Man Portable Active Denial systems, the DOJ, these, amongst other agencies, award grant money and funding to second and third party corporations, weapons developers, research, educational, and medical institutes, and/or contracted private security firms.  From this point, any experimental field testing, study of human biological effects, and/or training on the use of these biological weapons are then handed over to what can only be described as Radical Extremist Ideologically Driven American Organizations', and/or Groups', who are psychologically manipulated into believing that the Targeted Victim deserves to be destroyed.  While the Primary, secondary and tertiary sit back, and study the human effects of what their biological technological weapons can do.
 What happens to victims such as myself is tantamount to being thrown into an asymmetrical war zone, where all parties seek to gain something at the literal expense of my human life.  I consider what is being done to me, first degree attempted murder. 
And, for all parties involved in advancing science and biotechnologies, cause driven greater goods, might, I suggest these individuals, volunteer their own brains and biology's for use in their delusional noble projects and causes.