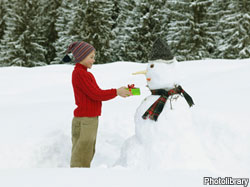 Easy Ways to Give Back During the Holiday Season 
(ARA) – Your life is busy any time of the year, but with the holidays comes a longer to-do list and more stress. So, how can you embody the giving spirit of the season in an efficient way without breaking the bank (or your back)? 

There are easy ways to give back during the holiday season if you just get a little creative and make a resolution to share.

* When you're out raking leaves or shoveling snow, clean up an elderly neighbor's yard as well.

* When cleaning your home to prepare for guests and parties, give extra clothing, furniture and "stuff" to charity. If something has been stuffed into a closet and hasn't seen the light of day for a year or more, it can go. Old blankets, towels and piles of newspapers can be donated to local animal shelters to help care for abandoned dogs, cats and small critters.

* Look for opportunities that can be effortless with your every day activities. For example, take your routine banking activity. By signing up for Bank of America's new Unite. Give. Cure. checking program, a contribution is made to the American Cancer Society, American Diabetes Association and American Heart Association at each new account opening, anniversary of the account opening and each time a person makes a purchase with their Unite. Give. Cure. check card. Visit www.bankofamerica.com/unitegivecure to sign up. Some restrictions, including balance requirements, may apply.

"People want to give back to society and to make an impact on the community," says Patrick M. Rooney, interim executive director of the Center on Philanthropy at Indiana University. "This initiative offers a charitable opportunity that is rewarding to the giving public, these leading nonprofits, and those who count on them."

* Do online shopping through a charitable search engine such as iGive.com. Choose your favorite charity, shop and the organization receives a contribution based on the amount of your purchase. You can maximize your good works by using your Unite. Give. Cure. check card and your purchase will also help benefit the American Cancer Society, American Diabetes Association and American Heart Association, as well.

* Instead of bringing the token bottle of wine as a host gift to holiday parties you've been invited to, make a donation in your hosts' name to a local charity.

* Use buy-one-get-one-free coupons to purchase an item for yourself and donate the extra free item.

* Instead of making a list of clothes and gifts you won't use, ask for donations to be made in your name to your favorite charity.

* Order cards and address labels through nonprofit organizations and a portion of your purchase will benefit them. This also helps get the word out about the organization.

* If you get a new gadget like a cell phone or digital camera, contact the manufacturer of your old device and ask if there is a way to recycle or donate it.

There are easy ways to incorporate giving into your everyday holiday activities. This year, make your holiday count and remember to give back. You could be on the receiving end some day.

Courtesy of ARAcontent