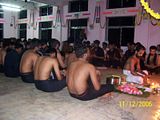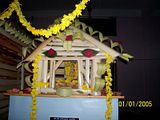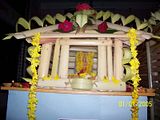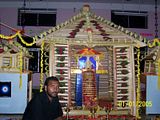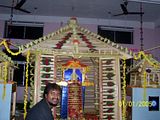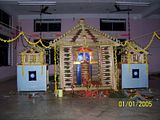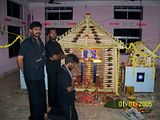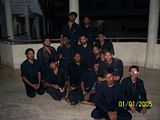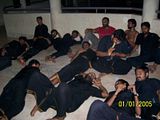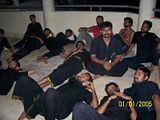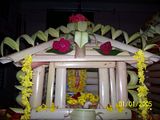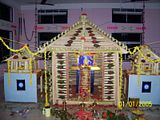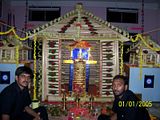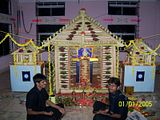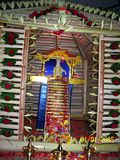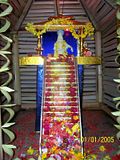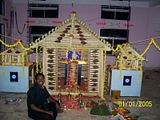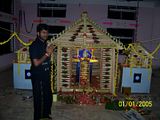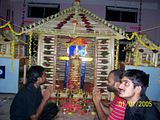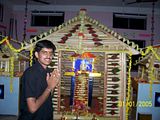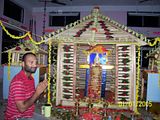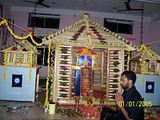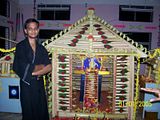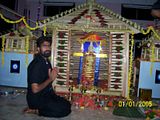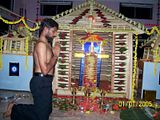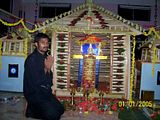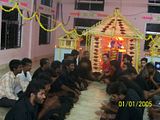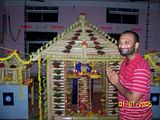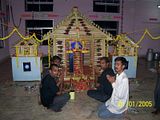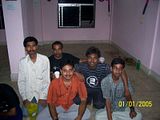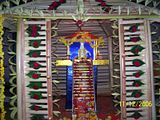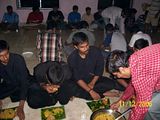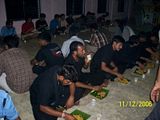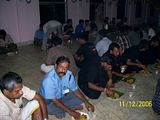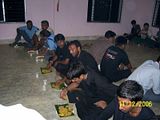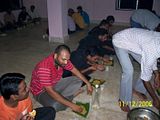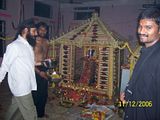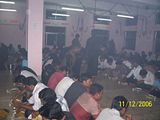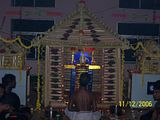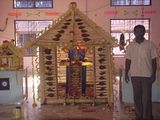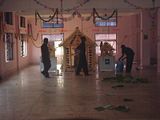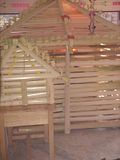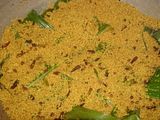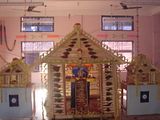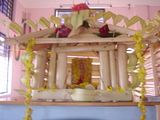 Hi friends,
First of all, be patient enough to read this big message. ignore if any mistakes r there
Our classmates and some M.tech ppl took ayyappa deeksha. This year the number is slightly more, totally 19 members took deeksha. We organised padi pooja on 11th december in G-Hostel common room. Work started on 10th december. 4 local swamies came from near by temple and they designed a temple architecture with banana trees. The decoration was excellent and they took whole day to complete it.
As a part of padi pooja, i took catering (and eating :-)) section. I have a little experience in cooking( just 6 years in my room). So i got this section. Swamies told me to prepare pulihora, chakkara pongali, wada, payasam. We ordered these items in canteen. In canteen, no one knows how to prepare pulihora. I got a chance to prepare it. I took the help from canteen ppl and prepared pulihora (40 kgs). The taste was nice but it was more spicy(most of the malayalis did not like it, becoz they prefer less spicy food). Andhra ppl were enjoyed pulihora.
G-hostel was decorated with oil lamps(deepam). swamies designed a frame with all the gods, saying that SABKA MALIK EK. They designed AUM with lamps in the entrance.
pooja started at 6:30pm. 25 local swamies also came from vishnu temple(near to our campus). They started singing songs. pooja was finished at 8:30pm. we started distributing food and prasadam. That day was excellent in G-hostel.
[telugu]G-hostel anthaa ayyappa sharanalatho maaru logi poyindi.
Our swamies deeksha was over on 16th december. We all went to sabarimala tour in vivekananda travels. Totally 80 ppl came to sabarimala tour. We took a bus and a mini bus.
Our tour started afternoon 1'o clock. Our first stop is GURUVAYOOR. We reached GURUVAYOOR at 5'o clock. Travels ppl arranged accomdation in hotel mayura for that night. Hotel is nice.
We went to temple at 6'o clock. It is a temple of lord krishna. Temple is very big in width (not in height as like in andhra). all mens are allowed with dhotis only. we bought dhoties for entering into temple. We need to remove shirt for darshan(almost all the temples in kerala, we have to remove our shirt). We completed darshanam with in 1/2 hr. Luckily we got the chance to visit harathi. The style they give harathi is different and good.
Dinner also arranged by travels in their other hotel. After the dinner, my m,tech friend BALU (he came to this temple last year also) told that there will be harathi in the temple at 9:30pm. We went to temple directly after having the dinner.
Temple is having many oil lamps. Pooja was started at 9:30 as they told. There r five big elephants in temple for pooja. First they brought one elephant, one poojari climbed on to elephant with lord krishna's idol. 3 rounds around the temple with band and deepams. After 3 rounds poojari came down with idol and went inside the temple. Then another poojari came with a big idol and climbed on another elephant. 2 more elepants came both sides of the main elephant and 3 ppl on the elephants with umbrellas and some other items. Temple is designed with grills all the sides and the grills are with deepams. I think a minimum of 5,000 deepams will be in each side. totally 20,000 deepams they lighted as the harathi started for the main idol on big elephant. They started with drums and elephants followed them for 3 rounds. Temple was really marvolous with all lighted lamps. Big deepam stands are there(generally we see that in movies) with around 400 deepams on it. They lighted all. we got a chance to light some of the lamps.
That night we felt very happy with harathi and pooja. Thats an excellent day in my life.
From guruvayoor, we started at 4'o clock in the morning. Mohan (my m.tech friend) birthday is on that day, so we bought a cake and after cutting the cake, we gave bumps as usual. Nearly 50 ppl are there to give bumps. We enjoyed.
We reached chota nikara ( a place) at 6'o clock. We had darshan with in 30 minutes. Its a devi temple. After that we had tiffen offered by travels. We started from chotanikara at 8'o clock. We bought 2 boxes of prasadam. Prasadam is with bellam and some other items. I distributed prasadam to all in my bus. Srinivas swamy distributed in other bus.
There r 3 shiva temples with a distance of 20 minutes journey. One story was there behind this temples. One monster prays for lord shiva and gets 3 lingams. He holds one idol in left hand, other in right hand and another in his mouth. Lord vishnu observes this and make him confused and that monster leaves shiva idols here. after that, ppl built 3 temples for this 3 idols. we reached kaduturthi(the idol brought in mouth) temple at 11'o clock. A temple of lord shiva. A big idol. we spent 20 minutes there. I forgot other two places names.
We reached erumalai at 12:30 noon. My friends went inside the temple and i was completely tired. so i slept in bus. Swamies will play holi in erumalai. After that they will go to a darga , located exactly opposite to temple. I heard that our swamies enjoyed well. I took some photographs of all swamies after the lunch.
From there we directly went to pampa. after taking bath we started climbing the hill. The hill was very slant and felt difficult to climb. I thought how difficult for swamies to climb with irumudi and luggage. Our pradeep swami started telling saranams. We responded with saranams. We did not noticed the distance with ayyappa saranams. We reached the line at 5:30pm. It took 1 hour in the line. we entered into the temple at 6:30pm. We had darshanam with less difficulty. Temple and the environment is excellent. we felt happy. Once we reach the temple, we can go for darshan any number of times. We got darshanam for 4 times. Then everyone felt tired. Travels ppl arranged accomdation in donor house for that night. All of us went to donor house.
Me, kranthi and pradeep swami came back to temple. Pradeep sawmi told that he wants to break 108 coconuts for ayyappa swamy. He bought coconuts and we helped him to complete the task. It took 1/2 hr. He was exited so much while breaking the coconuts. Then we went for dinner.
Some ppl told us about hariharasanam at 11'o clock in ayyappa temple. So we reached the temple and sat in the temple at 10:30pm. Hariharasanam is a pooja for the god to sleep. The song was too good and the atmosphere, location, temple premises were excellent during that pooja. [Telugu] Hariharasanam vintu memanthaa mai marachi poyamu. Naaku chala baaga nachindi aaa pooja.
Then we came back to donor house to sleep. One great thing has to tell about srinivas swamy(alias seenu, our m.tech friend who organized this tour). He is excellent in work with lot of patience. Swamies bring coconut with ghee in it for the neyyi abhishekam for ayyappa. Srinivas swamy collected ghee from all swamies coconuts and made a big bowl with ghee. he slept at 12:30 and woke up at 2'o clock. ghee abhishekam starts at 4'o clock, srinu swamy took bath and went to temple with ghee for abhishekam at 3'o clock (there will be big line, line starts at 3'o clock). Really excellent patience. in the morning at 5:30 came to me to wake me up. he was smiling alot and i did not find a little impatience or nervous or sleeping mood in his face. i felt amazing.
We started from sabarimala to pampa at 6'o clock. Me, pradeep swamy, vishnu, kumara swamy, uma were all walking together. There was a big crowd while getting down to pampa. Pradeep swamy saw some swamies climbing up the hill with lot of swet. He folded his towel and started waving it for the ppl climbing with swet. Me and vishnu impressed with that and we too folded our towels and started waving while getting down to pampa. I saw little relaxation in the faces of ppl by our work. I saw they are feeling happy with that, we too felt very happy. Hats off to pradeep swamy.
We assembeled in pampa, had tiffen and started to nilakkal. Our bus was parked in nilakkal because of parking problem. The route from pampa to nilakkal was excellent. The way is ghat road. There was a river( i hope it is pampa only) flowing in the middle of 2 hills. The scenary was excellent. It took 1/2 hr for us to reach nilakkal. We started our journey from there to one vinayaka temple(i forgot the place name). Temple is good and small. We had our meals there and returned to NITC.
We reached NITC at 9:30pm. All of us felt very happy with the trip. Two unforgettable memories are Pooja in guruvayoor, hariharasanam in ayyappa temple. Its really an excellent tour in kerala with nitc friends.
I will upload the photos 2moro. Net is very slow today becoz of server problem.
Thanks for reading such a long mail. Just reply me once after u read this mail.
Take care
Swamiye sharanam ayyappa.......