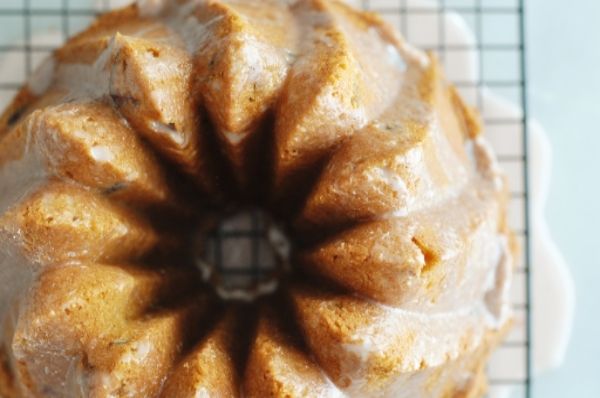 INGREDIENTS
1 cup dried cranberries
3/4 cup boiling blood orange juice (this took about 3 squeezed oranges)
1 cup unsalted butter, at room temperature 
2 cups brown sugar, firmly packed 
3 large eggs
3 cups all-purpose flour
2 tsp. baking powder
2 tsp. ground cinnamon
1 tsp. ground ginger
½ tsp. salt
¼ tsp. baking soda
½ tsp. fresh ground nutmeg (optional)
1 cup buttermilk
1 tsp. vanilla extract 
DIRECTIONS
Heavily spray a 12-15 cup Bundt pan with baking spray with flour (or with baking spray that includes flour).
In a microwave safe bowl, juice your blood oranges and microwave your orange juice for 1 minute and 30 seconds or until it is bubbling.  Add your dried cranberries directly to the orange juice and allow to sit for 10-15 minutes.
Using a stand mixer with a paddle attachment, cream together the butter and brown sugar until light and fluffy, about 3 minutes.
Add the eggs one at a time, scraping down the sides and bottom after each addition.
In a separate bowl, whisk together the flour, spices, baking powder, baking soda, and salt.  Gradually add the flour mixture to the butter mixture, alternately with buttermilk, beginning and ending with flour mixture.
With the mixer on low, add the vanilla and orange soaked cranberries without the juice.  (Save the juice!)
Spoon batter into prepared pan, tapping the pan twice to release air bubbles.  Bake until a wooden skewer inserted near the middle comes out clean, about 55 minutes.  Let pan cool for 10 minutes, then remove from pan and place on a rack.  It should fall right out.
for the glaze
mix together a few cups of powdered sugar in with your cranberry blood orange juice until you get the thickness you want!  If I could do it again, I'd make it thicker.