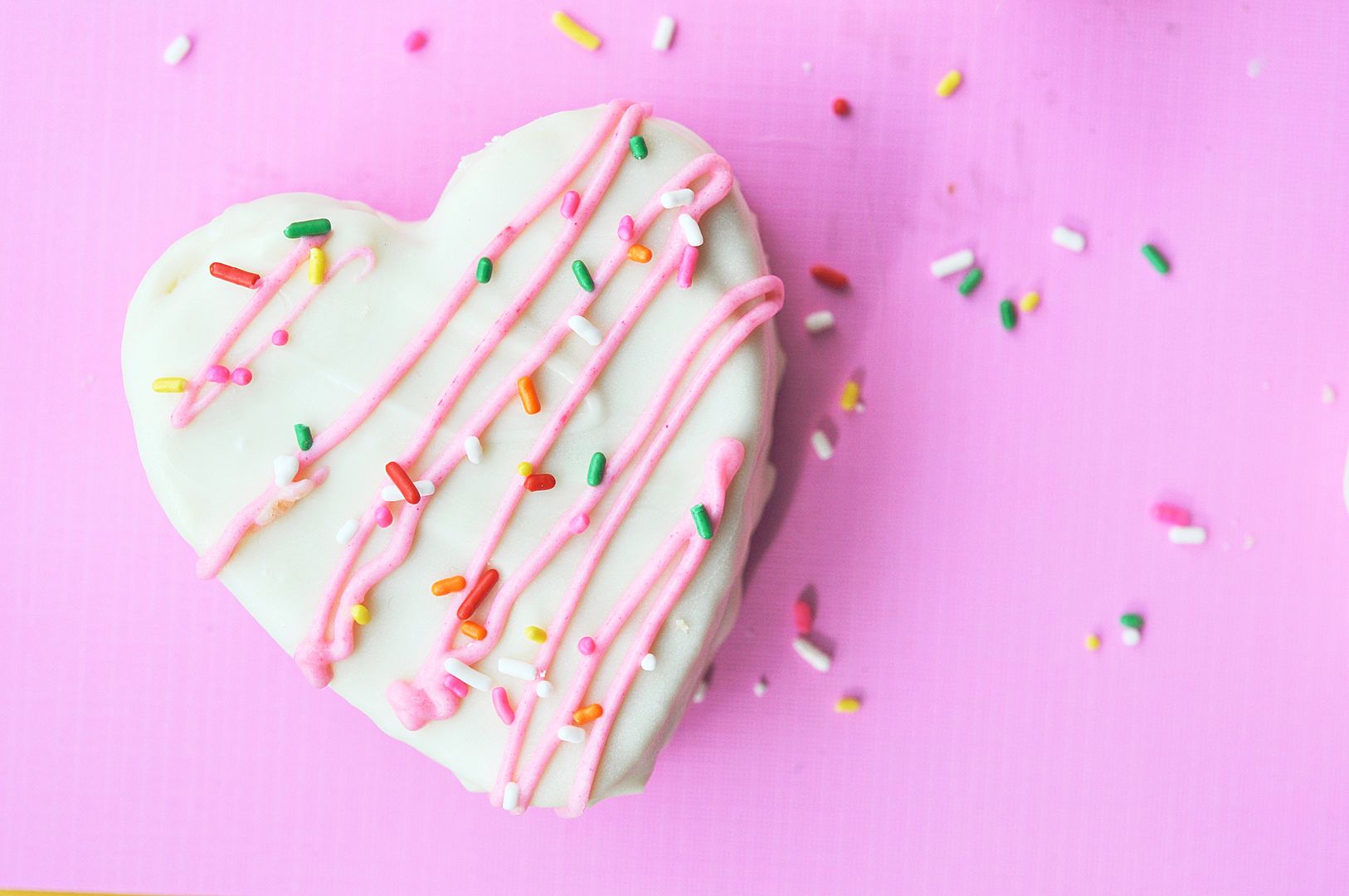 for the cakes
3/4 cup unsalted butter, room temperature
3/4 cup granulated sugar
4 eggs, room temperature
1 teaspoon vanilla extract
2 1/2 cups all-purpose flour
1 1/2 teaspoons baking powder
1 teaspoon salt
2/3 cup whole milk
for the filling
3/4 cup unsalted butter, room temperature
3/4 cup marshmallow creme
1 teaspoon vanilla extract
1 1/2 cups confectioner's sugar
1-2 tablespoons heavy cream
for the coating
1 14 oz bag white chocolate chips
1 tbsp shortening
for the cakes
Heat oven to 350°F. Line a 17x12 jelly roll pan with aluminum foil. Set aside. (you'll be baking twice)
In a mixing bowl, add butter and granulated sugar. With paddle attachment on, beat on low speed until light and fluffy, about 3-5 minutes.
Add eggs, one at a time, mixing well after each addition. Beat in vanilla extract as well.
Add flour, baking powder and salt alternately with milk to mixing bowl. Stir until just combined.
Pour cake batter into prepared pan and spread with an off-set spatula. Bake in preheated oven for 11-12 minutes.
Remove from oven and cool in pan for five minutes.  Then gently lift the aluminum foil out of the pan and cool on a cooling rack.
Repeat again with other half of batter.
Once cake is slightly cooled, using a 2-inch cookie cutter, cut hearts. I used a larger cookie cutter, but anything 2 inches or bigger will work.  Obviously, the smaller the cutter, the more cakes you'll get!
for the filling
In a mixing bowl, add butter and marshmallow creme. Beat until combined.
Stir in vanilla extract and powdered sugar. Stir until combined. Add few drops of heavy cream until filling is light and fluffy.
Spoon filling into a bag and pipe it over half of cake cutouts. Place another cake on top.
Refrigerate all cakes for 20-30 minutes before coating in chocolate.
to finish the cakes
Melt you white chocolate and shortening together in 30 second increments in the microwave, stirring between each time, until completely smooth.  Dip cool cakes in melted chocolate and cover your finger marks by spooning a tiny bit of the chocolate over it.  Add sprinkles or drizzle some colored white chocolate to finish!