The only place to get warrantied Straight Talk refurbished phones is from the Straight Talk.com
Website.

What if I let my Walmart Straight Talk service expire?
Your phone will quit working and you will probably lose your phone number.  Straight Talk will punish you for letting your phone lapse by not always keeping your phone number for you.  Often you will still be able to get your old phone number but it can be a problem getting your old number if you have lapsed for 30 days or more.
Unlimited Talk and Text Nationwide for only $45 a month
The New Straight Talk Reserve Option
When you purchase your card from the website you will have the option of adding your card to your "Reserve." If the card is added to your Reserve then on the expiration date Straight Talk will add your card to your account. This will simply keep your account working.
Reconditioned Straight Talk Wireless Phones
The only place to get refurbished Straight Talk phones is the website. Usually you can save between twenty and forty per cent on your phone purchase by buying a refurbished phone.
What happens when I refill my Walmart Straight Talk account?
Every refill resets your account balance to the amount you have purchased: when you refill your account with $45, you will receive unlimited talk, text and/or multimedia messages, and data during a 30-day service period on enable phones; when you refill your account with $30, you will receive 1000 minutes/1000 messages, plus 30MB of data during a 30-day service period on your phone.
There is no carryover of unused services.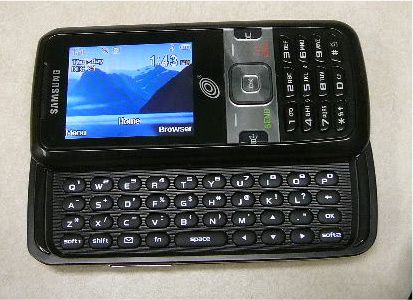 Samsung R451c Qwerty Keyboard from Straight Talk
Straight Talk Prepaid Wireless Review
How does the New
Straight Talk
Prepaid Wireless Plan work and how does it compare to my Contract Plan?
The Net10 Prepaid Unlimited Plan
. The latest entry into the Monthly Unlimited plan. The Net10 plan has several options between the regular PAYG minutes, 750 minutes a month, and Unlimited minutes, text and data.
Check out the latest specials at the Straight Talk.com Web site.
Tracfone LG 600g with Bluetooth