How often do I need to add a Tracfone Straight Talk Service Card?
You need to add a Service Card or buy a Service Plan to refill your account every 30 days in order to keep your Tracfone Straight Talk phone active. You can also enroll in Auto-Refill, which will automatically refill your account every 30 days.  You can also buy extra Straight Talk cards and add them to your account.  Then when your service runs out you can add the card from your Reserve.  There are also options for buying 3 months or a full year of service at one time.  Check it out 
Straight Talk Phone Cards at the website
.
Check out
Straight Talk for $45 a month
The New Straight Talk Prepaid Wireless Reserve Option
When you purchase your card from the website you will have the option of adding your card to your "Reserve." If the card is added to your Reserve then on the expiration date Straight Talk will add your card to your account. This is an extremely easy way to keep your account active.
Refurbished Straight Talk Prepaid Wireless Phones
The only place to get refurbished Straight Talk phones is the website,
Straight Talk.com
. Usually you can save between twenty and forty per cent on your phone purchase by buying a refurbished phone. Where can I buy Straight Talk Cellular Cards? Straight Talk Prepaid phone service is available in only two places. At your local Walmart store and online at
Straight Talk.com
. The phone cards are also available online or at your local Wal-mart.
Some of my favorite quotes:
There is danger from all men. The only maxim of a free government ought to be to trust no man living with power to endanger the public liberty. John Adams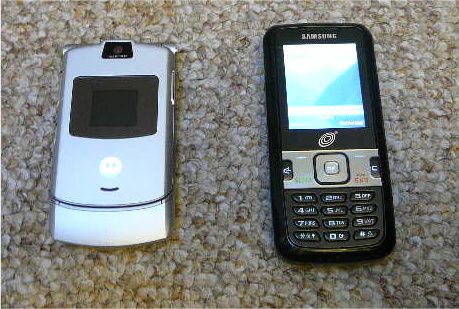 Motorola Razr V3 and Samsung R451c
How Does Straight Talk Unlimited Work?
The new partnership between Verizon, Walmart and Tracfone is becoming a major force in Unlimited cell phone plans. What are the limits of Unlimited Straight Talk?
Net10 Checking Voice Mail without Using Minutes
. Checking voicemail while using a prepaid phone can get expensive. Here is a tip on how to check your Net10 voice mail without using minutes.
Tracfone vs Alltel U Prepaid