Can I get a Smart phone for Straight Talk Cellular from Wal-Mart???
Yes there are now several Smart phones available from Straight Talk.  You most likely will not find them at your local Wal-Mart but there will be several at the
Straight Talk Website
.
Phones are available with Touch Screens, Mp3 players, removable mini SD memory cards, Wifi, QWERTY keyboards and more. With the unlimited plan you also get Unlimited data for this nice little smartphone for only $45 a month.
Straight Talk Smart Phones
Straight Talk Samsung T528 Smart Phone
The Samsung T528G is  a New Release from Straight Talk. 
3.0" Touch Screen
Mobile Web Services
3G/WiFi Connectivity
Multi Tasking and App Capable
2.0 Megapixel Camera and Video Recorder
MP3 Player(cable and microSD card not included)
Bluetooth® Wireless Technology
A Service Plan is required to complete purchase
Unlimited Plan Only Phones
There are now a few Straight Talk Smart Phones that only work with the $45 per Month Straight Talk Unlimited Plans.  The Unlimited service allows you to get the most use of many of the smartphone features.  You will not be able to use these if you want to use the $30 per month 1000 minute, 1000 text "All You Need" plan.


Nokia E71 Smart Straight Talk Phone 


This phone will only work with the $45 Unlimited Plan
Nokia 6790 Smart Phone from Straight Talk
This phone will only work with the $45 Unlimited Plan
3G
Slider QWERTY Keyboard
IM Instant Messaging
Multiple Email Accounts
Free Voice-guide Navigation
2.0 Megapixel Camera and Video Recorder
4GB microSD Card Included
Music Player (cable not included)
Mobile Web Services
Bluetooth® Wireless Technology
Take a look at
Straight Talk Wireless Nationwide for $45 a month
Reconditioned Straight Talk Wireless Phones
The only place to get refurbished Straight Talk phones is at
Straight Talk.com
. Usually you can save between twenty and forty per cent on your phone purchase by buying a refurbished phone.
Can I use my T-Mobile phone for Tracfone Straight Talk?
No, only Straight Talk Cellular from Wal-Mart phones will accept Straight Talk Prepaid phone cards.
One of my favorite quotes:
The Hebrews have done more to civilize men than any other nation. If I were an atheist, and believed blind eternal fate, I should still believe that fate had ordained the Jews to be the most essential instrument for civilizing the nations.
John Adams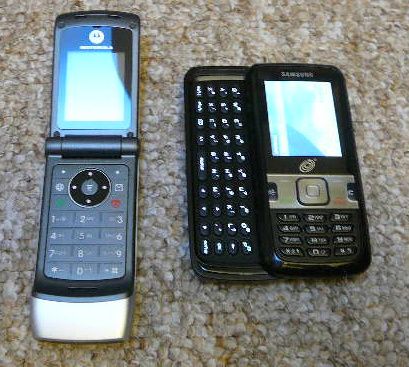 Motorola W385 and Straight Talk Samsung R451c
Who Has The Best 25 Dollar Cell Phone Plan?
How many minutes can I get for $25 a month? Can I get Nationwide Roaming also?
Net10 Cellular Three Cents per Minute Plan.
Net10 no longer charges 10 cents a minute all the time. You can easily get prepaid minutes for less than 10 cents. Here is a breakdown of their new Monthly Prepaid plan.
Tracfone vs T-Mobile Prepaid