Straight Talk is carrying over their
Huge Black Friday Sale
.  For the first time ever they are giving away Free Phones with the purchase of a $30 or $45 phone card. 
Online they are giving away the $99 Samsung R451C with slide out Qwerty Keyboard, the $99 Samsung R355c Blackberry style qwerty keyboard phone, the $80 LG 290c Slider Phone and the $40 LG 220c Flip Phone.  
Straight Talk has just add the Samsung R355c to the list of Free Straight Talk Prepaid Wireless Phones.

You can also get a Free
Straight Talk Samsung R451C
Cell Phone from Straight Talk with the purchase of a phone card.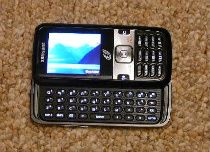 Check out what they have left,
the Online Free Straight Talk Phone sale is scheduled to end December 17th.  While this special has ended they now have a couple of different phones available free with the purchase of a phone card.
Straight Talk  Black Friday Free Phone Speicals
If you are not familiar with Straight Talk Prepaid Wireless  here is a link to
Straight Talk Frequently asked Questions
which will answer most of your questions.
Buy 2 and have a Spare
 You are only paying for a month of service which you will need to buy anyway.   It is nice to have an extra battery, charger or you can give away your spare phone as a gift.