St. Monica - St. Michael School is able to serve our students and families because of a team effort from many people.
Volunteers and fundraising efforts are crucial to our continued efforts to keep our school vibrant, academically challenging and financially solvent. 
Volunteering Helps Keep Tuition Affordable
The actual cost of education per child is $11,000.
Volunteer work helps to offset this cost and keep the tuition at affordable rates. 
How You Can Help
Each family is asked to commit 20 hours of volunteer work per school year. Hours may be submitted to the office. Quarterly reports of completed course will be sent home to families. 
Volunteer hours include:
Fundraising
Maintenance Work (e.g. painting, cleaning)
PTO projects (e.g. Friday popcorn, pizza day, driving for field trips, volunteering in classrooms)
Events
As event dates are finalized we will post them here. Click on the 'Sign Up' button to volunteer for an event.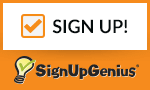 Month
 Event Date
 Event
 September
 9.14.17
 Open House
 
 
 
 October
 10.09.17
 Gator Sales @ Bingo
 
 10.14.17
 Gator Sales @ Shaw's in Berlin
 
 10.20.17
 Gator Sales @ Bingo
 
 10.21.17
 Benefit Dinner
 
 10.21.17
 Gator Sales - Canvasing neighborhoods
 
 10.22.17
 Gator Sales - Canvasing neighborhoods
 
 10.26.17
 Pumpkin Glow
 
 
 
 November
 11.01.17
 All Saints Day
 
 
 
 December
 
 Craft Fair
 
 
 Christmas Concert
 
 
 Pajama Give Away Program
 
 
 
 January
 
 Winter Activities
 
 
 
01.28- 02.03.18  Catholic Schools Week
 
 
 
 February
 
 Variety Show
 
 
 
 March
 
 Movie Night
 
 
 
 April
 
 Game Night
 
 
 
 May
 05.07 - 05.11.17
 Teacher Appreciation Week
 
 
 Book Fair
 
 
 
 June
 
 Field Day
 
 
 End of Year Dance
 
 
 Graduation