1993
American Sportscopter (ASI) was formed in 1990 to produce an ultralight helicopter to FAR Part 103, which was designated Ultrasport 254. This kit-built machine first flew in July 1993. It is a single-seater with a semi-enclosed composite fuselage structure, skid undercarriage and a tubular tailboom with tailplane and twin fins and a tail rotor enclosed in a large circular shroud. It is powered by a 55hp Hirth 2703 engine mounted behind the cockpit rear bulk-head. The Ultrasport 331 is a larger version of the 254 falling within the American "Experimental" category (FAR Part 21.191g), with increased range and higher gross weight. This first flew in December 1993. It was followed by the Ultrasport 496 two-seater which commenced flight testing in July 1995. It has a wider cabin than the 331 and uses a 95hp Hirth F.30 engine. The Ultrasport helicopter kits are manufactured in Taiwan.
R.Simpson "Airlife's Helicopter and Rotorcraft", 1998 
American Sportscopter International Inc. was founded in 1990. North and South American markets are covered by US office; rest of world by Taiwanese office. An unmanned surveillance prototype named Vigilante 496 (first flight February 1998) was developed by SAIC. In late 2001, ASH was looking at providing armament, including 70mm rockets and Hellfire missiles.
ULTRASPORT 254 and 331
TYPE: Single-seat ultralight helicopter kitbuilt.
PROGRAMME: Prototype (254 version) first flight 24 July 1993 and publicly displayed at Oshkosh that year. Two prototypes built and tested. Prototype 331 (N331UV) first flew December 1993. LBA certification was expected by early 2002: version is only marketed in countries where ultralight helicopters are regulated to company's satisfaction. In late 2002, it was announced that Huzbou Taixing Aviation Technology of Huzhou, China was producing helicopters from kits, including examples of Ultrasports.
CURRENT VERSIONS: Designations reflect empty weight in pounds.
Ultrasport 254: Single-seat ultralight to FAR Pt 103.
Ultrasport 331: Experimental category FAR Pt 21.191(g); single-seat 'growth' model. Meets FAA 51% amateur-built kit rules.
Ultrasport 331H with 48.5kW Hirlh H32 added to range in 2003 and will eventually replace the Ultrasport 331.
CUSTOMERS: Total of 70 single-seaters sold by end 2002, of which more than 50 were flying.
COSTS: US$37,900 (2003).
DESIGN FEATURES: Design objective of 254 was basic weight not to exceed 115kg (254 lb) in order to comply with FAR Pt 103. Two-blade composites construction main rotor with tip weights for momentum conservation m event of engine failure, 8° linear twist and infinite life; shielded two-blade tail rotor; tailplane with tins at tip; tail rotor drive carried in narrow streamlined tailboom. Centrifugal sprag clutch for starting engages rotors at 2,000 engine rpm and automatically disengages in the event of engine failure. Quoted build time 80 hours. Broad (2.44m) skid track helps to prevent rollovers.
FLYING CONTROLS: Conventional collective, cyclic and yaw pedals. Floor-mounted cyclic option available since 1998; early models had top-mounted stick.
STRUCTURE: Generally of epoxy resin, graphite fabric and Nomex honeycomb; aluminium tailboom.
LANDING GEAR: Aluminium skids stressed for landings at up to 2.5g; floats (weight 18kg) optional.
POWER PLANT: One 48.5kW Hirth 2706 dual-carburettor two-stroke engine with electric starter (also option for 254) or Hirth H32 of same power in 331H; 12:1 planetary transmission. Fuel capacity 38 litres.
ACCOMMODATION: Single seat enclosed.
SYSTEMS: Electrical: 12V battery; 14V alternator fit appropriate to engine.
AVIONICS: Customer choice.
Jane's All the World's Aircraft, 2004-2005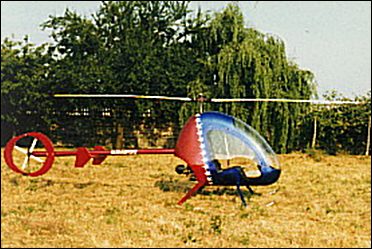 Technical data for Ultrasport 331
Main rotor diameter: 6.4m, tail rotor diameter: 0.76m, length with rotor blades folded: 5.84m, height: 2.39m, take-off weight: 294kg, empty weight: 150kg, max level speed: 167km/h, cruising speed: 101km/h, max rate of climb: 305m/min, hovering ceiling, IGE: 3290m, hovering ceiling, OGE: 2135m, range with normal fuel at 100km/h: 241km