Q&A #28:  There's a new World's Record and new American Record in the Women's 1500 --- both set in the same race. Who broke these records?

Dibaba's stunning 3:50.07 world record
Shannon Rowbury new American record
 --- runs 3:56.29 to finally replace Mary Decker/Slayney'
s 32-yr old mark
by: LetsRun.com
July 17, 2015
3:50 is one of those nonsense times, something you'd be laughed out of the bar for even mentioning as possible coming into the year 2015. When Genzebe Dibaba ran 3:54.11 nine days ago in Barcelona — the fastest time in 18 years — it caused a minor riot on the small corner of the Internet devoted to track and field. Surely, that was as good as it gets?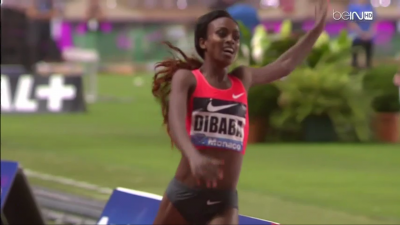 Genzebe Dibaba Runs 3:50.07 for 1500m
Yet on a night of unbelievable performances in Monaco, Dibaba's stunning 3:50.07 world record relegated everything else to an afterthought. Sorry Asbel Kiprop,your 3:26 will have to wait. You too, Amel Tuka. July 17, 2015 will forever belong to Genzebe Dibaba.
After dropping the Netherlands' Sifan Hassan — who bravely followed Dibaba in the early laps — at the bell, Dibaba crushed a 59.79-second final 400 to break the record, collapsing at the finish line in a mix of euphoria and utter shock. In three minutes and 50.07 seconds, Dibaba had astonished the world while redefining what is possible for a female runner.
China's Qu Yunxia had held the suspicious 1500 world record of 3:50.46 for 21 years, 10 months and 6 days. Since the day Yunxia set it in 1993, the only women who had come within four seconds of that mark were Dibaba (last week) and four of Yunxia's Chinese countrywomen who ran between 3:50.98 and 3:53.97 in an equally suspicious race in Shanghai four years later (many suspect that Yunxia and her countrywomen achieved their times through the use of performance-enhancing drugs, though the IAAF has not nullified the times). Many observers of the sport thought it would take decades for another woman to run 3:50, if it were to ever happen at all.
Behind Dibaba, the times were predictably fast as Sifan Hassan — the only one to go with Dibaba and rabbit Chanelle Pricein the early laps — held on for second in a Dutch national record of 3:56.05 (the fastest non-Dibaba time in nine years).Shannon Rowbury crushed Mary Decker-Slaney's 32-year-old American record of 3:57.12 in third, running 3:56.29 whileJenny Simpson, who led the chase pack for most of the race, ran the second-fastest time of her career, 3:57.30. In all, eight of the top nine women set PRs.
The Race
Dibaba spoke in the days leading up to the meet that she believed she could run faster than the 3:54.11 she clocked in Barcelona, and she wasn't just blowing smoke. She sprinted out to a 60.3-second first lap behind personal rabbit Chanelle Price and the record attempt was on. Hassan, eschewing her usual slow-start strategy, was the only woman to go with her as the rest of the field settled in behind the second rabbit, Tamara Tverdostup.
By two laps, it seemed as if Dibaba had bitten off more than she could chew as she slowed to 2:04.5 at 800 meters. At that point, Hassan remained on her heels with the second pack 1.5 seconds back. Yet as Price dropped off, Dibaba hit the gas. Hassan continued to follow but began to struggle entering the home stretch for the penultimate time as their lead over the rest of the field ballooned to an enormous margin (it was so big that the rest of the field wasn't even in the picture on the beIN Sports broadcast).
At the bell (2:50.28) Dibaba had six meters on Hassan and needed a 60.17 or better for the record. Could she possibly have anything left after 1100 meters at breakneck speed?
It quickly became apparent that the answer was yes. Hassan fell off immediately as Dibaba rounded the penultimate turn and with 200 to go (3:19.7), she was all alone. The crowd roared her on as she hit the home stretch; it was going to come down to the wire. No stranger to digging deep after her four indoor world records in the past two years, Dibaba strained to use every remaining ounce of energy and threw herself across the line. She then looked over to the clock, and upon reading "3:50.08" (later corrected to 3:50.07), she fell backwards onto the track in celebration, her eyes widening in a state of disbelief. Dibaba pumped her fists as she rose to her feat, squeals of delight escaping periodically from her lips.
Many of the world's best 1500m runners descended upon Monaco on Friday and nearly all of them brought their "A" game with 10 of the top 12 setting lifetime bests. However, one man was head and shoulders above everyone else. Kenya's Asbel Kiprop put on a running exhibition of sublime beauty as he absolutely crushed the field, winning by over two seconds in 3:26.69, to become the third-fastest human being ever at 1500. 2012 Olympic champion Taoufik Makhloufi joined the sub-3:30 club in second in 3:28.75, Morocco's Abdelaati Iguider become one of the top 10 fastest of all time in 3rd in 3:28.79, Mo Farah ran 3:28 (3:28.93) for the second time in Monaco in 4th, Nick Willis lowered his Kiwi record to 3:29.66, and Kenyan newcomerElijah Manangoi chopped 5 seconds off his personal best to join the sub-3:30 club in his first Diamond League race. American Matt Centrowitz was well beaten in 10th, but left with a 3:30.40 pr, a time that makes him the fastest American-born runner in history (and #3 American overall).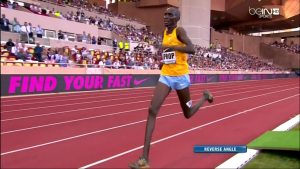 1500 meter running at its finest
The Race:
This race was all Kiprop. The last two years in Monaco he showed himself to be the only runner in the field to not be afraid to go with the rabbits and it was no different this year. The two rabbits, Andrew Rotich and Jackson Kivuva, took out the opening 400m in 53.72 and Kiprop was with them with a gap back to Mo Farah. The same five-meter gap was there at 800 as Kivuva hit 800 in 1:50.37. Kiprop then began to take over. He followed Kivuva onto the homestretch and then Kivuva drifted wide letting Kiprop know he was all alone. Kiprop hit 1100 in just under 2:32 and the closest challenger was Farah in about 2:33.5 as 10 guys came through under 2:45.
Kiprop did not come back to the field like he did last year in Monaco. He ran away from them on the final lap. It was him versus the clock and he stopped it at 3:26.69. There was a three-way battle for second and Makhloufi finished just ahead of Iguider and Farah. Nick Willis just edged Manangoi for a top-5 spot. The top 10 were well clear of the rest of the field. Matt Centrowitz was last in the group and he still left with a .69 of a second pr.
Quick takes below.
Quick Take #1: Kiprop is King
Silas Kiplagat was not here today andAyanleh Souleiman was running the 800, but Kiprop showed when he brings his "A" game, he is the king of the 1500m. Nearly all the top guys set lifetime bests and this race wasn't even close. You know the phrase – "A man among boys." Well this was "A giant among men."
Two guys both ran 3:28 in this race and yet look how far back everyone wa