Weird 4 x mile
Villanova's Jordan Williamsz Takes Down Oregon's Edward Cheserek In Riveting, But Bizarre Men's 4 x Mile at 2015 Penn Relays
April 23, 2015 to April 25, 2015
Philadelphia, PA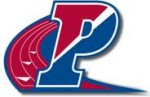 April 25, 2015
Edward Cheserek once again isn't unbeatable at the collegiate level.
For the second time since last year's NCAA Outdoor championships, Edward Cheserek was defeated in collegiate competition today as Villanova's Jordan Williamsz gunned him down at the end of a riveting, yet bizarre final leg of the 4 x mile Championship of America race at the 2015 Penn Relays. The final leg  reminded us more of a cycling race than a running one but it was fun to watch. After a 52 last lap, Williamsz and Villanova were the winners in 16:18.07  to Oregon's 16:18.93.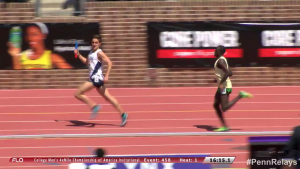 Jordan Williamsz makes sure he's got it
The Race
The very windy weather that had slowed races down a lot the last few days in Philadelphia was much less windy today (7 mph a few minutes before the race when we went to Weather.com) and the opening legs took advantage of it. Things went pretty much as expected on the opening legs as Villanova and Oregon were neck and neck. Oregon was .3 of a second better on leg 1, Villanova was .3 of a leg better on leg 2. The only huge surprise was that Cornell, headed by coach Zeb Lang(formerly coached by LetsRun.com co-founder Robert Johnson), was right there with them. Cornell had stacked its lineup from fastest to slowest and sophomore James Gowans (3:45 pb) and junior Ben Rainero (3:45 pb, a US jr finalist at 1500 in 2012) came through big time.
In the end, this one was destined to be a two team affair just as everyone expected. But before we got down to the Cheserek-Williamsz action on the last lap there was a lot of bizarre action before then. As the third leg progressed, the race separated into a two team battle between Oregon and Nova. Oregon's Will Geogheganstarted to pull away with about 300 to go on leg # 3 from Villanova 5000 ace Patrick Tiernan. Just when one started to wonder if the 13:31 Tiernan was overmatched at the shorter mile distance, he turned on the jets over the final 200 and handed off right behind Oregon as Geoghegan split 4:01.0 to Tiernan's 4:01.1.
Cheserek versus Williamsz straight up. This is what we wanted to see. And boy did it live up to the hype.
The clock read 12:04.4 when Cheserek started his final mile. Any illogical dream of a 3:55.5 anchor for the first sub-16 in history was immediately quashed when the first few steps of the anchor leg were very slow.
Cheserek, who time after time at the NCAA level has thrived by keeping the pace slow and then blowing everyone away on the last lap, stuck to his usual strategy. Except here, when he slowed it down, Williamsz, who is an 800/1500 guy(1:46.77, 3:36.74) smartly refused to lead. Cheserek went out into lane two on the first turn of the anchor but Williamsz stayed right behind him.
The two guys up front were jogging and soon the teams behind them started to catch up. Within a little more than 200, Stanford (who began the anchor leg 3.9 seconds back), Georgetown (who was 6.7 seconds down) and Cornell were are all with the lead pack again. As the pace continued to dawdle, more and more teams started to catch up.
From 400 to 500 into the final leg, Cheserek and the others up front nearly stopped running. They literally almost came to a complete stop. Finally Georgetown's Ahmed Bile, the son of 1987 world 1500 champ Abdi Bile, came up on the outside to the lead with a sudden burst but he then bizarrely looked up into the stands and slammed on the breaks himself. The crowd booed, as these guys were imitating cyclists on a track. Finally once Cheserek realized no one was going to lead, he went to the front again and resumed a somewhat-normal pace (normal as in modest 5k pace).
This is what we had for the leader's 400s on the last leg from the finish line:
1st lap: 65.5 (Cheserek leading)
2nd lap: 68.5 (Ches leading)
900 meters into the leg, Cornell went into the lead and 9 teams were in contention (Penn, Oklahoma, Wisconsin and Indiana had also caught up to the leaders). But for the most part, none of the guys catching up from behind wanted to lead either as most of them had worked pretty hard to get up there. For example, eventual fifth placer Wisconsin got back into the thick of things and at the start of the last leg they were 17.3 seconds down. Yes, Joe Hardy caught up and yet he split 'just' 4:02.3 on the leg. They third lap was also a crawl.
66.1 (Oklahoma leading, Cheserek right behind)
The last lap was bound to be a burner. With 300 to go, Wisconsin's Joe Hardy went to the lead but Cheserek was just waiting to make his move. With about 200 to go, Cheserek turned on his jets and went to the lead. For a second, it looked like Williamsz might be boxed in by the fading Hardy (directly in front of him) and Stanford's Sean McGorty (running directly to his right) but he squeezed through and had a clear line on Cheserek heading into the final turn. Williamsz pulled even and then ahead as they entered the short Penn Relays homestretch. Cheserek had no response and Villanova was your champion.
Williamsz' final 400 was probably a few tenths faster than 52.5 since he was in fourth at the bell.
Quick Thought #1: Williamsz followed Rojo's advice and ran a tactically brilliant anchor leg. We haven't even looked at the messageboard but we are sure it's exploding with people complaining about how slow the anchor leg was (Williamsz split 4:13.6, Cheserek 4:14.5). Not us, we found the last leg to be riveting. It will be interesting to see if this race causes Edward Cheserek to change his tactics moving forward. He's always been content to sit and kick. In distance races, that's probably still a perfectly fine strategy for him as after all he is the reigning NCAA champion at 10,000 and mile. But in a short race like this, going out in over 3:20 for your first 1200 isn't a great plan against a 3:36 guy like Williamsz.


I take a more benign view of yesterday's 4xMile race in the Penn Relays than do some Oregon fans, who aren't happy about the way Villanova's Jordan Williamsz bested Edward Cheserek on the anchor leg.
Here is what I wrote about it. You can check out the debate in the comment section below that story to see some of the reaction.
Lost in the uproar, in my opinion, is that for all his talent, Cheserek is relatively young as an elite runner. He still hasn't completed his sophomore season.
The sit-and-kick strategy served him well up until yesterday, when nobody would let him breeze comfortably behind the leaders until it was time to unleash.
This time they forced him to lead, no matter how much Cheserek slowed the pace. Williamsz, who himself has a nice set of wheels, was content to stay back, take Cheserek's measure and blow past him at the end.
Williamsz tells Flotrack he could tell Cheserek wasn't comfortable with the lead. And Williamsz' race plan was to let Cheserek be uncomfortable.
Maybe it's a lesson learned. Next time, when the other runners won't play Cheserek's game, maybe he will take the race to them.
That's what Meb Keflezighi advises. In this Flotrack video, he says he didn't likeOregon's tactics. Meb says Cheserek should have scrapped the race plan and widened his lead, forcing Williamsz and company to push to keep up.
The experts at LetsRun.com, who have no dog in the hunt, weren't complainingabout the 4xMile anchor. They were into the strategy, and found the race riveting.
Overall, Oregon's performance at Penn was uneven. Dramatic victories in the women's sprint relay and the men's distance medley relay were balanced by the inability of the women to get baton around in the 4x100 and the upset loss in the men's 4xMile.
Left unexplained are why distance star Eric Jenkins wasn't part of the UO traveling party, and why Oregon athletes entered in individual events didn't run in them.
But in the big picture, the Penn Relays essentially are a mid-season exhibition. The more important races and meets lie ahead. If you're going have exchange problems in the relays or strategic hiccups in the distances, this is a much better time and place to have them than when it matters in June.


Villanova's Jordan Williamsz Made Him Work For It, But In The End, Oregon and Edward Cheserek Win The Men's DMR at The 2015 Penn Relays
April 23, 2015 to April 25, 2015
Philadelphia, PA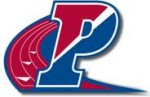 by LetsRun.com
April 24, 2015
Oregon's Edward Cheserek had to work for it, but in the end, he found a way to get past Villanova's Jordan Wiliamsz to win the men's distance medley relay at the 2015 Penn Relays today. After a 3:59.44 final leg, Cheserek and Oregon were your winners for the second year in a row in 9:33.86 as Nova and Wiliamsz (3:58.94) were second in 9:34.36.
The Race
Columbia was the surprising leader after the three opening legs, but there was no way sophomore Rob Napolitano, a 4:00 performer indoors, was going to run away from the guys behind him. Cheserek and Williamsz — both 3:36 guys — were lurking not too far behind. Oregon's Cheserek was about 10 meters back (1.43 seconds) and Villanova with Williamsz was just a second behind Cheserek.
300 meters into the anchor leg, King Ches was with the leader and it soon just became a wait for the last lap.
On the last lap, Cheserek didn't blow things open on the backstretch like last year. Instead it was Williamsz who took the lead with about 250 to go with an inside move. Cheserek responded and went after Williamsz. Williamsz made Cheserek dig deep and there was even contact between the two near the end of the final turn. Once Cheserek got the lead with a little more than 100 to go, he never relinquished it but he had to dig deep and repeatedly looked over his shoulder to make sure Williamsz wasn't getting a second wind.
Cheserek admitted he had to work for it after the race was over. "It was really tough," said Cheserek on the FloPro broadcast after the race before adding a somewhat contradictory message of "I tried to take it easy today" as he has more races to come.
Quick Thoughts, results and screenshots below.
Quick Thought #1: This race went almost exactly as we said it would in our race preview. What we really want to see is Ches vs. Williamsz straight up or maybe the reverse of what we had today, Ches vs. Williamsz but Williamsz starts with the lead. Straight up, the edge still goes to Ches but with a lead for Williamsz of a few seconds, it would be really interesting.
Quick Thought #2: One of the reasons we don't like the DMR nearly as much as an event as say the 4 x 800 is the fact that it all comes down to the anchor. The teams with the three fastest anchors went were all in the top 3.
College Men's Distance Medley Championship of America Invitational