Enormous congratulations to Nike, which this week moved one giant step closer to its assumed goal of branding a swoosh on to the forehead of all human athletes. The champion middle-distance runner Nick Symmonds has been dropped from the United States team for this month's World AthleticsChampionships for his failure to agree to draconian apparel-related terms in the USA Track and Field contract.
Symmonds won 800m silver at the 2013 worlds in Moscow, but will not be making the journey to Beijing on account of his refusal to don a Just Do It T-shirt even while showering before bedtime (I paraphrase, but only slightly). To clarify: Symmonds, who is sponsored by Brooks, was entirely happy to wear the Team USA gear in competition, in training, at any awards ceremony, and for press conferences. What he took issue with – and really, who do these uppity trackbots think they are? – is USATF's stipulation that he should "pack ONLY Team USA, Nike or non-branded apparel", to prevent a single off-brand moment even during his downtime in the athletes' hotel. (If only McDonald's and Coca-Cola had the courage to insist footballers dined solely on their wares during all Fifa competitions.) Apparently, the mere act of being in the hotel constitutes an "official event" under the terms of USATF's deal with Nike, and Symmonds's refusal to accept this has seen him left off the team, despite having qualified by winning the 800m at the national championships in June.
 A Tweet from 
@NickSymmonds
 detailing a letter he received from USATF. Photograph: Twitter
Which raises a few points. The first is that I hope there is going to be a Nike advert about all this. Remember, there is no piece of poor PR that the alchemists in the Nike marketing department cannot and will not shamelessly co-opt into a spine-tingling, inspirational commercial. The masterclass example has to be the ad that came in the immediate wake of the revelation that Tiger Woods had a raging cocktail waitress habit, and which featured Woods staring solemnly into the camera as the disembodied voice of his dead father – his dead father! – asked him pointedly: "Did you learn anything?"
Well I don't know about you, but I learned that there were no places Nike, and indeed Woods, would not go in the interests of selling sneakers. (Don't even start me on Tiger's presidential-style press conference with his mum in the front row. He literally was sex addiction's greatest-ever competitor.)
Anyway, back to Symmonds. Quite what form the Symmonds-related advert would take is unclear, though in keeping with the presidential theme for moments of stress, perhaps Nike could make it a traditional attack ad, in which Symmonds is accused of being un-American and unsporting, and – by implication – either a communist or a Muslim or whatnot.
I'm sure they would contrive to contrast him very unfavourably with Team USA captain – and Nike star – Justin Gatlin, who'll clearly put anything on his body to be able to compete. I'm talking about sweat-wicking performance apparel, of course, as opposed to patchouli-and-testosterone scented buttock cream.
Doubtless Symmonds could also be thrown into unsympathetic relief against Galen Rupp, the leading light of Nike's Oregon project – currently mired in what might kindly be referred to as controversy – and believed to actually sweat swooshes. Meanwhile, the firm's dominance of the visuals for Team USA has increasingly resulted in other companies withdrawing from the sponsorship market, on the basis that at their biggest moments athletes will be wearing swooshes whether they like it or not. Which handily drives down the price of contracts for Nike, and partly accounts for Symmonds' protest.
He won't be short of cautionary tales about the perils of crossing Nike. I recall being in Beijing for the 2008 Olympics after the local hero Liu Xiang had to pull out of the hurdles. When an anonymous web poster claimed that Nike had forced Liu's withdrawal, knowing he wasn't going to win, the firm took the nuclear stepof reporting the matter to the notoriously cuddly Chinese government and asking it to investigate. I wonder what happened to that blogger? I doubt Nike does.
That Nike is on the wrong side of practically every moral argument barely needs stating. But with his sacrifice, the business-minded Symmonds is shaping up as an interesting advocate for athletes' rights in an age where competitors are still required to be self-defeatingly unworldly even as the vast corporations that have carved up sports with the governing bodies watch major events spray money into their bank accounts.
In this looking-glass world, contravention of their demands becomes the worst possible sin in the hierarchy. It is the same moral environment in which Uefa fined the Spanish FA £45,000 for fans' racist chanting, half what Cameroon were relieved of for wearing the wrong kit in the Africa Cup of Nations that same year.
It's funny how quickly the grim double standard extends beyond the commercial and into the political, particularly as governing bodies insist on awarding sporting events to repressive regimes, then preventing the athletes that make those events from making any protests. Beijing, Sochi, Baku, Qatar … why should nation states be allowed to allowed to use entire sporting events for obviously political purposes, but athletes cast from the firmament for raising so much as a placard?
This is a question unlikely to bother any corporation, and it is certainly something the Nike-underwritten USATF is way too craven to address. But more power to all athletes who refuse to accept their subjugation not to Corinthian ideals, but to autocratically imposed corporate ones. Sport is irrevocably commercialised – that ship has sailed. But athletes ought not to be its galley slaves, and Symmonds deserves support from across the spectrum.
In light of the recent sponsorship dispute between Nick Symmonds and USATF, Athlete Advisory Committee Chair Dwight Phillips thinks Symmonds' argument would have been more powerful with the help of a collective athlete voice. 
"I think that his argument would have been more effective if it wasn't just Nick Symmonds. If one person has a problem, it's an issue but if you have 10, 15, 20, 30 people that have that same problem, then this is something that's urgent and we have to address because it's not just one person," Phillips said over the phone. 
The dispute between Symmonds and USATF originated when the two-time Olympian refused to sign the Statement of Conditions required of all athletes competing for Team USA at the World Championships. The contract required that all athletes wear Nike-issued Team USA gear to all "team functions" while at the championships, a requirement that Symmonds felt violated his current contract with Brooks Running. The 2013 World Championship silver medalist was reportedly in negotiations with USATF CEO Max Seigel in an attempt to come to an understanding on the issue, but reached an impasse. 
USATF informed Symmonds that he had until noon on Sunday to sign the contract before he would be left off the team roster. Symmonds refused, citing the fact that he believed the contract to be too ambiguous, and as a result was left off the Team USA roster heading to Beijing. 
As the AAC Chair and four-time World Champion in the long jump, Phillips leads the committee that represents the collective athlete voice within United States Track & Field. He believes that change could have been made more effectively if Symmonds had approached the committee on the issue. 
"From my understanding he [Symmonds] had conversations with Max Seigel but he never presented us anything at the AAC so when something like this arises, when one person has a problem or an issue, we try to come to a resolution as the AAC Chair with our leaders and officers, but Nick never came to us. Nick went directly to Max Seigel and he went straight to the press," Phillips said. 
The purpose of the AAC is to represent American athletes' voices within the national governing body of track and field. It is a committee that meets once a year at the USATF Annual Meeting in December, where athletes can present issues as a collective group in order to implement change in the sport. 
"We would have loved to have had Nick come to us because there may have been other athletes that were willing to make that same sacrifice because ultimately, the athletes can change everything, one athlete can't," Phillips said. "But if we have collective athletes share the same sentiment, we can change a lot in our sport, but that's not what's happening."
Phillips, a four-time World Champion and Olympic gold medalist in the long jump had the experience of representing Team USA multiple times, an experience which also included sponsorship conflicts. 
 
"I was a Nike athlete, but I had an adidas uniform that I had to wear on the podium. It wasn't about me representing Nike or me representing adidas. It was about me representing all of our fore fathers that paved the way and gave me the opportunity to represent the United States," Phillips explained. 

"It was more about that, it wasn't a selfish thing about money, it was more about my country, my family, the sacrifice and how hard it was for me to accomplish my goal," Phillips said. 
Since the news broke that Symmonds would not be competing at the World Championships, track as well as mainstream media outlets have covered the issue extensively and a social media frenzy has ensued between track athletes and fans with the hashtag 
#LetNickRun
. Even a petition was created on 
Change.org
for fans to vote on Symmonds competing at the World Championships. 
"He [Symmonds] doctored it to make him look like the victim and make USATF look like the bad guy and you know what? I would have done the exact same thing. If I have an argument, and I want to support my argument, I'm going to use whatever spin I have to do to support my argument," Phillips said. "He had an argument, he has something that he believes strongly in and he's standing by it, not backing down from anybody."
Phillips responded to the growing issue with a release on the USATF Athletes Advisory Committee Facebook page with the hope of clarifying the opinion of the collective athlete voice. 
 

With the USATF Annual Meeting in Houston this December, the AAC will have the opportunity to meet in person and present a case to the USATF Board of Directors on changes, if any, that need to be made. 
"We [AAC] want to embrace change for the better. Every year since I can remember, we go to the Annual Meeting with the intention of raising hell and being chaotic, but we want to change that whole paradigm and make it more of a mission to change things and come to a resolution," Phillips said. "That's what the AAC is working so diligently to do so that we can make sure that the experience we have in Houston is going to be one to embrace change."  
"We have a document that's ambiguous, and I think we need to clarify that, and that's just the bottom line. It has to be clarified," Phillips explained. 
As of this week, Phillips said that he had had conversations with Seigel which indicated further discussion on a resolution between the dispute with Symmonds and USATF. Phillips himself believes that change is entirely possible with the right tactics, which do not involve the current social media feuds he has witnessed.
"I would like for us to come to a resolution together. Sometimes with social media, or going to the media and being at odds can be a huge detriment to our entire sport," Phillips said. "There's always some type of conflict going on in the sport and to the outside world and it makes us look like amateurs." 
Despite the recent social media explosion that has taken place, Phillips stands by his belief that change can be made with a collective athlete voice, starting with the AAC at the Annual Meeting. 
"I think we need to provide a lot more clarity to our athletes, even USATF needs to be more transparent. All of our athletes, Nike or not, if they truly feel that we have a problem, we need to stand behind that. If we all sacrifice, we can gain an incredible life in our sport for the athletes," Phillips said. 
"If we just have one person sacrifice, we can start a spark for a fire, but we can cause a lot of havoc if we come together as athletes and make change. I truly believe that, I know it can happen," Phillips explained. 
Nick Symmonds' stand highlights sponsorship issues within USA Track & Field
Nick Symmonds poses with the flag after winning the 800-meter silver medal at the 2013 World Outdoor Championships.(Alexander Zemlianichen/AP Photoko)
By 
Ken Goe | The Oregonian/OregonLive 
Email the author
 | 
Follow on Twitter
on August 11, 2015 at 6:41 PM, updated 
August 11, 2015 at 6:42 PM
Nick Symmonds was in Seattle Tuesday, working out with his Brooks Beasts training group and deciding what to do next.
USA Track & Field dropped the two-time Olympian and six-time national champion from the U.S. team that will compete in the 2015 World Outdoor Championships, beginning Aug. 22 in Beijing.
USATF acted Monday after Symmonds refused to sign a mandatory "statement of conditions" requiring him to wear, Nike-branded, official team apparel at all team functions.
The term "team functions" was undefined. Symmonds said it has been interpreted to mean any time he appears in public while on a trip with Team USA, even on a solo quest for coffee.
To make sure he understood the point this time, USATF followed up with a letter to Symmonds in which it advised him to pack ONLY gear that carried the swoosh or was unbranded.
Why does he care?
Well, Symmonds is sponsored by Brooks. If he always wears Team USA gear during trips to high-profile events such as a World Championships or an Olympics, that doesn't help his sponsor.
"He would be gone for what, a month including training camp?" Lauren Fleshman asked. "That is 1/12th of the year when he can't rep his sponsor, even casually.
"What a lot of athletes don't understand is that Nike is so all-inclusive it leaves little or no room for any other sponsor to get exposure. The economic analysis would definitely show that significantly harms the sponsor relationship."
Fleshman is a two-time U.S. 5,000-meter champion who left Nike in 2012 for an ownership stake in Oiselle. Oiselle makes athletic apparel for women and sponsors some elite track & field athletes.
Nick Simmonds chugs a Budweiser after his race at the inaugural Flotrack Throwdown at Duniway Park in Portland, August 8, 2015. Thomas Boyd/Staff
"Nike never is going to sponsor everybody," Fleshman said. "But for other sponsors to enter the economic market place, it has to be worth it."
Of course, Nike paid for the right to be USATF's official apparel provider. And Nike and USATF will enter into a new deal beginning 2018 and running through 2040 that is reportedly worth $500 million.
Nobody seems to have an issue with athletes being required to wear the team uniform in competition, in team photos, in awards ceremonies, etc.
But that would seem to leave a lot of time during most days that wouldn't seem to fit into any reasonable definition of a team function.
Social media has made this a bigger issue. An athlete sponsored by, say, Brooks or Oiselle can use Instagram, Twitter or Facebook to send out photos or videos of themselves lounging around the U.S. team hotel in Brooks or Oiselle gear.
While that might not sit well with USATF or Nike, sports attorney Nancy Hogshead-Makar said it shouldn't matter.
She told The Oregonian on Monday that the Ted Stevens Olympic Sports Act puts strict limits on the ability of a national governing body -- like USATF – to prevent athletes from displaying their individual sponsors.
She called the USATF letter Symmonds received asking him to pack ONLY gear with the Nike brand or that is unbranded "an overreach" unless USATF is paying the athletes to endorse the Nike gear.
For its part, Brooks backed Symmonds' stand in a release, writing: "While we're disappointed Nick Symmonds won't realize his dream to represent Team USA at the IAAF World Championships in Beijing, we applaud his leadership in creating a dialogue around athletes' rights. ..."
World-class track & field athletes have relatively short careers. They make many sacrifices to get to that level.
Fleshman said most non-Nike athletes are unwilling to fight USATF over sponsorship issues because they don't want to risk an appearance in an Olympics or World Championships. Who knows if they ever would get another?
Symmonds, who won a silver medal at the 2013 World Outdoor Championships, is an exception. He appears to have a shot to make his third Olympic team next summer.
Few seem to believe Symmonds' stand will galvanize track & field athletes to suddenly organize and force USATF to change through collective action.
But Fleshman likens Symmonds to Ed O'Bannon, the former UCLA basketball player whose class action, anti-trust lawsuit forced changes in the way college athletes are compensated.
"Nick is very brave," Fleshman said. "This is one of the rare moments in history when the right person at the right time was willing to do the right thing. Love him or hate him, he is the one willing to do it."
IAAF World Championships on the BBC
Venue: Bird's Nest Stadium, Beijing Dates: 22-30 August
Coverage: Live on BBC TV, Red Button, Radio 5 live, online, mobiles, tablets and app
For an event that is usually won by the athlete who slows down the least, American 800m runner Clayton Murphy is getting faster and faster.
Coming into 2015, Murphy  had not beaten one minute 50 seconds for the two-lap race - a time that has not been internationally competitive for almost half a century.
So it would be fair to describe his victory at the Pan American Games  in Toronto last month - America's first in this event since 1999 - as a surprise, particularly as it was the first time Murphy had been outside the US.
For Murphy, the next stop is Beijing, whereas Nick Symmonds,  the man he replaces in the US World Championships squad and the country's best hope of an 800m medal, is left at home.
Murphy, 20, earned his passage to Canada with a fourth-place finish at the US Nationals in June, when he improved his time to record a new personal best of one minute 45.59 seconds.
This was just about internationally competitive, but it was timely as it has also earned him the berth for Beijing. 
Meanwhile six-time US champion Symmonds reached the final at the last three World Championships and the London Olympics and won silver at Moscow 2013.
But USA Track & Field  (USATF), the sport's governing body, hasdropped Symmonds in a row that looks like a trivial spat over what an athlete can wear to breakfast, but is actually an argument about athletics' viability as a professional sport in the US and elsewhere.
There could also be implications for international competition in other sports, too, particularly the Olympics.
The resourceful Symmonds was forced to cover up the advert he had tattooed on his shoulder at London 2012
But before we get to the possible outcomes of USATF's decision to give Murphy his moment instead of a solid medal prospect, let us return to the starting line.
Last year, USATF extended its link  with Nike, the Oregon-based sports giant, to 2040 in a deal worth a reported $500m (£321m), or £12m a year, plus signing bonus - a huge sum for an organisation with total revenues of about £8m in 2013.
USATF uses that money in much the same way as UK Athletics - funding grassroots initiatives, training coaches, hosting events and giving "stipends" to athletes. It says it will invest about £9m in athletes this year, much of that coming from Nike.
In return, Nike expects - as Adidas, Puma or any other major supplier would expect - American teams to wear the right kit on international duty, and that expectation is made contractual by the USATF "statement of conditions" that Symmonds was meant to sign after his victory in June.
But June became July, and as the 9 August deadline loomed for USATF to submit its Beijing squad to the International Association of Athletics Federation (IAAF), it became clear that Symmonds was not going to sign this contract.
He was also not going to do as he was told when his kit was delivered with the instruction: "Please pack ONLY Team USA, Nike or non-branded apparel and be sure to bring your Team USA gear."
That last piece of advice was sensible as the email had earlier read: "You are required to wear Nike Team USA apparel at all team functions throughout the trip, including at the athlete hotel, during training, press conferences, competition and award ceremonies."
Apparel, in this instance, is everything apart from shoes, sunglasses and watch, as they count as equipment, and team functions…well, therein begins the problem.
Symmonds does not wear Nike gear when running for anybody other than Team USA.
He used to but, like several other US athletes in recent years, he left the all-encompassing embrace of the world's most profitable sports brand to wear clothes and shoes made by somebody else; in his case, Seattle-based running specialists Brooks. 

The 31-year-old was wearing Brooks' distinctive yellow and black kit when he won that sixth national title, just as he was wearing Brooks clothing while drinking coffee at the team hotel for the World Indoors in March 2014. He was told off for that and reminded of the contract he had signed, which stated he was to wear the gear supplied by Nike.
His reply was to deny signing the contract - USATF maintains it had his electronic signature - and to question if his breakfast cuppa constituted an official team function.
Much has happened since that stand-off and none of it has helped signpost a path to compromise.
First, Nike and USATF raised the stakes by signing a more lucrative and long-term sponsorship deal.
Second, Symmonds' desire to control his own advertising space has hardened to the point he has become something of a hero to other athletes less able or willing to take on the sport's major sponsor and/or their governing body.
On his personal website, the biography  says he "strives to assist struggling athletes to obtain sponsorship" and that he is "determined to change the sport's governing bodies' marketing restrictions which only allow minimal advertising dollars to reach track athletes".
He has certainly backed up his words with deeds, auctioning off space to an advertising company for a temporary tattoo  on his shoulder in 2012. He then repeated the trick with tattoos depicting the logos of his own brand of caffeinated chewing gum on his biceps this summer.
So USATF cannot say it was not warned, and what had been a tit-for-tat dispute between them on social media has now exploded.
On Monday, Symmonds wrote a first-person piece for The Huffington Post  that not only summarises the dispute over what is and what is not an official team function - but demands a greater share of the sport's revenues for athletes and an inquiry into what he claims happened to more than £2m of unaccounted revenue in USATF's accounts.
He is also threatening to sue USATF for dropping him.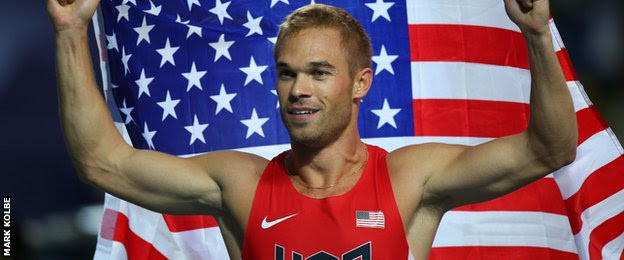 Symmonds had a personal deal with Nike in 2013 and was not so sensitive to the restrictive nature of his USATF contract
Symmonds was already receiving a lot of Twitter love from fellow athletes and coaches prior to the confirmation of his exclusion from the team, but there is now an online petition with 2,500 supporters set up to have him reinstated, as well as a #LetNickRun  hashtag, and athletics is back on the national sports radar.
USATF's response  so far has looked a little flat-footed in comparison, with Nike saying nothing.
It is true that Symmonds is far from being the only member of the US team in Beijing to have a personal deal with a company other than Nike.
It is also true, as the USATF's public affairs chief Jill Geer told me, that it uses some of Nike's money to pay for track meets to be televised - a situation that says much about the sport's status in the US - and it is that platform that makes athletes more attractive to sponsors.
But to compare NBA superstars  LeBron James (Nike) and Steph Curry (Under Armour), who recently met in the NBA Finals wearing uniforms supplied by league sponsor Adidas, to the relative paupers of American track and field is a tad disingenuous.
Symmonds, certainly, is not buying that one.
"Jill Geer saying Steph Curry doesn't whine about wearing Adidas when he's an Under Armour athlete…Jill, Steph's getting paid a lot of money by the NBA," he said recently.
"There is a great deal of revenue-sharing going on in the NBA that's not taking place at USATF, so that's the dumbest analogy I've ever heard.
"When USATF starts paying all members of the Worlds team a salary, we'll shut our mouths, but as it is, they don't."
In case USATF was wondering what he had in mind in terms of a fair split, Symmonds explained all in his Huffington Post piece.
He cited research by American economist Andrew Zimbalist  that track and field athletes only receive about 8% of the governing body's revenues, whereas professionals in other individual sports can expect 25-35% and professionals in the major team sports get about half of the available cash.
Symmonds calls 8% "insultingly low" and wants "at least half of gross revenue". He may struggle on that front - as the USATF is evidently not the NBA, NFL or even MLS - but he has at least opened negotiations.
In response to the allegation, USATF on Tuesday issued a breakdown of how it spends its money, estimating about half of its budget went to its athletes.
"USATF in 2015 anticipates that we will spend roughly 50% of our $30 million budget, or more than $15 million, on a combination of cash paid directly to athletes, USATF payment of athlete costs and high performance programmes that support elite athletes," it said in a statement.
Where Symmonds may have more luck, and support for his efforts, is in helping USATF to redraft its statement of conditions.
Nike-backed Justin Gatlin, who has served two doping bans, will be among the American stars wearing official apparel in Beijing
Even the governing body privately says the current state of affairs is ambiguous, but adds that the contract can only be altered by its legislative arm and that must wait until the next AGM, which is later this year.
In the meantime, Symmonds gets to play at being Spartacus  but misses out on a chance to do what underpins all of his commercial activities, winning medals; while USATF safeguards the funding it needs to function as a governing body but comes across as a money-chasing bully.
Arguably, the only winner here is Brooks, which now looks like the cuddly alternative to Nike, with its poster boys, the twice-banned Justin Gatlinand under-investigation coach Alberto Salazar.
But the most surprising aspect of this whole situation is that it has not happened more often, and the fear for governing bodies is that Symmonds has started something that could catch on - Nike also supplies the US Olympic Committee, for example.
Dai Greene, Mo Farah and Paula Radcliffe are just three British, Nike-sponsored stars who have objected to the British Olympic Association's Adidas deal  in the past, but a compromise was reached and nobody missed a chance for glory or ended up looking silly.
But with athletes from all sports getting more conscious of their earning potential, and new entrants to the market eager to encourage that, the days of organisations such as USATF being able to rely on an appeal to patriotism to override personal interest could be coming to an end.
This is the week in which Nick Symmonds, a 31-year-old outdoorsman and entrepreneur from the Great Pacific Northwest, became more famous for not signing a piece of paper than he would ever have become for running the 800 meters. This is both remarkable and instructive when you consider that Symmonds has run the 800 meters faster than all but two men in the history of U.S. track and field and finished fifth in the 2012 Olympic final, arguably the greatest almost-half-mile race ever run (the one in which Kenyan David Rudisha broke his own world record). But then again, this is track and field, where achievement often finds itself stomped upon by all manner of controversy.
A primer here: On the last weekend of June in Eugene, Ore., Symmonds won the 800 meters at the USA Track and Field national championships, thus earning one of three spots on the U.S. "team" (actually a sprawling and diverse collection of individuals who happen to hold citizenship in the same country, which will be a recurring theme here) that will compete in the world championships beginning Aug. 22 in Beijing. Immediately after that race, Symmonds underwent a process called "national team processing," in which he was instructed to sign a document called a "Statement of Conditions," which essentially laid out the ground rules for membership on Team USA in Beijing.
Symmonds was familiar with the document. This was the fifth time he had qualified for the outdoor world championships; he won a silver medal in 2013 in Moscow. Symmonds also ran in both the 2008 and '12 Olympic games and the '14 indoor world championships. He had signed the "Statement of Conditions" at least six times previously (maybe seven; keep reading). He did not sign it in Eugene, he says, under immediate threat of removal from the team, despite that fact that the deadline for signing was Aug. 9.
Symmonds chose not to sign because the Statement of Conditions includes the stipulation "I will dress appropriately and respectfully for all Team functions, wearing the designated Team uniforms provided by USATF." (The capital T is a clever touch here.) Team uniforms are provided by Nike, which bid (unopposed) for the right to outfit the Team as part of a larger sponsorship deal. (See, I can do the capital letter thing, too.) Symmonds is sponsored by Brooks, another shoe and apparel company, and sought the right to wear his Brooks gear—or "kit"—as often as possible in Beijing, in order to maximize his sponsor's investment. Shortly after the Eugene meet, Symmonds received a letter from USATF congratulating him on making the Team and doubling down on the whole gear issue by writing, "… you are required to wear the Nike Team USA apparel …. at all team functions throughout the trip, including at the athlete hotel, during training, press conferences, competition, and award ceremonies. Accordingly, please packONLY Team USA, Nike or non-branded apparel…."
At this point Symmonds says he sought to receive a specific definition from USATF as to what constituted a "Team function," and perhaps amended wording in the document. If he did not sign by Aug. 9, he would be excluded from the team. "It seemed to me that they were defining a team function as every minute from when I left my apartment in the United States to when I got back on the plane home. Brooks is investing in me; I need to give them a return on that investment at every opportunity when I'm not at an official function."
Symmonds spoke several times with USATF CEO Max Siegel. "He told me that he knows there are issues to be addressed," says Symmonds, "but that he didn't have the power to include me on the team if I didn't sign the document and he couldn't change the wording." (USATF Chief Public Affairs officer Jill Geer says the Statement of Conditions has been unchanged "for many years," and that it is part of the USATF bylaws and can't be unilaterally amended outside the organization's judicial process.)
One other factor here: Symmonds says that during the 2014 indoor world championships in Poland, he "was bullied by several different Team USA staff members for something as simple as having a cup of coffee in my Brooks gear." Symmonds says he didn't sign the Statement of Conditions before that competition. USATF says he did. This time, he let the Aug. 9 deadline pass without signing and was excluded from the 
Team USA roster announced Monday
. Geer said that every other Team athlete signed the Statement of Conditions and she doesn't know if that roster can be changed before the meet starts. Symmonds said that he will meet with a lawyer this week to explore his options. Attorney Nancy Hogshead-Maker 
told Ken Goe of The Oregonian
 that Symmonds could win a court battle.
L'Affaire Symmonds has polarized the little niche community of track and field athletes, media and fans and spread its tentacles into the mainstream, where it's a handily debatable case of Little Guy vs. (Sorta) Big Bully.
On the one hand, the language in the USATF's "Statement of Conditions" is so vague that it's shocking it has not been previously challenged. The subsequent letter strongly suggesting that athletes not bring any branded gear other than Nike Team USA kits is wildly inappropriate and unprofessional. At the very least, A-list athletes like Symmonds will participate in sponsor press conferences on-site in Beijing (usually at a hotel other than the Team USA hotel) and will wear the latest in that sponsor's gear. USATF officials are fully aware of these press events and have no grounds on which to prevent or inhibit athletes from participating.
(For perspective: ahead of the 2014 Winter Olympics in Sochi, team members signed an "Athlete Game Form" that included this language: "I will wear designated USOC apparel at [1] all official Games functions and events, including Opening, Closing and Medal Ceremonies; and [2] at media events (including press conferences) hosted by the USOC, IOC or SOOC; I also understand that the USOC strongly encourages me to wear designated USOC apparel whenever possible, and that I will be expected to wear designated USOC apparel at USOC hospitality functions.'' This wording is specific enough that athletes can better understand when and where they can wear their own sponsor gear.)
Meanwhile, Symmonds could have taken another route. He could have signed the Statement of Conditions, and then gone to Beijing and boldly challenged it by wearing his Brooks gear everywhere except competition. USATF officials might have sent him packing before his first race. Besides, says Symmonds, "I'm a businessman. I don't sign contracts that don't fully define the terms of the contract."
More to the point: What is the purpose of unmasking perceived institutional injustice if not to attack with the loudest possible voice in the grandest possible forum? Symmonds made the U.S. team by winning the national title, but his times are not at the level of 2012 and '13. The 800 meters is a deep and challenging event on the international stage and each round of preliminaries is a death match. To be sure, Symmonds is a brilliant tactical racer with the type of finishing speed that makes him a threat in any championship race. He says missing the worlds "could be a huge financial hit for me," but he would have been very, very hard-pressed to win a medal—and any prize money—in Beijing. So if he were to challenge the rule in Beijing, bomb out in the semifinals and then receive—or not receive—discipline, it's the quiet act of a nobody that unfolds 8,000 miles from home in the long shadow of Usain Bolt and the start of the NFL and college football seasons.
Photo: Christian Petersen/Getty Image
...
[Message clipped]  
View entire message