and in the end, Ashton Eaton and Briannne Theisen-Eaton agree, it was time.
Track and field's power couple came to a mutual decision to retire from the sport after thinking about it following the 2016 Olympics and through the fall.
"After a couple of months went by and it was getting into the time when we normally would start training. I found myself thinking, 'It's not in the cards,'" Eaton said. "I thought the excitement would come back for one more year. It didn't."
They will go out on top. Eaton, world record-holder in the decathlon, won his second Olympic gold medal this summer in Rio de Janeiro.
Theisen-Eaton was the 2016 World Indoor pentathlon champion and won the Olympic bronze medal in the heptathlon in Rio.
Both are 28. Making it uninjured through another four-year Olympic cycle would have been difficult.
So would sustaining the mental, physical and emotional peaks it takes to remain internationally competitive.
"I don't know what else I could accomplish," Theisen-Eaton said. "I knew I had given it everything I had."
There is a fairy tale component to their story.
They met when both were multi-events athletes at the University of Oregon. They became sweethearts, and later husband and wife.
They each won three NCAA titles outdoors for the Ducks. Theisen-Eaton won three indoors. Eaton won two, and first set the world indoor heptathlon record in a UO uniform in 2010.
Eaton would go on to set the world record in the decathlon in 2012 in the U.S. Olympic trials at Hayward Field and, again, in the 2015 World Outdoor Championships in Beijing.
Theisen-Eaton won three world championships silver medals before taking World Indoor gold last March in front of an excited crowd at the Oregon Convention Center.
She said she wasn't sure how the Portland crowd would respond to her. She is from Saskatchewan and was wearing a Canadian uniform.
But it was clear as she went for victory in the 800, the final pentathlon event, virtually every fan in the building was pulling for her.
"When I was running, I could hear people saying my name," she said.
Neither seems sure what will happen next.
They plan to spend 2017 in their Eugene-area home and sort out their options.
There is a good chance they will relocate.
"Eugene has been great for track, and it's a nice place to live," Eaton said. "But I've been here for 10 years, and Brianne for nine. I don't know if it's the place for us long term, for the rest of our lives."
There are a lot of decisions to make, and a lot of new things to try.
Theisen-Eaton talked about having the freedom to snowboard in the winter.
Both said they are unlikely to pursue a paid position within the sport, although Theisen-Eaton said she wants to advocate for athletes.
Stepping away from competition means rethinking their identities.
"When I was sitting on an airplane and somebody asked me what I did before, it was so easy," Eaton said. "I was an athlete. I really liked saying it. I don't have anything to say now."
He does have enough memories to last a lifetime, although he said it was too hard to pick one that stands out.
"It would be like having kids, and saying you loved one more than the others," Eaton said. "They're all great, even the crappy times when I was injured or out in the rain. Looking back, I would do it all again."
Maybe one of the most difficult parts of retiring will be ending their daily relationship with longtime coach Harry Marra.
"Harry might be part of the reason I say I'm not considering coaching," Theisen-Eaton said. "I saw the level of commitment he gave to get us to the level we were at.
"He would be at practice one or two hours before us, and wouldn't sleep at night if we had a bad practice. He had to fix it. He made a commitment to travel with us 200 days a year and not have a home to go home to. I don't have the words."
And so, one part of their lives is over. The next is beginning.
The future is wide open.
"Our schedule is so tentative," Eaton said, "we don't even have a schedule."
Harry Marra is the coach behind Olympic decathlon champion and world record holder Ashton Eaton and Olympic bronze medallist Brianne Theisen-Eaton, who announced their retirement this week.
Marra tells SPIKES how he first came to work with the special pair in 2009 while they were collegiate athletes at the University of Oregon.
What led you to Oregon?
I had kinda almost retired from coaching. I was coaching Paul Terek down in San Luis Obispo and running an after school physical fitness programme for at-risk children. I was enjoying it and having fun, without the pressure of the Olympic Games and all that.
So Vin [Lananna, then Associate Athletic Director at Oregon] called and said, 'Hey, Ashton's coach just left, first day of school'. And I said, 'Well you best get somebody good!'
He was on our radar. On the national team we always tracked everyone. 'Hey there's this kid out in Tuscaloosa who could be pretty good!' So we tried to help and find good coaches and whatever. So I said [to Lananna], 'You better get somebody good because this guy could potentially be pretty good'.
A month later he called me back. I figured they'd hired somebody. I'm living in California, loving it, nice house and all that. Sunshine, garden. And Vin says, 'I don't like any of those guys you recommended.' So I say, 'Well what are you gonna do?' He goes, 'I want you to take the job'. I said, 'Aaah damn! I don't want to leave California! When would you want me to start?' He goes, 'Tomorrow!' I drove up the next day.
My wife, that day when he called, was working in a soup kitchen, stocking the shelves for the homeless, and you know, they come once a week for their food and whatever they're allotted. I drove down in my Miata, top down, it was nice, it was November, but it was nice, packed, she came out and says, 'Where you goin?!' I said, 'I'm going to Oregon – I think I got a job'. I never came home.
 "You have to, with both Bri and Ashton, be able to say what you want to say a few different ways."
Had you met Ashton before then?
No. I'd never met him. That was 2009, so he was a senior. In 2006 or '07, I took Paul Terek, an Olympian, to Arizona for an early season meet, and Ashton was a freshman. Dan Steele was his coach, and he had run for the Visa Decathlon team. I knew Dan very well. Good guy, great coach.
I bump into Dan Steele at this Arizona meet and I'm really focusing on what Terek is doing and so on, and late in the meet, just before the pole vault, Steele comes up to me and says, 'Come 'ere!'. He said, 'Have you been watching this guy Ashton?'. I said, 'No I really haven't paid attention.' And he goes, 'He's going to be really good one day'.
Just at that time Ashton was warming up for the pole vault. He ran down, put his pole in and did a front somersault – that used to be his pole vault technique – and I said, 'Steele: you've got some work to do!'. That was really my first introduction.
Marra developed Eaton from NCAA champion to world record holder and two-time Olympic champion
What about when you started working with him – could you see his ability?
In the first 30 seconds – no. But, early on, I watched the first couple of days – here I am in November, they were already doing whatever they were doing based on what Dan used to have them do at that time – and I didn't pay attention specifically, because I had Ashton, Bri, and two other heptathlete/decathletes, then I had the high jumpers and pole vaulters, so I was pretty busy. And Ashton had just had knee surgery, which I didn't know about, so he was a little bit limited in what he could do.
When it really struck me was this: he was healthy and ready to run in January, I guess it was, and we were going to do hurdles for the first time. It was just Ashton and me that day. I said, 'You ran 13.90 last year, pretty good hurdle time, tell me about it'. He goes, 'Coach, I'm the nails for the first five hurdles and then everything falls apart'. And I say, 'Wait a minute. You're running 10.40, 10.50 for the 100m, you run 46 seconds in the 400m, it can't be that you're out of shape, it's got to be mechanical'.
I said, 'Warm up, get in the blocks and come over the first hurdle – just show me what you got'. I'd never watched him. He does it. Gets in the block. One-two-three–four-five-six-seven-eight. Out like a bullet. He goes over the hurdle nice, but he's cramped going into the first hurdle. I said, 'Did you ever try seven steps to the first hurdle?' He goes, 'No'. I said, 'Well it mandates switching your blocks ... To help yourself out, count to seven then go over the hurdle'.
He gets in the blocks and he counts, 'one-two-three-four-five-six,' puts his seventh foot down and shouts 'money!' and goes over the hurdle so impressively, like he'd been doing it for 100 years. With others it took a full year to get them comfortable. He does it in 15 seconds. Nothing. WHOOM! He just does it. 
After guiding Theisen-Eaton to bronze and Eaton to gold at Rio 2016, Marra won the Coaching Achievement award at the IAAF Athletics Awards
That must be a dream to coach?
[Pause] Yeah. It is. It is. There are sticking points at certain times. So as a coach you have to be very, very… This has been the toughest seven years of my life. Not toughest from the stand point of not good, just focused. 24/7.
You have to, with both Bri and Ashton, be able to say what you want to say a few different ways to make sure you get the point across. You better be clear in your cues, clear in your explanations.
He came to me at a point in that first year and said, 'Coach, whatever you tell me, make sure it's correct, because I'm going to do it'. That told me he knew his body. He could decipher in his mind what you're telling him. When you talk to Ashton about technique or anything in general, his eyes are wide open, it's like a computer is processing. He does pick it up faster than others.
Ever wondered what goes through an athlete's mind during the heat of battle?
We put that question to Ashton Eaton, who set a decathlon world record when he won gold at the Beijing World Championships in August. His answer provides an incredible insight of the finest ten-event performance in history. 
Pre-competition
I couldn't wait to get started. It had been two years since I'd done a decathlon and I was pissed off about missing Götzis. I don't think you can be considered a combined-event athlete of any worth unless you've competed at Götzis. At the very least you're not in the club. So here I am with all the badges, but still not in the club. Frustrating. All because of some funky back sprain during a shot practice.
So in Beijing I was being extra cautious. Like ultra-cautious. Nothing was going to stop me from competing here. I was so adamant because I missed it. I missed my friends and sharing competition with them. Whenever I saw one of the other guys I was beaming just to compete with them again.
It was a combination of being away from the event and realising I may have only a handful of decathlons left. That made me want to soak up the experience as much as I could in a fun way. As far as I was concerned, if I could just make it to the starting line then I would feel like I've already won. Not in the sense of being number one, but in the sense that I got to do another decathlon again. 
Event 1: 100m
Once I realised I was actually starting this thing I became calm and genuinely happy. The pressure was already off. Imagine that: feeling like you've already won before the damn thing even started! What a great feeling that was. I didn't care if I didn't get a medal. It was just the chance to compete.
Getting to the line of the 100m of course I was nervous, but I would say about 50 per cent of what would be normal for me. I was also highly curious about what I would do. I had watched the women's 100m prelims (or maybe it was finals) and I was so impressed with Dafne [Schippers] – coming from the heptathlon and getting into the 100m final. But more than that, it was her composure. How could she be so relaxed in her first 100m final? She was a heptathlete. But with 50m to go she was gaining!
I took a lesson from that. Don't press. Be confident and relax. Be like Dafne. That's what I told myself. Drive out and after 50m do the Dafne.
Mark: 10.23 (-0.4) Total: 1040 points
Event 2: Long jump
Into the swing of things and coming off a near PB in the 100m I was having a great time. Going into the long jump I was pretty excited to go beyond 8m and possibly set a PB. Although I had forgotten the feeling of going from 100m to the long jump, I was still confident I could get a good mark. Earlier in the year I fouled what was probably my longest jump ever.
After my second attempt I was thinking that maybe I was right and I had forgotten what the decathlon feels like. Long jump wasn't going superb. Then Trey [Hardee, decathlon world champ in '09 and '11] got injured. I'd never seen him hurt so bad. I remember his face and him not being able to stand up. I wanted to help. I had met him for the first time in 2008. I wondered how anyone was supposed to beat him. I figured he was the closest anyone had ever gotten to being like the ancient demigods.
It was tough seeing him injured. I knew he wouldn't be able to finish. He didn't finish 2013 either. That pissed me off. I know how much hard work he puts in and it didn't seem fair. But I took a mental note that I needed to take it more easy. Pay more attention to my body as I get older. I've seen a lot of old decathletes banged up. I tried channeling frustration for Trey into jump three to no avail.
Mark: 7.88m Total: 2070 pts 
Event 3: Shot put
I had been throwing great in practice and was trying to stay calm enough to do it in competition. With the throws in the decathlon I get more hyped up than any other event and it usually results in a poor performance. More of the same this time.
It really boils down to patience and trust, which apparently I don't have time for. The frustrating part is knowing that I have thrown great in training but that I only get three throws that count for anything for the entire year. Think of that. All that training for three stinking throws that count and I totally botch them. It's enough to want to shoot it out of a canon.
Mark: 14.52m Total: 2830 pts
Event 4: High jump
This event has its own mini saga. During the fall I had the most incredible training in high jump I've ever had. I was eating 2.06m for breakfast from short approach! I couldn't believe it. I had started to trust some of the technical aspects Harry [Marra, coach to Ashton and wife Brianne] keeps beating into our heads and they were working. Go figure.
Going into the high jump in Beijing, though, I was less confident. Somewhere down the training line I had lost it. Just as easily as one misplaces their keys, I had seemingly misplaced my high jump breakthrough. I was getting tired by this point in the competition but still thought I'd be able to jump decent. I wasn't nervous, though, because in the back of my mind I knew I'd jumped 1.93m in Moscow and still scored 8800 points. And I was doing better here.
Mark: 2.01m Total: 3643 pts
Event 5: 400m
This is probably the event everyone wants to know about. How did you do it? What did it feel like? Where is the magic wand?
Harry always tells us that the year before the Olympic year is where all the work gets done. We had been running our little hienies off for most of the 2015 season which is pretty normal for us. But I think what helped most was doing the 400 hurdles the year before. I had gotten in great 400m shape. I ran more 400ms than I ever had. Compound that with heavy training leading into Beijing, then a masterful peaking plan from Harry and it's kind of a no brainer.
But what really set it off was one of my first races of the year. It was at the Oregon Twilight meet at Hayward Field May 9th or something. We convinced [USA's 4x400m Olympic silver medallist] Bryshon Nellum to come race. I was in lane five and he was in six. I took off like normal knowing I'd get out a little harder than him but it was around the 200m where my Beijing 45 flat journey began. Every step Bryshon took after the 200m line was getting faster. I was like "what the hell is he doing?" I went with him. We kept this up for the entire 200m. Neck and neck. He ended up beating my by .01 something; but I didn't care. I wanted to know what the 200m business was about. I asked him and he told me that 400m runners start moving at the 200m gradually picking it up each stride. I had always waited until about 125-150 to go and then I'd hammer it.
So I ran a 400m in Atlanta a couple weeks before we left for Asia and it's there that I really made a breakthrough. I had been practicing what Bryshon had said and I did it in this meet. I PBd by very little but I knew I'd run fast. I'd beaten a handful of great 400m runners (the track was made of bouncy balls so all times were slow. Asafa Powell ran 10.00…).
The next piece of the breakthrough was at the Canadian training camp in South Korea. It's there I met [1992 Olympic 400m champion] Quincy Watts for the first time. He and Harry were roommates so we all had breakfast every morning. I told him about how I've learned to run the 400m, both old and new strategies. He basically gave me a few more tips and I simply used them. 1 – coming off the first turn, push a little harder for about 4-5 strides then settle back down. 2 – do the same thing going into the 200m, then basically do the Bryshon. This is getting long so I'll make a final summary.
Before the race in Beijing Harry kept telling me to trust it. Trust what I had done and trust the new things I'd learned. He kept telling me that because I was pretty tired and thought maybe I'd be good for a 46 flat. But he kept saying I could take down Toomey [1968 Olympic decathlon champion Bill Toomey set the previous 400m decathlon best of 45.68 in Mexico City]. But I like to be honest with myself. So I'm in the blocks and I get out like normal, do the Quincy Watts and then when the 200m comes I do the Bryshon Nellum and then with 100m to go I do the Lashawn Meritt (I've watched him race and decided that he must try to hold his form the last 100m for a reason).
So that's what I did and I was blown away. I basically copied three people. I thought for sure the clock was off and in a minute they'd reset the time to 46 something. When that didn't happen I thought I had pulled a VCB and went into lane six and was disqualified. When neither happened I thought "Harry was right."
 Mark: 45.00 Total: 4703 pts
Event 6: 110m hurdles
I was unsurprisingly sore and tired for this race. Warming up I was a little nervous because the hurdles were difficult and I knew Damian [Warner, PanAm decathlon champ] had figured out how to run really fast and I had essentially made no improvement. But when I got into the race it was more about competing and staying as close to him as possible.
Mark: 13.69 Total: 5718 pts
Event 7: Discus
Similar to the shot put I had some decent training sessions. Nothing spectacular but I thought 45m was on the menu. You have to be careful though because discus is where many a decathlete can turn a great score into a bunch of "if's" in the press. Knowing that I tried to play it safe on the first couple then really let it have it on the last. I sure showed that disc.
Mark: 43.34 Total: 6451 pts
Event 8: Pole vault
Fresh off a PB I was confident I'd jump well. And it was pretty obvious now that if I jumped 5.20-5.30m I was in WR territory. While that was kind of the case, after about the 3.5hr mark I could tell I was getting fatigued.
This is where the decathlon becomes the decathlon. Sore, fatigued, hot, nothing tastes good, water and sports drinks don't alleviate anything; you're getting exhausted. I noticed a lot of athletes falling into the box or on top of the bar and generally getting into pretty dangerous situations. We're all tired.
I remember taking off for the 5.30m bar (I think) and missing and when I walked off the pit I could barley move. Something was wrong with my Achilles. Felt fine before the jump but now it hurts every step. Hmm. If I jump again is it going to remain the same or get worse? How much worse is worse? I'm winning now, should I play it safe?
I conversed with Harry and with Brianne and there was more WR talk. In the end I decided that it wasn't too bad, there was no sharp pain, and to take some more attempts but didn't improve.
Mark: 5.20m Total: 7423 pts
Event 9: Javelin
It was serious WR time. I knew what I had to throw and I knew what I had to run. I also knew that I was fading, like, lay down and fall asleep within 30 seconds fading. And that I hadn't finished a decathlon or run a 1500m in two years.
Was I still tough enough? If I had to run a PB could I get it done? The time I needed to hit if I threw 64m wasn't out of the question but what if I didn't throw that far? So I got fired up. I stalked around the javelin apron like Al Oerter around a discus cage. I just kept trying to fire myself up. I got the crowd involved. I flew (what felt like flying anyway) down the apron to send every missile as close to deep space as possible.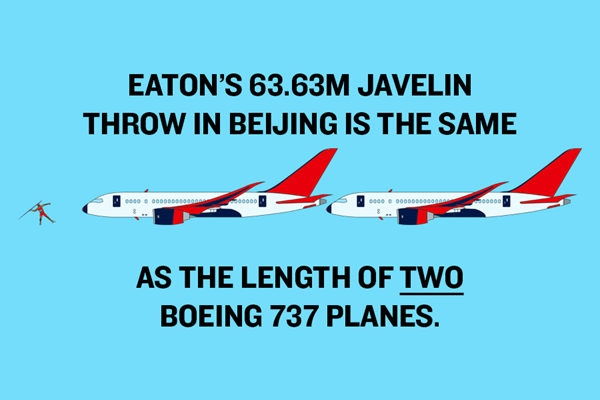 Mark: 63.63m Total: 8216 pts
Event 10: 1500m
It's always very simple. Run the time, or don't. I knew what I had to do. I was one second behind pace on lap one. I was two seconds behind on lap two. I told myself: just make up the two seconds now instead of in the last lap you sissy. Lap three I was one second behind. With 500m to go I was as tired as I've ever been I think. Maybe Daegu I was more.
With 400m to go it pretty much went like this:
I can't. ... Come on! ... I can't. ... Come on! ... I can't. ... Come on!
300m: I can't. ... Come on! ... Ok I'll go. ... I'm scared. ... Shut up! Come on! ... I want to stop. ... Catch that guy in front of you! ... ARGH! ... Chase him!
200m: I'm all out. This is all I have. It's not enough.
150m: Your family. Your fans. They're watching. The people who believe in you. They're watching.
100m: I can see the finish. ... Catch that guy! ... I'm going to fall. ... AH! my right leg just buckled. ... Stay up! You got it! ... I see the clock. I think I've got it. ... I've done it. ... It's over. ... This ground. I love this ground. Ground I love you.
Mark: 4:17.52 Total: 9045 pts (WR)